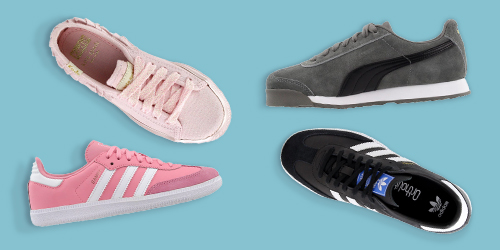 Summertime flip-flops and sandals are often fun and stylish, but if you're a true shoe lover you know that it's the boots and booties of fall and winter that can truly let you show off your fashion flair. Whether you want to make a glamorous statement or you favor footwear that is posh but practical, there's sure to be a 2020 design that suits you. The good news is, there's no need to overspend to stay on trend when you can save in style with discount shoes. Here are some of the boffo boot fashions available now.
The High Boot
Knee high or even higher is expected to be a popular style for boots this season. Boots with tall shafts look terrific when paired with midi skirts or leggings, and they can create the flattering illusion that your legs are longer than they actually are. Because these boots come in a variety of fabrics and colors, there are choices that will work with either casual or formal outfits. Although stiletto heels are the norm with high boots, block heels are on trend as well, so comfort needn't be sacrificed for the sake of fashion. Shop for women's boots online to check out this hot style.
The Scout Boot
While the design of a scout boot is meant to provide comfort and durability, this look can be just as cute as it is comfy. Whether they feature a canvas, suede or leather upper, these boots are usually treated to withstand rainy or snowy conditions while maintaining their rugged good looks, and their rubber soles are both practical and snappy. As a bonus, this is one of the top styles in kid's, women's and men's boots this year, so everyone in the family can stay on trend.
The Cowboy Boot
The western look has been growing in popularity in recent years, and that translates to more cowboy boots hitting the scene this season. The footwear that was once worn only by cowpokes and farmhands is now one of the hottest shoe trends, even for folks who can't tell a stallion from a mare. Beyond the ever-popular brown leather uppers, be on the lookout for everything from floral designs to tie-dyed fringe being featured in 2020.
The Chelsea Boot
The classic look of an ankle-high Chelsea boot isn't going anywhere this year. These booties continue to be appropriate in almost any situation, from a board meeting to a coffee house rendezvous with friends. This easy, pull-on wardrobe staple can be found in a plethora of finishes, from neutral leathers to far-out animal prints. Like the scout boot, the Chelsea bucks many shoe trends by being a truly unisex style.
Wearing any of these boots will put you right on trend for fall and winter of 2020. By making room in your closet for a new pair, or two, you'll be ready to try out a great look that fits right in with the season. Shop online for discount shoes and boots so you can spend less on the styles that will be all the rage in the coming months.