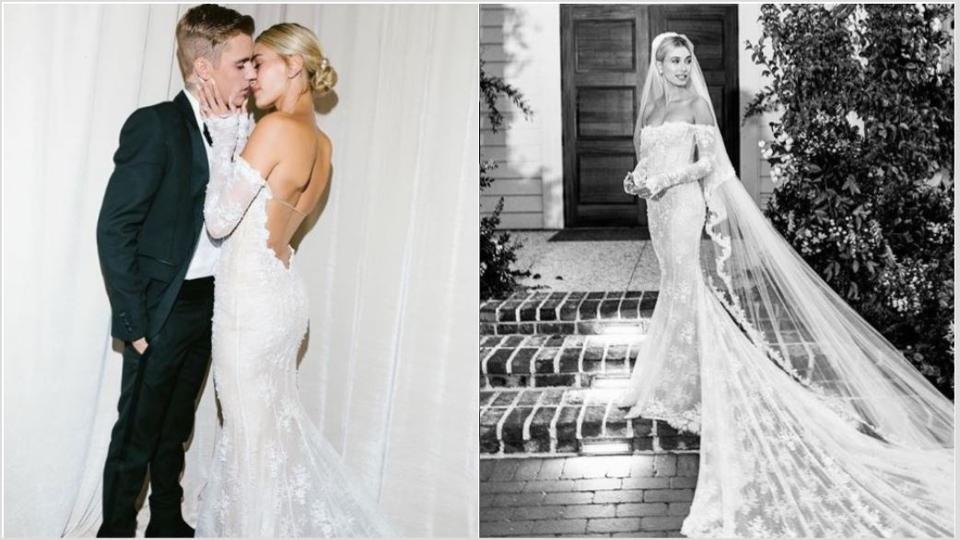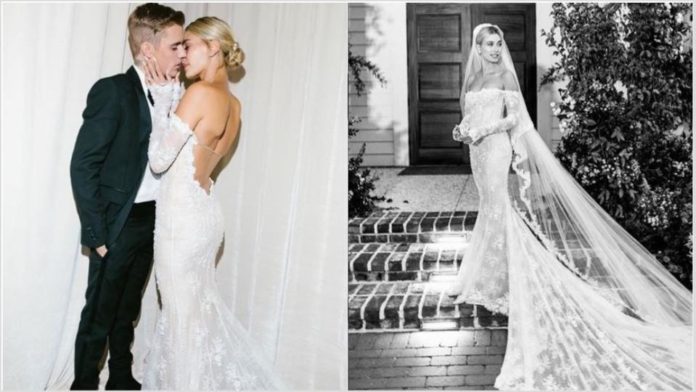 Hailey posted a photo  thanking Justin for giving life to his vision and creating her dream dress for their special occasion. The two love bird tied their knot on September 30 in front of their family and friends after a year ago they legally get married at NYC courthouse.
Just after a week post-nuptials, Hailey shared superbly gorgeous wedding photographs on her Instagram account. Both were looking stunning in their wedding shots. The one that takes away everyone's attention was in a pose in which both were holding together, wistful almost kissing pose and Hailey in extra long laced train.
Let me take your attention to the Veil, the first of the various wedding images posted by Hailey. Veil appears to be mile-long lace with a text stitched into very bottom "Till Death Do Us Part" accompanied by 'ol exclamation point.
Hailey Baldwin, 22-year-old, renewed vows with her boo Justin Bieber down in South Carolina by sharing never seen before wedding dress images. She has also enlisted wedding dress designer, Virgil Abloh, creative director of Louis Vuitton menswear and fashion house Off White to design veil.
To commemorate their second wedding, Justin Bieber gifted Hailey with an alluring blingy 'Wifey' necklace.
Hailey wrote on her insta post, "Thank you for making my vision come to life and creating my dream dress. You and your @off___white team are incredible, and I'm forever grateful I got to wear your beautiful creation."
In post, Hailey captioned "Last Monday was the most special day of my life." The text embedded in the long Veil is to let know the world that nothing is going to break them apart until they reach to the grave.