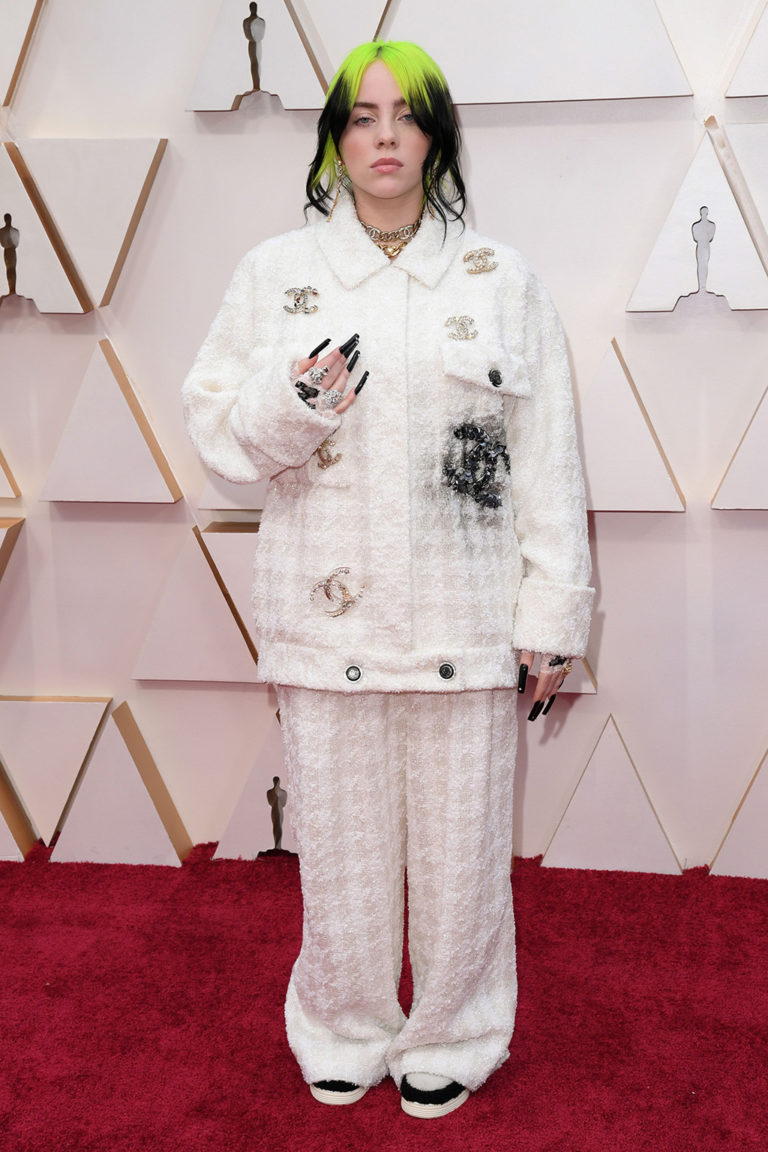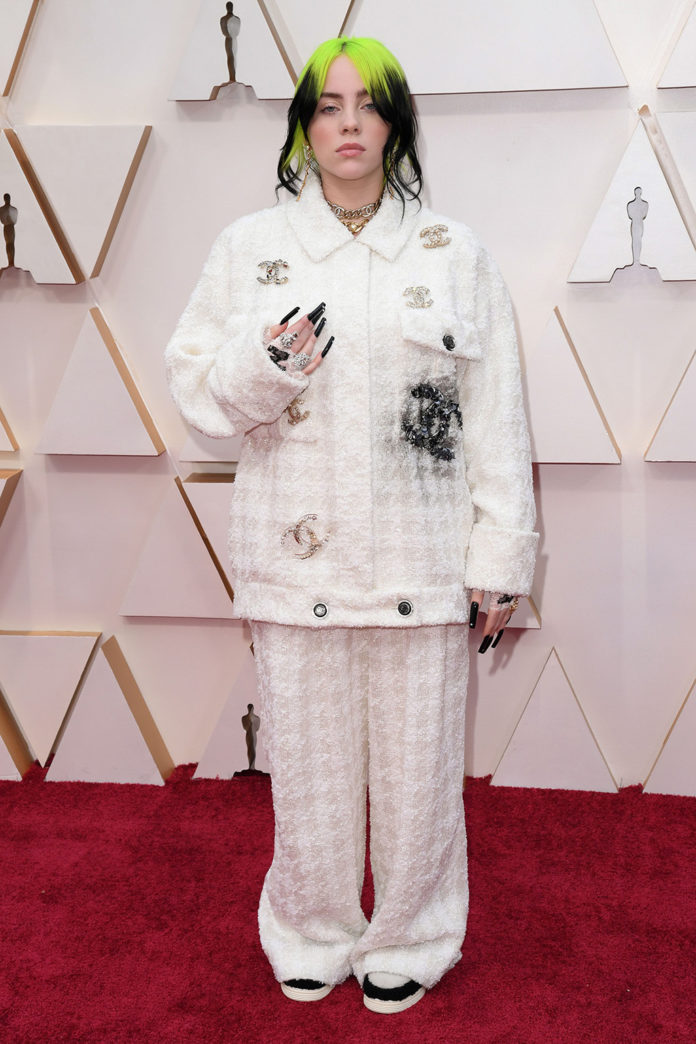 The academy awards better known as the Oscars is one of the most popular and anticipated annual events in the Hollywood. The 2020 version of this prestigious event just recently concluded and there were a lot of eye-catching moments as always. Apart from all the stars who took home the golden trophy, there were a lot of hearts won at the red carpet as well even before the event kicked off. The entire fashionova community keeps their eyes tucked on their favorite stars and more who was the best dressed star.
Today let's look at the best dressed Hollywood stars on the red carpet. There were quite a few stars that caught our attention.
1/10 Billie Eilish
Billie eilish is an 18-year-old breakout star and she has been marking the headlines for her unmatched realness and unorthodox style. Her fashion sense is similar to her music talent i.e. Unapologetic and unique. At the Oscar 2020, the breakout star was wearing an ivory Chanel jacket illuminated with shiny Chanel monogram brooches and rock-bold accessories. Tonight was no different. She has also commented on her extra-ordinary fashion sense, she stated that she wears baggy clothes to avoid people judging what's underneath.
2/10 Janelle Monae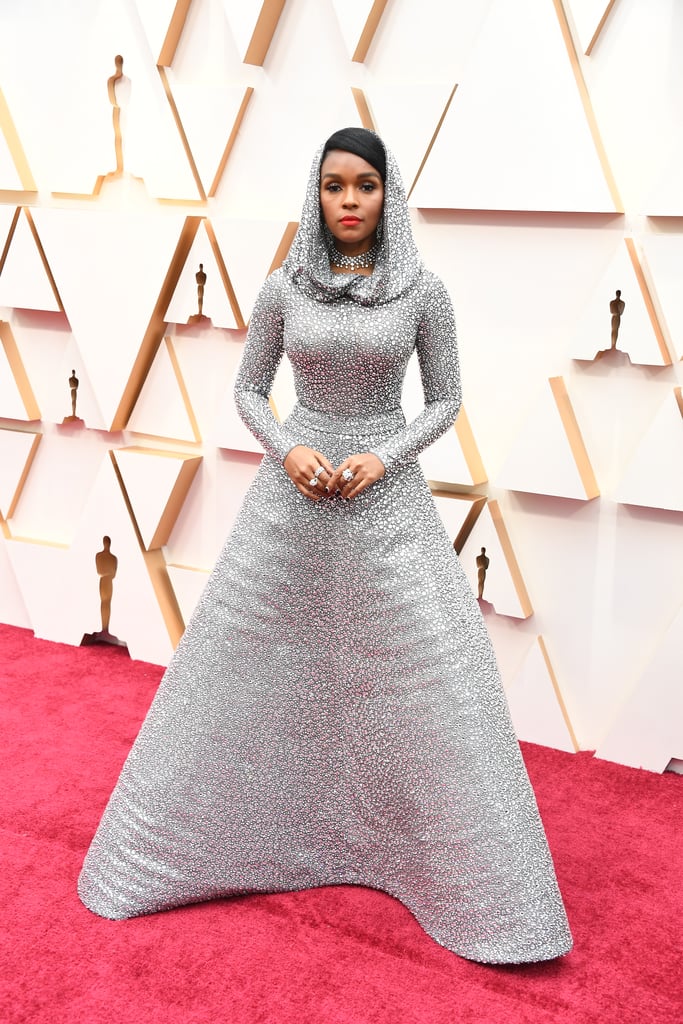 The "I like that" singer attracted a lot of praise by showing up in a shimmering  and sexy silk Ralph Lauren gown complete with an exposed back, full sleeves, floor-length hem, and an attached  hood. Well it is obvious that this look was not easy to get, as per WWD Editor Booth Moore, the dress has been constructed using 168,000 Swarovski crystals. Talking about the make-up she wore glittery black cat-eye liner, flushed cheeks, and matte red lipstick to compliment her jaw dropping look.
3/10 Margot Robbie
Margot Robbie is not a newbie to the Oscars and the glamour it represents. She showed up the red carpet wearing Chanel's Oscar de la Renta. The dress was a navy black vintage sleeveless strapless dress. For the accessories she chose a jewel pendent. She was nominated for the best supporting actress role for Bombshell and her movie 'Once upon a time in hollywood' was nominated for best picture.
4/10 Natalie Portman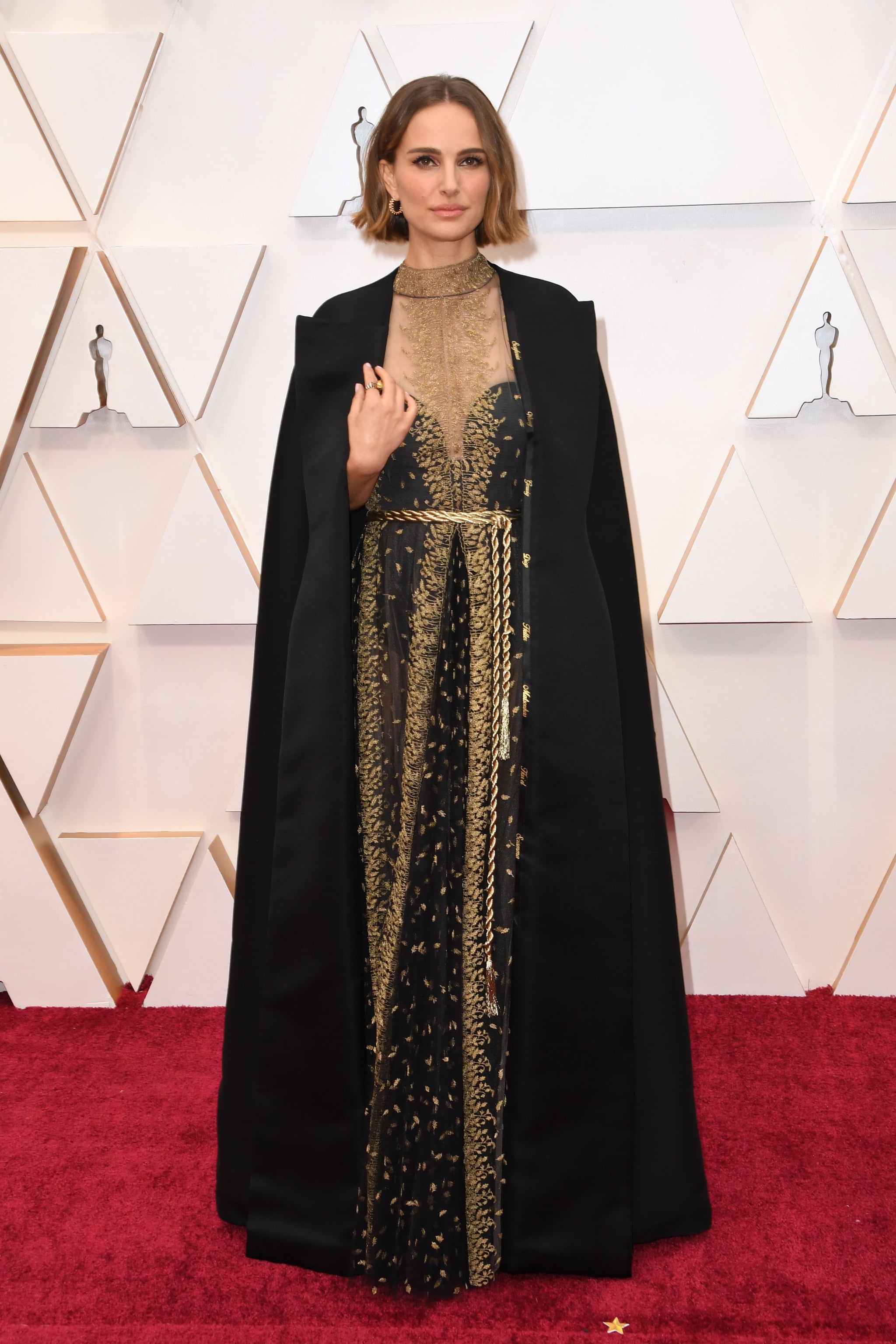 Despite the entire backlash regarding her dress , mainly by American actress Rose McGowan, we stand by the fact that she looked absolutely mesmerizing in Grazia Chiuri's embroidered cape with the names of female directors overlooked by the Academy stitched into the cape that she wore. Her act was part of her long stand for the feminist act.
5/10 Caitriona Balfe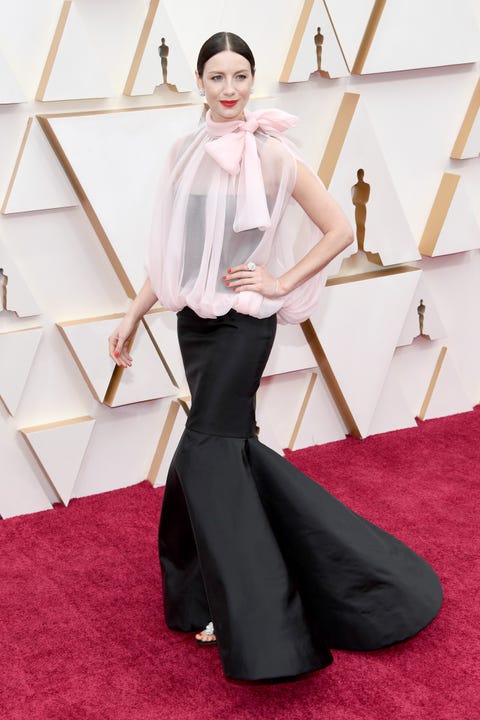 Caitriona Balfe came at her first Oscar appearance ever dawning the pink and black dress by  Valentino which includes a mermaid silhouette and a sheer pink overlay that links at her neck in a bow. While on the runway, the look was accessorized with bright red gloves, Balfe, paired the outfit with statement pearl earrings, a sleek hairstyle, and a strong red lipstick.
6/10 Gal Gadot
The Israeli actress looked absolutely stunning on the red carpet of the academy awards 2020. She came out along with her "Wonder woman" co-star Kristen Wigg. She wore a black sheer top and bright pink dress by Givenchy. She was dressed just how an A-lister should be dressed.
7/10 Hildur Guðnadóttir
She is an Icelandic musician and composer; she swept the award for the best background score for her work in the movie 'Joker'. She showed up at the red carpet with her husband wearing a black satin ribbon and embroidered crystal CHANEL dress to receive the award.
8/10 Regina king
Her dress was provided by Versace and featured a pink body gown and a flowing train. The dress and the jewels were massively eye-catching and sparkling. She also wore, wait for it, half a million worth of jewelry (Rings and bracelets) to compliment her look in the Oscars.
9/10 Kristena Wigg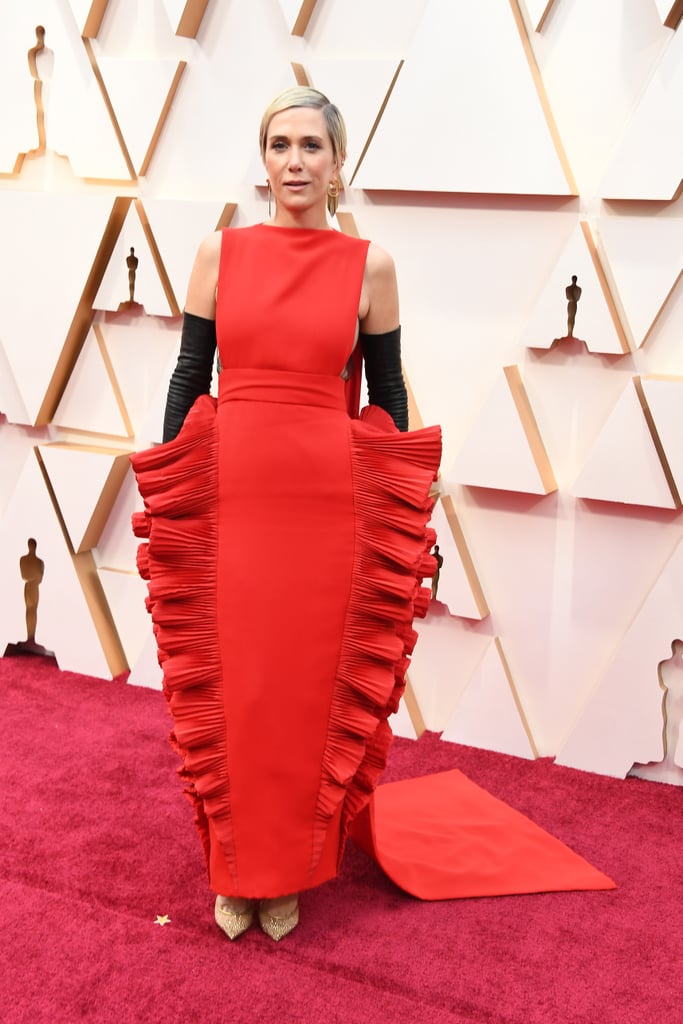 The "Bridesmaids" star came at the red carpet in a red gownish dress coupled with side ruffles, pairing it with black gloves. This was one of the most unique and unorthodox looks at the Oscars this time around. Some twitter users were quick to point out the dress's resemblance to a lasagna piece.
10/10 Beanie Feldstein
The 'booksmart' and 'Lady bird' stepped on Oscars 2020 red carpet wearing a shimmery black and white gown by Miu Miu.
There were a lot of Hollywood stars who went for a look that may not be as eye-catching as these Hollywood stars but were surely worth mentioning, they were, Brad pitt, Leo DiCaprio, Scarlett Johansson among many others.
Natalie portman may be surely grinning at distance while looking at this list as all the best dresses were worn by the ladies of the Hollywood. Jokes aside, who do you think was best dressed on Oscars 2020? Who must have won a Oscar for their dresses alone? Do let us know in the comment section below.