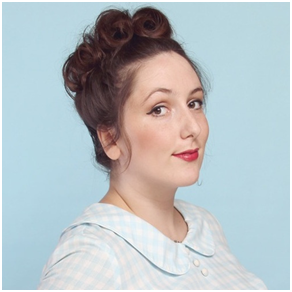 How many times it has happened that you have planned your next day attire, accessory and hairstyle to get ready for office but snooze the alarm and woke up late? All the planning goes fine but there is nothing that you can do about hairstyle in such a short span of time because you are already running out of time. Well, kick all the worries right now. Start up with a stress free morning and introduce a new statement of style to your personality. With the increasing love for fashion, hairstyling has also become an essential part of makeover. So, if you wish to change your look, change in hairstyle is the first priority. Depending on the length and texture of one's hair, the hairstyles also differ from one another. Is your short length hair the cause of worry because you think there are no hairstyles for short hair? Well, then you are wrong here and here comes the surprise. Just because you love to keep it short and sweet, doesn't connote that you have to carry the same boring style every day. You have all the rights to flaunt in the way you wish. Hence, here we bring you 20 remarkable hairstyles to enhance the everyday look for your short length locks. Check these out:
1) Top Knot Sock Bun
Top knot sock bun is the most preferred feminine choice but could be somewhat tricky when it comes to try it on short lengthen hair. The locks of the hair are brought together and a bun is formed high on the head. This hairstyle does not demand a perfect sleek and so is idealized for a trendy look. A messy top knot sock bun not only gives you a look like contemporary diva look but also adds to the much needed volume for short and straight hair.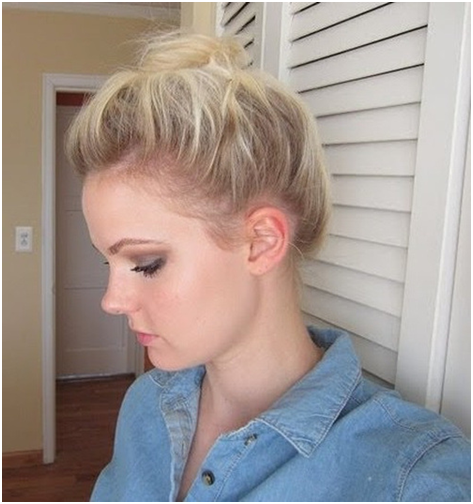 2) Three Twisted Bun
Do you think that such a hairstyle works only for Rapunzel like hair?? Well, not actually. You too can swank like Rapunzel even if you have short hair. The Three twisted bun look works far more fabulous for shoulder length hair and the lazy girl within you need not to worry because it is really easy to be made and carried. You just need to follow these steps: Divide your hair in three divisions in the form of low ponytail and then braid them in the form of small buns. You can use hair pins to secure them properly and slightly push the buns upwards to make them look with little extra volume. Sound simple but lends you a chic look!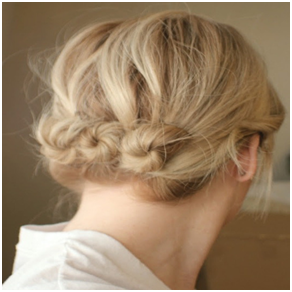 3) Faux Updo
Nobody cares about the length of your hair, if you adorn yourself with a stunning hairstyle and this Faux Up do can help you flaunt the best of your style ever. Adding some of the simple but trendy accessories to your pinned hair with knotting at the top will make you look wow. Accessories could be: satin scarf, broad hair band, hair pins and funky beads and any of these can enhance your overall look and show of this lovely hairstyle.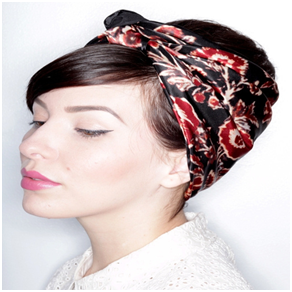 4) Carefree Holiday Look
Don't feel unlucky to have thin straight shot lengthen hair because this hairstyle is only and only created for you to bring out the most beautiful in you. All you need to do is to section your hair at center, spray and tuck in the locks with bobby pins. Replicate the same again and tuck to impart a finishing look. This simplex and adorable hairdo will give you a comfy and carefree holiday look and add grace to your personality.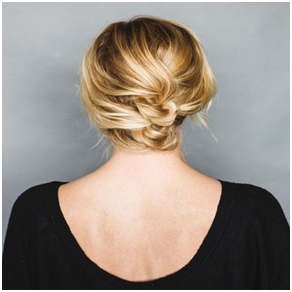 Read More : South Indian Bridal Hairstyles
5) The Triple Twist Updo
A hairstyle which was not purposely created but happened by chance! The Triple Twist up Do hairstyle is not bound by any peculiar pattern and needs no strict direction to be made. You need to pull your hair up, ounce them and tie them gently through pins. This hairdo will accompany you in the best way on every formal day especially when you are a young stylish boss of a company. So, get ready for a bossy look.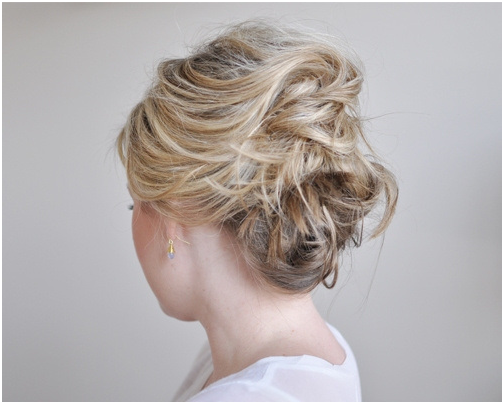 6) Workout Updo
Why to hit the gym every time with that high ponytail especially when you have other wonderful ways too? In such a case; what can suit you the best is this braided bun hairdo because they go fairly well even with the any of your casual outing too. You need to French braid the hair from the side top and pin it at the opposite lower end using bobby pins and making it look far more stylish than just a simple ponytail.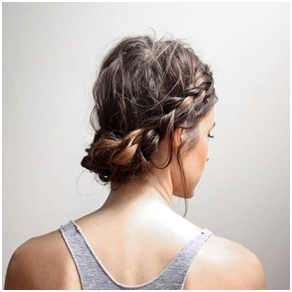 7) Summertime Beauty
The right choice for short hair! We all look for hairstyle that can not only compliment us in hot scorchy summers but can keep us hassle free so that sweat and irritation do not disturb the fun of the day. With the return of the momentous golden trends, this summertime hairstyle tops the list and reminds us of the evergreen 1930s epoch. All you need to do, to get this vintage diva look is to roll those strands upwards into vintage curls and pin them up firmly. Sober but voguish!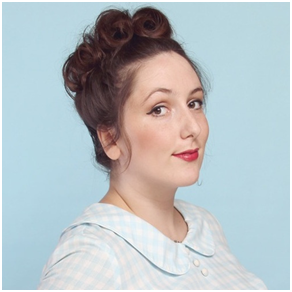 8) Messy Top Bun
Girls with short length hair have all the rights to choose this messy top bun hairstyle for a casual eve of theirs. It is creative way to accumulate all your hair at the top and then whirl it in the shape of the bun. So, if you want to go for something different than a ponytail then this is the right choice baby. Cuteness with comfort is the appropriate way to define this hairdo.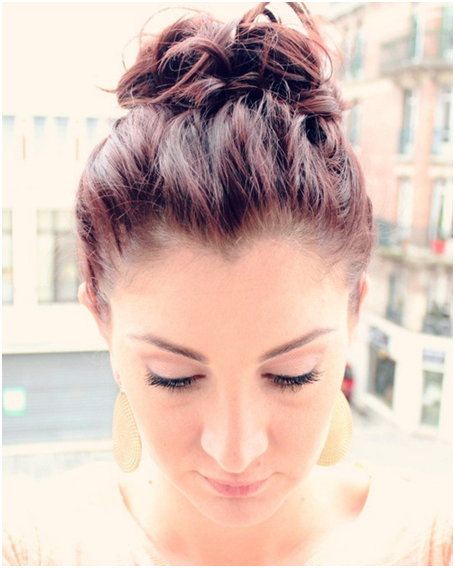 9) An Updo with Twist
If you are thinking that it is not the one that can be made on own, sorry to say but you are wrong here. Though it gives a complicated look from its outer appearance but is quite easy to be made and like the image given below it looks simple wow. All you need to spare is your little precious time. Brush your hair in straight direction towards the back and make small sections of your hair strands in the front. Now twist all of the sections one by one and pin them safely with the help of hair pins and the left over strands should be brushed towards the side. Such an up do with twist will go well with any of your evening gown!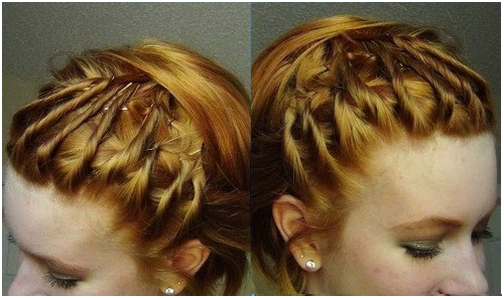 10) Loose Curls in Wavy Style
You wedding day is approaching nearer and nearer and you are still not able to decide about the hairstyle that you will choose for your big day. So, end up all your worries right now and without giving a second thought, go for this loose curl in wavy style hairdo. The best way to get such a flawless look is to superbly pin up the loose curls. For sure, no one guess the length of your hair with such a hairstyle. You are sure to turns the heads of one and all with your awesome look!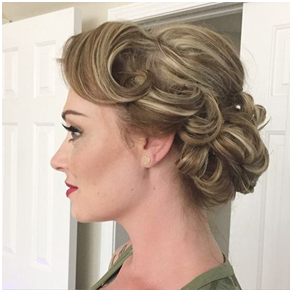 11) Side Hair Bows
Words are too less to describe this stunning side hair bows hairstyle! To get such a hairdo, a row of ponytail is engrossed in each other and bow like shape is formed to give it a spectacular look. If you are the one with light colored hair, this hairstyle will add more grace to your persona.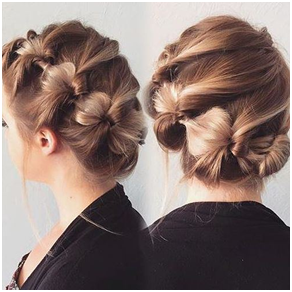 12) An Amorous Updo for Bob Length
Are you desiring to get that aesthetic princess look on your perfect date night? Well, this is something that every woman dreams of but now it's not just a dream. You can lend a captivating look to your persona even with your short, straight or slightly wavy hair. Now, see how it works. Style your straight hair to springy curls with the help of curling iron. Gently backcomb on the crown portion and divide hair with a deep side partition. Then make equal sections and pin them firmly above the neck. In case, if you find any such strand which creates a problem while attaching to the gathering pin, then curl it a bit and your problem will be solved.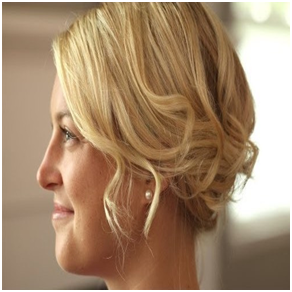 13) Side Messy Bun
Such a hairstyle requires the least efforts and lends you the maximum grace! Though messy in style but still looks very cute and adorable. Get hold of your hair, curl them with your fingers and pull the entire towards your ear side and tie it through a rubber band. Isn't this really simple and speedy? Side messy bun can be a great help to you if you are running out of time and is looking for a distinct look. To add some extra grace, you can leave some flicks over the side portion of your pretty face. Any of your attire will work on this hairdo.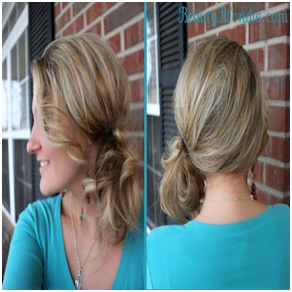 14) Braid with Side Curly Bun
Ever dreamt of a princess like look? This hairstyle, braid with a curly side bun is a subtle and superb idea to look extremely beautiful on any special day of yours. With a lot of other planning, you just need to pick few minutes of your time and make this style a treat for everyone's eyes. The moment you make the French braid, you half task is done and lend it a finishing look with a curly and messy looking bun at the backside of your ear line. Lovely smile on your face will make you earn the compliment of 'Beauty personified'!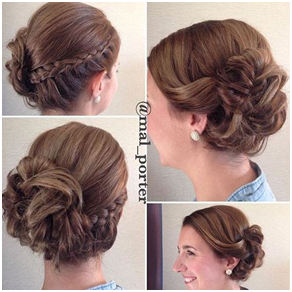 15) Triple Twist
One of the most decent looking hairstyle for short hair! It adds plenty of volume to any ordinary hairdo and is appropriate for work and fun both. Meaning thereby that such a style will make you flaunt on any of your special day or even the formal day out. If you have got your hair colored then nothing can beat this lovely looking hairstyle. Pull your hair backside, twist them upwards and tuck them with pins; is all you need to do to get Triple Twist even for your short hair.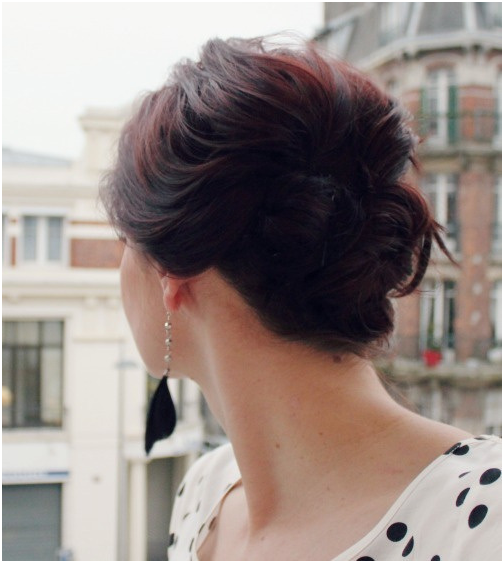 We are sure that you would never regret on having short hair now and will rather you love them from now onwards. With a hope that you will appreciate these brilliant ideas for a quick and hassle free hairstyling exclusively highlighted for short hair, we also welcome your comments and any new ideas. Do let us know, which of these made you the centre of attraction among your friends and family and what was your unveiled feeling. We are waiting to hear from you soon!

<!-comments-button-->