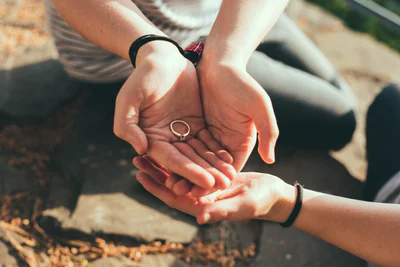 Types of rings.
Such special rings are not just a piece of jewelry or an accessory that you put around your finger. The purity of relationships and love is expressed. It also holds traditional and sentimental value. Both engagements and weddings contribute importance to the couple's journey in life. A circle has no beginning or end showing what exactly their love for each other should be. It's what we call eternity! Engagement rings signify reaching another level in a relationship. It means two people want to move forward together as husband and wife. Wedding rings signify the connection within the wearer's hearts.
Engagement ring. Spending time to choose.
Don't RUSH! Make time to personally choose what you think and feel suits her best, just how it took time before you finally decided to ask her the question face to face. Getting the perfect jewelry entails proper planning – from narrowing down the designs, getting the correct measurement and selection of the metal for the band to picking the supplier, reviewing the details, and preparing for the day to come. There is no necessary timeline or number of months to get this done. You just have to make sure everything happens as it's planned out. Always remember!
Wedding rings. We will tell you about them.
Circular shape means never-ending love. Knowing the most important things about it will help you pick the best one. It is usually simpler and preferred to be golden as it does not tarnish. Remember, in choosing the right one, you should make sure you involve your future wife as your wedding will no longer be a surprise for her. Take note, once it has been placed on your finger it should never be taken off until death you part.
Things to consider before making a purchase
There are several things to keep in mind before you buy engagement rings. These tips will help you to buy a proper one to match both the occasion and your lovely better-half to be. The proposal means giving a ring and indicates that the person who agrees to wear it also agrees to be married. It comes in different styles but gold and platinum are the preferred ones, not to mention a diamond is indeed a plus! Alternatively, a wedding ring is an emblem of love and a symbol of loyalty tested through time. It signifies the agreement between two parties to love and cherish one another for the rest of their days, through good times and bad. So make sure to grab what's right!
Rings for your family
Family rings include birthstones of different family members which also features engraved names or birthrates referring to each member. It is like the mother's ring. It just can be worn by anyone in the family. in order to have the best family band there could ever be, here are some of the tips you can consider: First, make sure to gather everyone's consensus as to what needs to be included. Second, get the correct measurement of every individual and don't just follow everyone else's. Next, come up with a design that signifies your family as a whole. Lastly, remember that there are really no limits to who and what you can include. We are unique in every way and nobody should be left behind. And so why it's called a Family Ring.
Conclusion
After all the thinking, researches, and going back and forth with the information, you will come up with the decision of getting that one for your special someone. It's like how you went through the sleepless nights, reminiscing the moments you have together and finally wanting to pop that question to your girl. Amazing isn't it? All these will result in something great, a forever with your soon to be better-half. So what are you waiting for? Go, kneel down, and put a ring on it!