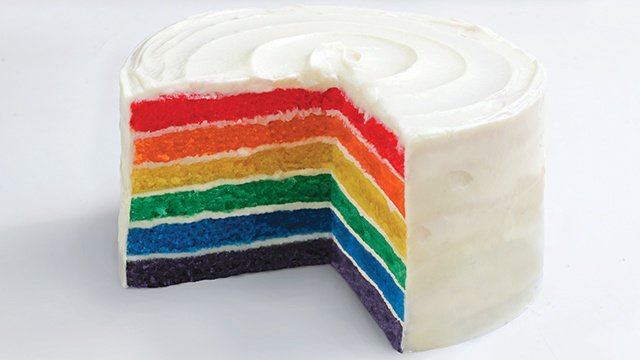 These days, Rainbow Cake is more likely to order by the people than any other type of cake. Rainbow cake is not the only favorite of children but also of elders. Its colors are so vibrant that it makes the celebration more colorful on every occasion.
Buying a Rainbow Cake from stores can be a little expensive. Thus, we have come with the Easy Rainbow Cake Recipe that you can make quickly on any occasion.
Ingredients Required:
Egg White, 9
Water, 4 Cups
Cooking Spray
Applesauce, 1 Cup
White Frosting, 2 Cans
Orange Food Coloring Gel, Half Ounces
Red Food Coloring Gel, Half Ounces
Yellow Food Coloring Gel, Half Ounces
Purple Food Coloring Gel, Half Ounces
Green Food Coloring Gel, Half Ounces
Blue Food Coloring Gel, Half Ounces
White Pudding-Type Cake Mixture, 3 Packages or 18.25 ounce
Instructions To Make Rainbow Cake Recipe:
First, preheat the microwave or oven up to 175 degrees C or 350 degrees F. Take tw0 cake pans of 9-inches and pray the cook it with cooking spray.
Take a large bowl and combine all the ingredients of cake mix, 9 egg whites, applesauce, and distilled water using an electric whisk or mixer. Separate the batter equally in six same-size bowls. Now the time for mixing different edible coloring gel into six different batter bowls. Then, pour orange and red batter separately into two cooking sprayed cake pans.
Put the pans in the preheated oven, bake them until the toothpick inserted in the center without any cake on it and clean, for about 25-30 minutes.
Now, please take out the pans from the microwave and leave it to cool down on a separate rack for about 20 minutes in the pans. After this, flip the cooled cake pan quickly onto the plate and take out the cakes. Similarly, continue the process for remaining batter, bake all the color cakes and let them cool.
Arrange the prepared cake in your desired orders using whipped cream, and your rainbow cake is ready.