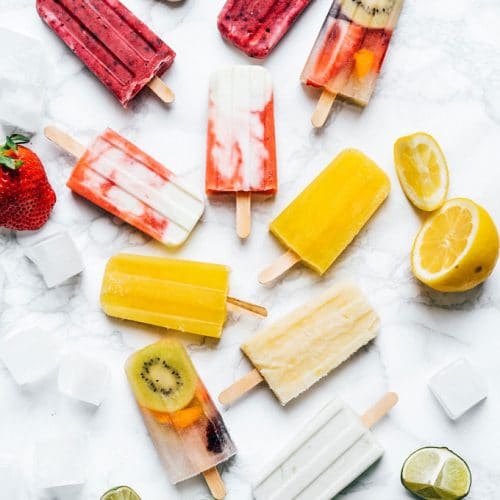 Yay! Frozen Dessert Season is coming back. We all love sucking on yummy popsicles to fight the heat and cool down our bodies. We have some exciting and delicious easy homemade popsicles recipe. For people who follow a keto diet, we have included Keto popsicles recipe and other fun, healthy popsicles.  
Prosecco Popsicle–
This easy homemade Prosecco popsicle recipe is a proof that cocktails are better when consumed in popsicles form. You can customize by adding any fruits of your choice.
Ingredients:-
Strawberries( ½ cup, sliced)

Raspberries (½ cup )

Blueberries (½ cup)

Prosecco (1 bottle)

Lemonade

Pink Lemonade
 How to make Prosecco Popsicle:-
Take 2-3 popsicle molds and divide fruits between each. Fill three-quarters of the mold with Prosecco.

Fill the rest of the molds with your preferred lemonade and put the popsicles stick.

Keep them in the refrigerator for up to 6 hours.

Take out the popsicles out of the molds when frozen completely.
Rainbow Candy Popsicles–
Make your hot summer day a little cooler and colorful with this easy popsicle recipe.
Ingredients:-
Sprite (2 cups)

Vodka (1/4th cup)

Rainbow rope candies(6)
 How to make Rainbow Candy Popsicle:-
Cut rainbow rope candy into 4-5 small pieces. Twist candies and stick the ends together.

Put them in the molds and fill the entire mold with twisted candies. Fill the molds with Vodka and sprite till the top.

Freeze them in the refrigerator until they are solid.
Keto Avocado Popsicles-
If you want to try yummy Keto Popsicle Recipes, then you should start with this one. Substitute the sugar with maple syrup when making Keto Avocado Popsicles.
Ingredients:-
Ripe Avocados (3)

Lime Juice (1/3 cup)

Maple syrup/agave (3 tbsp.)

Coconut Oil(1 tbsp)

Coconut Milk(3/4 cup)

Keto-friendly chocolate(1 cup)
How to make Keto Avocado Popsicle:-
Combine avocados and lime juice into a blender along with coconut milk and maple syrup/agave. Blend until it is smooth and pour it all into popsicle molds.

Freeze it until it is solid for about 6 hours.

Combine coconut oil and chocolate chips together in a bowl. Microwave until it is all melted and then keep it at room temperature to cool down.

Dunk the top of the popsicle in the chocolate mixture and enjoy.
Banana Pudding Popsicles-
give the banana pudding a summer makeover with this healthy popsicle recipe.
Ingredients:-
Large bananas(3-sliced)

Sweetened condensed milk (1 can)

Cold milk (1-1/3 cup)

Instant vanilla pudding (1 box)

Crushed Nilla Wafers (2 cups)
How to make Banana Pudding Popsicle:-
Mix milk, condensed milk, and vanilla pudding mix together and whisk until smooth. Keep stirring in between until it's thickened.

Put one banana slice at the bottom of Dixie Cups. Top the slice with a spoonful of pudding. Place more banana slice on top of the pudding and sprinkle crushed wafers. Top it with some more pudding mixture to the brim and sprinkle wafers again.

Freeze them for 5 hours or keep it overnight in the refrigerator.
Breakfast Popsicles-
what can be better than eating popsicles for breakfast? This fun, healthy breakfast Popsicle recipe is so good.
Ingredients:-
Whole milk (1/2 cup)

Plain yogurt (2 cups)

Honey (1 tsp.)

Strawberry jam (1/2 cup)

Blueberry jam (1/2 cup)

Pure vanilla extract (1/2 tsp.)

Chopped strawberries (1/2 cup)

Blueberries (1/2 cup)

Honey Nut Cheerios (2 cups)Easy
How to make Breakfast Popsicle:-
Stir milk, yogurt, vanilla, and honey together in a bowl until everything is combined properly.

Fill popsicle molds with yogurt mixture, then jam, fruits, and cereal. Put 1/4th cup of each item.

Keep them in the refrigerator, Overnight.

Take them out in the morning and keep them at room temperature for 4-5 minutes. Pull them out of the molds and serve.