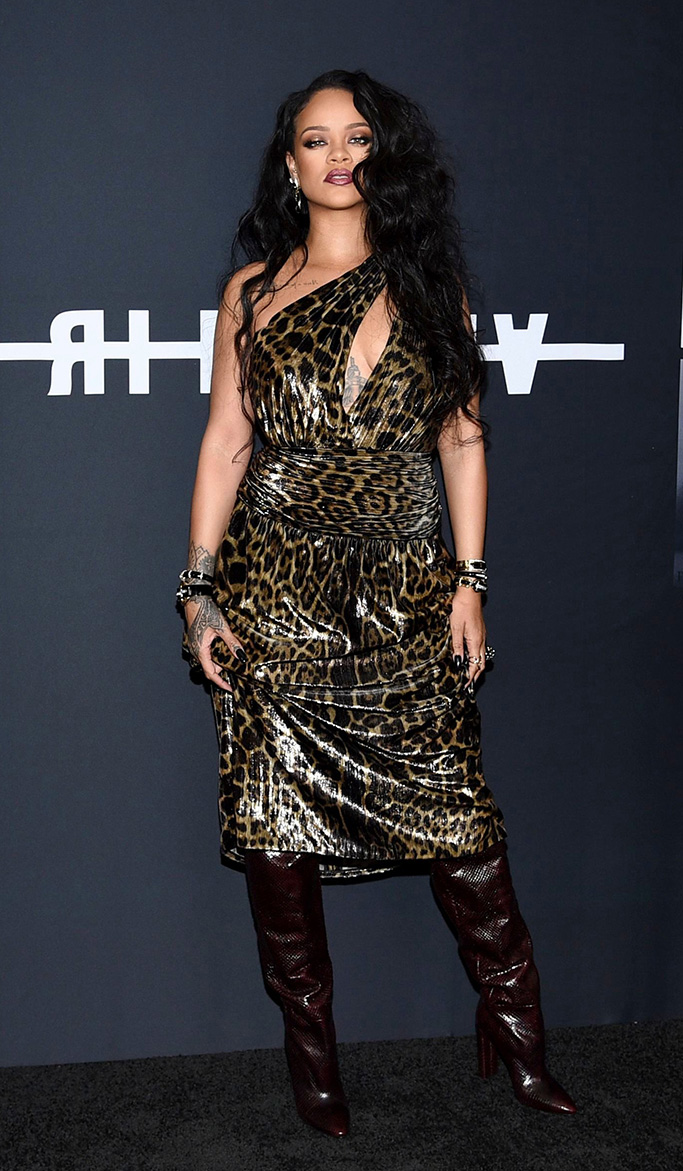 Last Tuesday, the famous pop star, entrepreneur and designer Rihanna launched her "visual autobiography"- presenting her thousands of photos clicked throughout her life. On the launch of the autobiography at the Guggenheim Museum in New York, Rihanna stunned the stole the show in her tempting printed dress and bordeaux boots.
At the launch of Rihannas' visual autobiography the pop star arrived at her launch in Saint Laurent Spring 2020 dress. She opted for one-shoulder leopard-print dress with draped design. The dress featured cut-out detail on the front and gathered wasteline. She completed the look with a pair of burgundy snakeskin embossed knee-high boots.  She added David Webb jewelry and black sunglasses to her looks, and carried in elegant yet bold way. Rihanna is known for her statement-making looks, and this outfit is no exception.
Rihanna's visual autobiography tome comprises 1050 photos, and a double-sided poster.  It took her five years to complete the album. Most of the photos comprised in the 504- pages album are shared publically for the first time. And most importantly, the album would come in three editions namely: The Shit is Heavy, Drippy + the Brain and Stoner. Close friends of Rihanna, Jennifer Rosales and Melissa Forde also appears in the Rihannas' visual autobiography in the famous off duty moments of the hard working musician.
Rihanna shared her tome on Instagram, and captioned "Thank you to all of the photographers and artists that contributed and to @phaidonsnaps for working with me to publish my first piece of art in a new industry!" Through the caption she expressed her gratitude to her photographers and publishers.