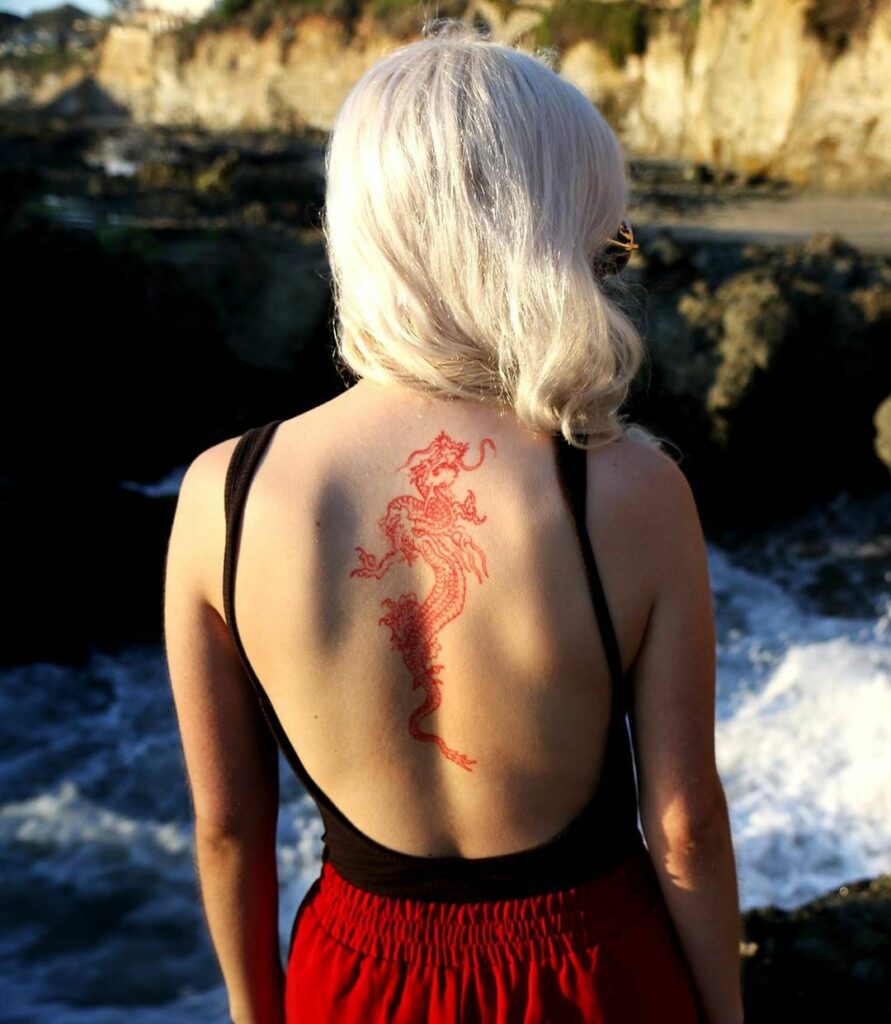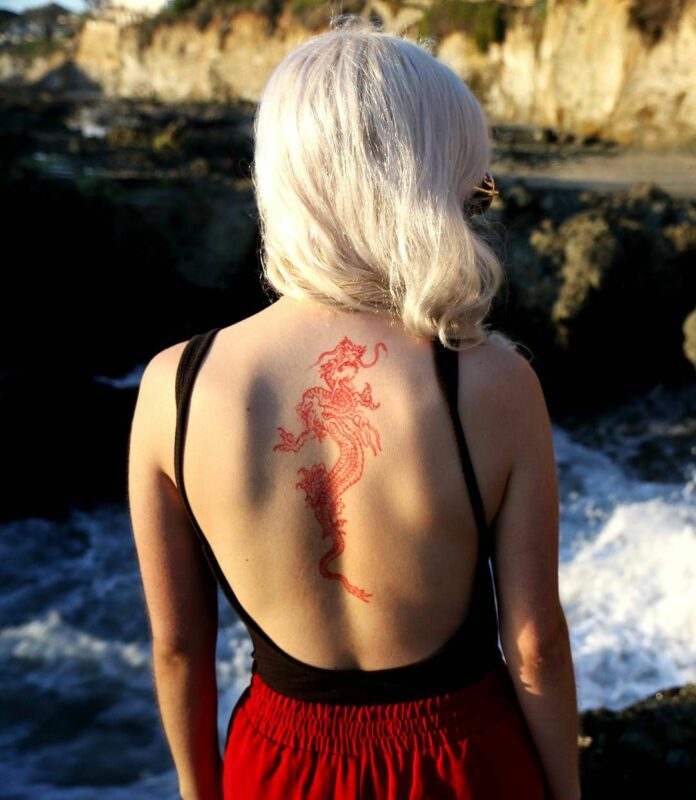 The word Dragon means Serpent, derived from the Greek word, Drakon, as it has serpent-like bodies. Whereas in the west, dragons are considered a sign of monstrous and evil as they were magnificent, adored, and godly creatures in the culture of the East.
Besides, in Asian Culture, the dragon is the sign of luck, freedom, triumph over evil, strength, and fortune.
There are numerous designs of dragon tattoos available on the internet; however, red dragon tattoos are trending these days. Out of all the designs, some of the best tattoo designs are here in this article. To know all the designs with their significance and cultural meaning, stay tuned with us until the end of the article. Let us start:
The Meaning Of Red Dragon Tattoos
A dragon is a mythological creature that has different meanings when inked in the red color. Every color has its own importance, as some are related to cultural meanings. When the dragon is tattooed in red color, it signifies strength, passion, and love. Besides, these are typically tribal or Chinese-style tattoos that represent not only strength but also magical powers.
RELATED ARTICLE: 20+ Symbolic Tattoo Designs With Meaning – 2022
We have collected some of the popular and best red ink dragon tattoos. Have a look:
Popular Red Dragon Tattoo Designs
Red Dragon Flowers Tattoo Design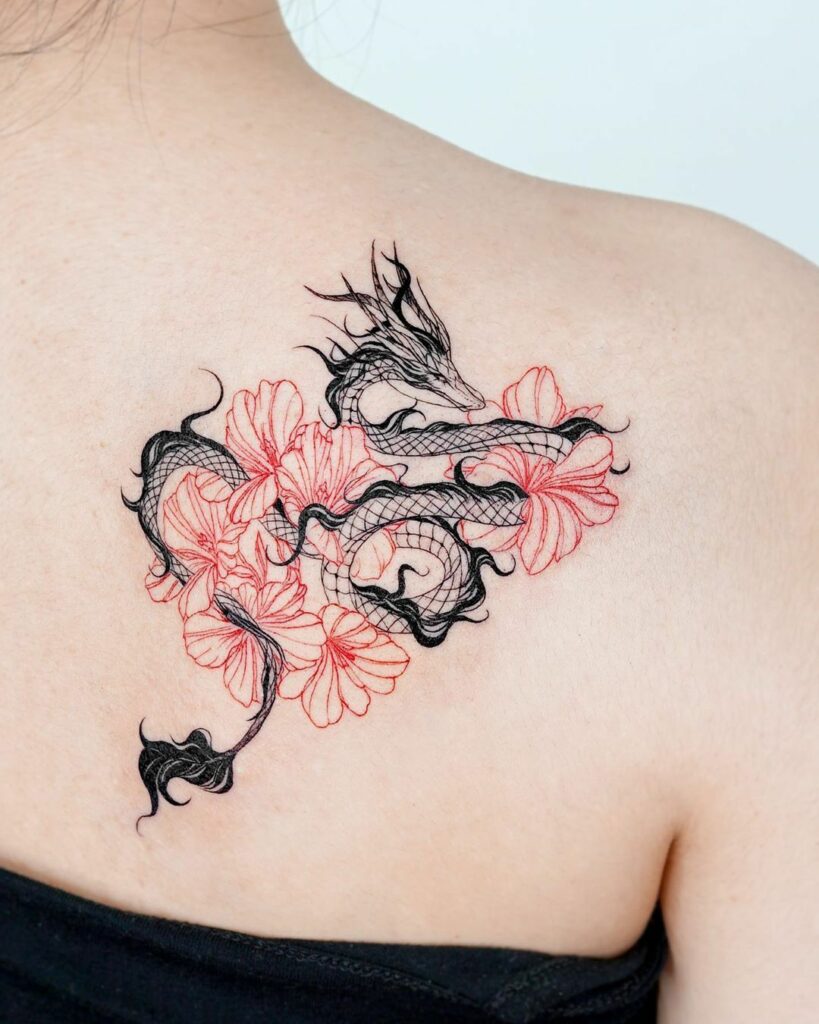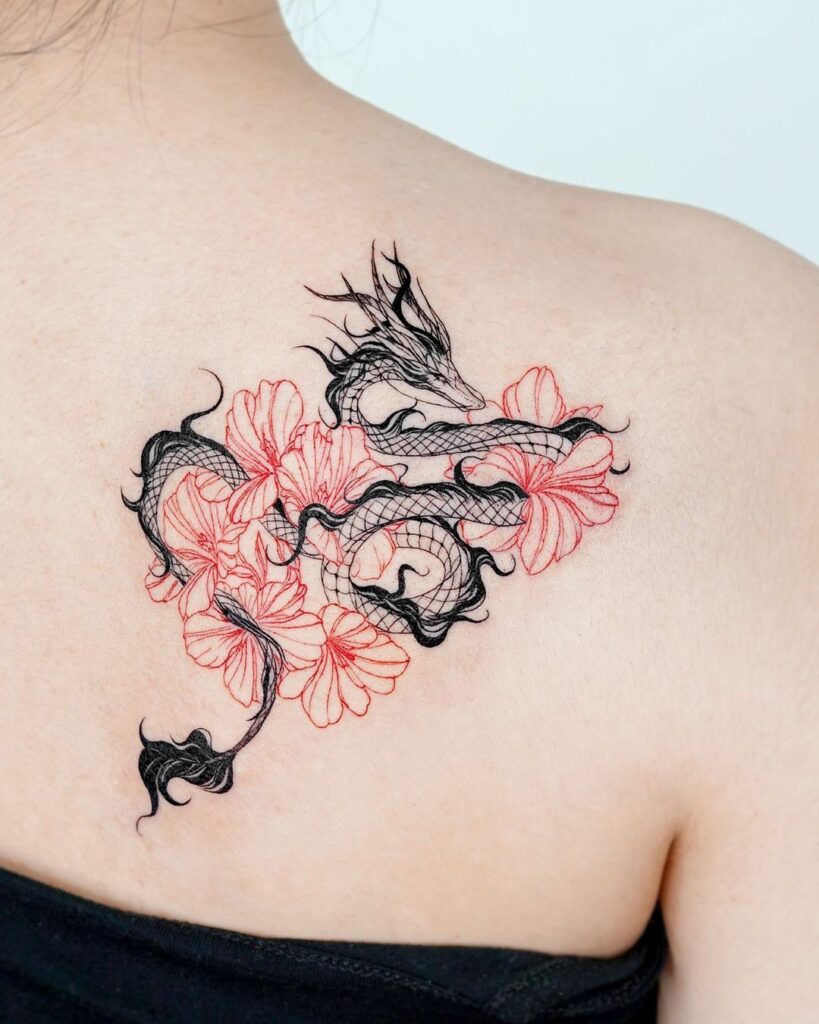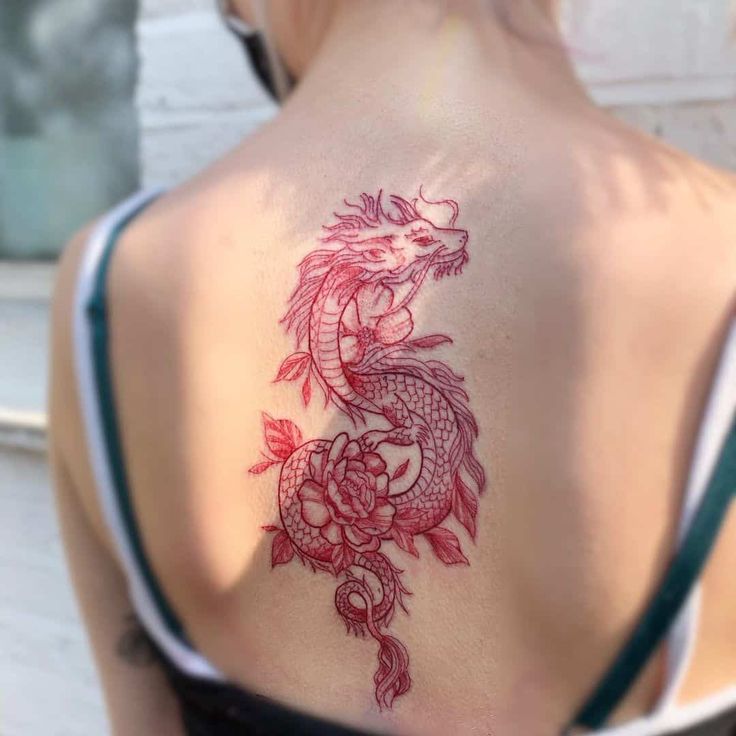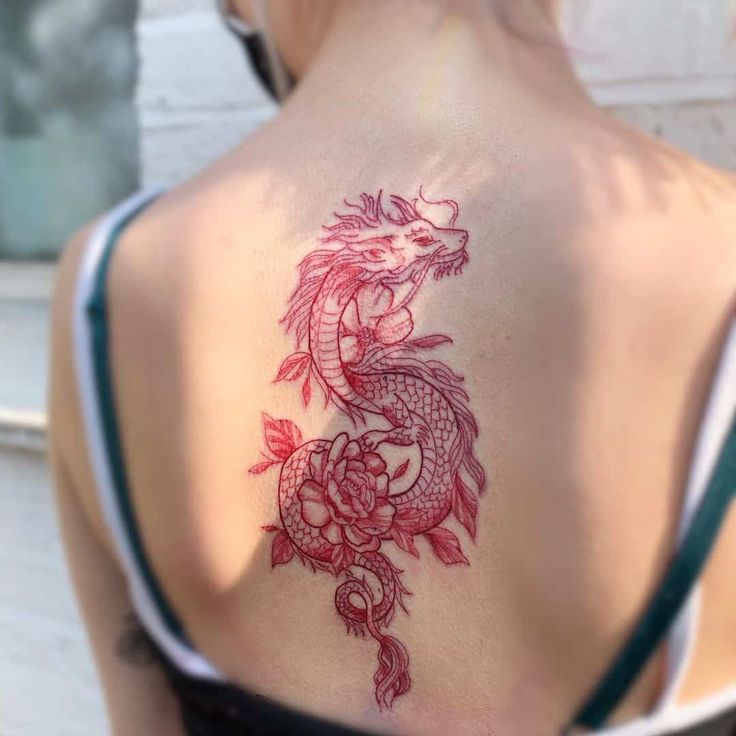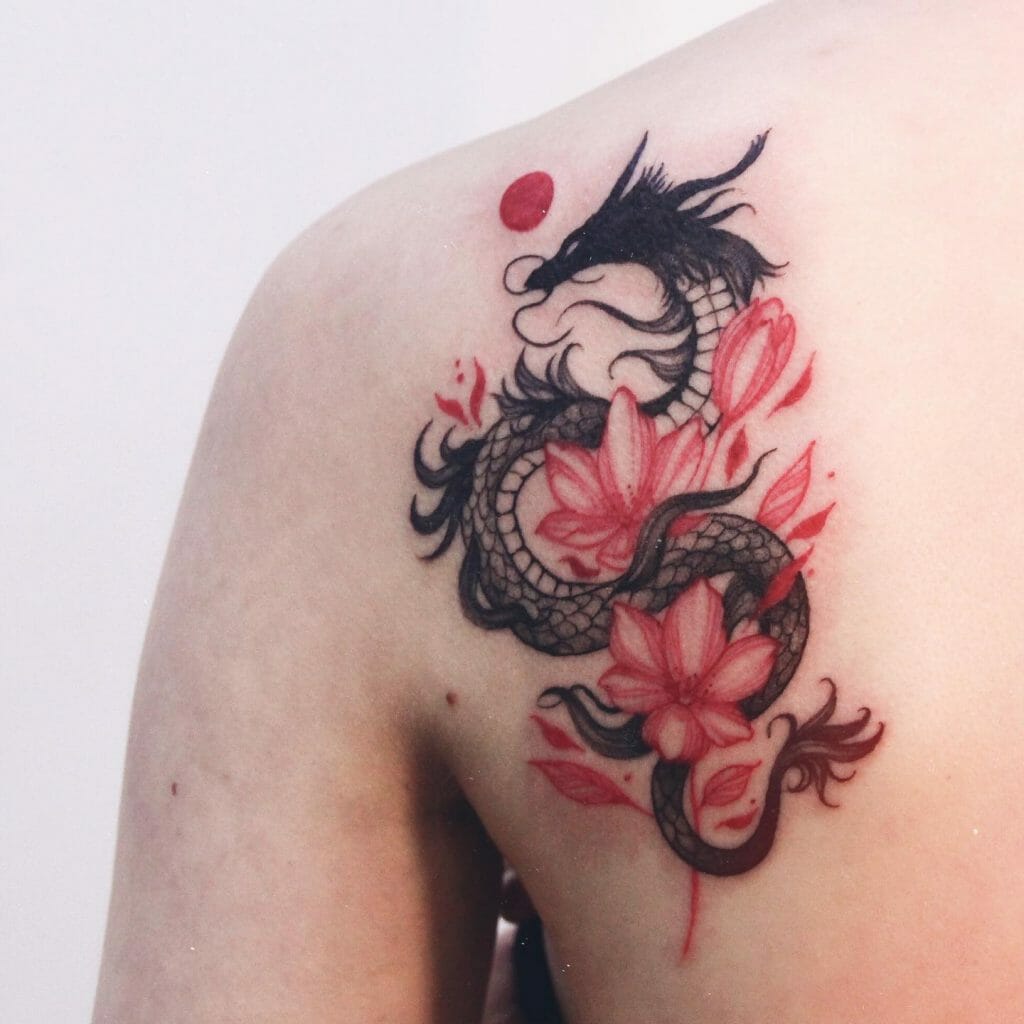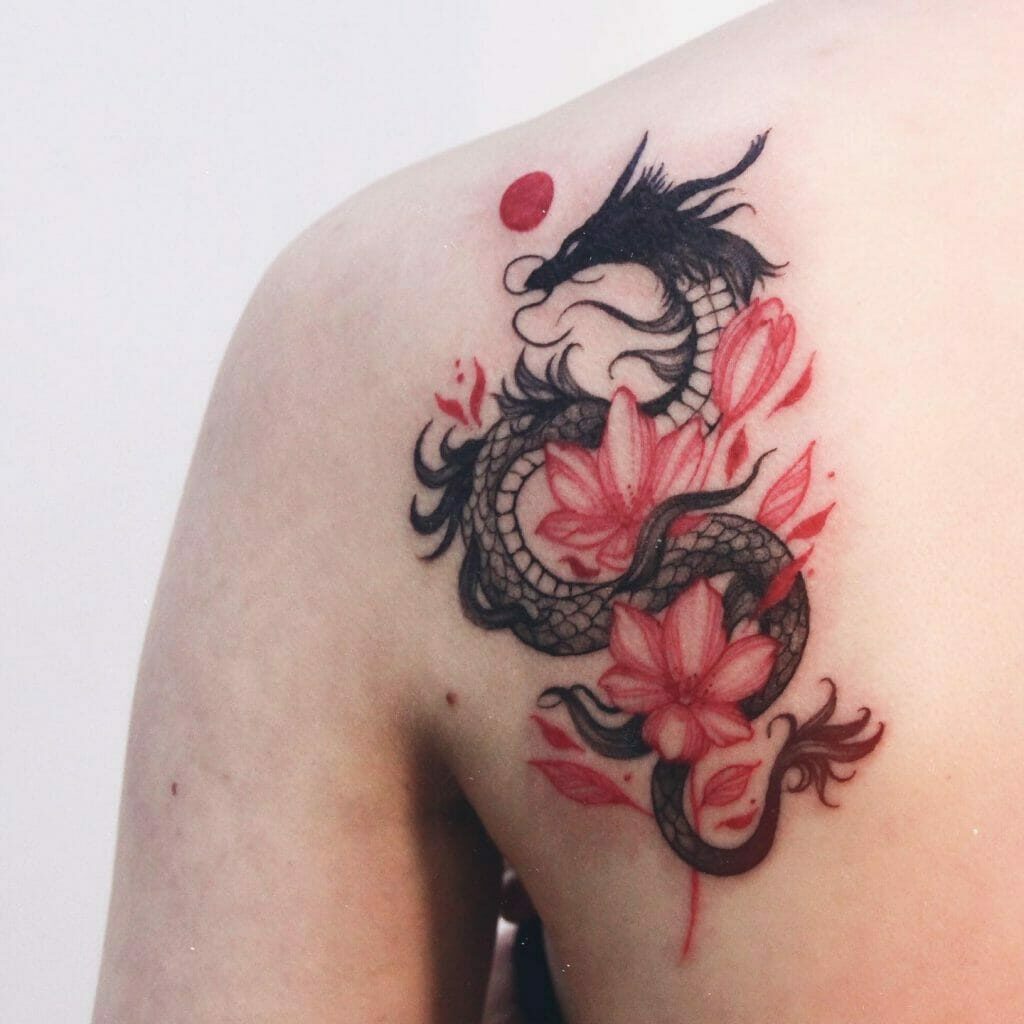 This tattoo style can be small or large; it depends on your choice. When surrounded by flowers, a dragon with red ink would be a beautiful design tattoo that signifies love and passion.
Red Dragon Fiery Tattoo Design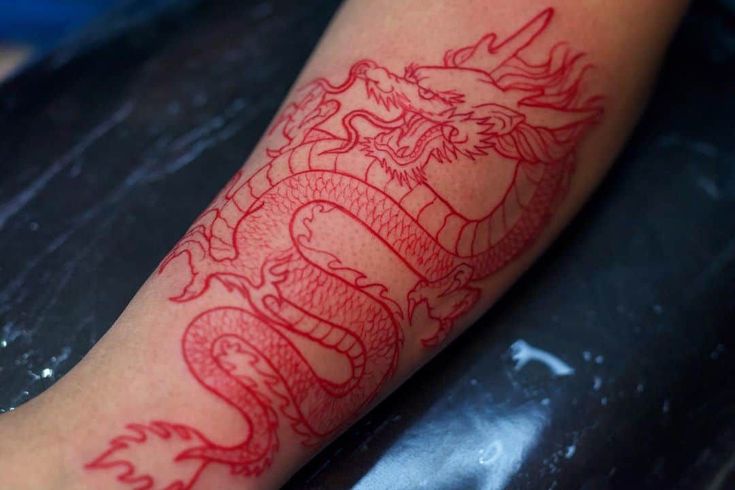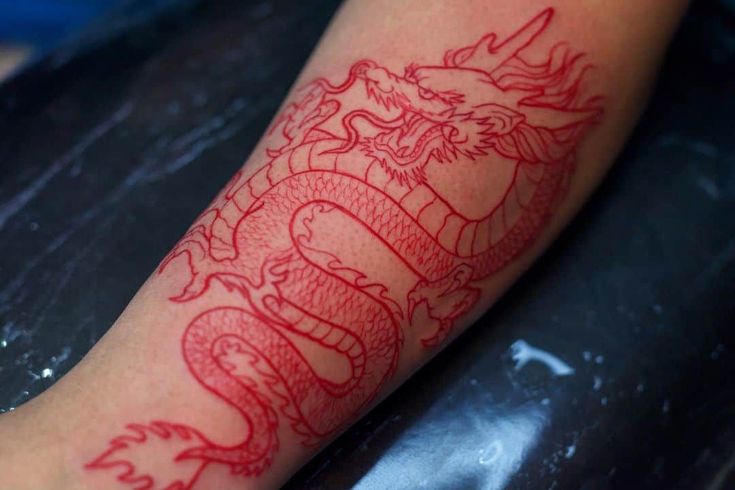 Generally, a fiery dragon tattoo is small in size. It is visualized as the opened mouth of the dragon when ready to spitfire. Moreover, it represents passion and aggression both. If you have a dragon tattoo, it would be perfect for you as it has many other details added to this design tattoo.
Neck Red Dragon Tattoo Design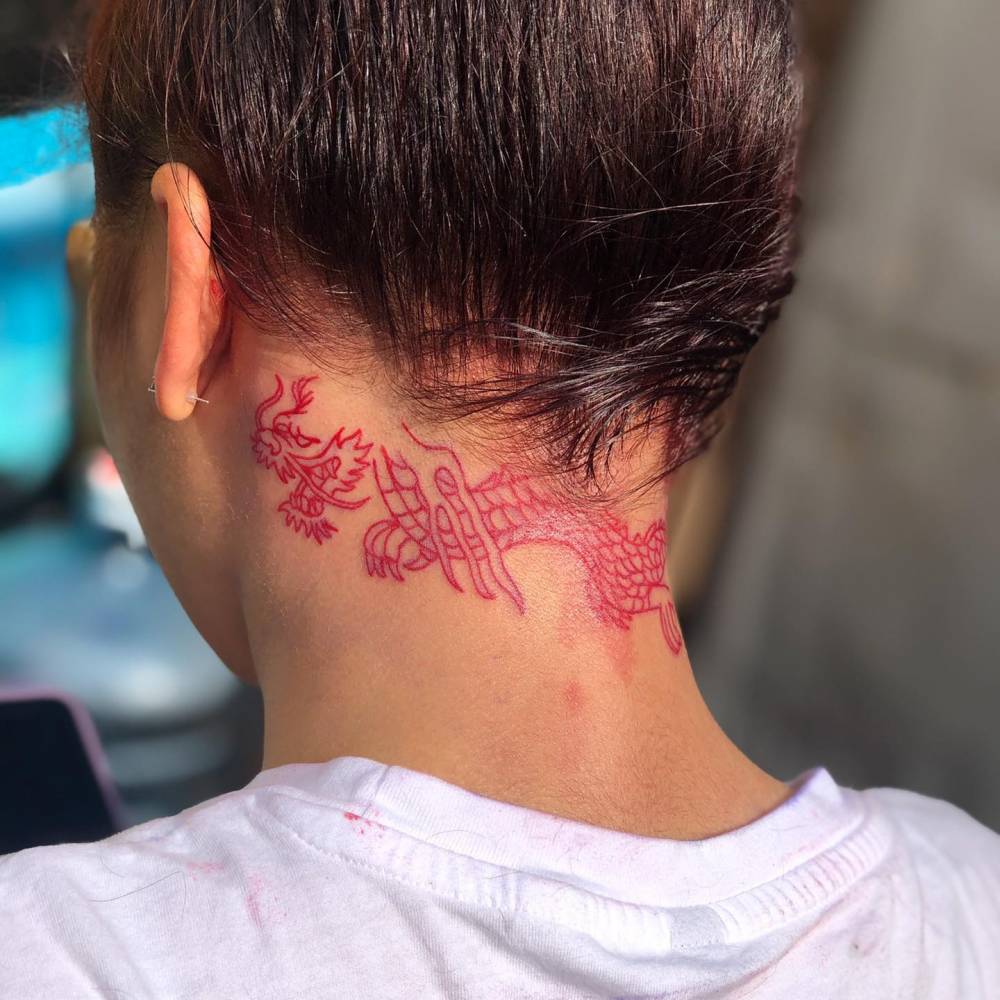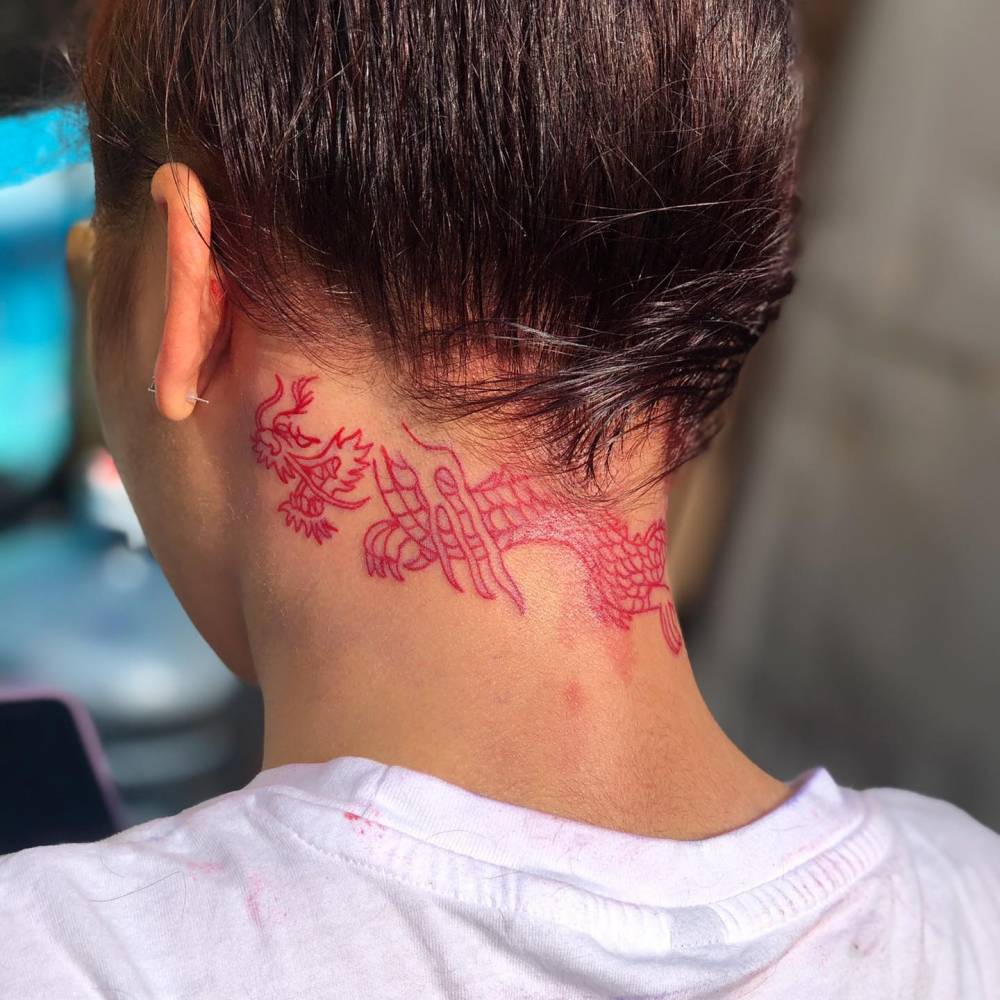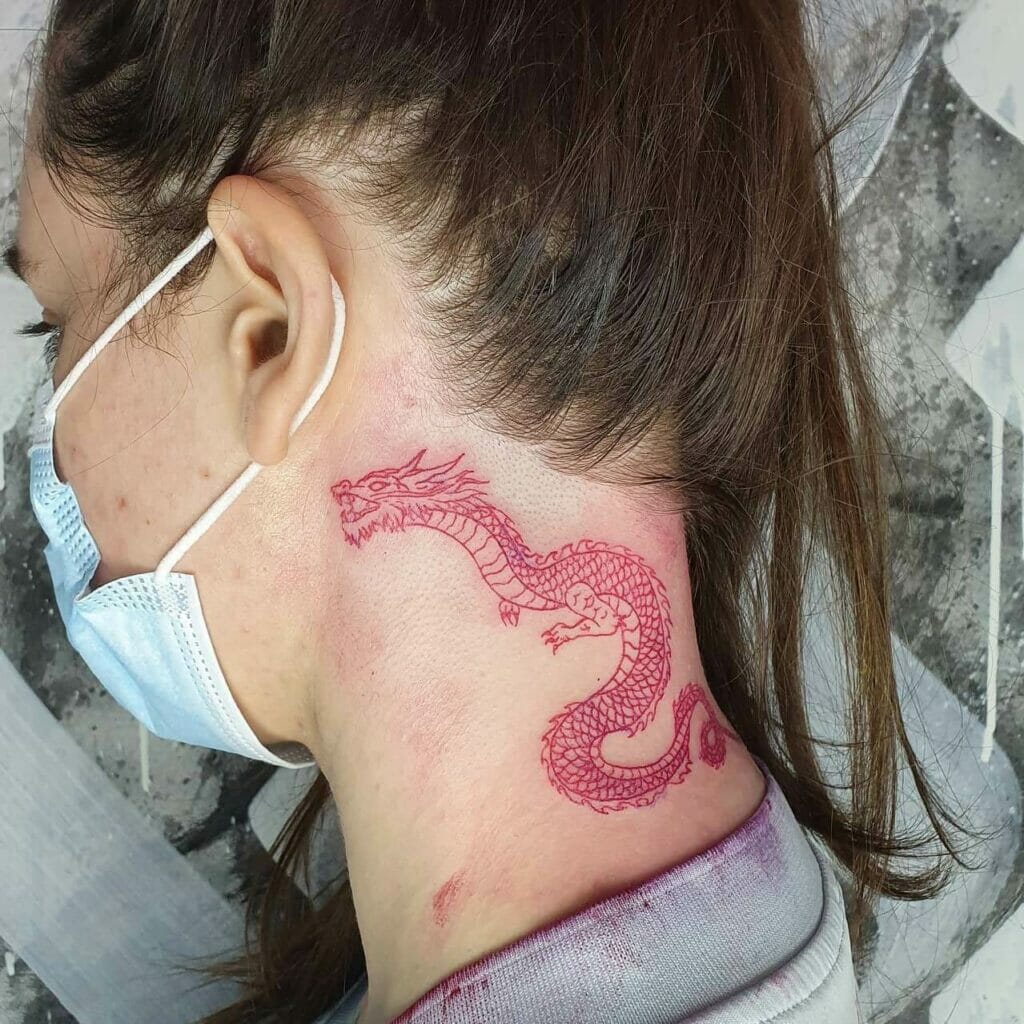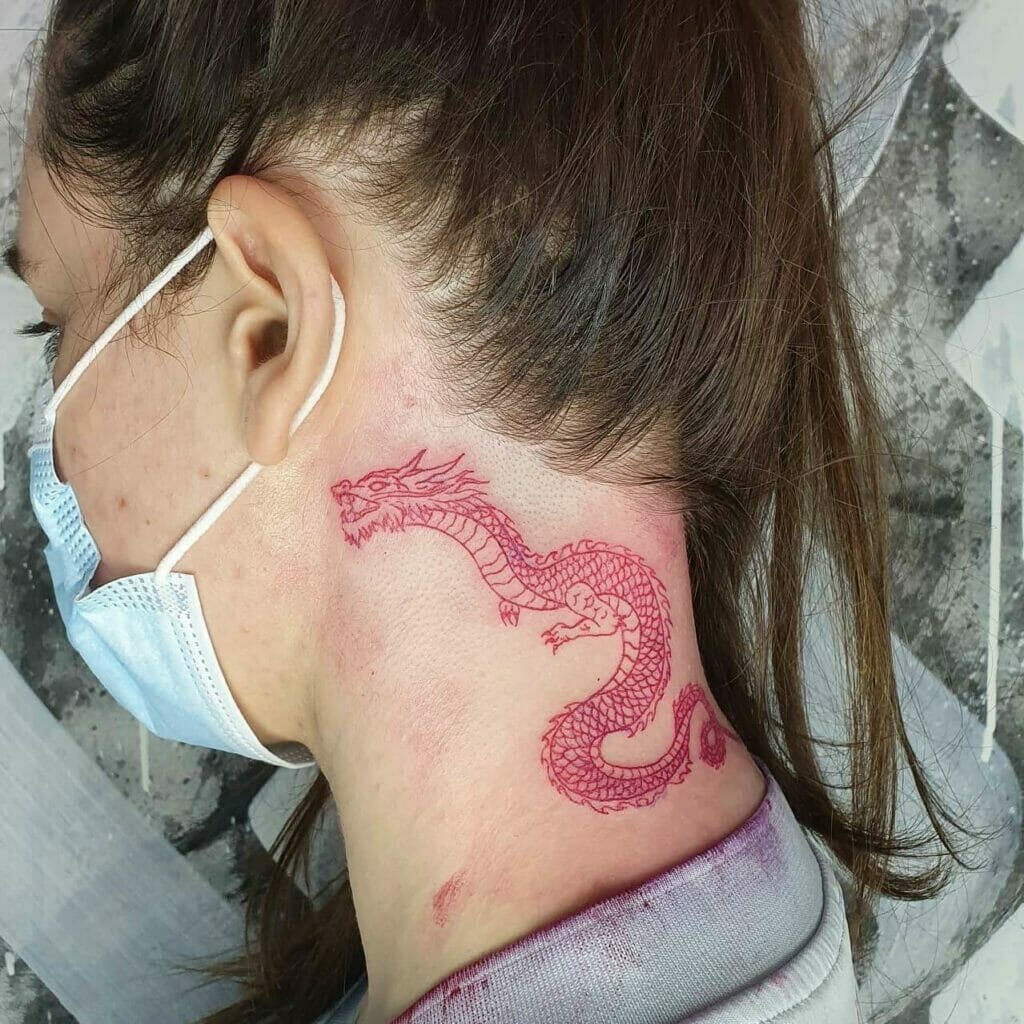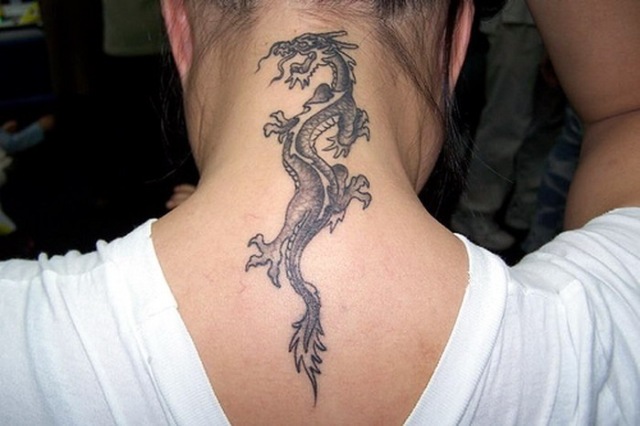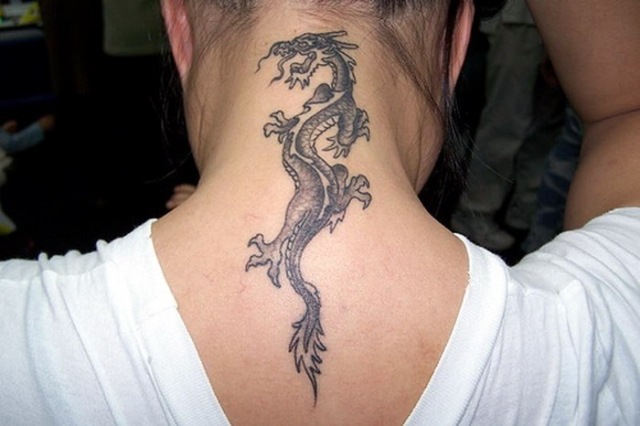 Neck tattoo designs are common among girls and women. One of the attractive dragon tattoos is the red dragon neck tattoo. It would look stunning when inked in a small size. Apart from it, it would be a show-stopper if you are getting it of large size.
Back Red Dragon Tattoo Design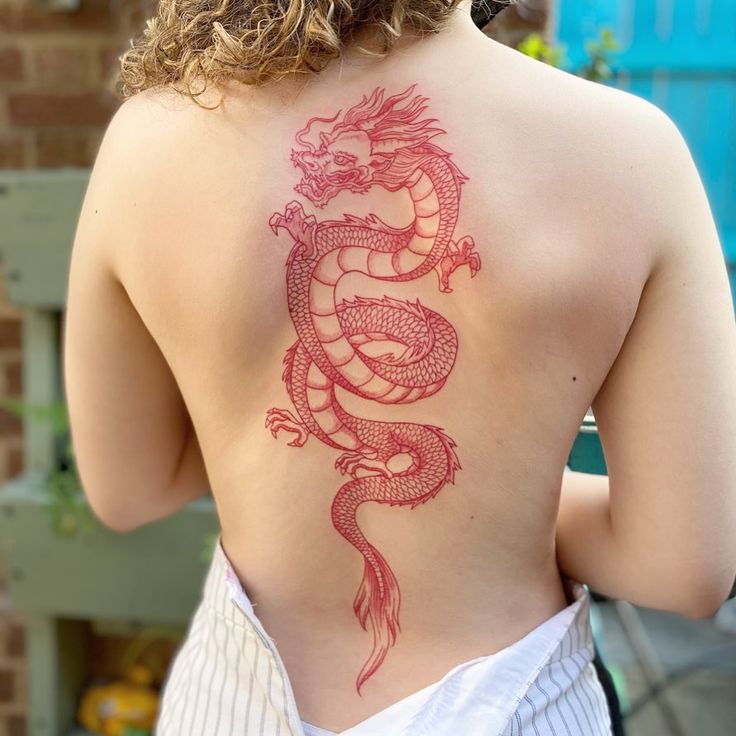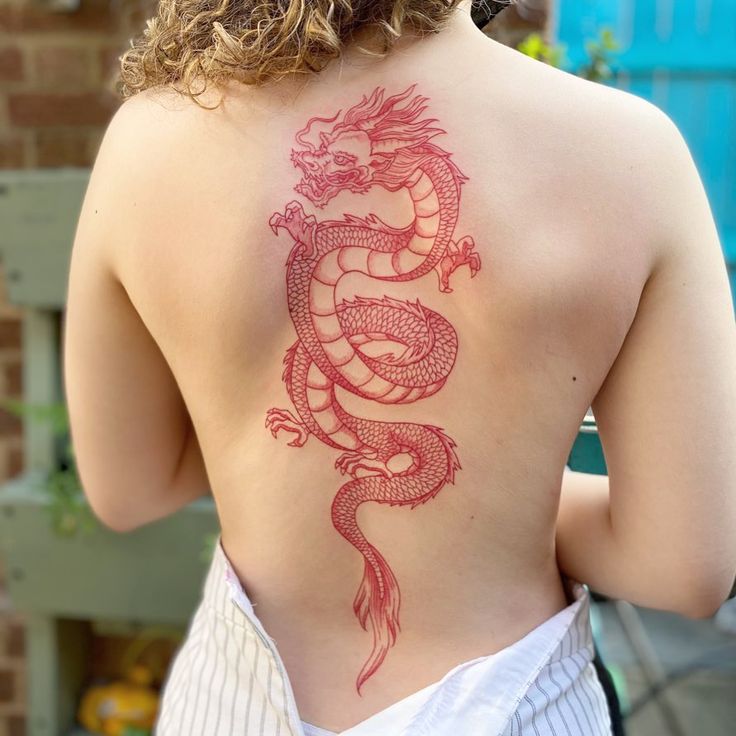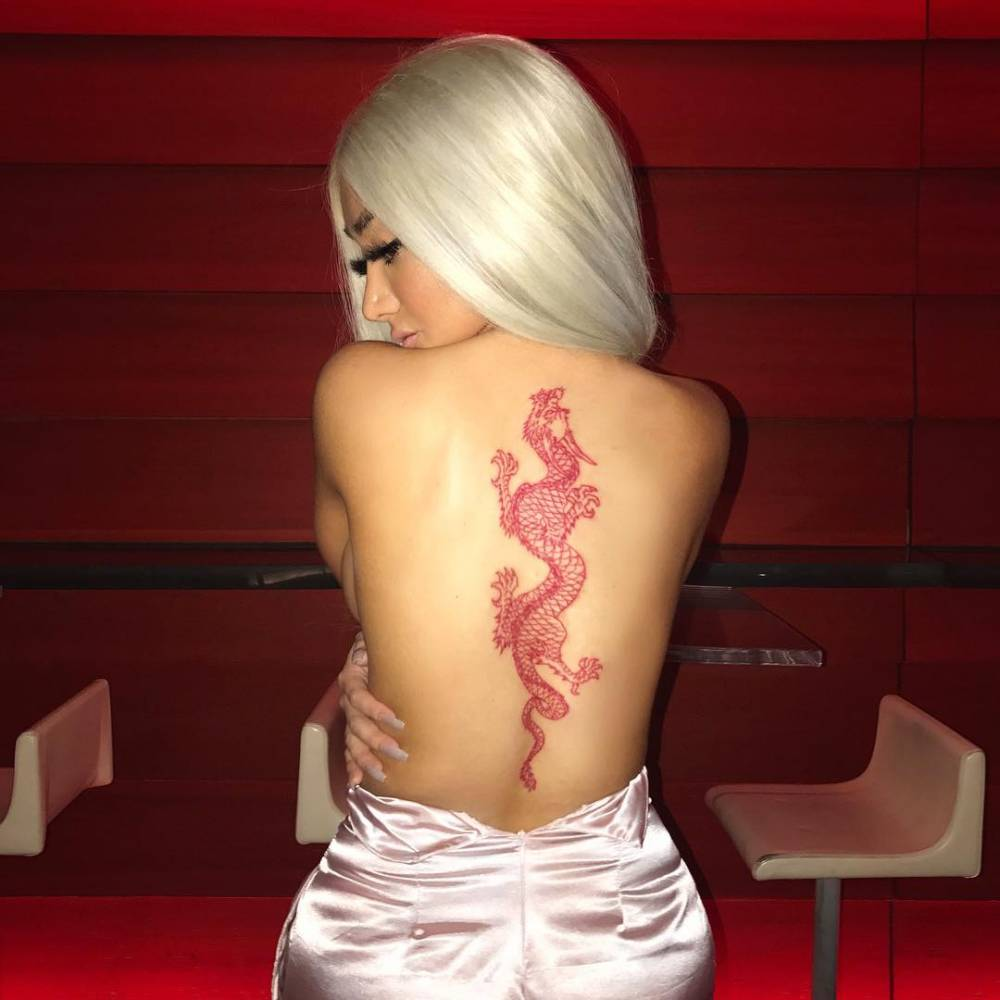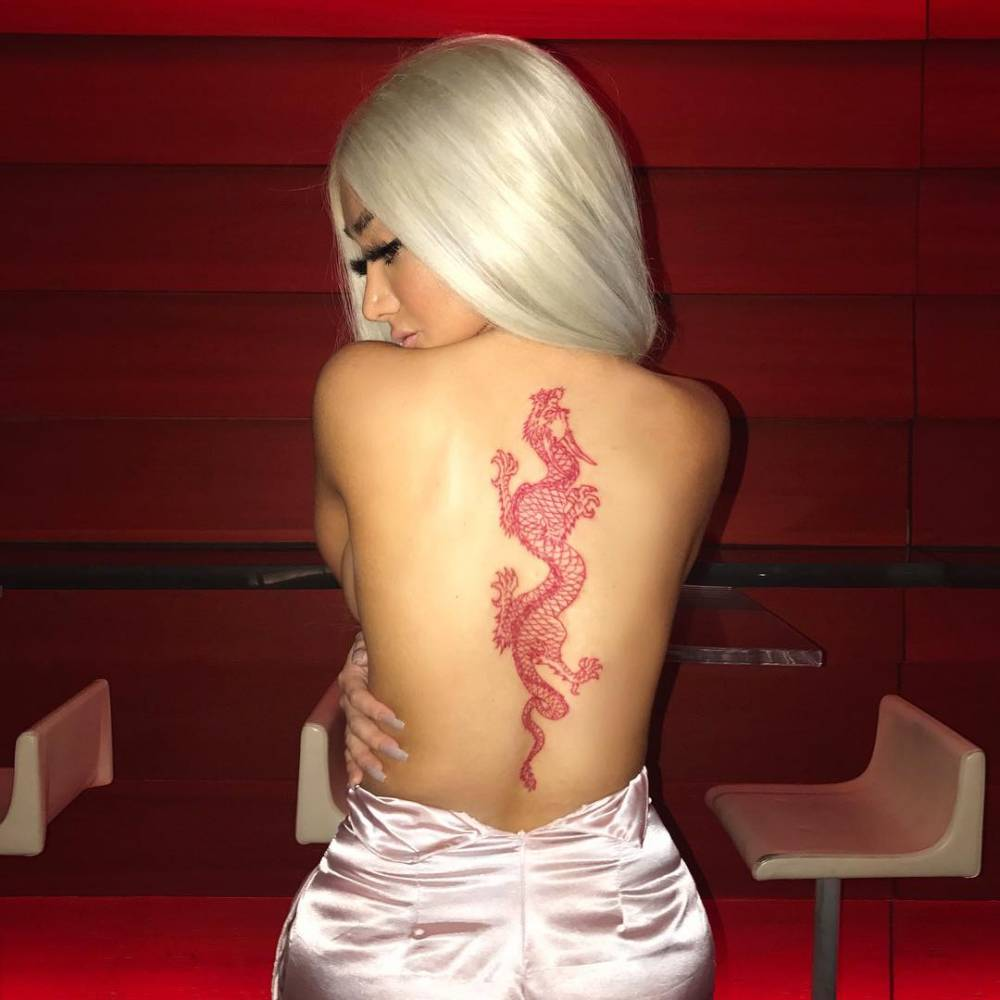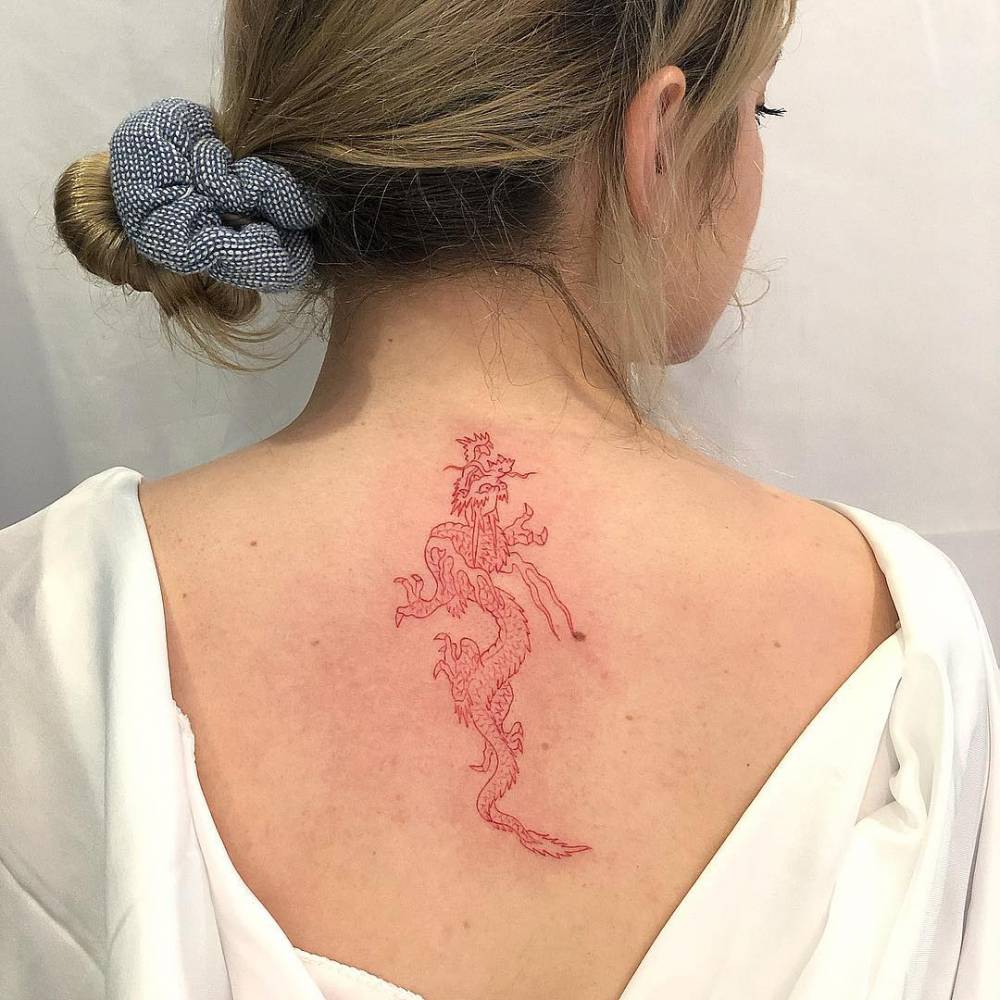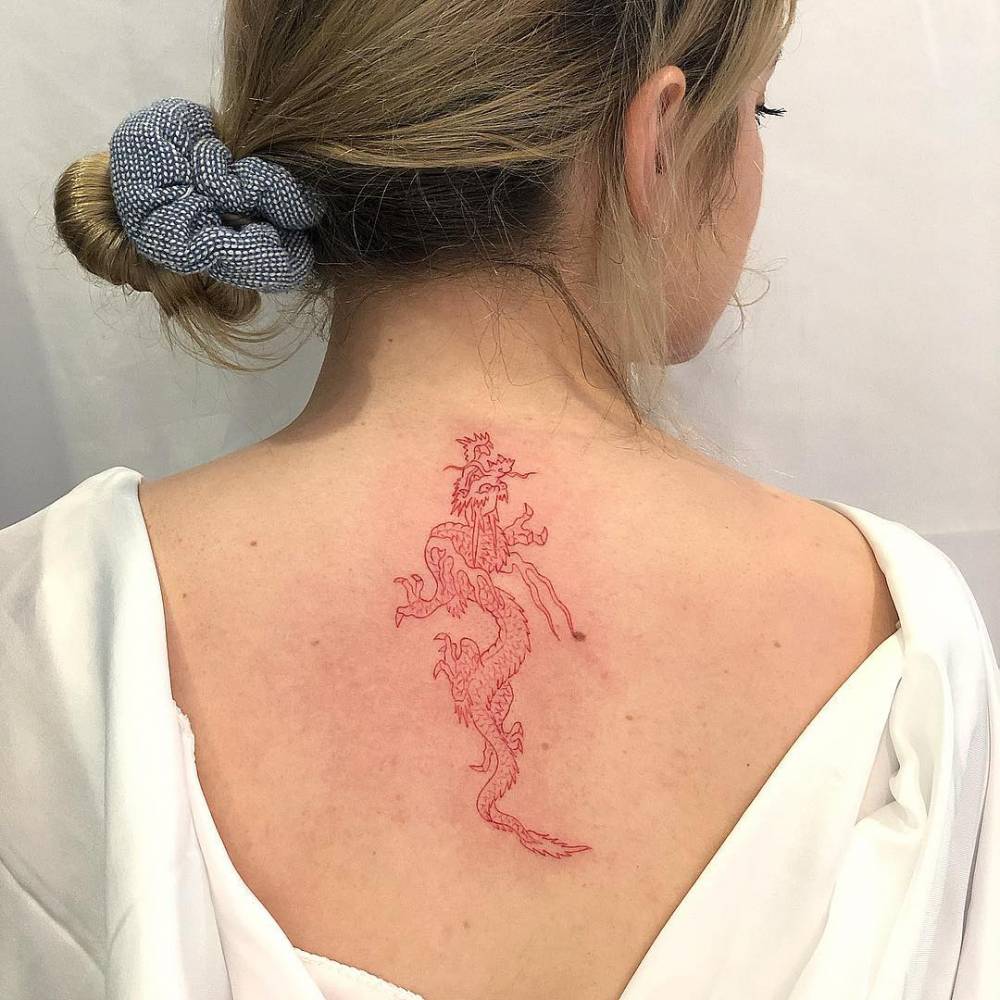 The Red Dragon back tattoo is one of the most powerful and massive as it adds details to many other features. Having the back dragon tattoo means the dragon is protecting you from behind. This design of the tattoo is really stunning. Have it for more details; you will never regret it.
Red Dragon Shoulder Tattoo Design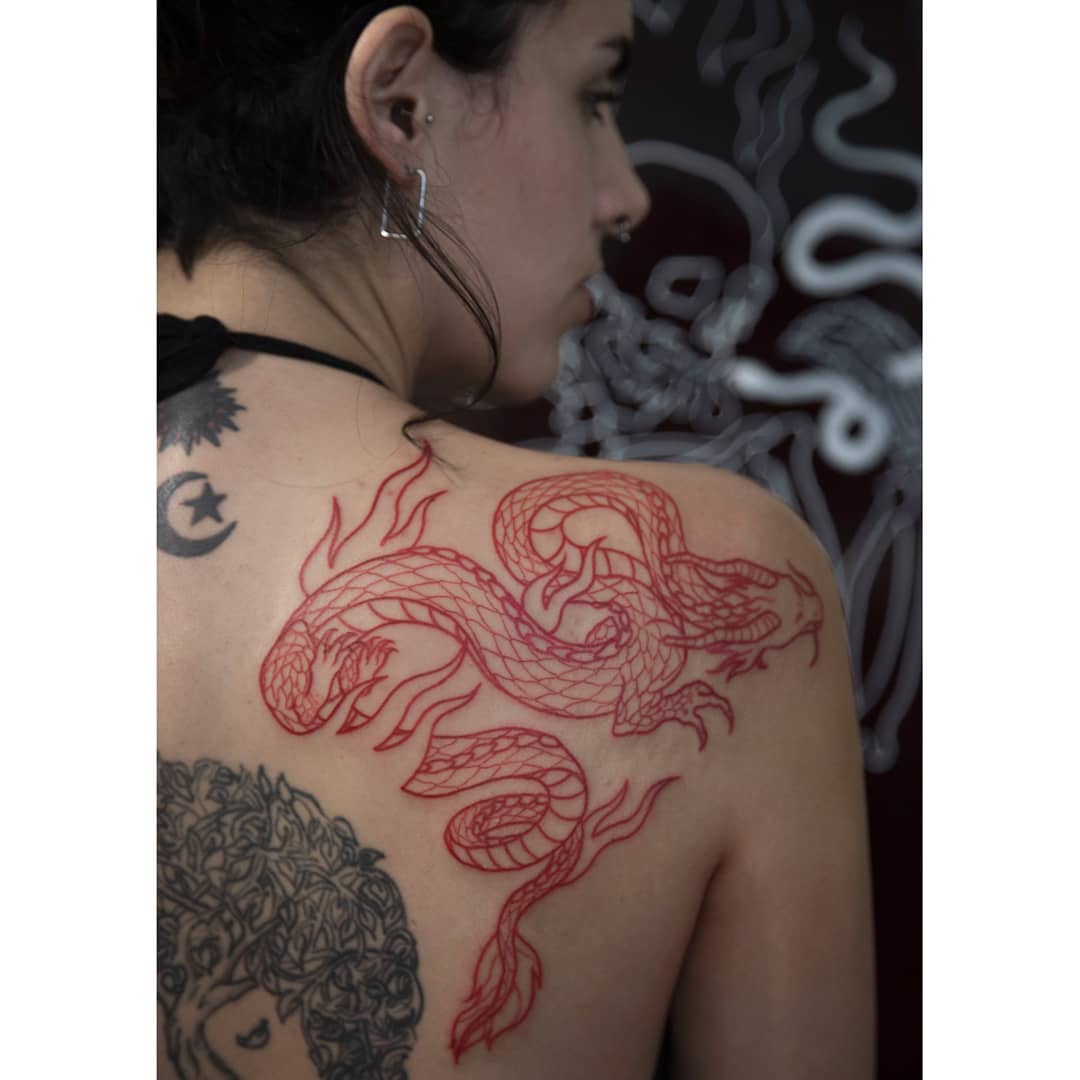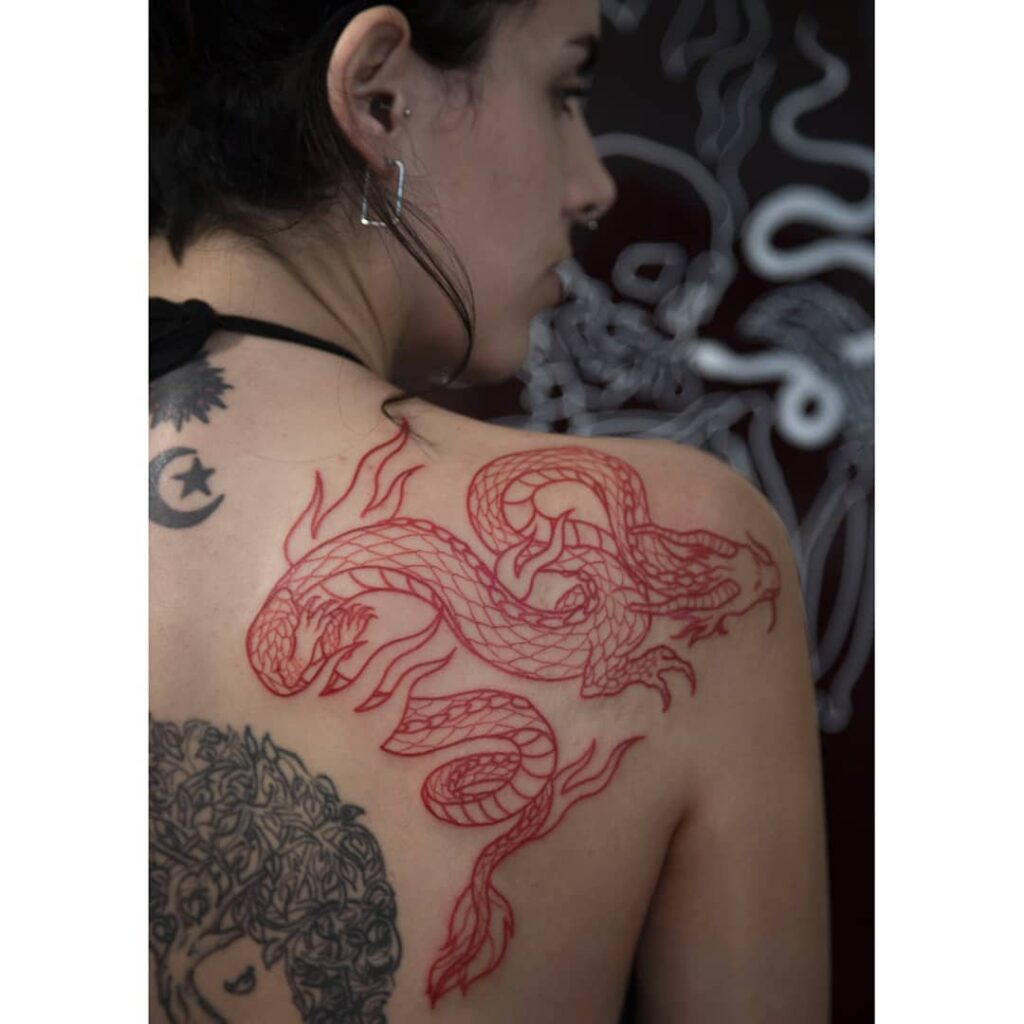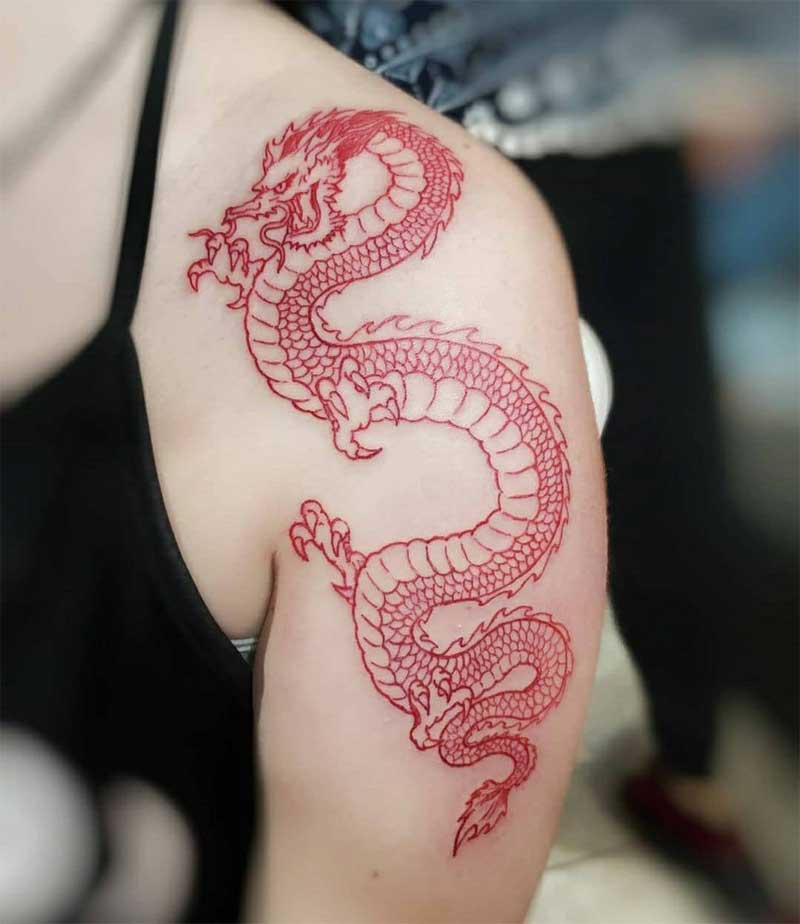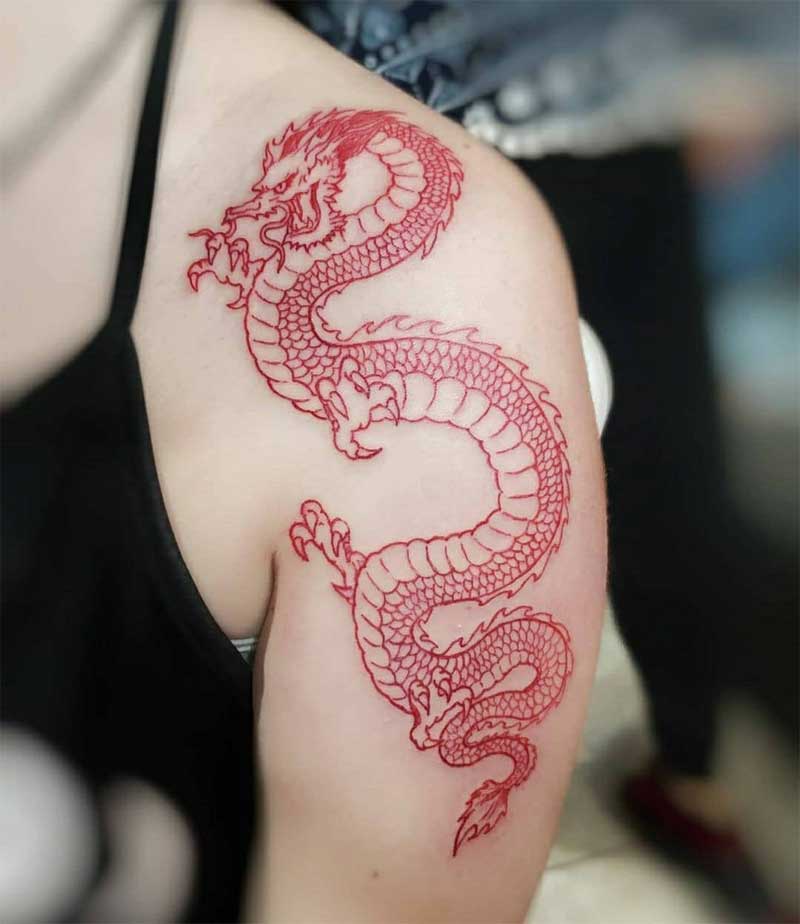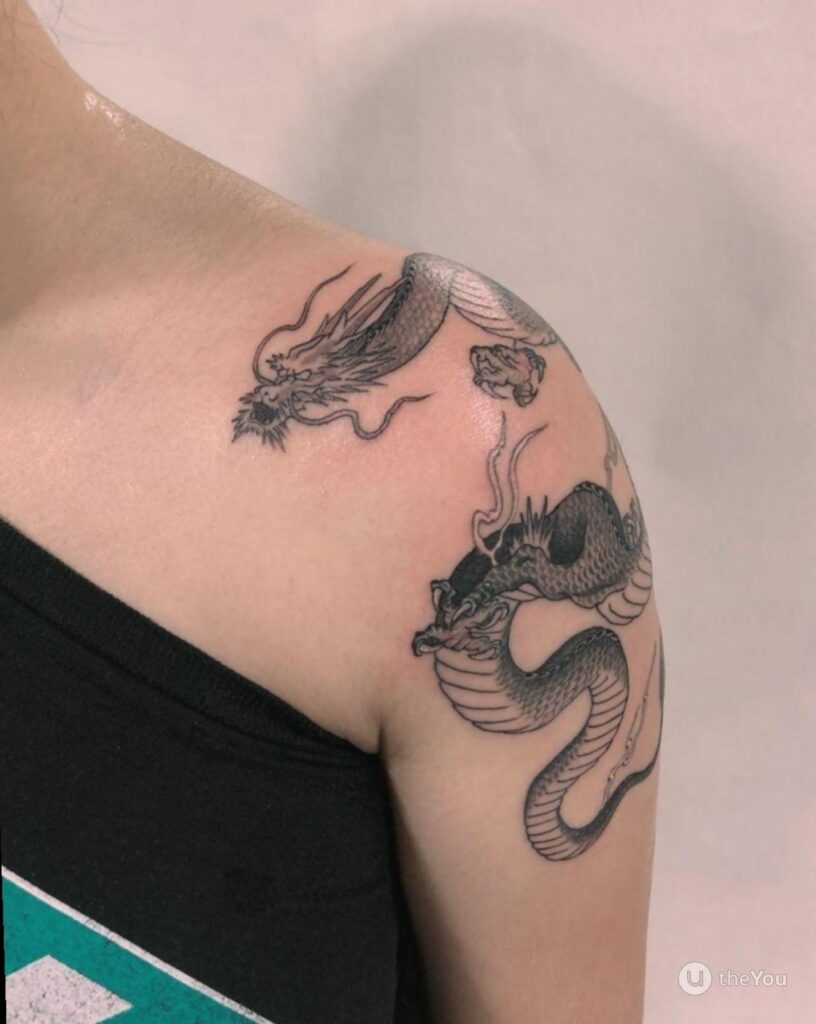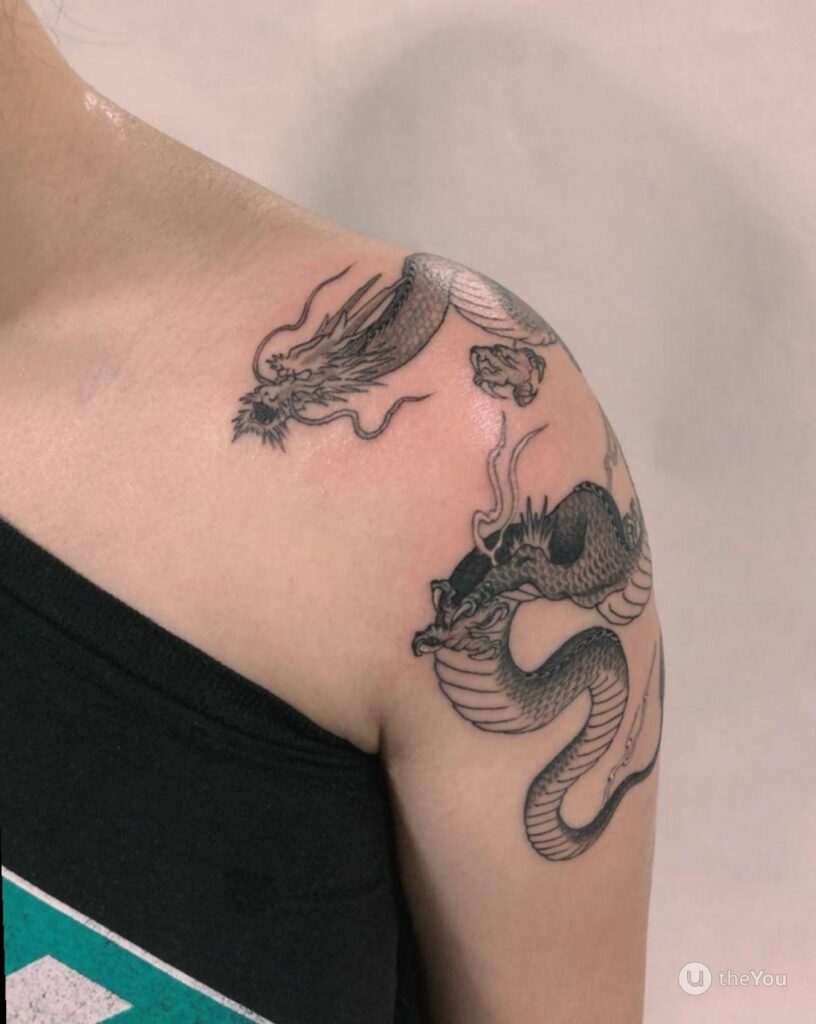 Getting a tattoo of a red dragon on your shoulders means that the dragon is over your shoulders, watching everything for you. It is a sign of strength and power. It would be an exotic piece of tattoo to get on your shoulder.
Red Dragon Spine Tattoo Design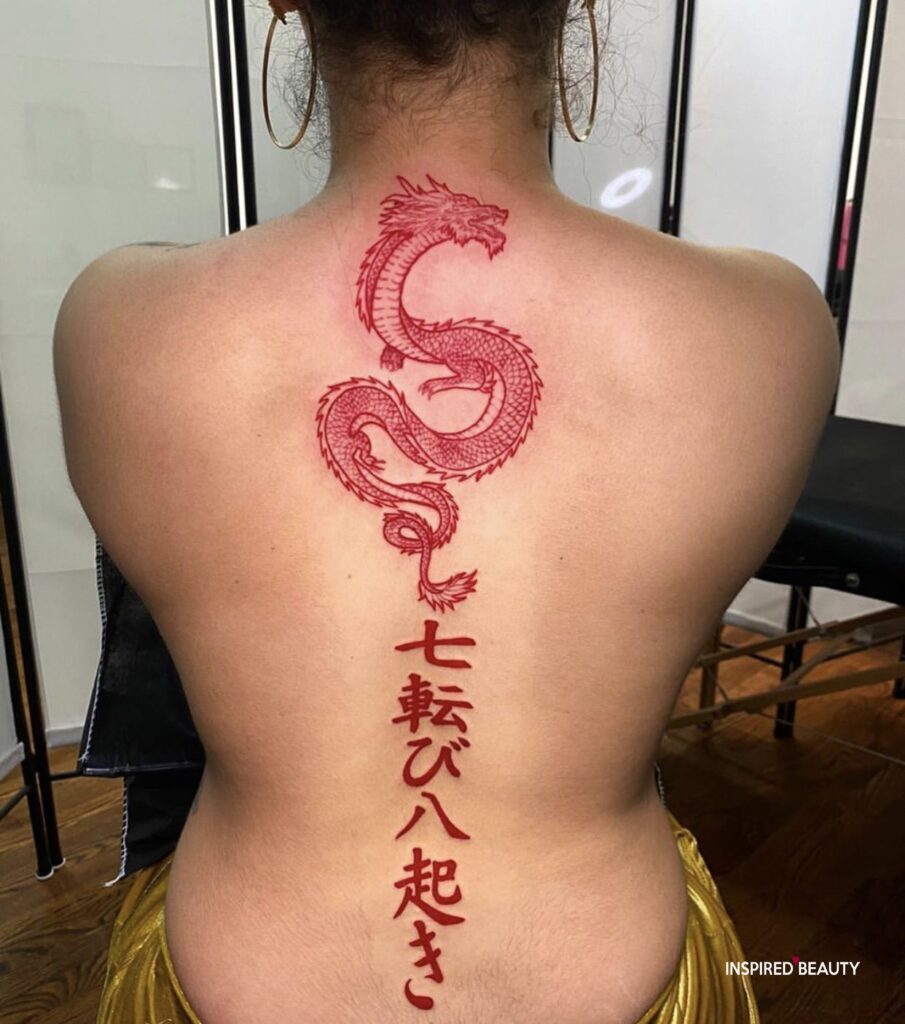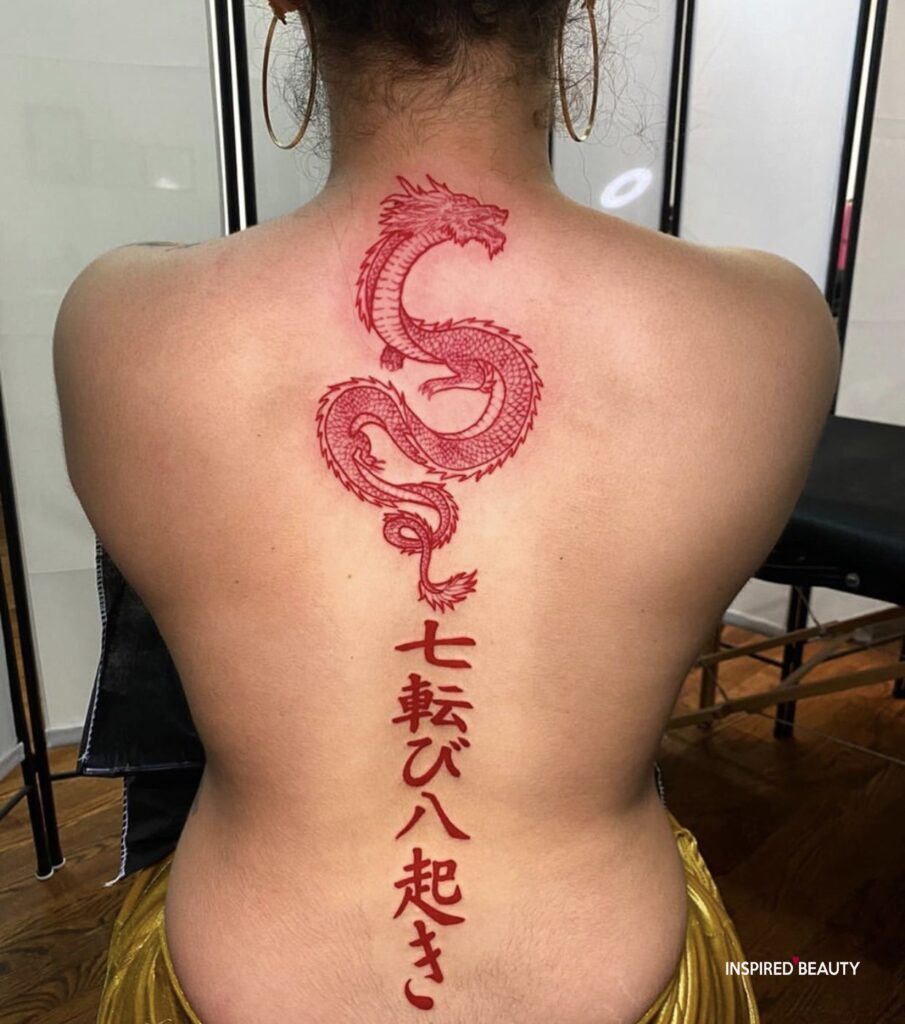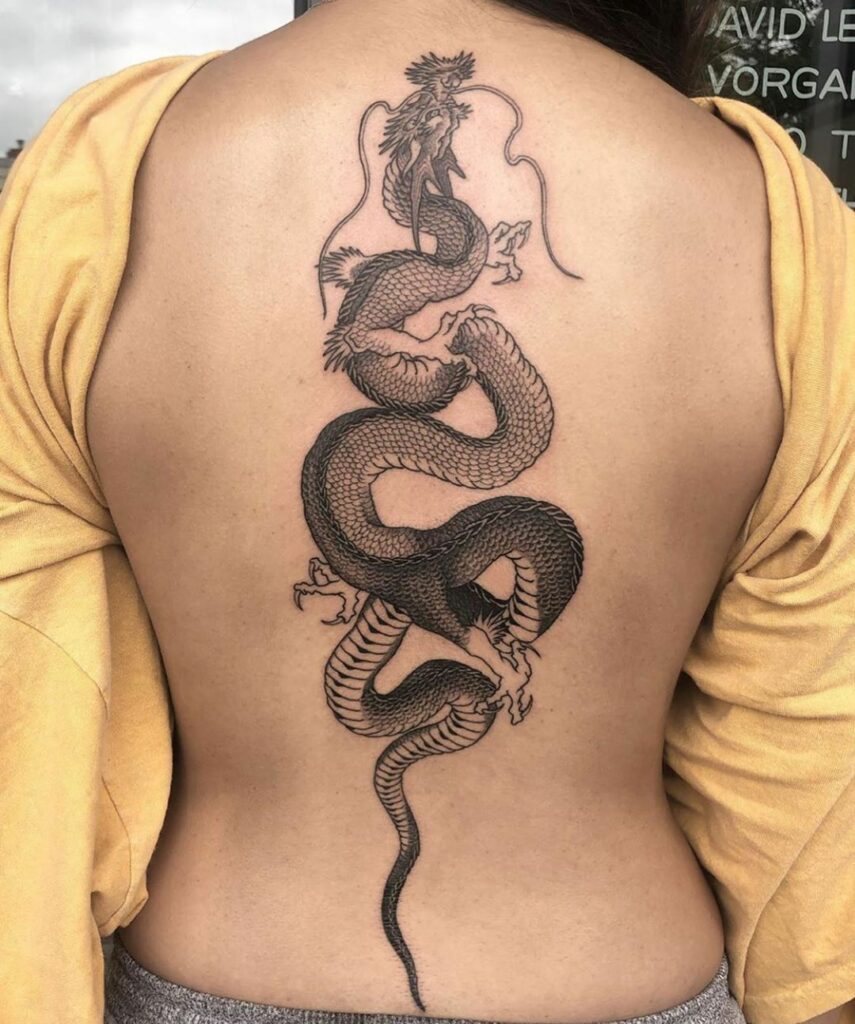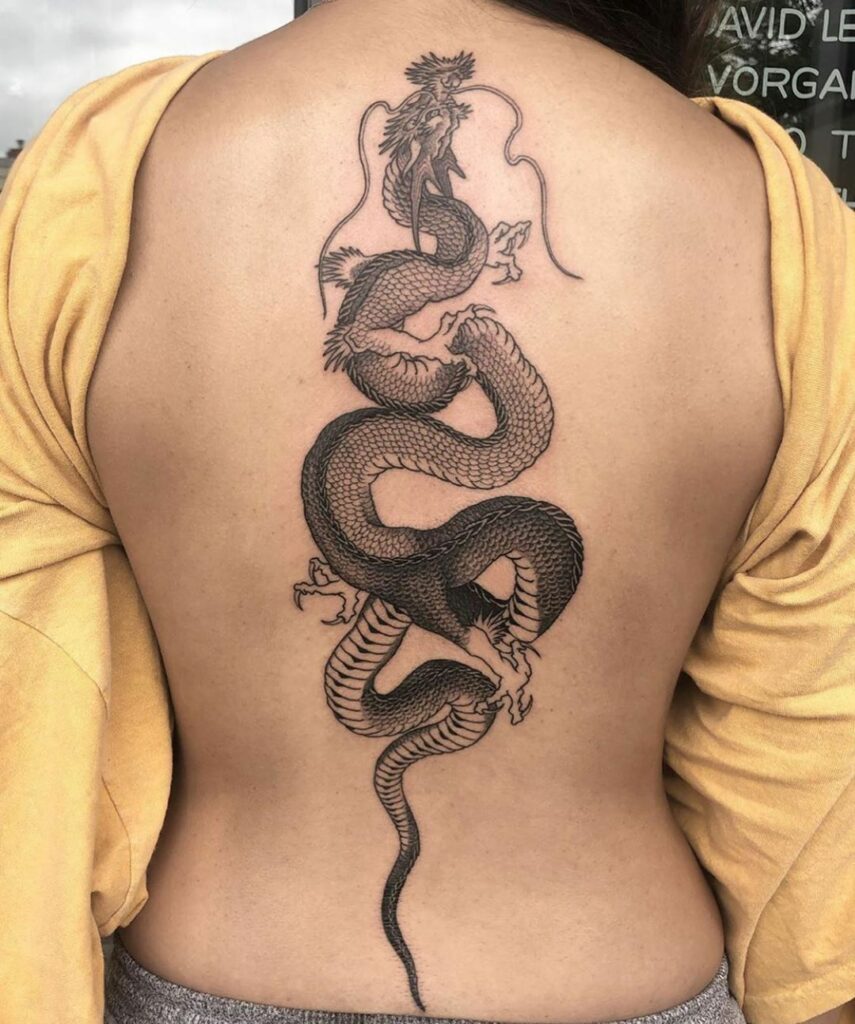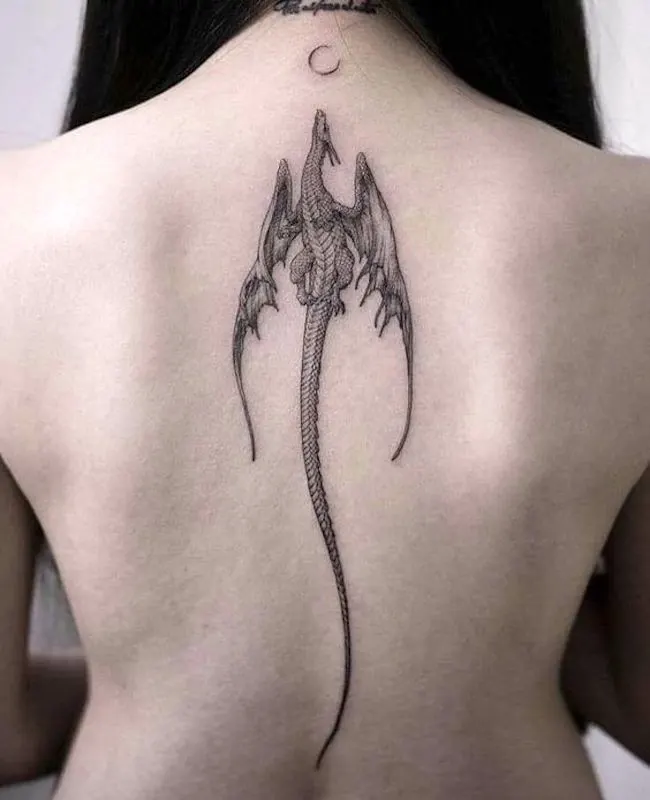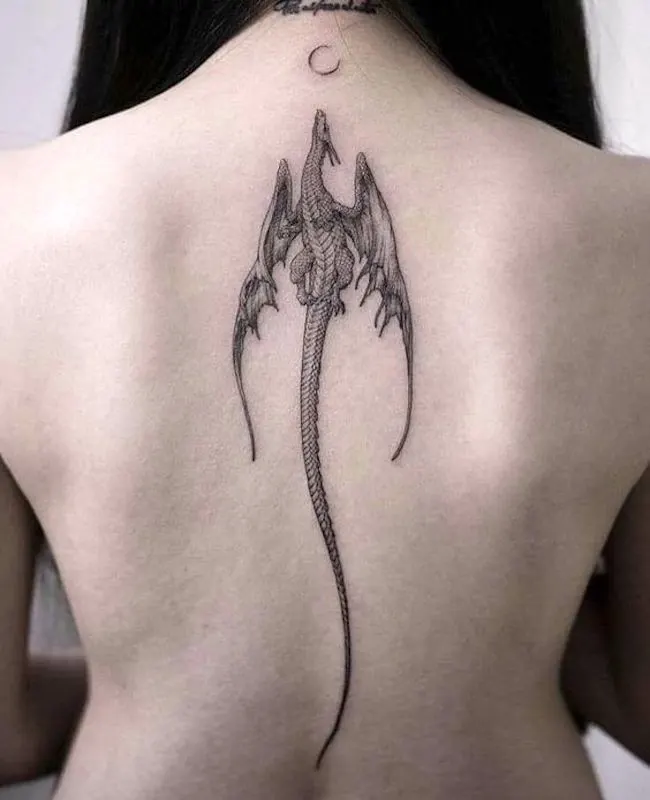 A red dragon spine tattoo represents the power, authority, and strength of the person wearing it. Moreover, it is a sign of the mother and her protective abilities.
KNOW MORE: Best Spine Tattoos Idea
Red Dragon Rib Tattoo Design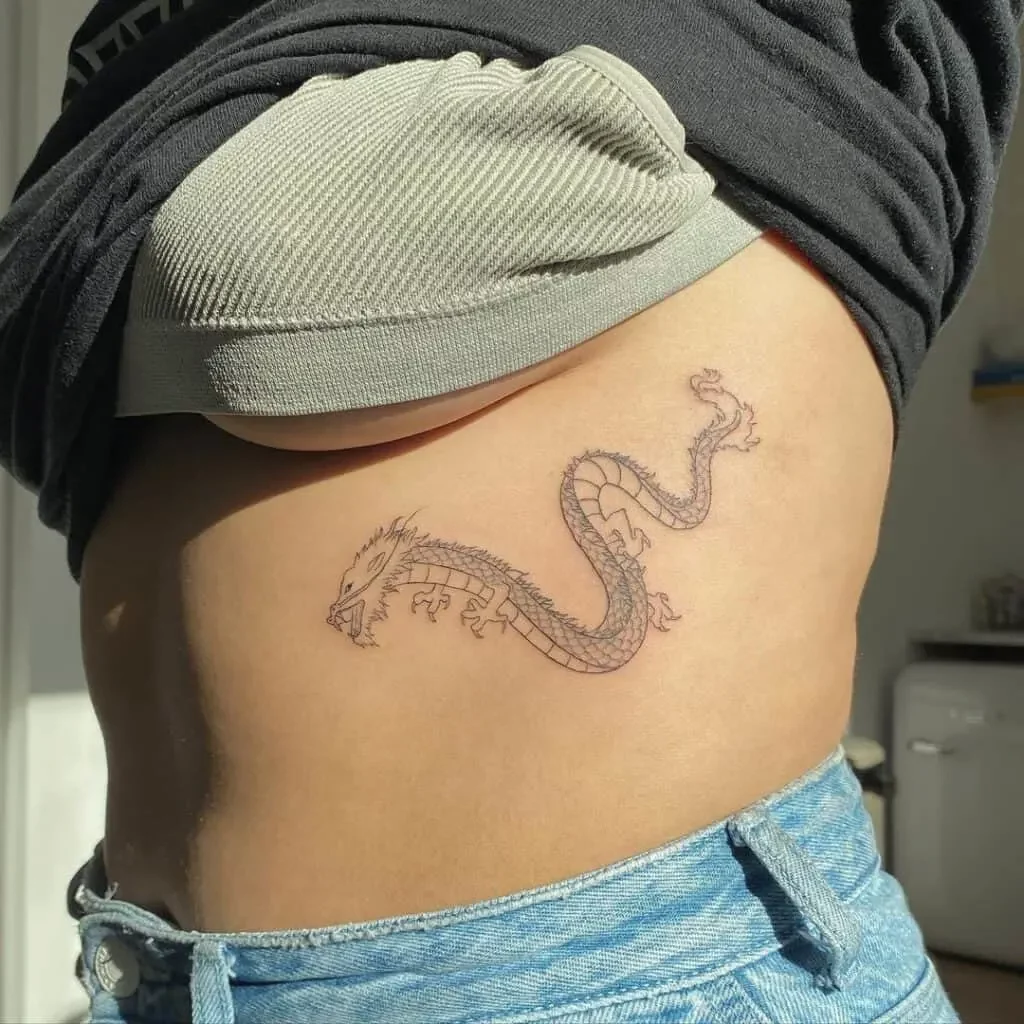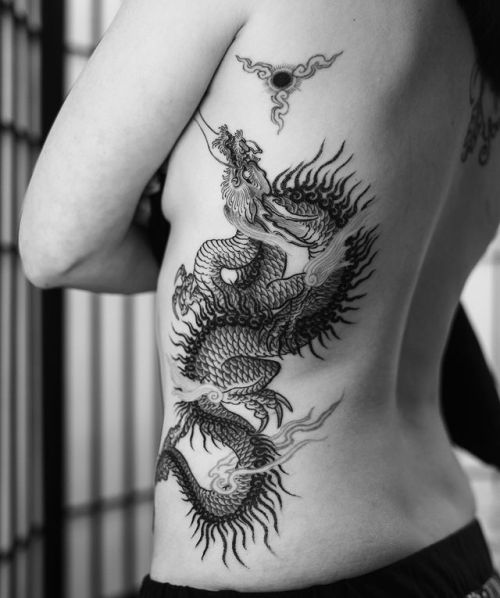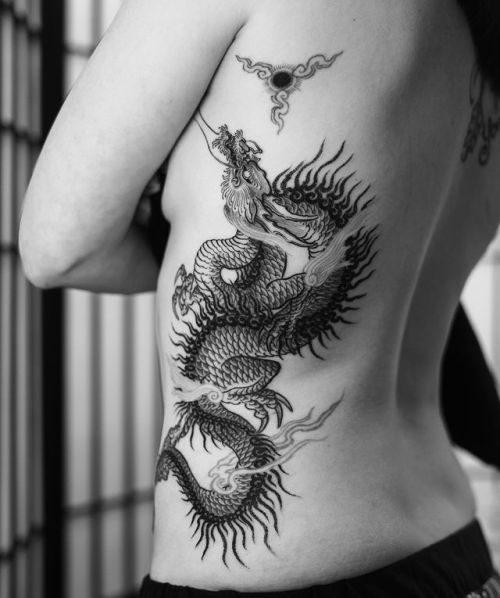 The rib is considered the most painful part of the body to get a tattoo. Therefore, to show the person's strength, tolerance, and fearlessness, this tattoo is attained by people. It shows that the dragon is inside the shirt and bulges out whenever needed.
Red Dragon Inner Arm Tattoo Design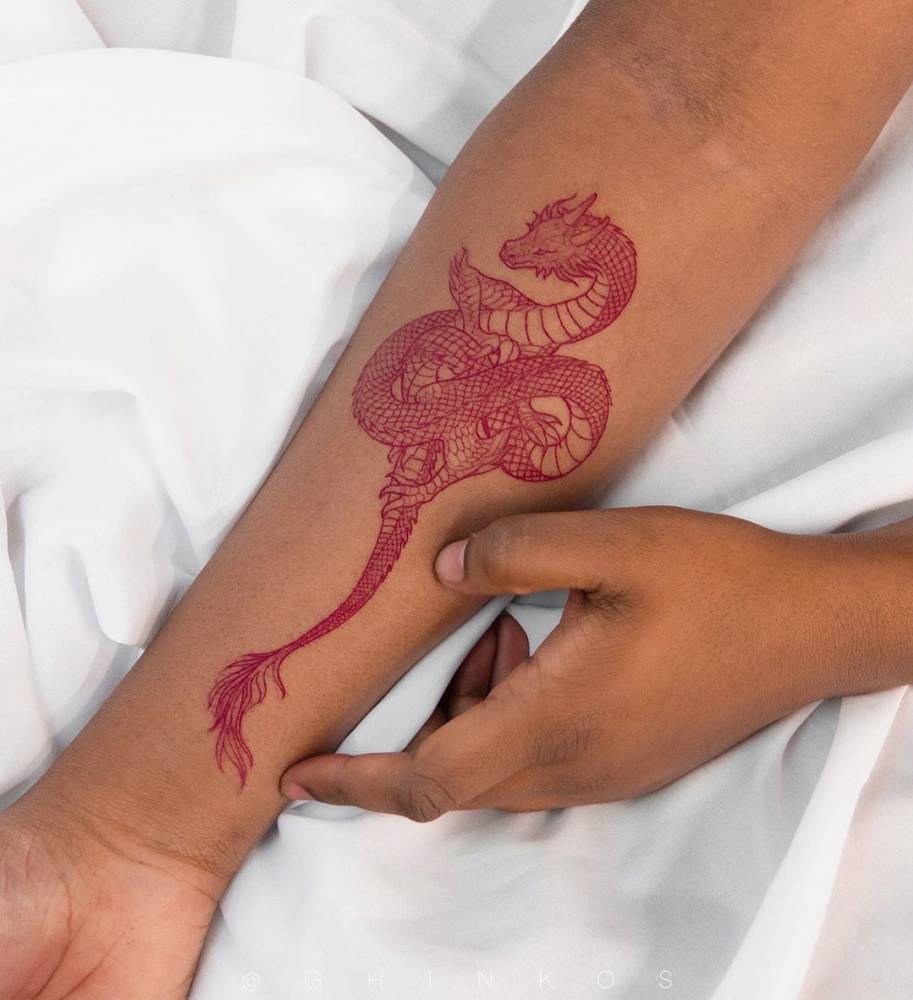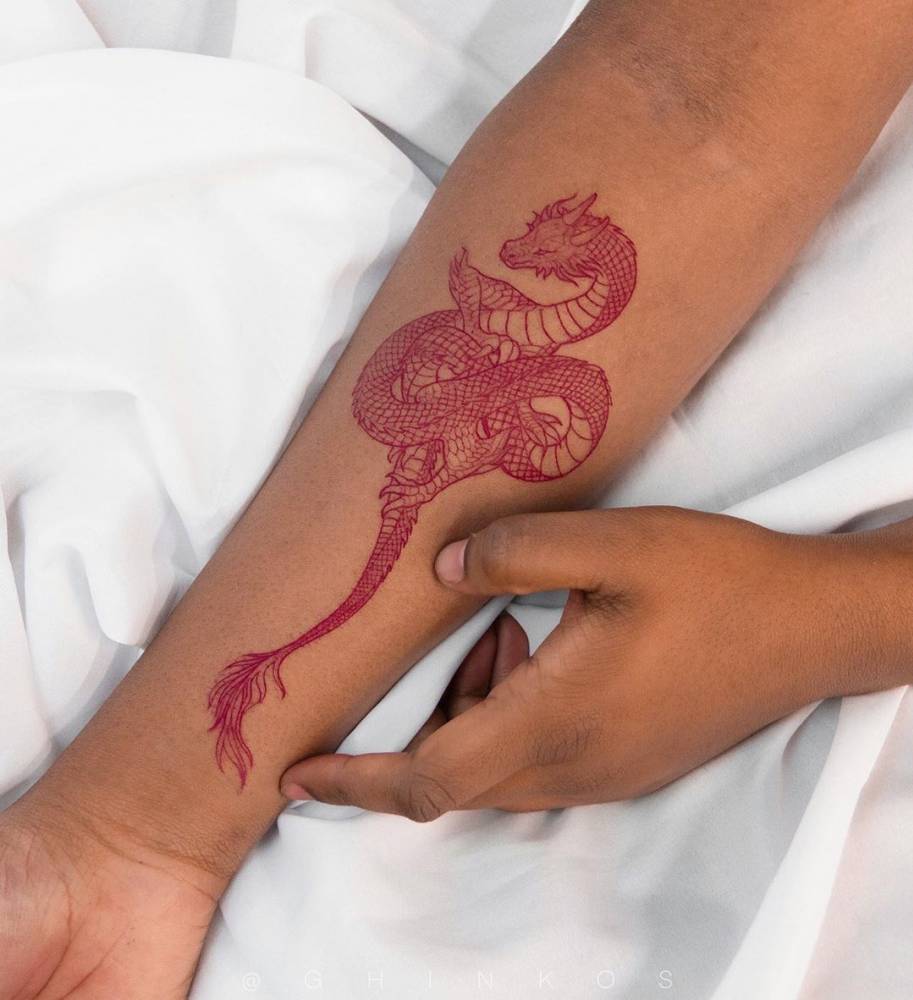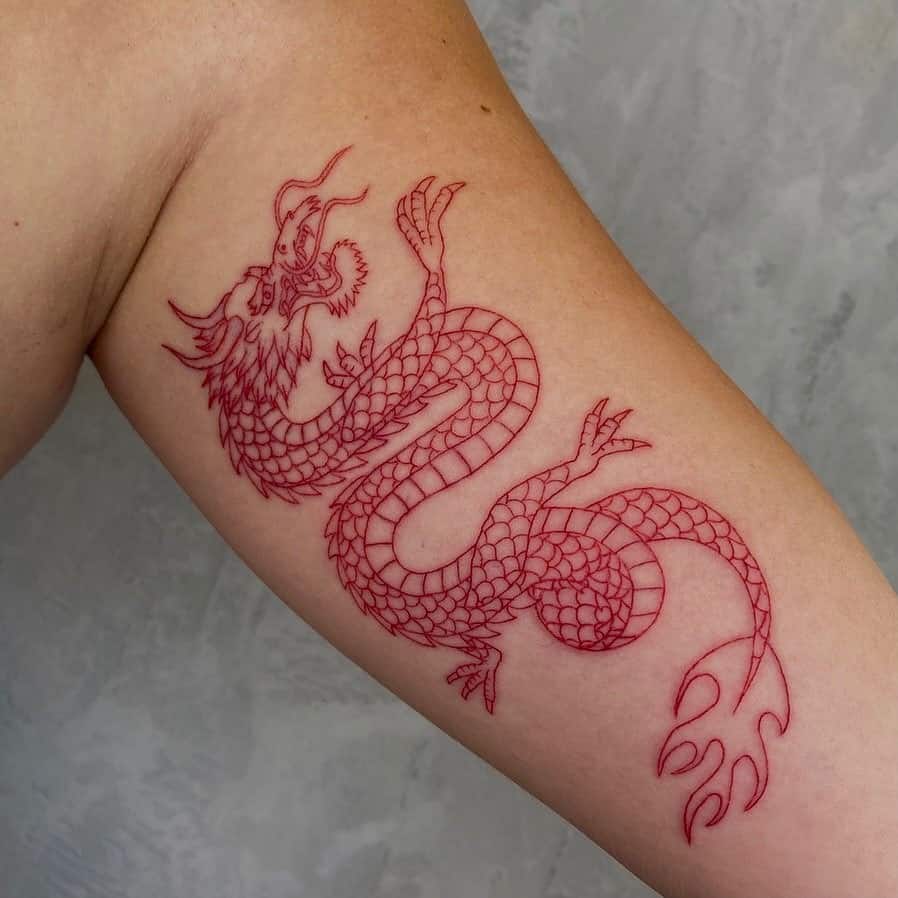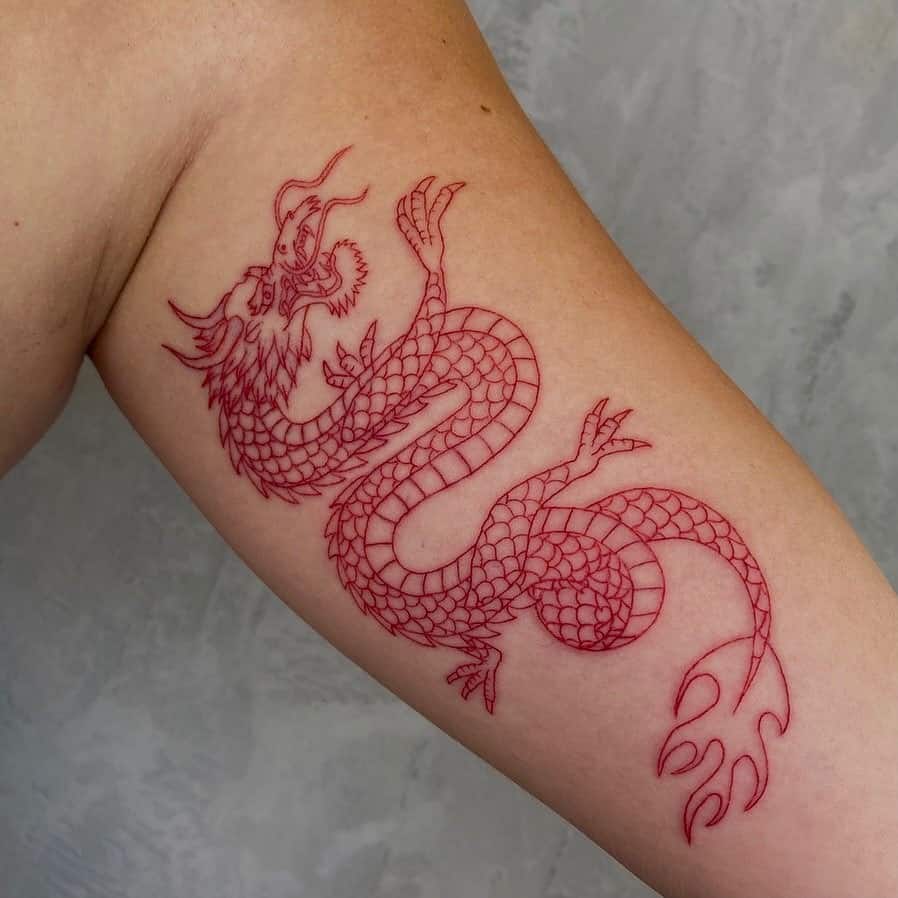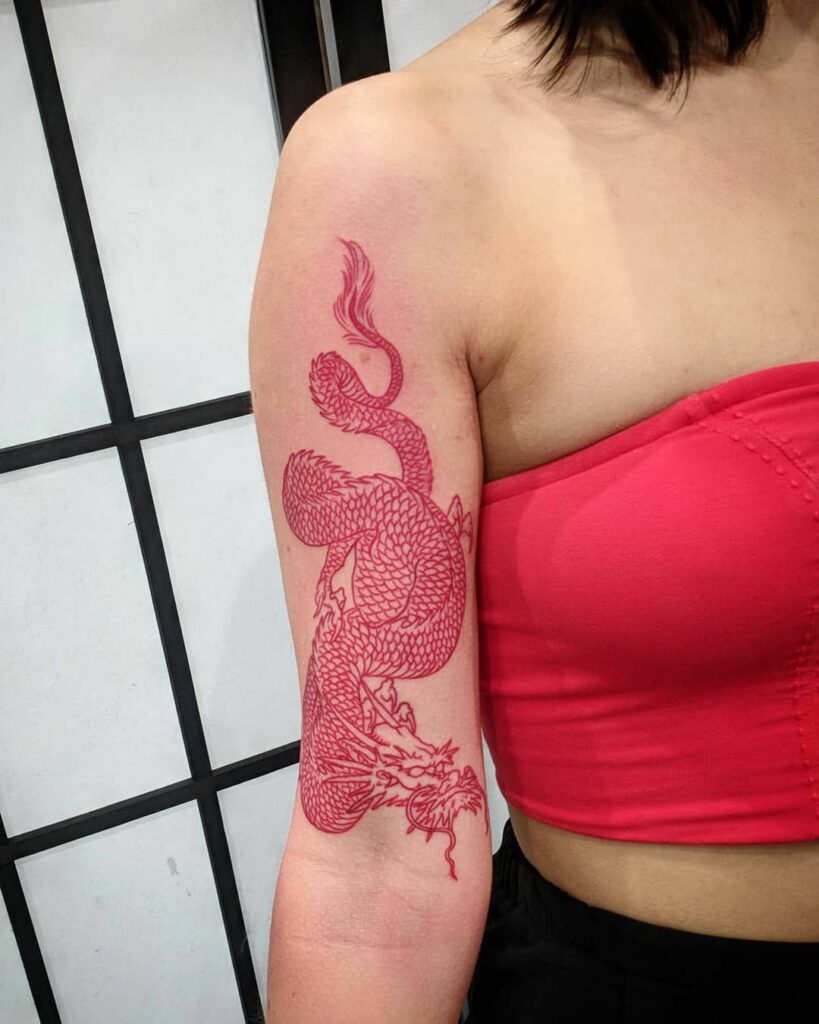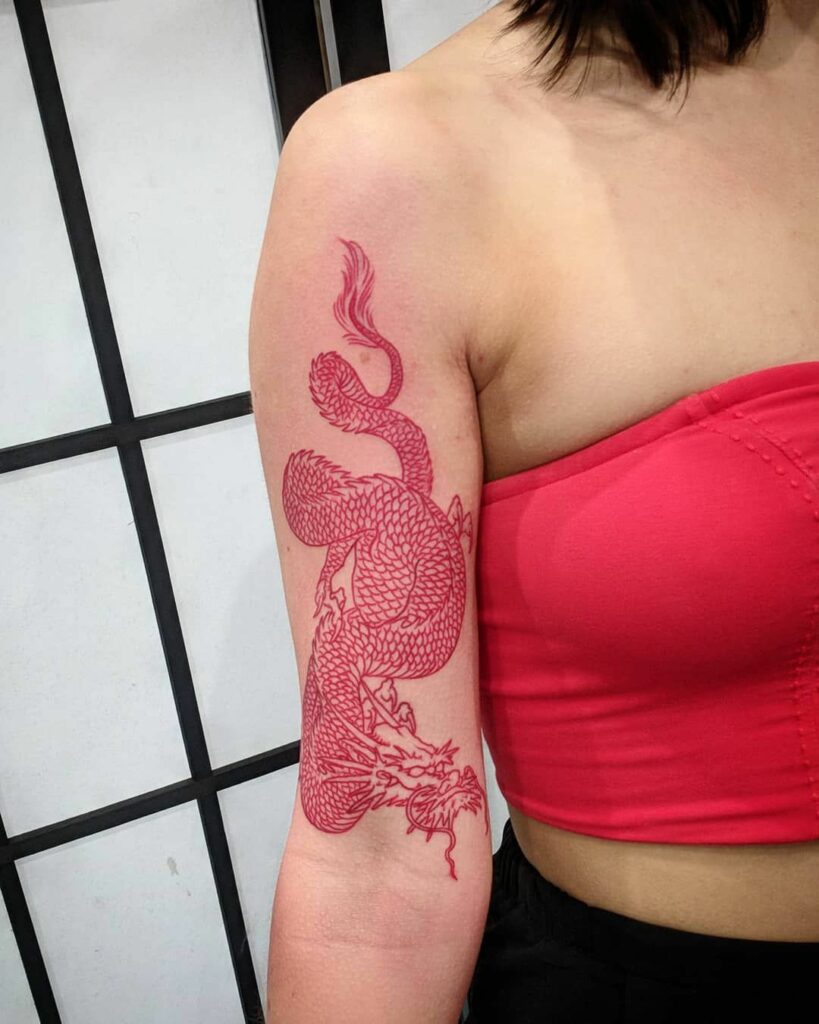 Inner tattoos are generally to show serenity and confidence since they are not visible all the time. Moreover, to show the hidden power of a person, this tattoo is one of the choices.
Red Dragon Protective Tattoo Design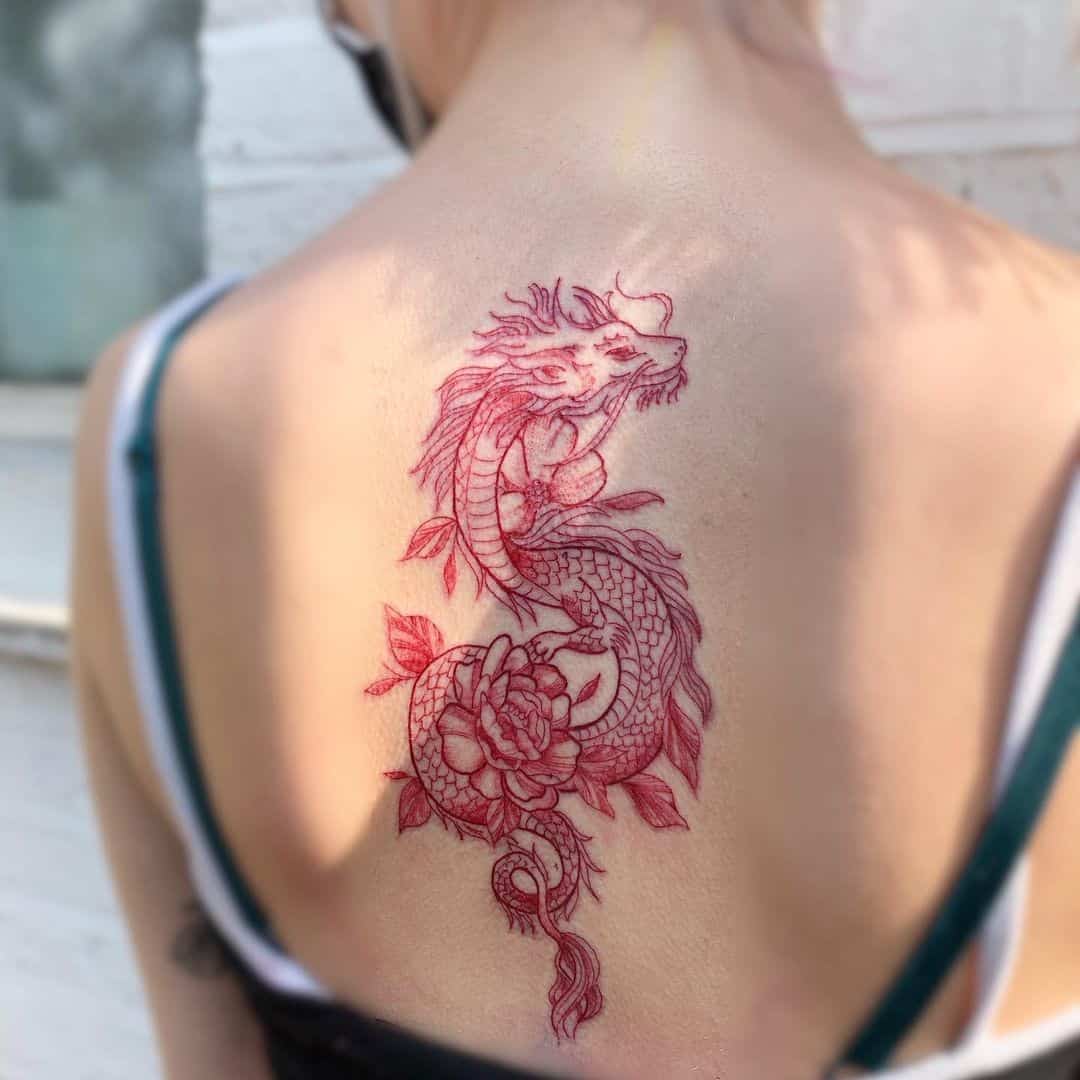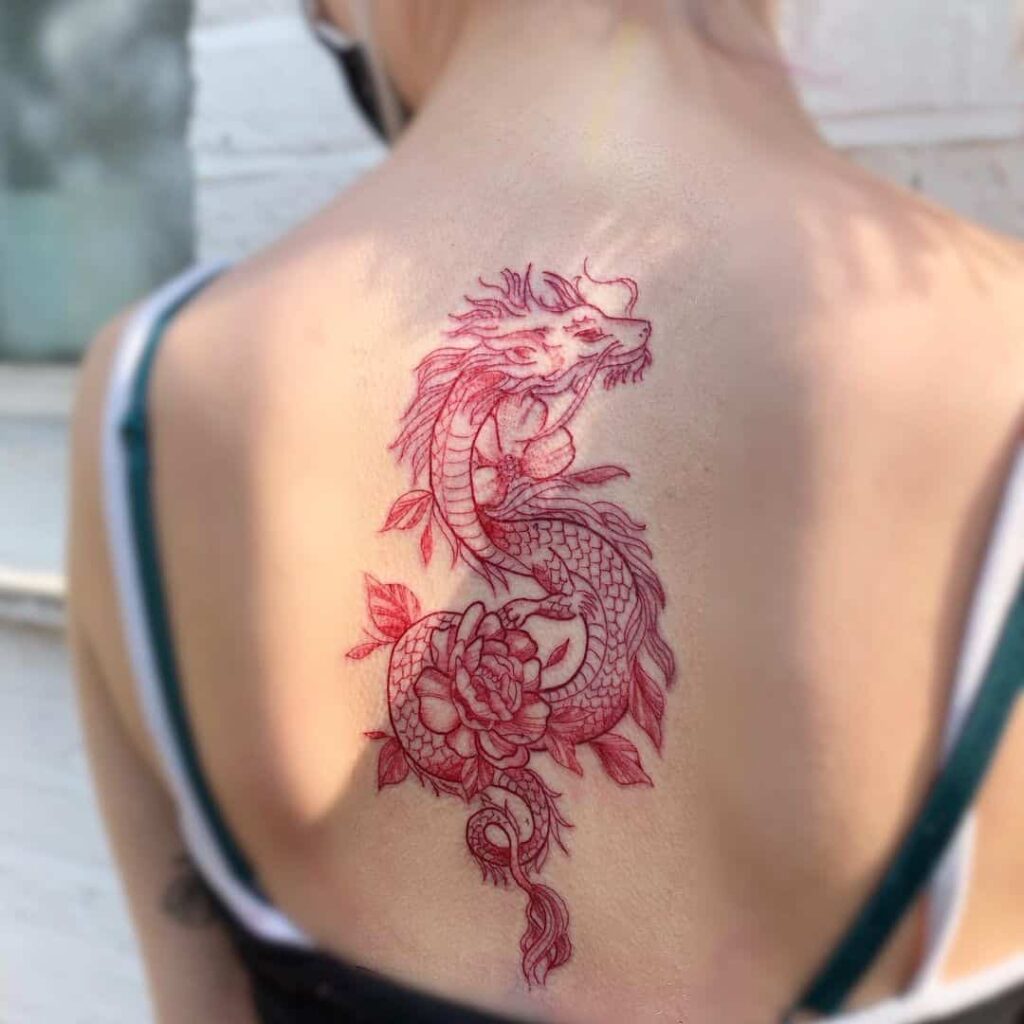 Getting a tattoo of a red dragon on your shoulder is a sign of protection as it is considered that the dragon is over your shoulder and watching you from behind. This tattoo is detailed and beautiful. It always holds luck with you every time.
Red Dragon Roses Tattoo Design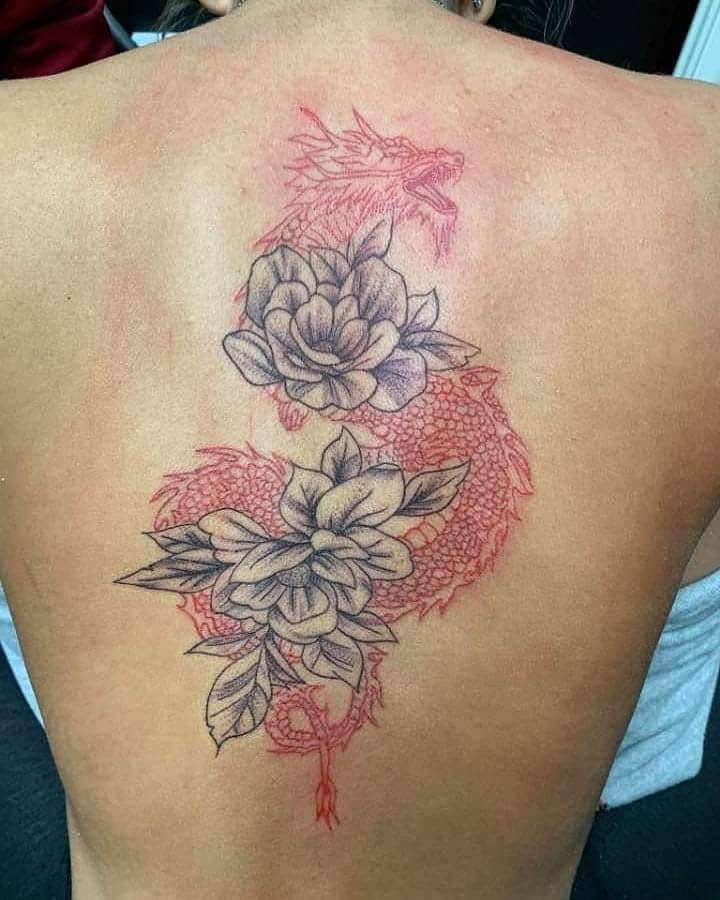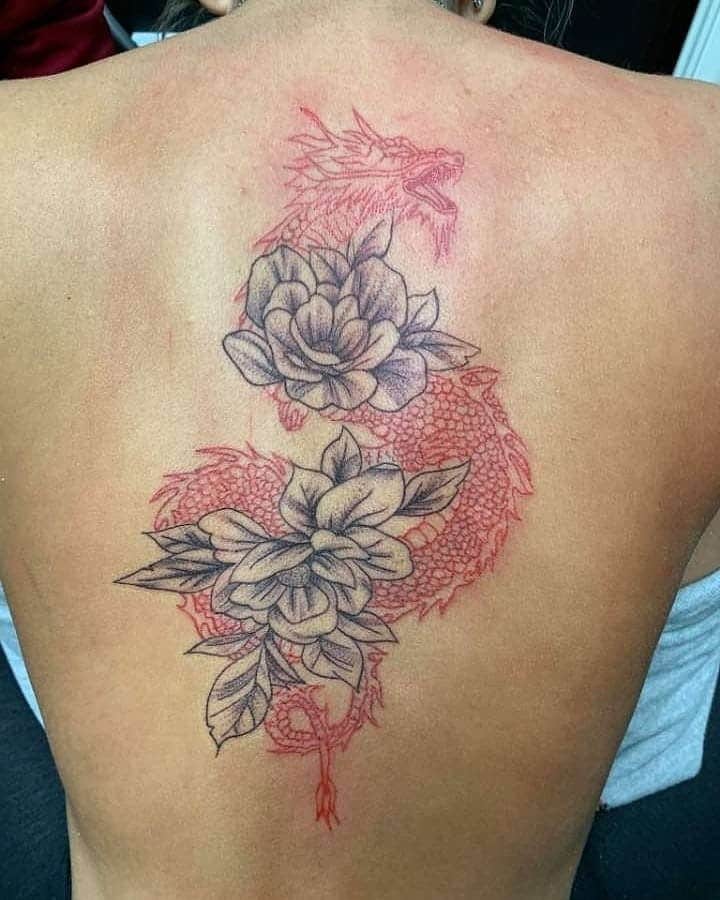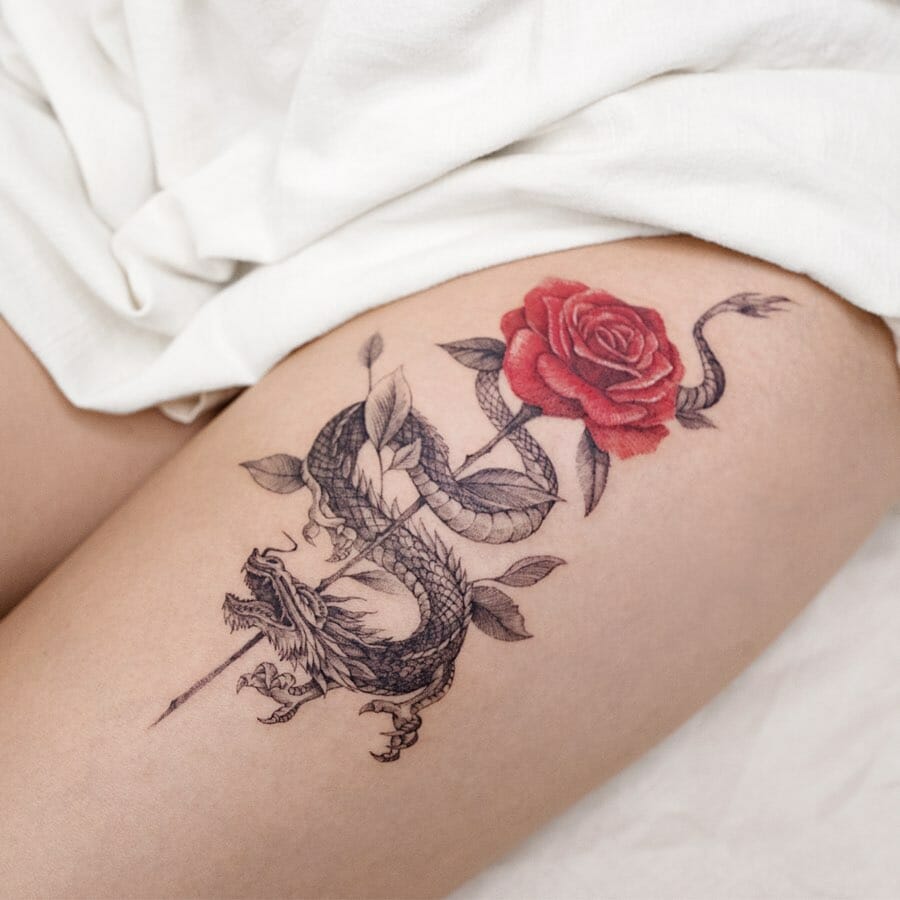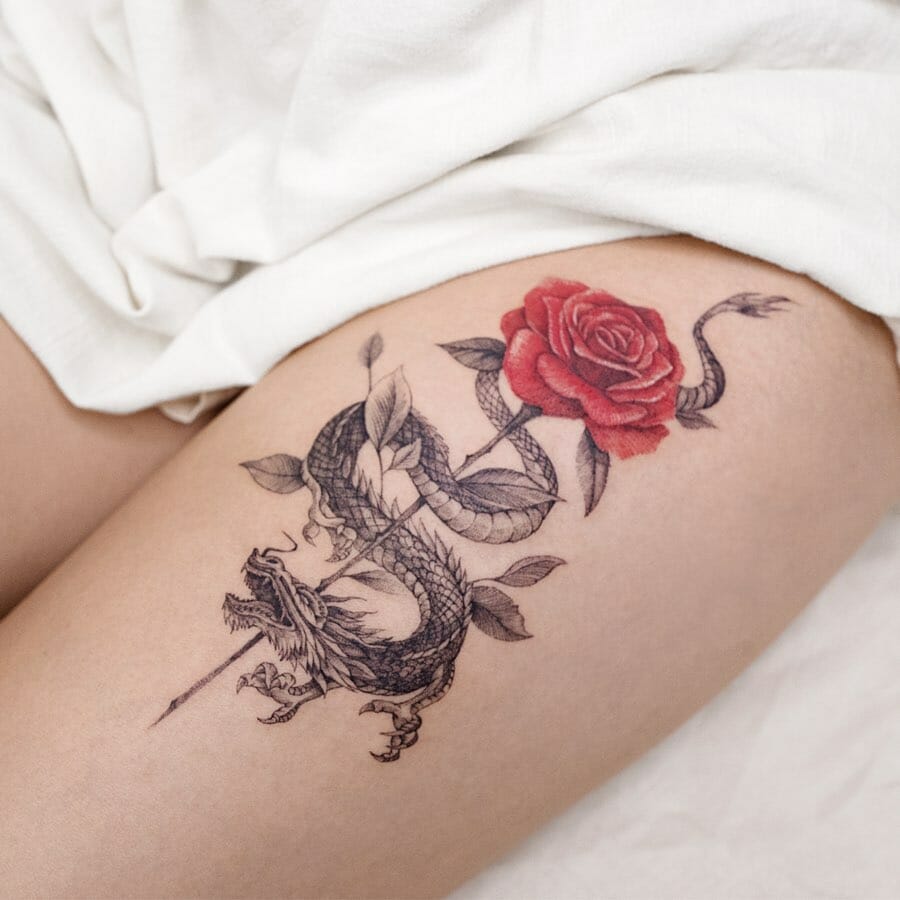 As we all know, a rose is a sign of passion and love. And getting a red dragon tattoo with a rose is often a reminder of love. With love, it is a sign of protection and confidence for your loved one. It has its own significance. Get this design of a red dragon tattoo to illustrate passion and love with devotion.
Red Dragon Leg Tattoo Design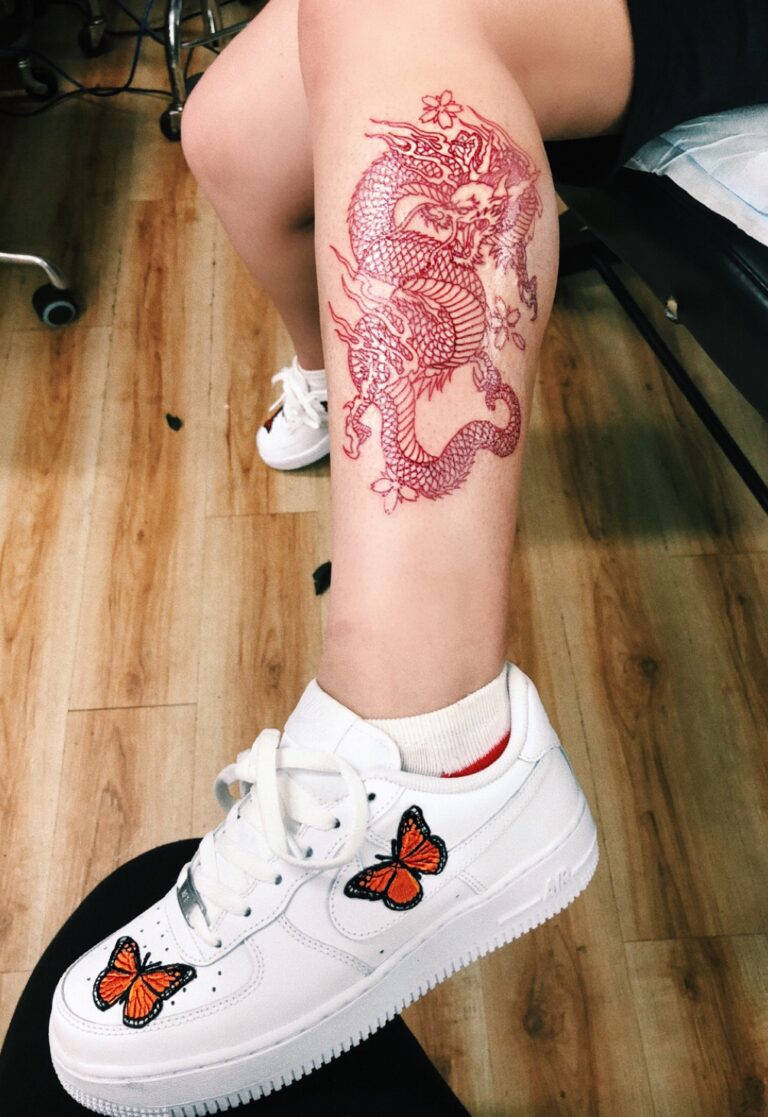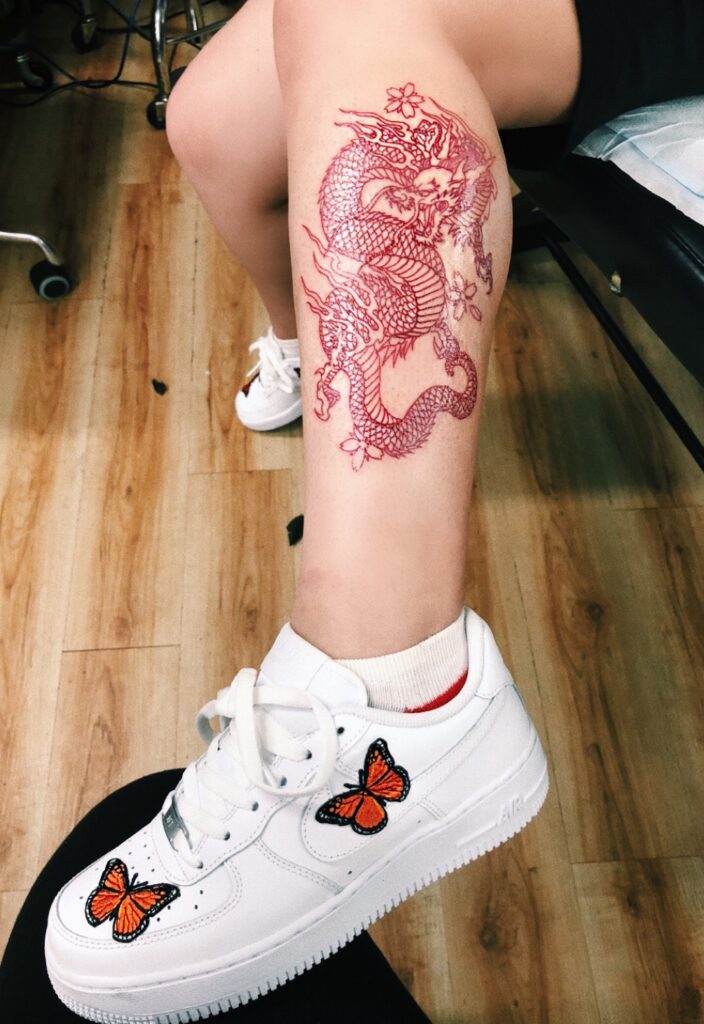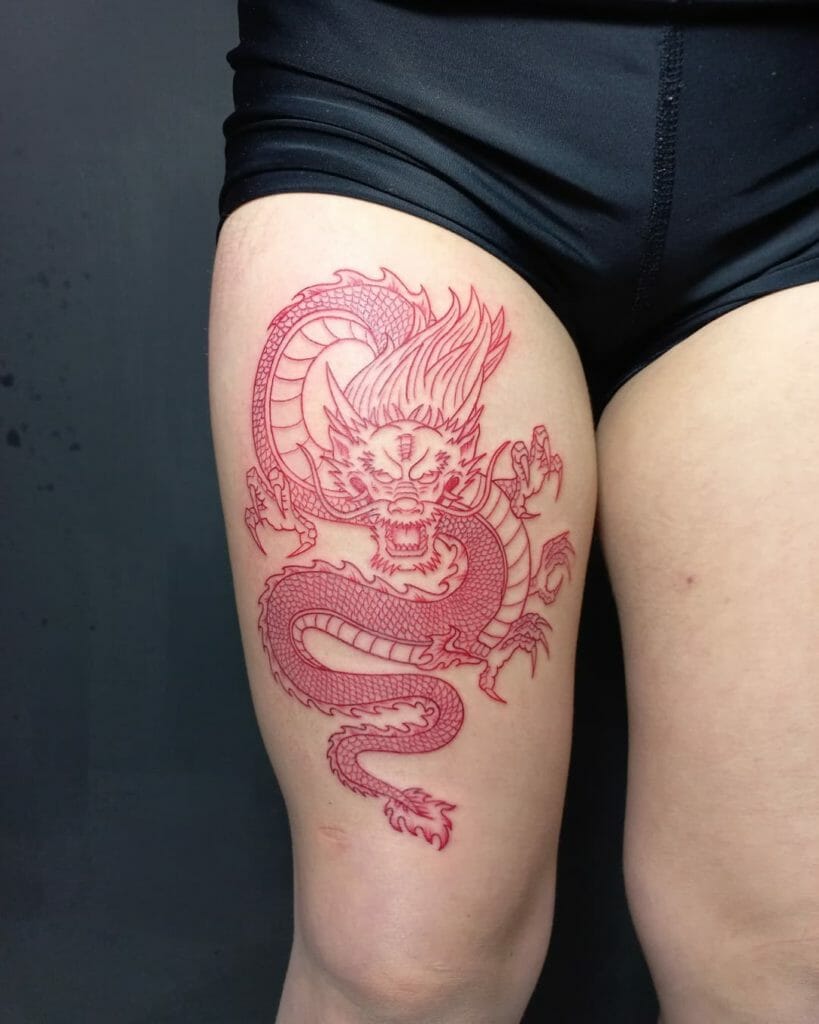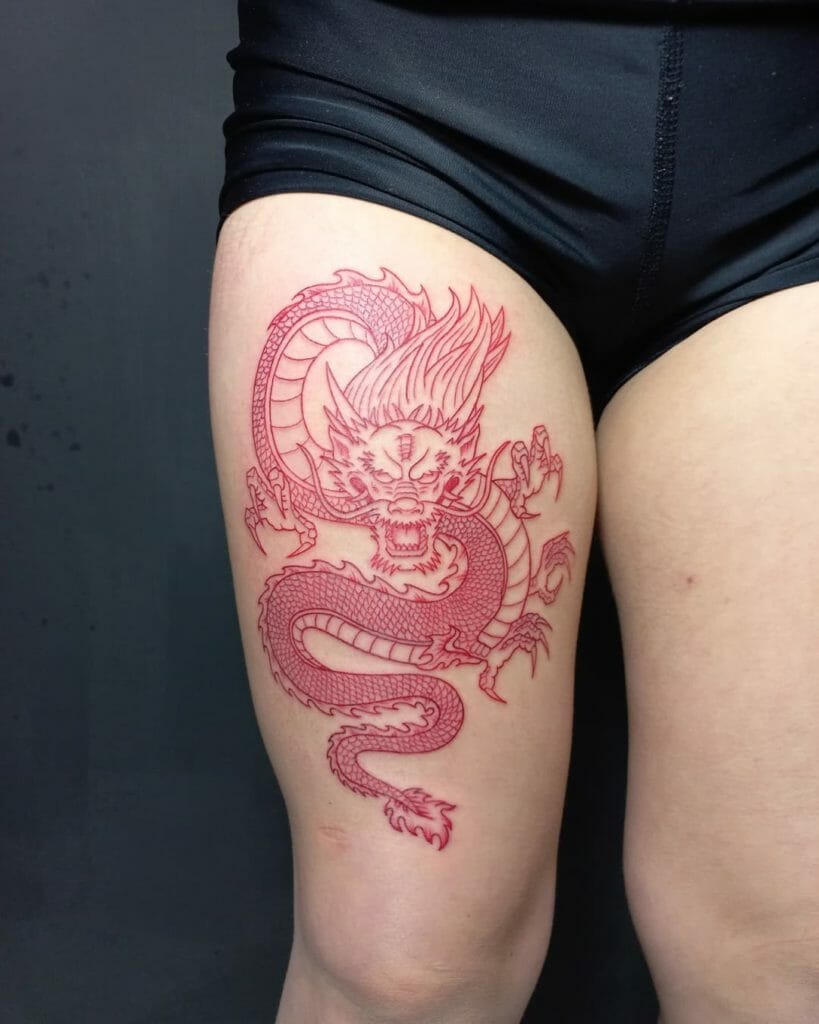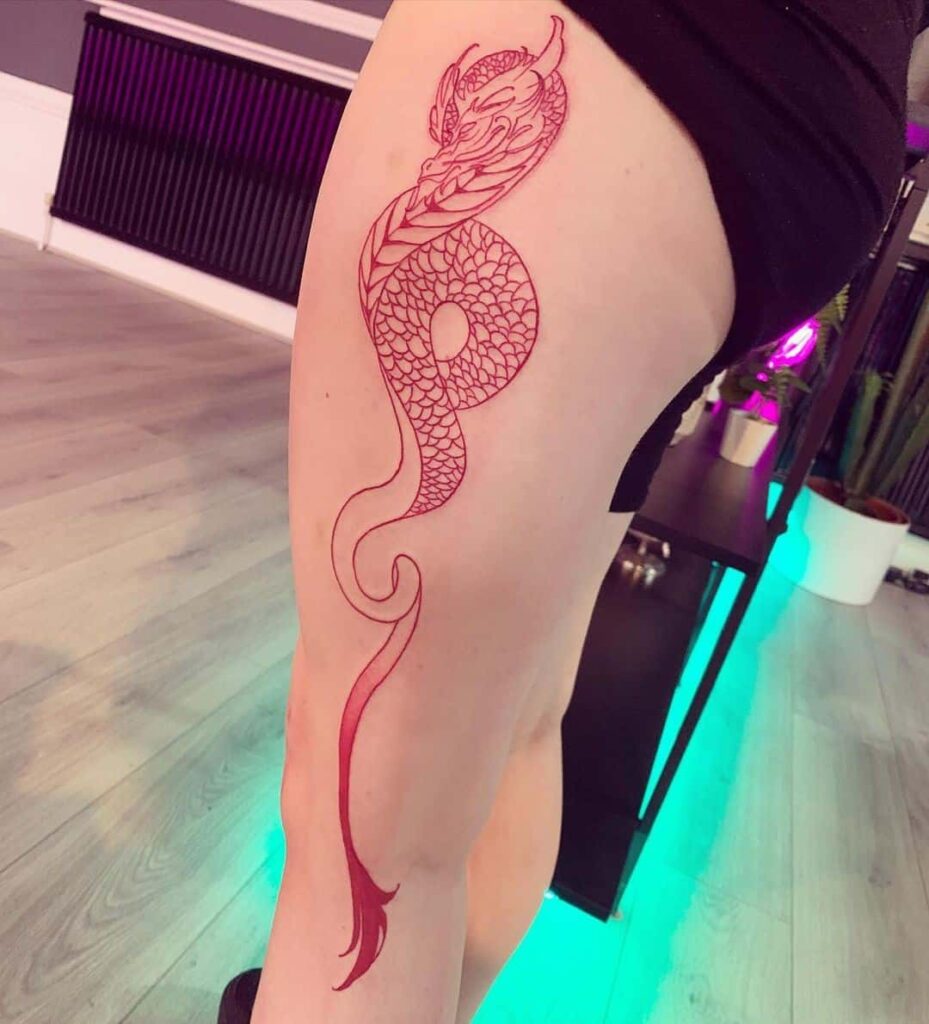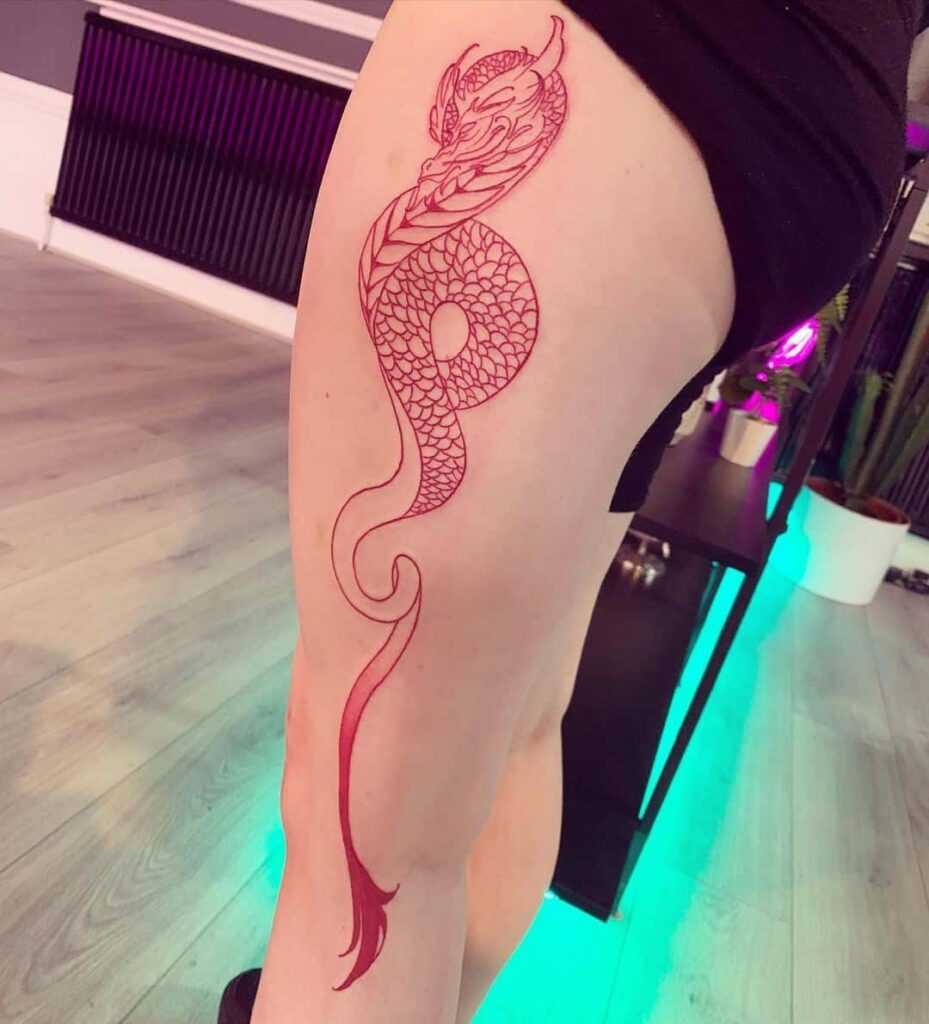 Dragon tattoos look stunning in small size, getting on the whole portion of the leg, and a beautiful design of red dragon tattoo. It is one of the most powerful and fierce designs of tattoos. The one with an opened mouth as if ready to fight is the best moment to get inked on your leg. Moreover, the tattoo depicts aggression and passion.
Red Dragon With Wrapped Heart Tattoo Design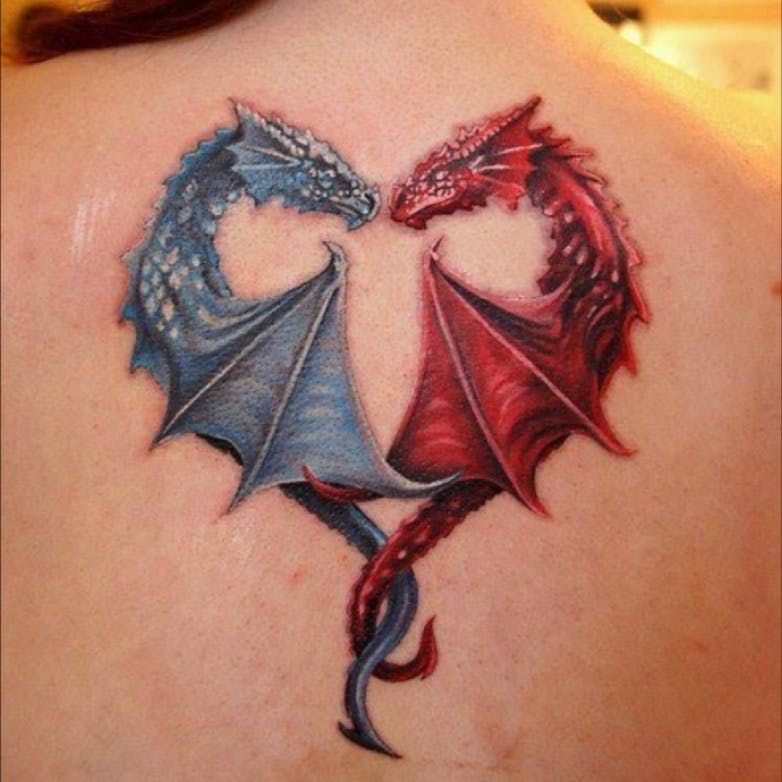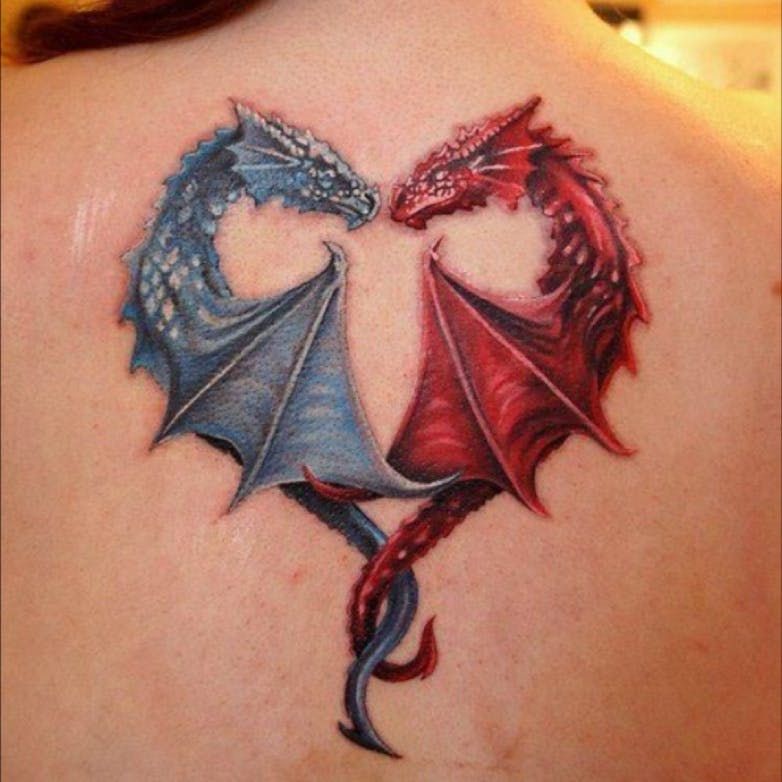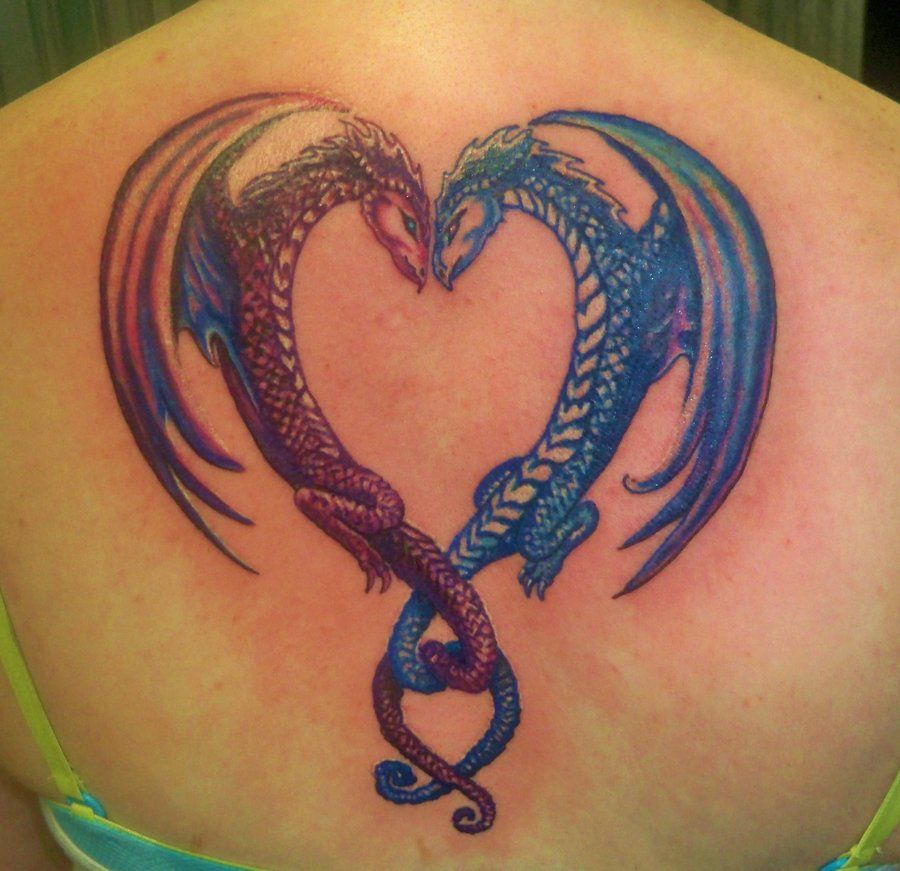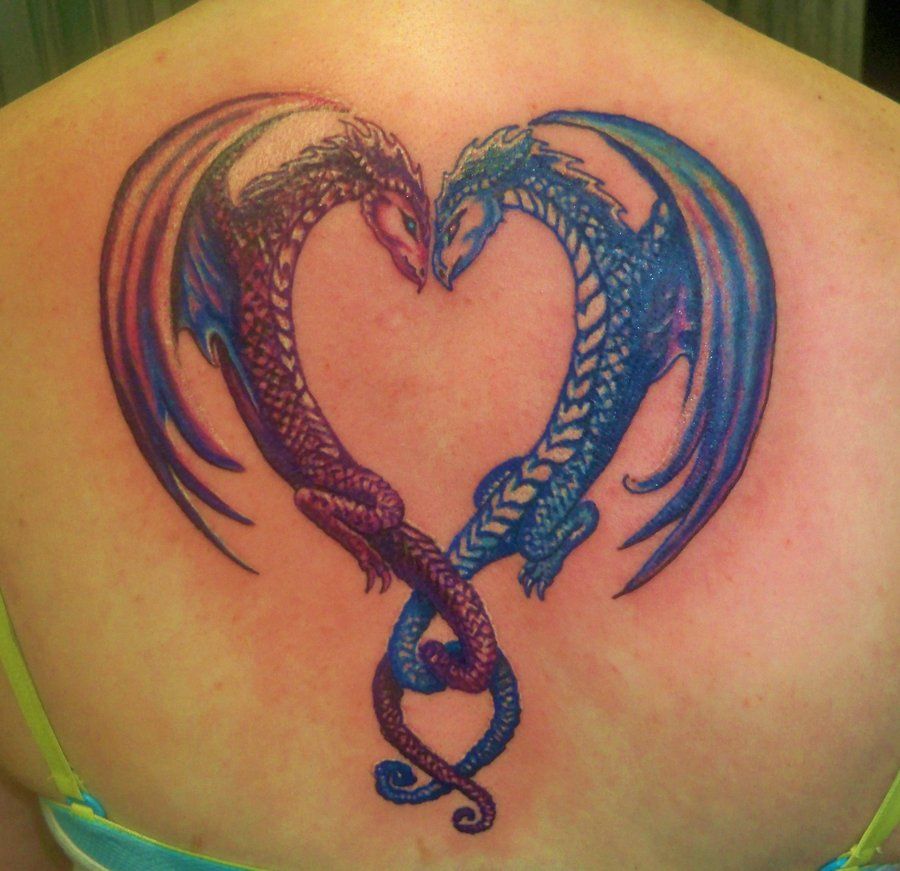 The heart is a symbol of love life, whether friendly or romantic. However, wrapping the dragon around the body or heart is a sign of fiery love and confidence at the same time. It is something exotic that you can get on your body.
Red Dragon Attacking Tattoo Design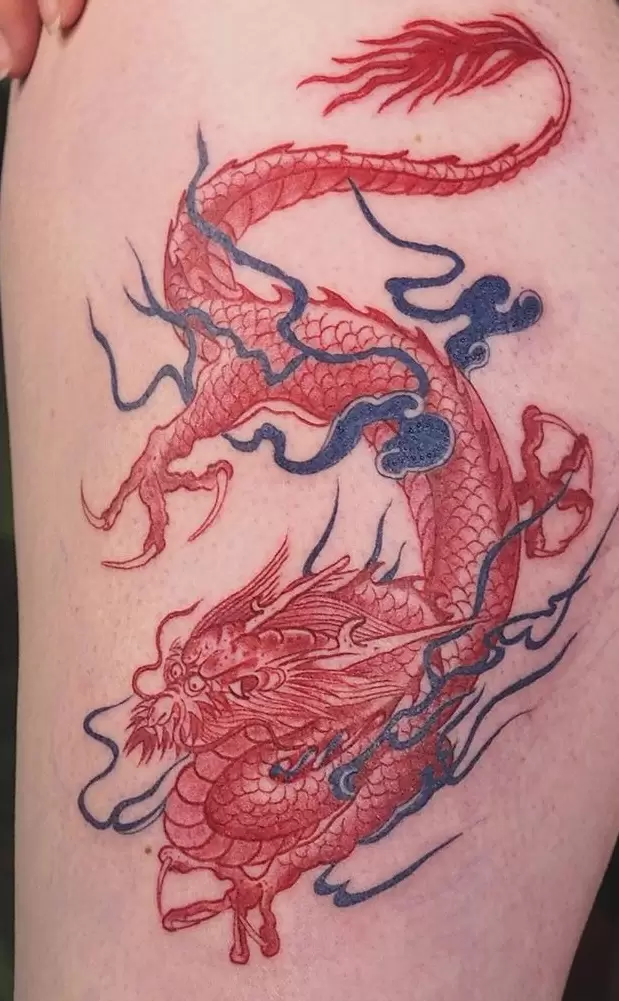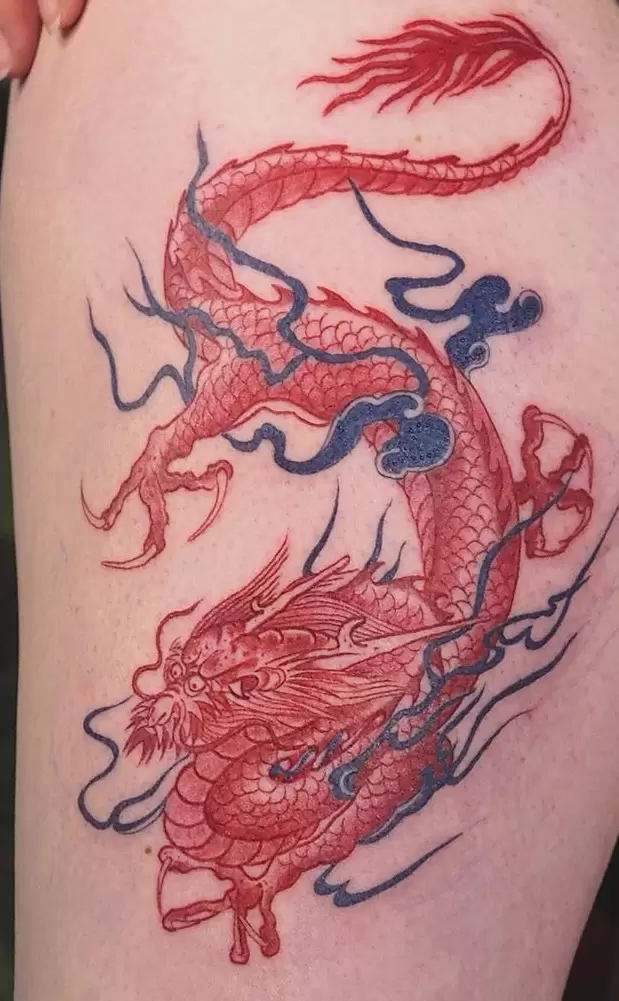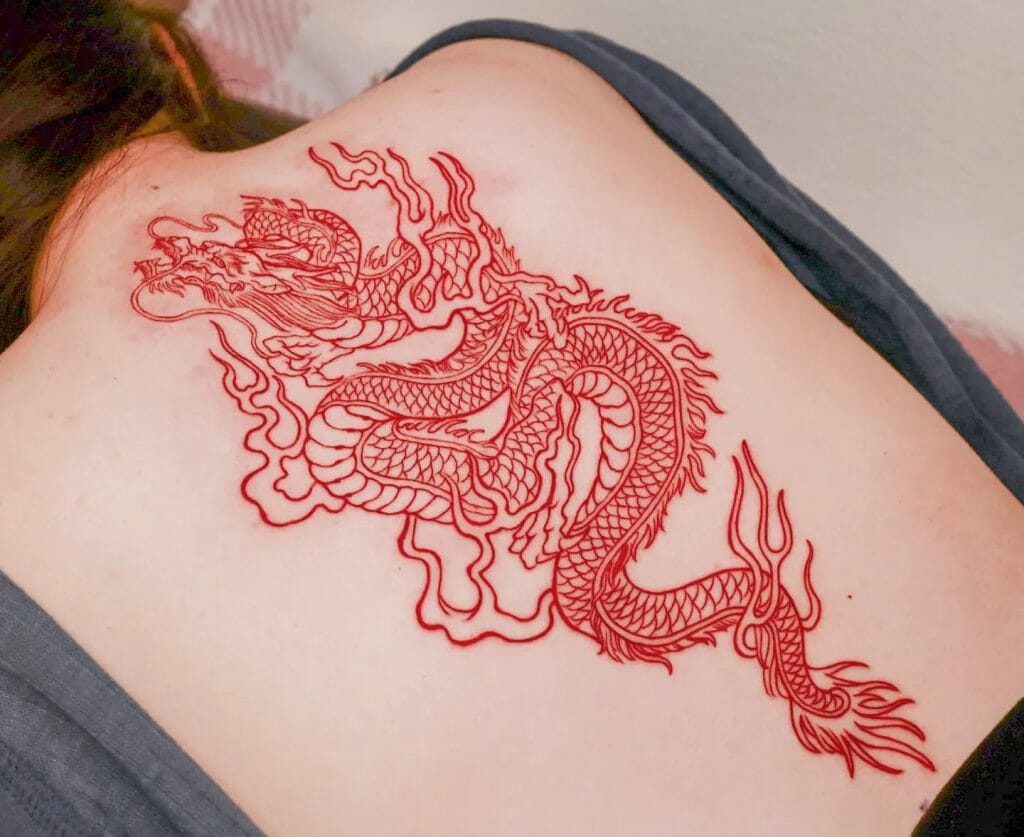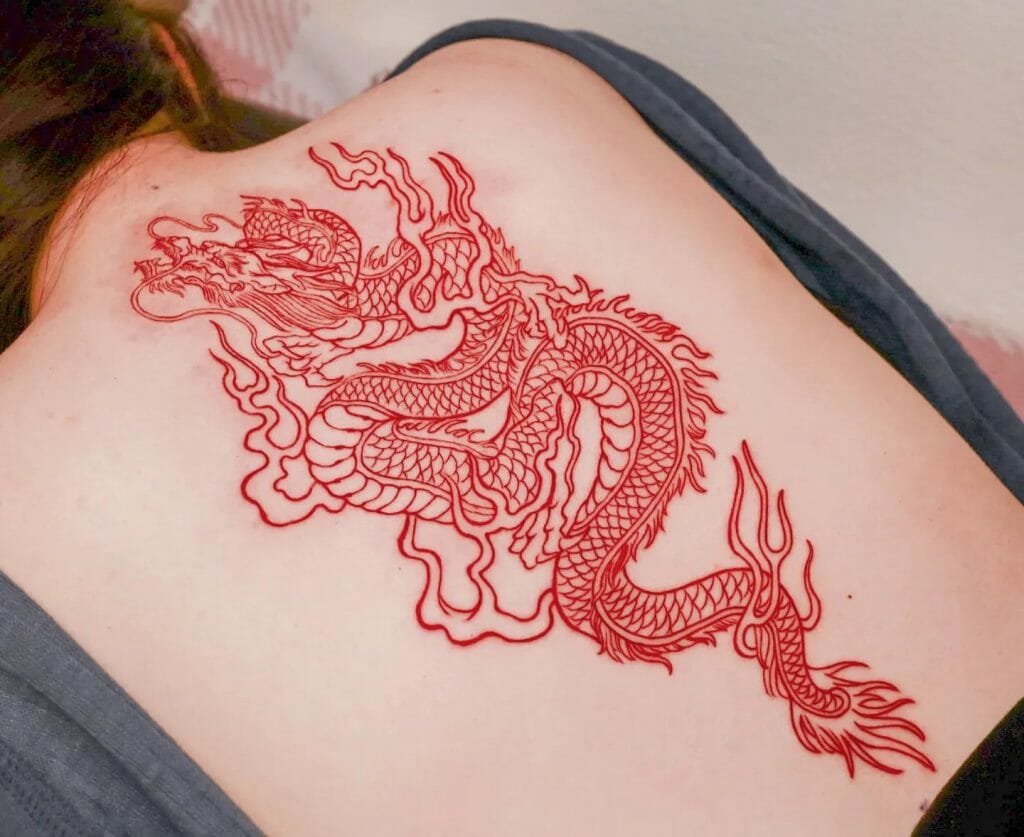 Dragon is considered a great fighter and protector as well. However, most people like to get a tattoo of a fighting dragon to show their cruelness in them. Getting a dragon tattoo on your back signifies protection, whereas a fighting dragon is a sign of your strength to harm your enemy. It is considered a very lucky tattoo to have on your body.
Red Dragon Hip Tattoo Design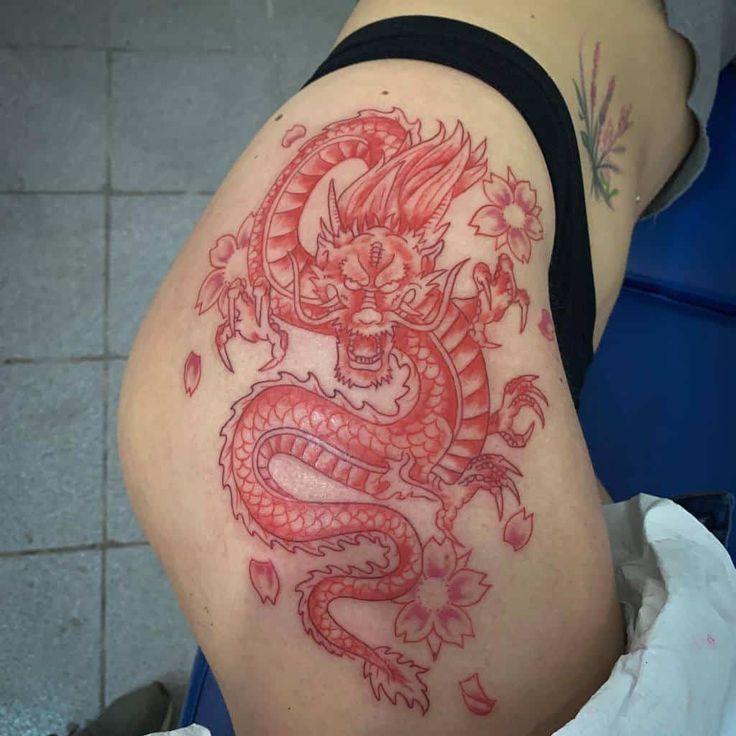 Getting a hip dragon tattoo is a compelling statement. It is one of the trending designs of dragon tattoos in girls. The red ink is a powerful and bright ink that makes the tattoo stunning.
Red Dragon Tattoo Design with black flowers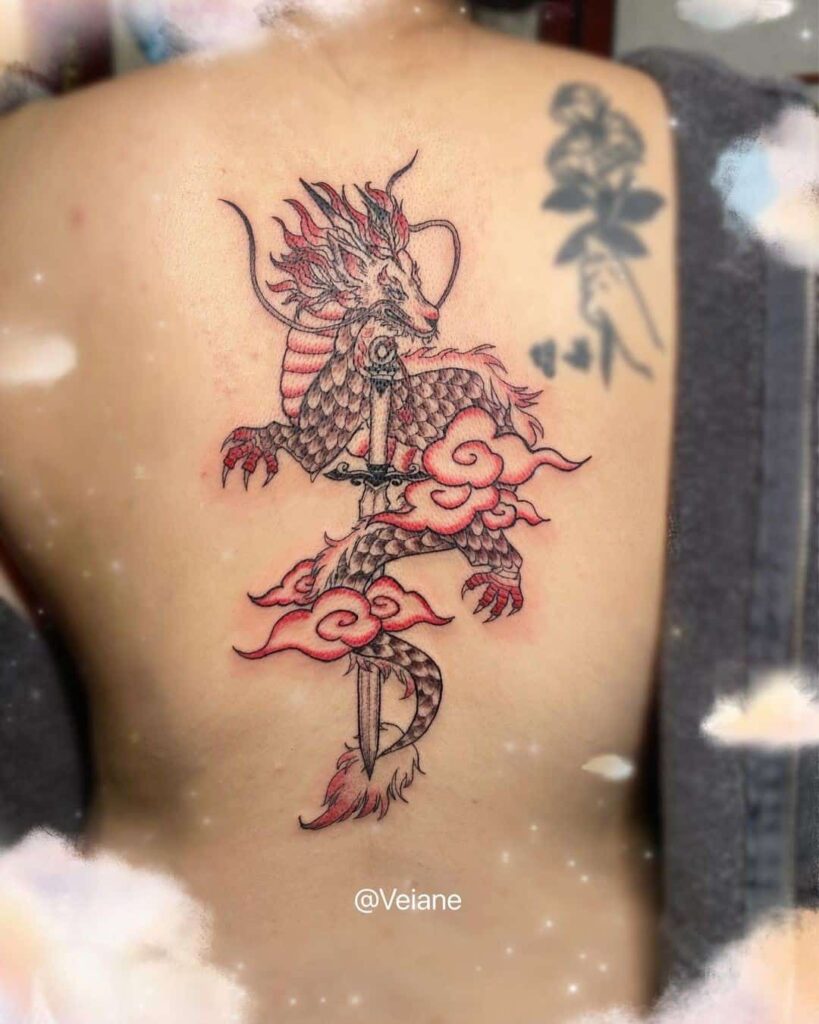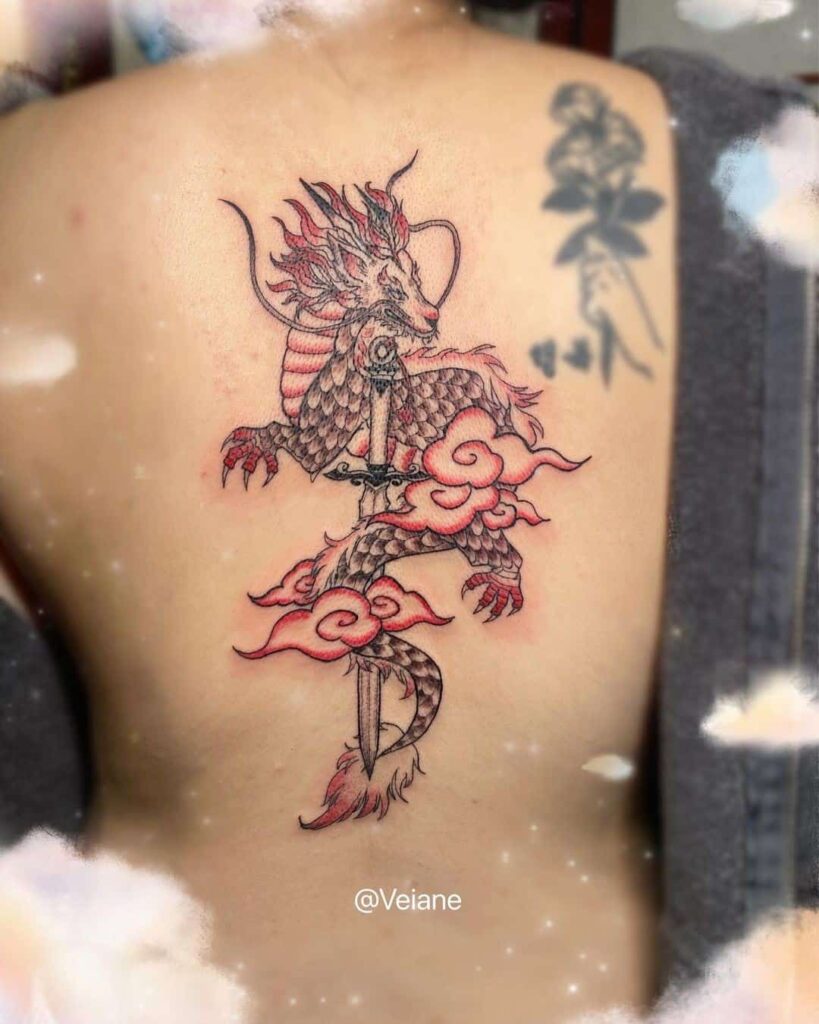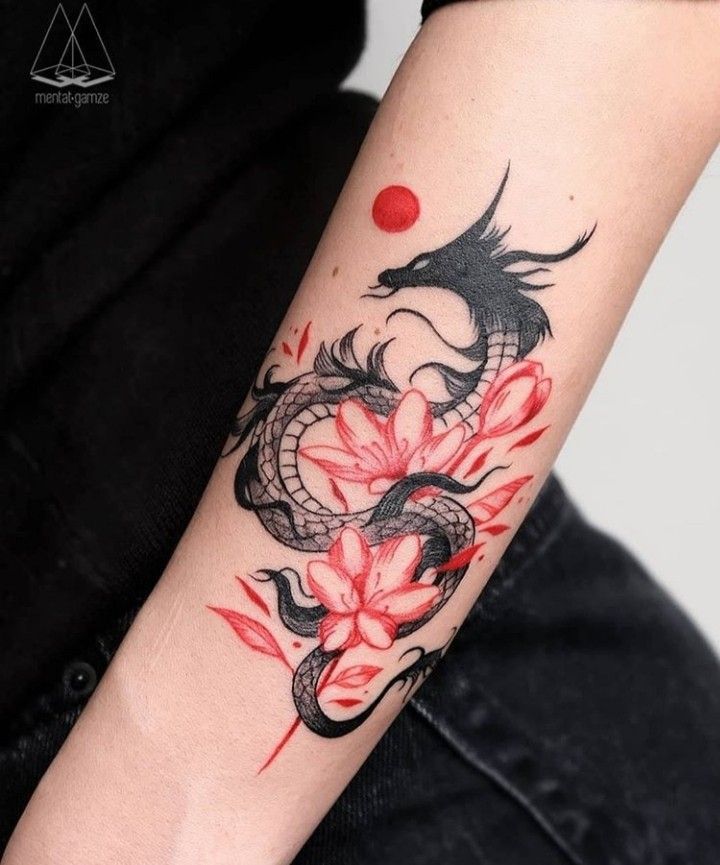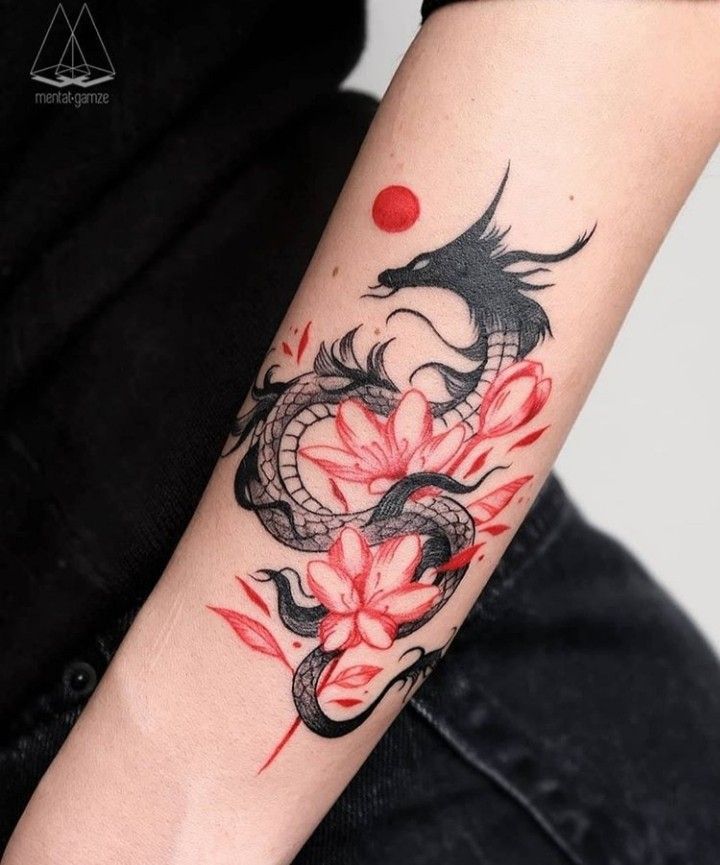 Dragon with red color has different meanings and a lot of things to say. However, the red dragon with black flowers states how something adorable can come out of love and passion. Moreover, it represents the protection of us and our loved ones. It is one of the bold and massive that everyone likes to have.
Red Dragon Arm Tattoo Design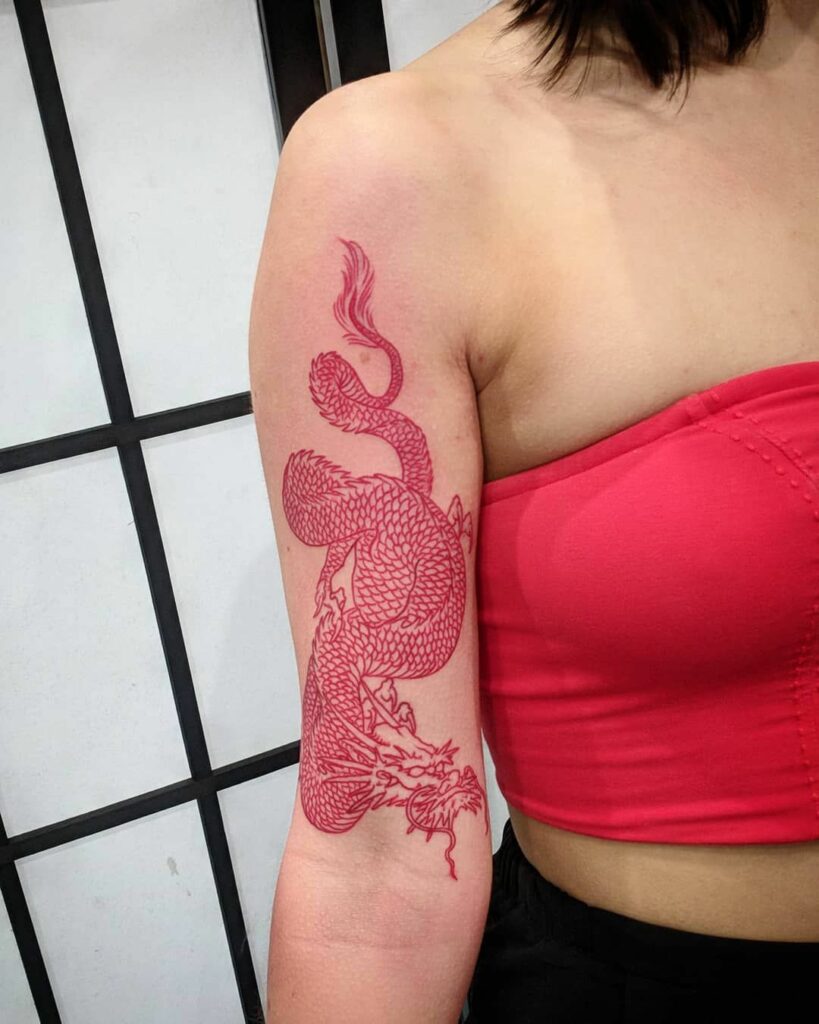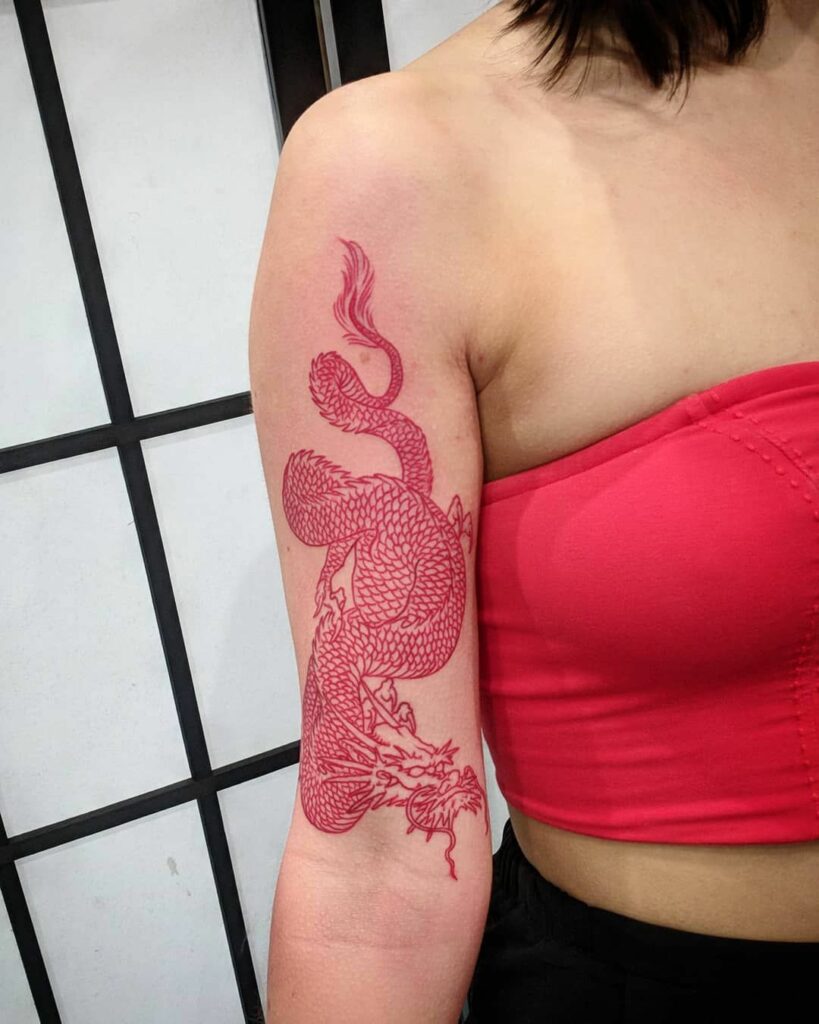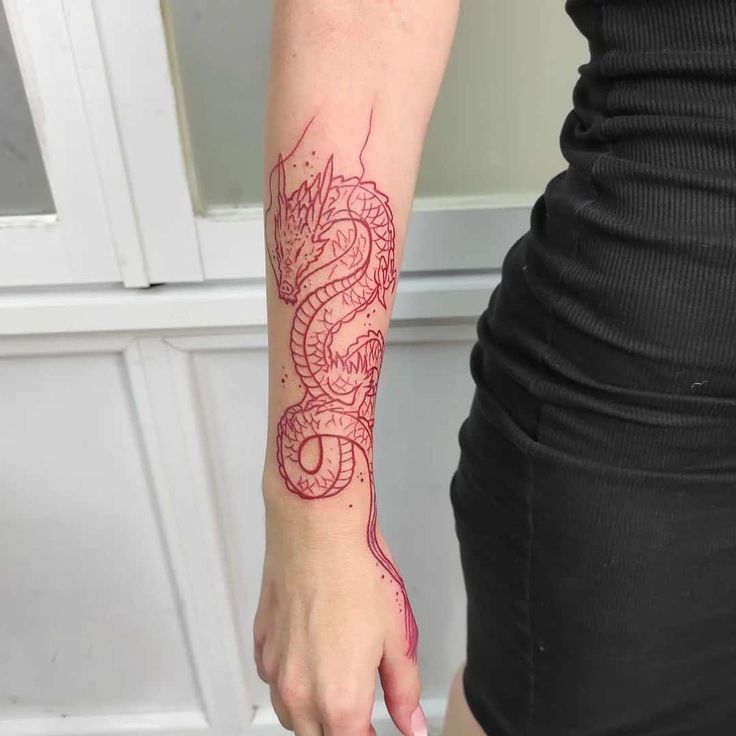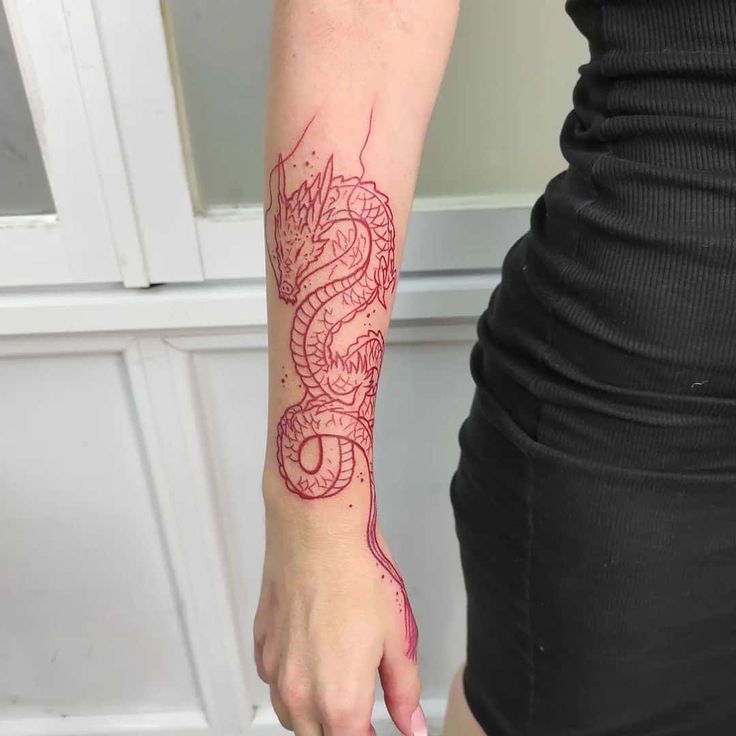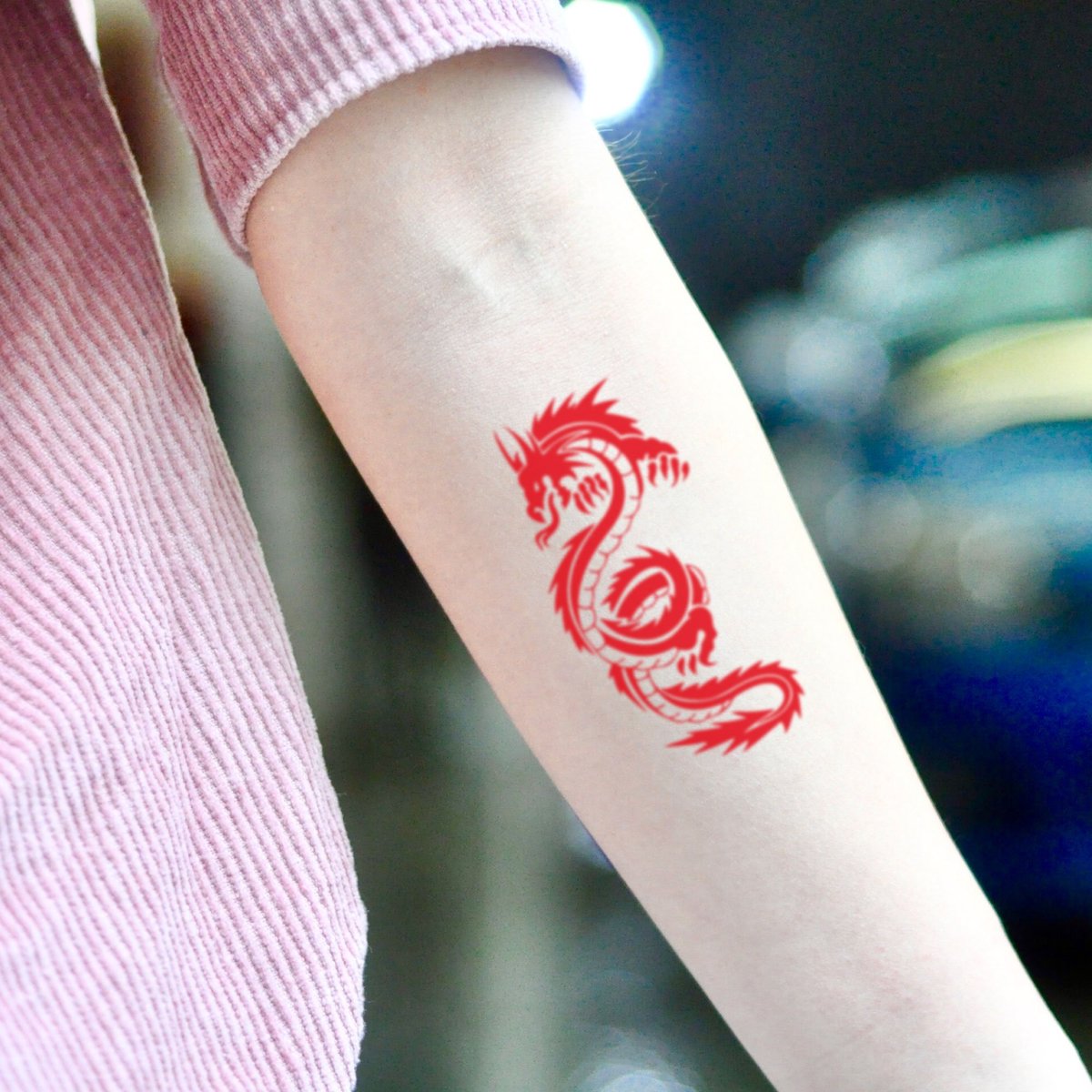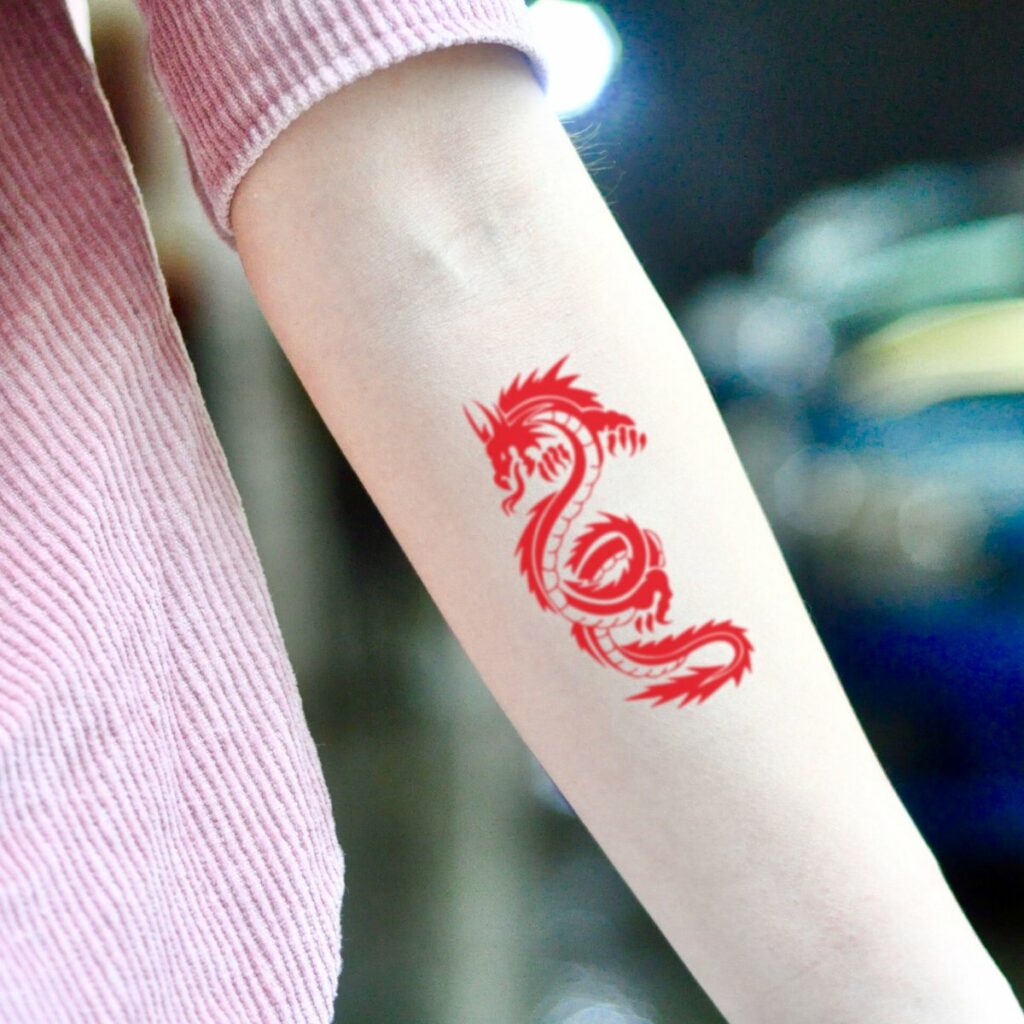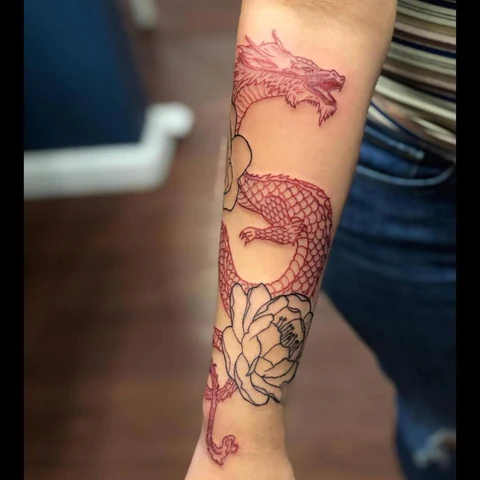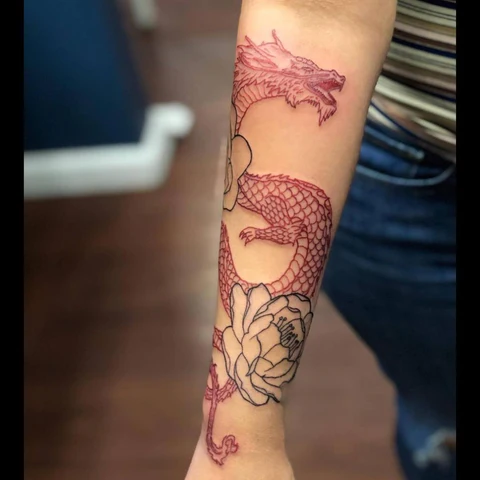 The red dragoon tattoo has no words to describe its significance and beauty. The dragon with some flowers makes it more magnificent and graceful. It is another design to look lovely and detailed.
Some Other Popular Red Ink Dragon Tattoo Designs
Red Dragon Horizontal Tattoo Design
Red Dragon Hip Tattoo Design
Back & Neck Red Dragon Tattoo
Black And Red Fiery Dragon Tattoo
Red Dragon Vertical Tattoo Design
Red Dragon Fire Tattoo Design
Red Dragon Warrior Tattoo Design
Wings Red Dragon Tattoo Design
Red Dragon Wrapping Arm Tattoo Design
Red Dragon Behind The Ear Tattoo Design