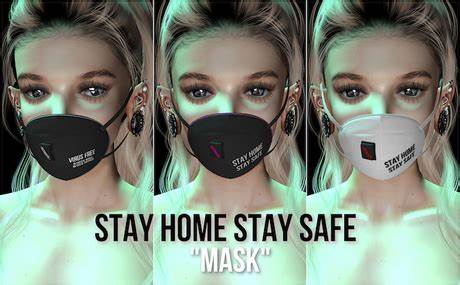 Undoubtedly, the coronavirus pandemic has changed many aspects of our social life. Although we can no longer meet in large crowds or carelessly embrace one another, we should still make the most of the situation at hand. It's not all doom and gloom, during a pandemic people are forced to come up with ingenious ways to work around the issue of social distancing and socializing.
We must adapt to the new security measures; however, this doesn't mean you have to stop having fun and that you can't look fashionable whilst doing so. Here are some tips on how to remain fashionable yet safe during a global pandemic.
There has been a great deal of controversy over the importance of masks and whether they should be worn or not. An increasing amount of evidence shows that wearing a mask slows down the spread of the virus. A pale blue surgical mask doesn't always come across as the most fashionable option but, thankfully, now there a multitude of styles, patterns, and colors to choose from.
There are two main options when choosing a mask — reusable or non-reusable masks. Non-reusable masks, like surgical masks, come in an array of colors. Apart from the standard blue color, they are now available in white, green, pink, and even lilac.
The reusable mask market has seen a boom in sales since the beginning of the pandemic. These come in all types of materials and prints. There are stylish options to suit every preference and price tag. Since face masks are likely to be a requirement for some time to come, it makes sense to invest in a more fashionable option. Just don't forget to wash them regularly!
Social distancing is encouraged in the workplace and working from home is beneficial in numerous ways. We no longer have to think about what to wear in the morning or spend time getting to work, which also means having an extra snooze in the morning. However, it's still important that you stay professional and look your best during any zoom calls or meetings. For work calls, try to wear bold colors and avoid loud patterns, such as stripes or plaid, which may come across badly on camera. 
It may not be safe to congregate in large crowds but it's still okay to have a few friends over for a small party. As long as you are mindful of the new regulations and safety procedures, there are countless ways to socialize. If you feel like you are missing out, or you are eager to celebrate a birthday or housewarming party during a pandemic, here are some great ideas on how to do so safely.
Although our ordinary lifestyle appears to have been turned upside down, there are still many ways we can enjoy each other's company and gain some sense of normality without breaking the rules.
Make sure to consider the safety measures and enjoy meeting up with loved ones, all whilst looking fashionable and protected.