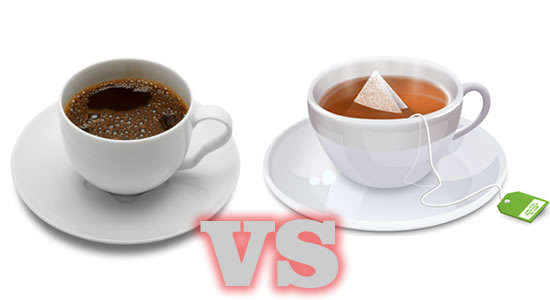 This article is based on the difference between health benefits of tea or coffee. Following points mentioned below help you choose one best drink for snack time.
Tea or coffee? Choosing one of them is hard. Are you also wondering which one you should prefer? Tea and coffee both have discrete benefits and what we prefer; depends on its usage: like if we get up in the morning, then coffee is a sturdy choice and if we endure sleep and wants some refreshment to open up our eyes straight, then tea is a better choice. (Many people have different choices, I know!)
Tea and coffee are two most common beverages in India. Found in almost every Indian household, coffee has become a part of the Indian culture. With the influx of coffee joints like Barista, Starbucks and Café Coffee Day, drinking coffee has become a style statement. Coffee had become an excuse to hang out with today's kids and teenagers.
According to a recent study, India is the fifth largest coffee producer in the world. Karnataka alone is responsible for the 70% of the total coffee produced in India. The top coffee brands in India are Tata, Nescafe, Bru. There are so many types of coffees but black coffee is more preferable, and it's beneficial too. It serves best when no additives like milk and sugar are added to it. Many don't exactly know how to make coffee, and that is why they miss out the perfect blend of it to acquire the perfect taste in the end.
Talking about the Tea vs Coffee…
Tea is one of the greatest uniters. There are no such crises which can not be solved by a cup of tea. There are some reasons why tea is better than coffee. Read these below points and know what are the health benefits of tea:
Tea vs Coffee – TEA IS FANTASTIC IN HYDRATING YOUR BODY AND REPLENISHING YOUR FLUID INTAKE:
While coffee can do the same, tea has added the benefit of generally being just pure H2O with that awesome tea flavour, which means, if it is hot summer then it's more beneficial to sip tea either hot or cold to replace any fluid deficiency you had through excessive sweating. It is good for your skin too, and you get hydrated while consuming some.
Tea vs Coffee – TEA HELPS REDUCE THE RISKS OF DEVELOPING CERTAIN KINDS OF CANCERS AND TUMORS:
Another major health benefit of tea is it reduce the risk of chronic diseases lie cancer. Scientists have ensured that tea is proficiently linked to the improvement of your health. And looking at the history, 5000 years ago an emperor also wrote about it.
Tea vs Coffee – TEA WILL KEEP YOU GOING FOR LONGER HOURS:
Tea contains much less amount of caffeine than coffee. If you want something to keep you going throughout the work day, tea is the best choice.
Tea vs Coffee – IT'S EASIER THAN MAKING A COFFEE:
Isn't it? It is the best reason to prefer tea over coffee, jokes apart. Place a teabag in a cup of hot water, remove it after few minutes, and you are done!
Tea vs Coffee – MUCH MORE ANTIOXIDANTS THAN A COFFEE:
One another much needed health benefit of tea is it contains more antioxidants than a cup of coffee. Antioxidants are fantastic for keeping your body ticking and feeling fantastic. In short, antioxidants keep you fresh.
Tea vs Coffee – TEA IS ALSO PRETTY GOOD FOR TEETH:
Tea is also good if you wish to maintain a good set of tooth. Drink a reasonable amount, and it would keep your teeth in their original colour unlike coffee, which delivers the unwarranted side effects of discolouration.
Tea vs Coffee – TEA CAN HELP REDUCE STRESS:
An advantage we can all use from time to time. While the physical cause behind this remains unknown or murky. But, tea surely is an excellent source to reduce those wrinkles from your forehead.
Tea vs Coffee – TEA CAN HELP YOU SHED SOME UNWANTED POUNDS:
Relatively recent research has indicated that green tea might be a great aid for people who want to lose some weight. It is a fact that green tea helps kick-start your metabolism and so, is helpful in shedding that extra kilo off your body.
Tea vs Coffee – TEA CAN ALSO PROTECT YOUR BONES:
An Australian study shows that people who use tea regularly had stronger bone density than those who don't. And drinking tea promotes healthy bone formation. While I am not suggesting you guys to drink too much of tea; a cup of tea in a day is sufficient to keep your bones stronger and healthier.
Tea vs Coffee – TEA CAN HELP STRAIGHTEN YOUR IMMUNE SYSTEM:
It is like security software for your computer. A cup of tea can give you a sudden boost as drinking tea can help your body to set up and improve the immune system.
Read More : Causes Of Diverticulitis
While on the other hand…
There are many types of coffee, the finest quality being the arabica coffee, which today holds 59% share of the world's total coffee production. The interesting part about the Arabica coffee is that it is the only species with 44 chromosomes of coffee!
"Green coffee" is the best coffee in the world. Coffee can only be good if its source is the finest. So, you need to find a coffee roasting company that has an excellent green coffee import to bliss your tastebuds.
Coffee contains a high amount of caffeine, most of us like drinking coffee but want to limit their caffeine intake for some reasons. For those people, decaffeinated coffee is an excellent alternative. Decaffeinated coffee is just like a regular coffee, except that the caffeine has been removed. It is a coffee from the coffee beans that have had at least 97% of their caffeine removed.
Likewise, there are many types of tea too: Teas tea is created by Japanese. Teas tea is a collection of all tea leaves, and it is the purest form of tea you can have.
Have you ever heard people criticizing your choices of having caffeinated drinks like coffee or tea? Though over-indulging in anything will have negative consequences, having an extra cup of black tea might not be as bad as you imagined.
I prefer and love a cup of tea. Its how I like to begin my day and I want it as soon as I am awake! Well, that's my take. What about you?
Do let us know about your preference in the comment section below!