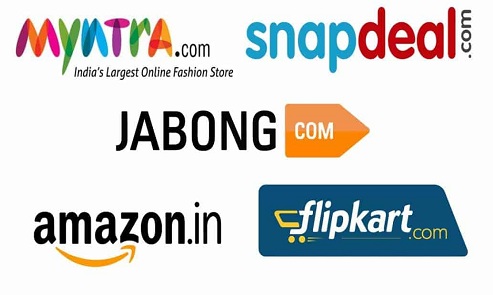 We have unlimited number of E-commerce websites in India and are you in search of best websites among them! Here providing the Top 10 Fashion E-commerce Websites in India. We are living in metropolitan city and it is our responsibility to follow updating Fashion trends. Now a days online shopping is updating very fast in India. It is because online shopping saves money and effort to the greatest extent. Ease of shopping, availability options made users to prefer online shopping more than retail stores. The below mentioned are some of the famous online E-commerce Websites in India.
Amazon:
Amazon is the one of the largest internet based retail based companies in India. This was established in 1995 and with in no time Amazon became world famous. Small to big everything is available in Amazon with best customer service. All products available in Amazon are known for warranty and quality. Amazon offers best third party deals also with specific rate calculation. There are some products which are specifically available in Amazon only with best deals and low delivery period. Amazon is the only service that has been recognized to provide customer delivery in just 30 minutes.
Flipkart:
Flipkart is also the best E-commerce online service in India. This was launched by Sachin Bansal and Binny Bansal as partners in the year 2007. And now Flipkart became India famous with best customer service. This is the E-commerce company that has started the term 'Cash On Delivery (COD)'. In the beginning Flipkart provided service to only books and today everything is available in Flipkart. The most common problems of E-commerce marketing are solved by Flipkart and this made to stand in the list of Top 10 E-commerce Websites in India.
Jabong:
Jabong is the only E-commerce service that provides comparison between most reputed brands. Its service is distributed is every corner place in India with minimum delivery time. The most exciting feature in Jabong discount coupons. Jabong offers discount coupons on all categories like clothing, Footwear, Accessories, Furniture, Electronic devices and even Gadgets also. Jabong coupons are applicable on top brands also which is very rare to find in other famous online E-commerce websites. If you have any query to solve there is jabong customer care.
Snapdeal:
Snapdeal was launched in the 2010 and it has been completing sis years of successful journey. Though it takes some time to deliver it is known for warranty products. With in no time this became the top most E-commerce Website in India with best customer service and helpline services. In some aspects Snapdeal may not reach customer expectations but we can expect quick response on any queries and complaints regarding our product. In most of the cases users prefer Snapdeal for gadgets and electronic devices. Clothing and footwear is not up to the mark in Snapdeal.
EBay:
Ebay is also a biggest E-commerce online store and this more advantageous for gadgets. Ebay is the only service that has unlimited variety of models on gadgets. Coming to prices, we can expect low prices in Ebay when compared with all other E-commerce online shopping websites. There is some problem with Ebay products. They are with small invisible scratches which occurred during shipping. They are not like damaged pieces but just small outer scratches. There will not be any issues with internal components and quick customer response is available.
Myntra:
Myntra was established in the year 2007 by Mukesh Bansal, Ashutosh Lawania and Vineet Saxena who are the three IITs. They set up some goals and fought from 2007 to meet their goals. Myntra is successfully running till now with minimum delivery period. Myntra E-commerce Website is best for clothing as it provides stock with latest updates and best deals. Myntra also allows third party involvement thereby increasing their marketing.
Shop clues:
Shop Clues is exclusively for clothing and footwear. This is the biggest online shopping E-commerce website for online shopping. Radhika Aggarwal is the present CEO of Shop Clues who fought hard against the crisis and faces many issues. Though all other E-commerce Websites are giving tough competition to Shop Clues, it is standing strong to meet the customer satisfaction. It has been dumber with all latest models and trending fashion.
Paytm:
Paytm is specially recognized as mobile E-commerce platform in India. In very short span of time Paytm reached more than 60 million dollars turn over. This was launched in the year 2010 as a prepaid recharge website and it started increasing slowly by adding products related to all categories. In only 3 years it crossed over 10 million app downloads. At present it crossed 1k crore and aims to reach 2000 crores by next years. Not only online repaid recharges Paytm is also provided with all online shopping facility. Hotel booking and traveling ticket booking is also available in Paytm which is very rare to find in any other E-commerce Website.
Pepperfry:
Pepperfry is one of the biggest online shopping website. This was launched in November, 2011 by former CEO of Ebay Ambareesh Murthy. In the beginning, Pepperfry was attached to specific limited number products like departmental store. Now it is filled with all products related to shopping, electronic and many. All top brands are available with best deals during festive seasons. It is very hard to find out of stock in Pepperfry App as it is dumped with huge number of stock.
HomeShop 18:
HomeShop 18 is operated and handled by Reliance industries and it is part of media. This was launched in 2008. Homeshop 18 was lunched earlier to all other online websites but it did not compete with all other reputed online shopping websites. Not all products are available in HomeShop 18 and only specific brands are been provided.
We have many other online websites also for shopping but the above mentioned are most commonly used with best customer service. We might face many issues like not satisfying with the product or delay in delivery. Such problems can be directly solved by speaking to the executive and we can expect quick response.