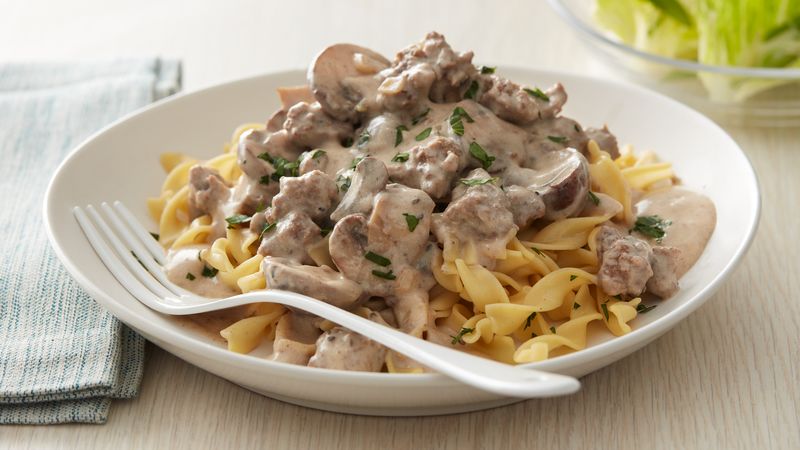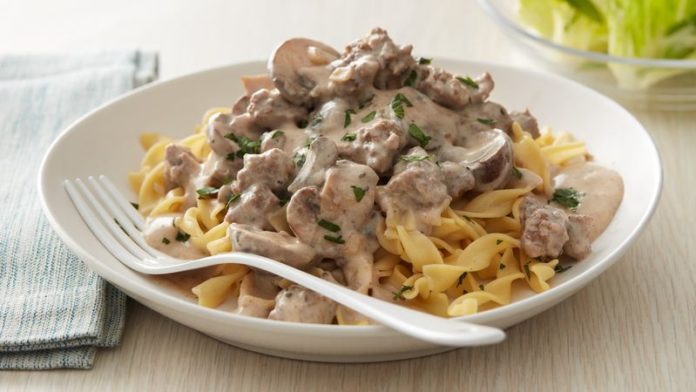 Are you tired and fed-up with eating the same old chewy, dry beef, or a bland stroganoff sauce? Well, here we have the best Healthy Beef Stroganoff recipe that actually delivers. One of the significant ingredients that we are going to use today will be Ground beef for stroganoff. Now you may or may not know that ground beef is highly beneficial for your health and tastes like heave. Talking about the nutrition value, ground beef nutrition includes 217 calories, 26.1 grams protein, and 11.8 grams (100 grams of ground beef). One of the things to notice is that it does not include any Carb, sugar, or fiber. Firstly, let's discuss the beef stroganoff origin.
BEEF STROGANOFF ORIGIN
Before going into the various specifics of the healthy beef stroganoff recipe, we need to understand the beef stroganoff origin. Beef stroganoff is a dish that originates from Russia. It is traditionally served with sauce with sour cream (Smetana).
Now, let's begin with the festivities.
BEEF STROGANOFF RECIPE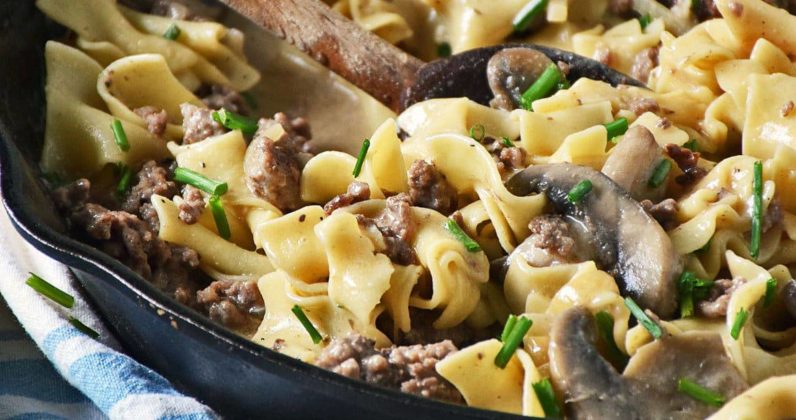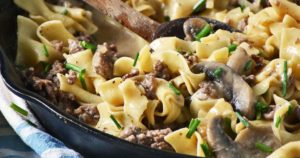 Believe me, if you have suffered through that dry and sometimes cranky overcooked beef, you are going to fall in LOVE with this particular recipe. It is, however important to make sure you use the right cut for this recipe. Sure, I can understand if you don't have access to a high-quality tender steak or you just don't care, but if you want to taste the best version of this dish, try to go the extra mile as it will be really worth it.
INGREDIENTS
1 lb of lean ground beef
1 clove garlic minced
3/4 lb fresh mushrooms sliced
1 small onion diced
3 tablespoons flour
2 cups beef broth
2 teaspoons Worcestershire sauce
3/4 cup sour cream
salt & pepper to taste
2 tablespoons fresh parsley
PROCEDURE
This beef stroganoff recipe is genuinely straightforward; in fact, you may find trouble believing how crazy it. It is also an easy ground beef recipe. You just need a few minutes (max 25 minutes) to make this. Follow the following steps carefully and you're all set!
Put and mix up garlic, onions and brown beef in the stainless pot (make an effort not to break it up too much).
Mix it up until no pink remains.
Add up the mushrooms, sauce & seasonings.
Stir for 2-3 minutes.
Stir in flour and cook for another minute.
Add Worcestershire sauce, broth, salt & pepper and boil it.
Reduce the simmer after 10 minutes
Begin cooking your egg noodles
Stir your main course in the sour cream
Serve it over egg noodles after they are done.
THINGS TO KEEP IN MIND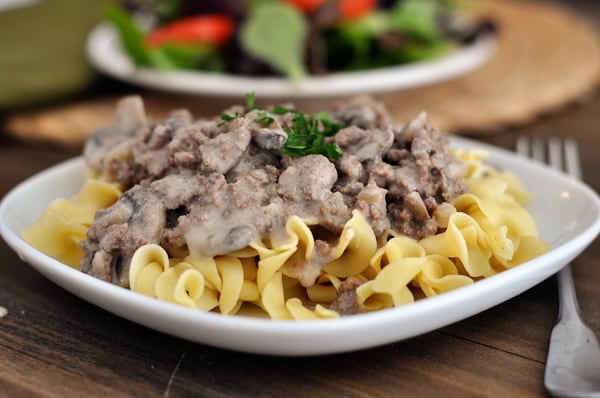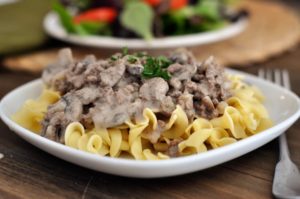 While you may be aware that this recipe could be prepared even without ground beef, but I highly recommend to use ground beef only. Regardless, you can also opt for another type of ground meat according to your conveniences like pork or even ground turkey.
Also, while including mushrooms, we obviously recommend using fresh mushrooms and white mushrooms. However, you can be flexible on the latter as you can substitute white mushroom with a mixture of white, cremini, or peven Portobello.
In the case of sauce, you can also use yogurt as a reliable substitute without compromising on the taste of the dish in hand. You can also try to add a dime size of extra cornstarch slurry with cold water to thicken the sauce up to your desired thickness.
We love this healthy beef stroganoff as it is but you can always tweak some flavor into by adding any one of the following:
Dijon mustard
fresh thyme
Include two or three cuts of raw bacon alongside the onion and meat
Include a little scramble of smoked paprika and a scramble of hot sauce
SOME LEFTOVER?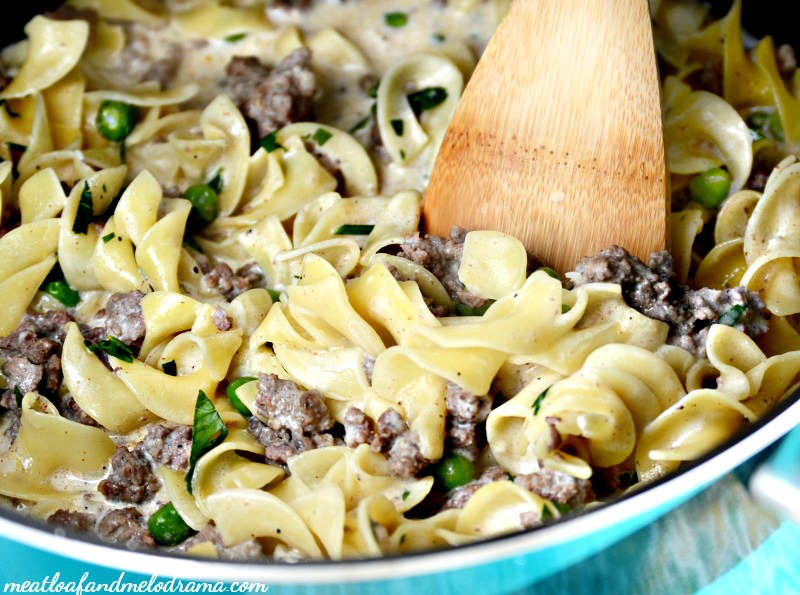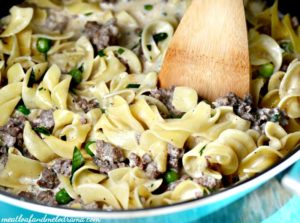 You can freeze it in a sealed container up to 3-4 days without needing to throw it out, but keep in mind to only freeze the stroganoff part and not the noodles or the sauce. Make sure to reheat the dish after it has been frozen overnight. Drain off any liquid. Use the microwave to heat it.
This easy beef stroganoff recipe constituting of ground beef nutrition and tender mushroom must be your go-to recipe when the time in hand is short. It is really delicious and makes for a perfect weeknight meal. It also contains high levels of Vitamins.
NUTRITION
Calories: 389, Iron: 3.5mg, Protein: 28g, Fat: 26g, Saturated Fat: 12g, Carbohydrates: 12g, Cholesterol: 100mg, Sodium: 365mg, Potassium: 981mg, Vitamin A: 435IU, Fiber: 2g, Sugar: 4g, Vitamin C: 7.5mg, Calcium: 79mg,