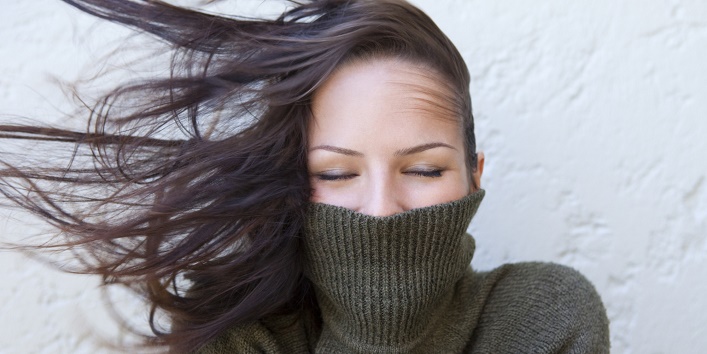 Winter season tends to be hard on hair and skin. cold and dry air makes hair dehydrated leading to breakage and rough hair. You should always follow a winter hair care routine during winter to keep your hair nourished, healthy and frizz-free. Follow these Winter Hair Care routine to maintain the health of your hair.
Regular hair and scalp oil massage 
During the colder months, hair and scalp get dry and flaky. Make sure to do regular oil massage to keep hair healthy and shinning in winters. Oil such as coconut oil and castor oil are really good for the scalp. Keep the oil for at least 20-30 minutes to deeply nourish the scalp. You can also keep the oil overnight and wash your hair the next morning.
2. Avoid heat styling
Haircare should be a part of your daily routine. Heat styling is a major cause of dry, damaged hair. during winter the hair is in a very fragile state, heat styling machines suck moisture out of hair strands. Air dry your hair, go for heatless curls and try different hairstyles like twists, buns, and braided ponytails.
3. 
Avoid hot showers
If you really want to take care of your hair avoid Using hot water to wash your hair, it can damage the scalp. Hot water sucks the moisture from the hair strand making them dry and brittle. Use lukewarm water instead, using too hot or too cold water makes hair weak and can increase hair fall. Make sure to use a conditioner after every wash.
4. 
Prevent hair static
Woolen hats and scarves make your hair frizzy! Use a frizz control spray or use dryer sheets to pat down frizz – use a silk-lined hat to prevent breakage and keep yourself warm. keep a bottle of dry shampoo handy to rescue your flat roots and give some volume.
5. Stay hydrated year-round
It's important to stay hydrated no matter what time of the year it is. The hydrated body ensures hydrated hair. Dehydration directly impacts hair. It can slow down hair growth. Drink at least three liters of water daily. Try to carry a water bottle with you whenever going outside.
read more:- Hair care tips to keep your hair hydrated throughout the winters.