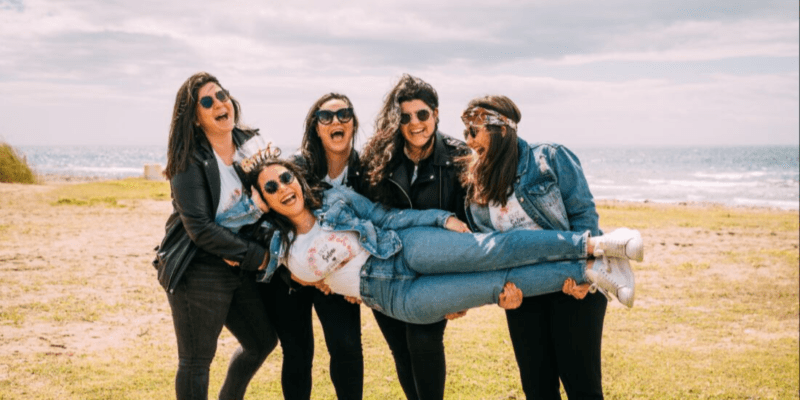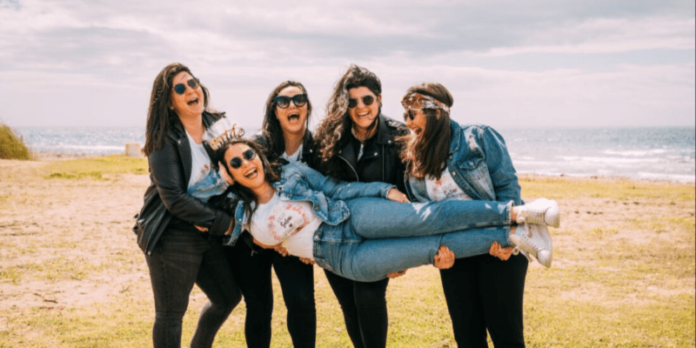 Now that you've picked your Maid or Maiden of Honor and your closest friends and family to be a part of your bridal party, you'll need to set up the bachelorette party. From glam photoshoots to getting that perfect close-up shot of your new engagement ring to putting on cowboy boots "wild, wild west style," keep reading to get inspired by these 10 bachelorette party photoshoot ideas.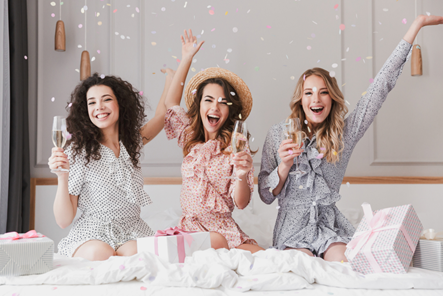 Source: Dean Drobot/Shutterstock.com
Get Outdoors — According to The Knot, the majority of bachelorette parties either take place in the spring or summer, so it's the perfect time to get outdoors for a bachelorette party photoshoot. Find a campsite near you where you can camp overnight. If hiking and sleeping under the stars isn't your style, spend the day at the beach. Go for a bike ride on a local trail. Look for a historic mansion near you where the property will allow you to take photos on the grounds. Get your heart pumping by ziplining, bungee jumping or even skydiving. You're sure to capture so many fun candid shots during any of these outdoor adventures. Just make sure that your engagement ring and anyone else's diamond engagement rings are secured elsewhere before you do any rigorous outdoor activities.
Boozy Photoshoot — Bring out the alcohol and enjoy a boozy photoshoot. Book a day at a beer brewery or vineyard. You can rent a limo for the day so that no one has to worry about driving after a day of drinking.
Paint and Sip — Combine the fun of sipping on wine with painting by doing a paint and sip event. You can book a class near you with an instructor who can help guide you on how to paint a specific painting together while you enjoy a BYOB drink and some light snacks. You and the ladies can also decide to paint on your own and drink from the comfort of your home.
Say Spa-ahhhhh — We could all use a spa day. What better way to relax and recharge than with a day of massages and mani-pedis? Wear your terry cloth bathrobes and fuzzy slippers. The pictures will come out great when everyone looks so blissful after a day of relaxation. The spa photoshoot with your new manicure is also a great way to show off any close-up shots of engagement rings.
Weekend Cabin Rental — Rent a cabin for the weekend and get out in nature. This is a great option for those who want to enjoy the great outdoors but not sleep in the forest in a tent. Everyone can dress up in cottagecore attire as you spend the weekend baking, playing board games and watching movies in the cabin. The aesthetic of you and your bridal party in a cabin in the woods is truly Instagram-worthy.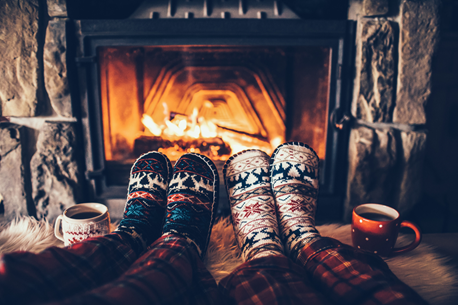 Source: AlexMaster/Shutterstock.com
Country-Themed Photoshoot — Your boots weren't just made for walking. They're also made for the perfect country-themed photoshoot. Get everyone to dress up in cowboy boots and hats for this kind of photoshoot. It's time to get wild, wild west in plaid shirts. Add on other fun country-themed accessories like a lasso and sheriff's badge. As for the hair, keep it long and loose or braid it into two braids.
Grownup Sleepover — Sleepovers aren't just for kids. Host a grownup sleepover where everyone can spend the night in pajamas. Play fun bachelorette party games and make s'mores. Watch movies that are all themed around bachelorette parties or weddings. For the photoshoot, keep the aesthetic of your home and the bedroom in mind. Think cozy: plush blankets, sheets and stuffed animals. Throw pillows and blankets add a nice texture to any room. The best part is that you don't even have to sleep.
Get Glam — What better excuse for everyone to get all glammed up than with a glamorous bachelorette party photoshoot? Hire professional makeup artists and photographers to do a high end photoshoot. With this kind of photoshoot, you can combine it with any of the other ideas, like a glamorous sleepover photoshoot or a glam cabin rental photoshoot. This kind of photoshoot is also a perfect way to showcase unique engagement rings. Glam makeup, glam hair and glam rings? Yes, please!
Let's Play a Game — Planning a wedding is stressful. Unwind by doing a game-themed photoshoot. Book an escape room and laugh with your bridal party as you all try to escape a train, submarine or spooky mansion in under an hour. Remember to try and take photos in the heat of the moment, or assign someone to be in charge of photos during the escape room game. Plan a treasure hunt and see if everyone can find hidden treasures and clues. You can do a treasure hunt in your own home or have it outdoors in the park.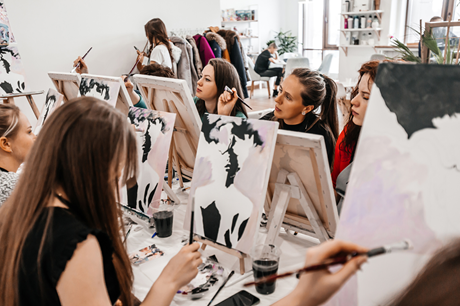 Source: Ekaterina Ru/Shutterstock.com
Take a Unique Class Together — Bond with your bridal party by taking a unique class together. It could be a fun workout activity like a pole dancing class. Shake what your mama gave you and do a group dance class. You'll all be more prepared to dance the night away at the actual wedding. If you prefer something a little more low-key, try a cooking class together.
These are only a few fun options to inspire you for ways to capture your bachelorette party. No matter which way you choose to enjoy and remember your day with your besties, do whatever will make you happy, and your bridal party is sure to have a great time, too!