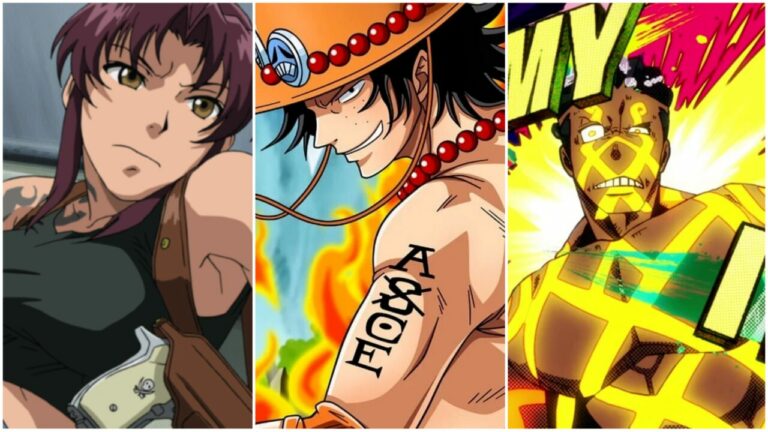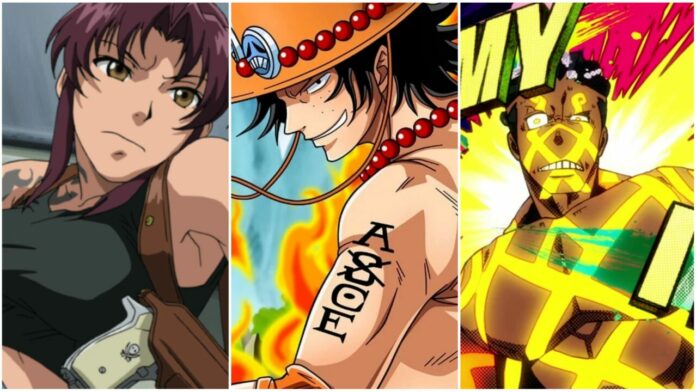 Anime characters with tattoos – Tattoos aren't just a part of gang culture and prison rebel lifestyles. Since ancient times, tattoos have been used to signify cultural identity, mystical beliefs, and personal expression. It is said that as long as there is human skin to ink on, there will be people getting tattoos. 
The thing about anime is that you can find all sorts of crazy tattoos on just about any character you can think of. Here we'll look at some of the most incredible anime characters with tattoos and some anime tattoos you can think of. The best part about getting an anime tattoo is that there are no limits to what you want to choose or where to put it.
Luckily, the anime world has no limits, as there are numerous anime characters with tattoos, so your imagination will be your most significant limit when choosing an anime tattoo design. If you're thinking of getting your first tattoo ever and aren't sure exactly where or what to get, why not go with one based on your favorite almighty anime? Explore the best tattoo ideas listed below. 
Read More- How long does it take for the tattoo to heal on average?
1. Japanese Anime Tattoo – Neon Artwork
This excellent Japanese anime tattoo design perfectly represents a classic samurai style. The traditional red, white, and black color scheme stands out from the crowd making this design stand out from just about any other tattoo. The outline of a traditional Japanese sword is almost what makes this design, and it also makes it an excellent choice for men who like to ink their bodies with samurai-looking designs. This tattoo on its own would look pretty cool, but if you add some cool neon colors, it gives the whole Piece an edgier appeal and a more futuristic feel.
2. Beautifully Covered Half Sleeve Anime Tattoo Design
The half-sleeve anime tattoo design would look good on just about anyone that is into a more traditional Japanese-inspired design but isn't into the whole samurai thing. The use of black and grey ink and some excellent red and white ink makes it the best anime character's tattoo for a very eye-catching design and almost looks like a painting at first glance. This is the perfect anime tattoo idea for forearm.
3. Cool Anime Tattoo – More Anime for Your Body
Not every anime tattoo has to have a lot of colors; often, the most simple and elegant tattoos are the ones that stand out. An anime quote's very cool minimalist-styled tattoo design is the perfect example of how any design can look good with just a little color and black ink. You don't need a lot to make a statement about anime tattoos, but you want them to look cool, and this is one of those that succeed in doing just that. 
4. Japanese Anime Tattoo – Letters, Symbols, and Triangles
The use of triple triangles in an awesome Japanese anime tattoo is a very effective and eye-catching design. This design is also used to show off the art of black and grey ink on one's skin, but since it's so minimalistic, it has a lot more effect on its look than if it was done in bright red ink. The essential nature of this design makes it perfect for just about anyone who likes traditional Japanese-inspired tattoos that aren't going to make your arm look like the cover of an action manga.
5. Dragon Ball Z tattoos:
Dragon Ball Z is one of the best anime series of all time, and with great characters, cool fights, and incredible power-ups, there is a lot to like about this series. So if you're looking for anime tattoos based on this popular series that look cool, check out these fantastic dragon ball z tattoos. With dragon styles spanning from a rough sketch to an amazingly detailed full-on dragon tattoo, these are some of the most incredible dragon ball z tattoos you'll ever see.
6. Naruto Tattoo:
If you love Naruto and want to show the world, this one is for you! The excellent anime tattoo design features a complete rendition of the main character's face repeatedly repeated on the arm. Combining several different styles of ink makes for one extremely eye-catching design and has a lot of depth to it as well.
The red and black ink makes for a pretty cool main color scheme, which helps to give this tattoo design some much-needed contrast without making it look dull or too on your face. Of course, more high contrast designs, rather than all black or all red, will always be more appealing, especially if they have a dark background.
Read More- Stylish Birth Year Tattoo Designs Ideas: 2022
7. Matching anime tattoos for a couple:
Since tattoos are permanent and when two people get them together, it is 100% for life; this is something that you should consider. Sakura is one of the most popular characters in Naruto, a series that has captured the hearts of anime fans worldwide. Sakura is an incredibly soft and feminine character who usually dresses in a pink and white kimono but can be seen in many other outfits. A couple can get a tattoo of Naruto and Sakura as it is the utmost loved couple in the anime universe. 
8. One Punch man:
If you are a fan of the anime One Punch Man, you must wonder what your favorite part about it is. The character in the anime, Genos, is based on the comic book Cyborg Superman. This design features Genos' iconic helmet, cybernetic parts, and tattoos covering his entire body. The bold black and red coloring and detailed designs are sure to make the tattoos of one Punchman an awesome one for any hardcore anime fan.
9. Ace and Luffy Anime Tattoos;
Ace is a fictional character from the manga and anime series One Piece, created by Eiichiro Oda. Ace looks similar to the Japanese actor Tatsuya Fujiwara, who played him in the film version. Luffing is also from One Piece and is a minor character. With a youthful expression, he looks very cool with his scarlet hair, which looks very fashionable at times. There are many anime tattoos of Ace, but the one that looks cool is its dark black color and detailed design that also contains the image of Luffy's ship, The Going Merry. 
Best anime characters with tattoos:
1. Neko Atsume
This fox girl has been a significant hit in Japan since the game launched in 2013, consistently winning awards and even getting a movie adaptation earlier this year. This cute little kitten is so popular because she is one of the best anime characters with tattoos and her determined facial expression and calm Persona 4 tattoo on her left arm. Her highly expressive face and body art are enough to make any adult smile, but it has also meant that she has captured the hearts of many otaku fans.
2. Kaguya Houraisa
The "Princess from the Moon," Kaguya Houraisan, was born as part human, part moon deity. However, her birth is unique as she comes from an alternate dimension and has long been prophesized to be the savior of humankind. Because of this, her existence is shrouded in mystery, and she is seen as the key to humanity's survival. Despite not being seen in public for years, rumors about her continued to spread, casting her as the most potent and influential character in the Azumanga Daioh universe.
3. Raku Ichijō
The name Raku sounds like a common human name, and it usually would, but the word is used to describe a heart that has been broken into pieces. Raku Ichijō is one of the famous anime guys with tattoos and is a prevalent character in the Shokugeki no Souma anime series. Much of his popularity comes from the mind-blowing tattoos on his body and those on his face. These tattoos cover every inch of Raku's body and include tattoo designs that are cute and badass.
4. Yuki Nagato
In the world of Death Parade, one person goes to sleep each night and wakes up in another world each morning as a different person and a different personality. The most popular of the brave souls who explore this alternate world is Yuki Nagato, who has a unique look with her piercing blue eyes and coy face. If anyone happens to break this girl out of her bind, they will be rewarded with some sweet tattoos across their own body.
5. Chitoge Kirisaki
In the manga and anime series Nisekoi, the main character Raku Ichijō is in love with a pleasant and down-to-earth high school girl named Chitoge Kirisaki. On top of her good looks, Chitoge has a body art tattoo called the "cross," which is just as gorgeous on the inside as it is on the outside. This girl was born to be wild and take on the world!
Read More- 12 Incredible Spine Tattoos For Women