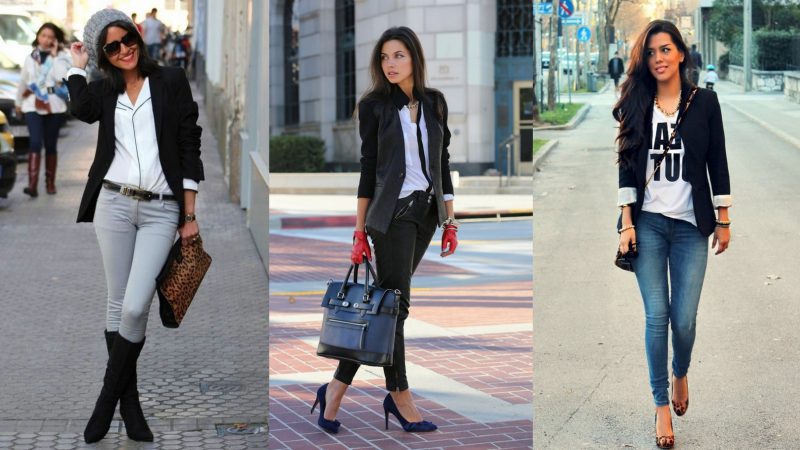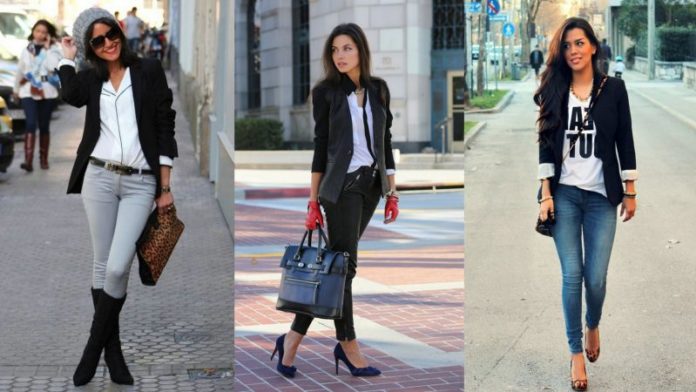 Blazer is one such attire in every woman's wardrobe that can instantly make you blaze. They are known for giving a whole new dimension to whatever look anyone wants to carry. It comes in varieties of forms and shapes depending on the fabric, cut and pattern. Every style of blazer has its appeal and the right way to bring out the essence of any look is by styling it correctly. Blazer outfits for women can be divided majorly into formal, semi-informal and casual styles.
This article includes the best styling tips to style all kind of blazers. So that the next time you go out wearing any of your blazers, it will surely bring out your personal style statement. A lot of influencers and bloggers are experimenting with the blazer trend. This has given emergence to a lot of new street style trends that can easily be tried and adopted for various occasions.
Blazer creates a strong statement. Searching for a perfect blazer outfit for women is difficult as the options are practically endless. It will be better to finalize the kind of look you want to get and the way you want to style it before making any purchase. Following trends and styling tips for your blazer look will stand out for your formal, informal, casual events.
Starting with the classic piece, single-button blazers. Such blazer connects both the side through a big button. It is ideal for most of the occasion and body type. Matching separates with a single-breasted blazer is a trend now. A button-down shirt with a solid color (blue, brown) blazer creates smart office look. While styling the same blazer with a printed t-shirt and skinny jeans will drastically change the look. It will create a semi-informal look perfect for brunch and hangouts. To create a chic look, try some quirky print and colors. The idea is to choose the fabric and print of your blazer Wisely for creating different looks.
The double-breasted blazer outfit for women is more formal than single button blazers. It can be seen worn by women working in corporate offices and little strict workplace. It has more fabric and covers almost all your front part making only this formal blazer stand out. To create a smart look with a double-breasted blazer, trousers and pencil skirt are ideal options. Such formal look can further be enhanced by styling it with stilettoes for a smart look.
A blazer dress is something that is yet to be explored. An interesting combination of Short draped blazer with a dress attached together. This interesting combo will grab a lot of attention due to its unique silhouette and offbeat presence. It is a must-have piece if you want to add extra brownie points to your style statement.
There are times when you want to pair your any attire with a blazer as a layering. Most of the women avoid using blazer as layering because they don't want to look formal and polished. For such cases, opt for informal blazers. They have made a huge appearance in every woman's wardrobe. Styling it doesn't require much effort. Pair it with your staples like skinny jeans or jeggings. Keep the blazer open and let the inner top make a strong appearance. solid turtleneck T-shirts are one such good option. Wear footwears like Converse shoes to further enhance the effortlessly casual look.
Plane blazers will stay classic, but nothing can beat the quirkiness of a sequin blazer. Such daring and experimental piece can take your party look to a whole new level. What makes this blazer interesting is the sequin work done all over the front and back part. Let the sequin highlight itself by opting for basic tube top or spaghetti top. If you are going out for clubbing or party then printed pant with bold makeup is all that you need to complete the look.
Pastel and neutral Shades blazer always look feminine. Create a half monochrome look by opting for a neutral shade blazer along with same coloured inner top. Half monochrome in a neutral shade and paired with classic blue jeans is a subtle way of slaying blazer look.
Create a complete monochrome look by wearing draped waterfall style blazer with a tightly fitted pant of the same colour. Colour. The draping will highlight your curves in the best way possible.
Blazer for women can be turned chic if you mix informal and formal attire in a balanced way. Put a plain V neck T-Shirt with a light wash denim short. Finish the look with an oversized blazer to cover your complete attire from outside and you are done.
With the increasing number of women sporting this trend, we hope the blazer outfit for women will always stay the most stylish piece. Whether it's your work, hangouts parties or casual routine, just pair up any attire with a blazer and look fabulously dressed up all the time. Let's this trendy addition stand out more in your style quotient.