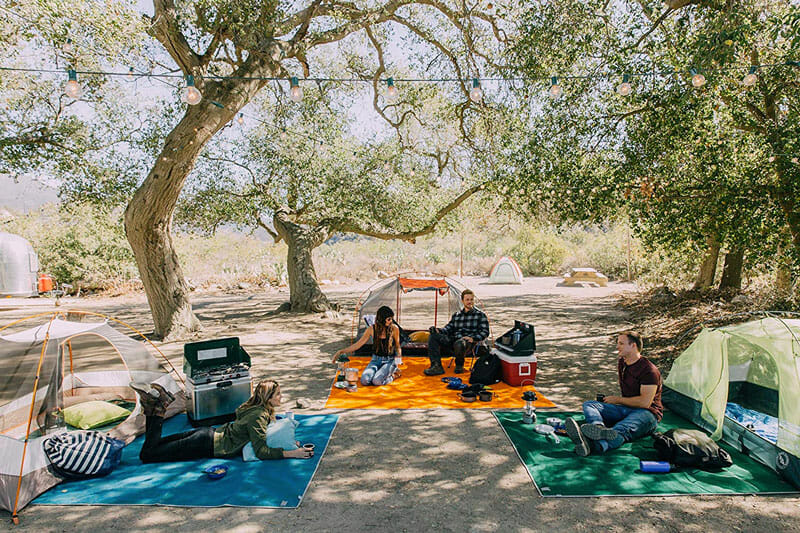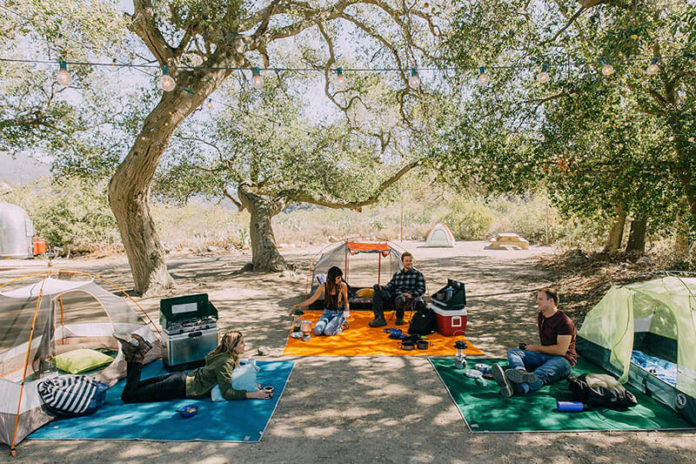 Camping is a wonderful experience and is a great way to unwind and get back to nature. Taking care of essential camping accessories is very important, but creating a warm, welcoming, and clean environment is crucial to making your camping experience wonderful. You can always use sleeping bags and tents to sleep at night, but what about those pleasant mornings and evenings when you want to sit by the lakeside and enjoy your coffee? Well, that's when camping outdoor rugs come to the rescue. An outdoor camping rug can easily create a warm and neat environment outside your tent or camp. We have reviewed some of the best camping outdoor rugs for you in this article. Stay tuned.       
Read More- 10 Must-Have Camping Accessories For Everyone 
How to buy the best camping outdoor rugs?
From beach patios to outdoor mats and rugs, there is a wide variety of camping rugs availaible in the market but finding the one that best suit your needs is quite a challenging task. But worry nor campers, we have got your back; we have come up with a list of things you must keep in mind while selecting the best camping outdoor rugs for yourself. Keep reading.
Material
The foremost and probably the most important thing anybody should consider while buying rugs is the material. Your rug should be made with a material that is water-resistant, durable, and easy to clean. Best camping outdoor rugs are made with woven straws of plastic called polypropylene that has excellent durability against water and damage. Look for this material while buying an outdoor camping rug for yourself, and you'll be amazed at its durability.
Cleaning
Ruga made with plastic are easier to clean than those made with other materials. So if you are looking for a rug that is easy to clean and wouldn't require as much maintenance, then a caping outdoor rug made with plastic would be the ideal pick for you.
Choose the one that you can easily clean with the help of a broom and a little water.
Size
Practically small camping rugs are useless as you can not lay down on them. That is why a large outdoor rug is always preferred over the small ones. You can easily lay down on the large ones and enjoy the laps of nature. Most camping outdoor rugs measure less than 10 feet long and 10 feet wide, enough to place your camping table and chair on it or just for sitting and chilling with friends and family.
Portability
A good camping outdoor rug should be portable enough to be carried with you while camping. While some camping rugs can be easily folded, others, on the other hand, can be rolled and secured with velcro at the end and can be taken away while traveling.
Uv protection
Your camping ug will be exposed to UV rays even when kept in the shade. It is always advisable to go with camping mats made with polypropylene and covered with UV protection. This will protect your mat from getting faded and last you longer. UV protection adds to the durability of your outdoor camping rug.
Read More- Best Kids Hiking Backpack for Fun Trip 
5 Best Camping Outdoor Rugs
Reversible Mats for Outdoor Patio Rug
With its beautiful design, this reversible outdoor mat can easily brighten up your camping experience. Made rom high-quality water-resistant polypropylene material, this one is availaible in a wide variety of designs and colors. Its built-in UV protection will prevent the drug from getting fade, and it will look the same even after years.
The mat is fully reversible and is easy to clean, quick-dry, and dustproof. The rug has a very compact size of 6×9 feet and comes with easy transportation.
SAND MINE Reversible Mats
This one from sand mine has a very elegant and classy look and is perfect for the patio, your camping spot, terrace, etc. what makes this rug even better is that it is made with 100% virgin polypropylene with heat-treated edging, resistant to heat. The UV protection of this outdoor rug is excellent and will last you for years.
The size is also compact, and the rug can be rolled easily and taken anywhere.
Stylish Camping Outdoor RV Patio Mat
If you are looking for something attractive yet durable, then this stylish camping outdoor rug can be the ideal fit for you. Made with high-quality polypropylene material, this one is very soft and comforting. It comes with a built-in UV protection that protects its bright color from fading away. The only issue with this cute mat is that it's lightweight, and you might be required to secure it with stakes and loopholes.
BalajeesUSA Outdoor Patio Rugs
With an ideal size of 6×9 feet, this beautiful mat is durable and is fully reversible so that you can enjoy it for even longer. Made with super-thin straws of polypropylene, it is incredibly durable and highly portable; roll it up and take it with you anywhere.
Easy to clean, these outdoor camping rugs can be cleaned easily with the help of a broom and a little water. Available in many different colors and patterns, this one is perfect for creating a warm and comfortable environment outside your RV camp.
Drymate Camping Tent Carpet
If you do not want to opt for the typical outdoor rug made with polypropylene, this camping tent carpet can cater to your needs. Made with durable and long-lasting polyester material, this camping tent is very soft and will give you a home-like feeling.
The best thing about this outdoor rug is that it is waterproof, so you dont have to worry about it getting spoiled in the rain.
Everything about this outdoor rug is excellent, making it a perfect camping accessory.
Keep your RV camping area clean and organized with the help of these beautiful and highly durable camping outdoor rugs. Let us know how you liked the article in the comments below.
Until then
Happy camping.
Read More- Best Camping Tent Fan To Keep The Tent Cool