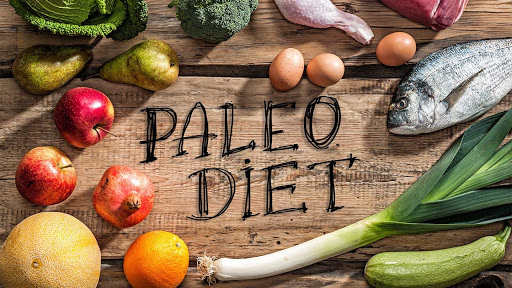 Paleo diet is a grain-free diet and excludes everything that is processed food or snack. Paleo diet includes foods that can be consumed straight off the plants, trees, or vines and the foods that can be hunted. Here we have an easy Paleo food list and lunch/ snack recipes that are work-friendly.
Nicoise Salad Recipe
This Paleo lunch recipe is straightforward, healthy, and filling. When you don't want to make anything too complicated, this Nicoise salad is the perfect lunch or snack time recipe for a busy working weekday. This salad is full of flavor and colorful veggies, a perfect antidote for noontime blues and is the paleo diet-friendly. 
Ingredients:-
Grilled tuna steak (16 ounces) or Canned tuna (2-3 cans)

Boston lettuce leaves (2)

Hard-boiled, peeled eggs (4-sliced)

Tomatoes, cored, cut into small pieces (3)

Red onion (1 small-sliced thinly)

Green beans, cooked (8-trimmed stems)

Nicoise olives (1/4th cup)

Capers (1 tbsp-rinsed)

Freshly ground black pepper and sea salt
For Vinaigrette:- 
Lemon juice (1/2 cup)

Extra virgin olive oil (3/4 cup)

Medium shallot (1 minced)

Fresh thyme leaves(1 tbsp. minced )

Fresh basil leaves (2 tbsp.- minced)

Fresh oregano leaves(2 tsp.- minced)

Homemade mustard/ Dijon (1 tsp.)

Black pepper(freshly ground)

Sea salt
How to Make:-
Take a mixing bowl and combine all the vinaigrette ingredients together and whisk well. Season with salt and pepper to taste. 

Arrange all the salad ingredients in a big bowl. Arrange interestingly, be creative. 

Sprinkle capers all over the salad and drizzle vinaigrette.
Paleo Basil Avocado Chicken Salad Recipe
This chicken salad is a great Paleo snack and lunch recipe. Quick to make and super healthy, you will fall in love with this chicken salad. Your colleagues will envy your every day Paleo work-friendly lunch box recipes. 
 Ingredients:-
Skinless, boneless chicken breasts (2 piece- shredded and cooked)

Fresh basil leaves(1/2 cup- remove the stems)

Ripe avocado(2, pitted)

Extra virgin olive oil (2 tbsp.) 

Sea salt (1/2 tsp.)

Freshly ground black pepper (1/8 tsp.)
How to Make:-
Take a big mixing bowl and place the shredded chicken. 

Blend basil, olive oil, avocado, sea salt, and black pepper powder in a food processor until smooth. 

Pour this mixture on top of the chicken and toss to coat properly. Add more pepper and sea salt if required. Keep in the fridge for some time. And it's ready.
Paleo Italian Sub Rollup
Looking for some easy and portable Paleo lunch recipe? We have the perfect work-friendly Paleo lunch idea. This Italian Sub Rollup is made without using any bread and will keep you feeling fuller for a longer time.
Ingredients:-
weet/honey ham

capicola ham*

salami

olive oil

mayo & mustard

banana peppers

tomato, sliced thin

spinach or other lettuce

dried oregano
How to Make:-
Use the honey ham on the outside layer to make the rolls. Overlap to about 1.5 inches and make two rows of 4. Overlap then and adequately put salami on top.

Put mustard and mayo on half side of the ham, which will be put in the inside middle of the roll. Put banana pepper, sliced tomato, and spinach, or any topping that you like over the mayo. 

You can also try olives, cucumbers, red wine, and onions for the filling.

Start rolling from the filling side tightly wrap the roll in a parchment paper just like you will wrap a burrito. 

Viola! It's done. 
Read More:- Have You Heard About Lacto-Ovo-vegetarian Diet? Learn about the benefits and downsides of this diet.