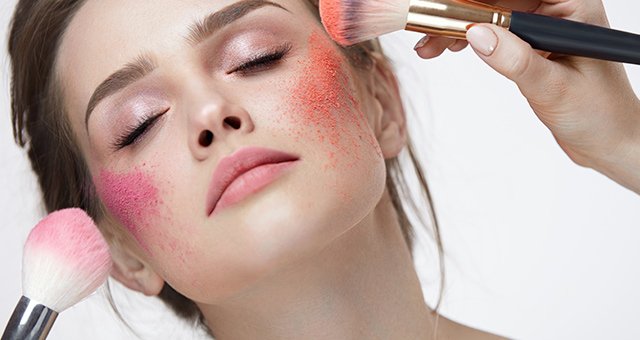 Blush is among the top 10 makeup Trends of 2020. Blush is a classic makeup essential. You can achieve that glowing sun-kissed goddess, the fresh winter glow, and flushed cheeks using the blush correctly. Blush adds an important element to bring the whole makeup look together. Blush takes your makeup game one step up if used correctly. Here are all the Dos and Don'ts on how to apply blush correctly. Follow these blush tips and avoid blush mishaps and achieve that sun-kissed goddess looks now.
Choosing the right blush shade for your skin tone
Just like the right foundation shade to match your skin tone, it's equally important to find the right blush shade for your skin tone. If the color is too light, it will wash out your face, and if too bright, it will look harsh. The wrong shade of blush will spoil the complete makeup look. The right shade of blush is the one that looks natural and feels like you are flushing from beneath.
Fair skin- For fair skin women light and pink tones work really well for blush.
Light-medium skin tone- stick to peach tones. Peach tones give a very warm-up effect on the medium complexion
Olive-golden skin tones- Go for bright pink and corals colors.
Deep rich skin tones- bright corals, hot pink color, and deep berry shades look very beautiful.
Choosing the Right Blush Formula
There are so many blush formula variants available in the market like powder and shimmer blush, cream blush, sticks, and tints. Powder blush works great on a full face of makeup with a foundation base to give a matte finish. If you want a natural and glowing finish, use a cream blush. You can also use tint to get that glow from within look. Blend the tint properly for a seamless finish. Stay away from very sparkly blushes because they look weird on the face. If you want the highlighter glow in your blush, then you can use a baked blush with a very little sheen to it.
Pro tip- To make your blush last longer, use a cream blush first and then top it with a powder blush. This way, the pigment will last longer, and the color pop the whole day.
How to apply powder blush
When you want to apply powder blush Use a rounded or medium-sized fluffy brush to achieve the flawless blush application. Don't choose a too dense brush. You will end up picking way too much product, and it will look unblended.
How to Apply Blush To get the natural glow
To get the natural flushing cheeks look, apply blush on the apples of the cheeks and blend in circular motions outwards.
JLo's makeup artist Scott warns suggests, "Applying blush on the sides, or stretching it out really far like it's some sort of blush contour, will make you look older or outdated. The only time you want to put blush on the sides is if you are doing an editorial shoot or fashion shoot with a specific reason. Proper blush screams youth, and that's the makeup gospel truth."
How to Apply blush Correctly to get the sun-kissed look
Blush will be your BFFL if you are looking forward to achieving that sun-kissed look. Apply a very minimal, littlest possible amount of blush on the points where the sun would hit directly. Apply the blush on the apples of your cheeks, nose, and center of the forehead. You can also apply a bronzer first and then apply the blush.
How to apply blush for a sculpted warm look
To achieve that warm sculpted look, start by applying blush on the apples of the cheeks. Take the contour brush and apply a little product under the cheekbones and the forehead. The trick will balance out the grey contour. Use the product remaining on the brush. Don't pick more product for contour after applying blush.
Incorporate these blush tips in your makeup routine and achieve flawless, fresh-looking face. You Glow Girl!
Read More:- learn about the different types of eyeliner in trend.