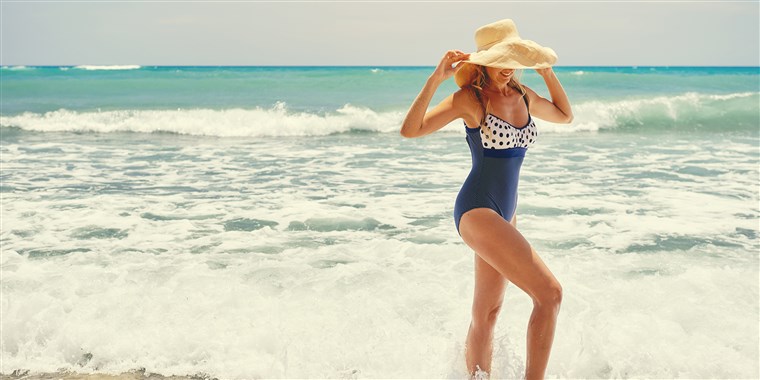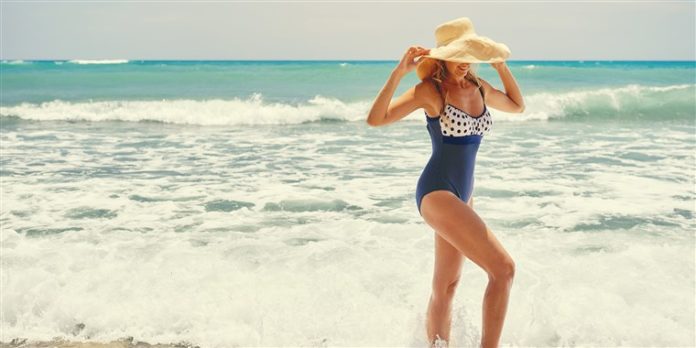 Are you planning to spend some good time on a beach, or planning to surf on the wave? Or Are you planning to spend time this summer by swimming laps in your pool? If yes, then you would require a swimsuit that fits you well and gives you a flattering look.
Now the question is how to choose a swimsuit? Picking up the right swimsuit is a daunting task as it requires lots of effort, and shopping around. So many options of swimsuits with different styles, patterns, and trends make it an overwhelming task. However, the best swimsuit for you is the one that makes you look comfortable as well as flattering.
While purchasing swimsuits, varied questions popup in mind like what would be the right fit, which style would look good on my body type, or which is the best swimsuit for me. Relax! Here is an article with answers to all your questions which will help you in choosing the right swimsuit for you.
How to Know Swimsuit Size?
The first and the most common question that comes to our mind is how to know swimsuit size? Well, this is an obvious and genuine question as each and every body is different, and there is a wide range of swimsuits available in the market catered to all sizes and shapes.
While measuring your body to know your swimsuit size, make sure to keep the measuring tape close to your skin. It is better to measure wearing thin undergarments or none clothes, as it will help in attaining accurate measurements. Below mentioned are some tips to take accurate measurements to know the right swimsuit size.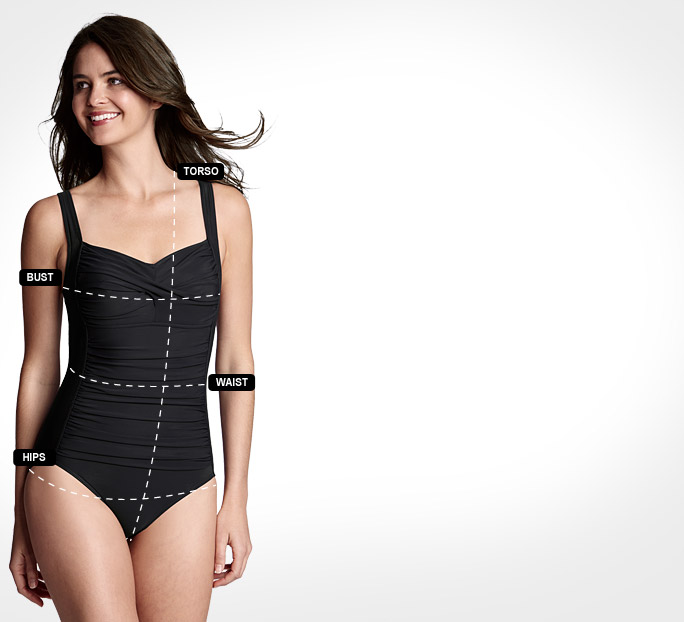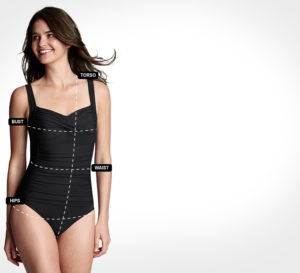 Chest/Bust Size – When you measure your bust size, keep your shoulders and body relaxed. Then measure your body under the arms around the entire part of the bust by keeping the measuring tape parallel to the ground. Now, if you think it may be too tight. Take a seat and then take the measurement, as when you sit, the chest expands a little bit. Keep in mind that the cup-band size of your swimsuit is similar to your bra size.
Waist – In order to find the size of your waist, first of all, find your natural waistline. Usually, it is below the last rib and a few inches above your navel. And keep in mind not to put the tape too tight while measuring the tape.
Hips – Measure the hip size from the fullest part of your hips. Usually, it is located 8 inches below the waist. In order to measure the hips, keep the tape straight and parallel to the ground, it will help you in attaining accurate measurement.
Torso – In order to measure the length of the torso for your swimsuit, take the measurement in U shape. Take the measurement in U shape and start measuring from the front side of one shoulder, then move down over your chest and midsection down through the legs and then go up to the back of the same shoulder.
How to Choose the Right Style for Your Body Type?
We all have different body types, and finding the right swimsuit that suits your body can be a little bit tricky. Instead of trying different swimsuits, first, access your body type and then buy swimsuit accordingly. Here are some tips that will help you to buy a swimsuit that is perfect for you.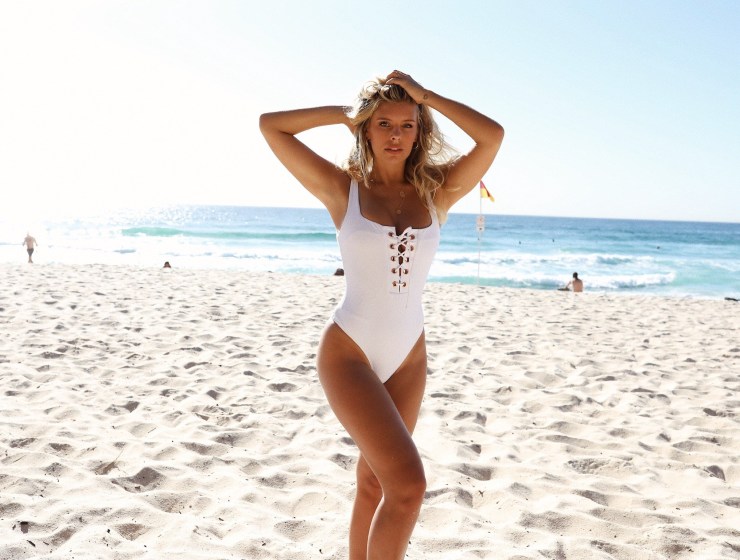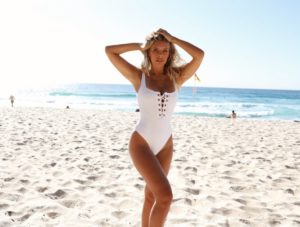 Full Bust
If you have a full bust, choose a swimsuit with a moderate coverage top as it will help in accentuating your bust.
The first rule is to avoid wearing push-up padding and skinny straps as it will spoil your look

Pick up underwire top or halter having supportive straps at it make you feel comfortable

Opt for underwire and thick straps as it will provide your proper support and comfort

In order to create flattering look choose V-shaped necklines
Small Bust
If you have a small bust, then choose a top that will intensify your bust
Say no to solids and flat triangle tops

Opt for a top with horizontal lines as it will help in creating the illusion of large bust

Choose push-up, lifting, or a padded top in order to bring out the curves
Long Torso
If you have a long torso, buy a swimsuit that helps in creating the illusion of a shorter torso.
Always avoid one-piece suits

Choose two-piece suits with bright colors. It will make your waist look smaller and will shorten the length of your torso

Opt for designs like horizontal stripes, high-cut legs, and v-shaped necklines to attain a flattering look
Short Torso
In case of a short torso, buy a swimsuit that lengthens your body
Always say no to two-piece bikinis and strapless tops

Buy one-piece suits having halters or asymmetrical designs as it will help in creating an illusion of good height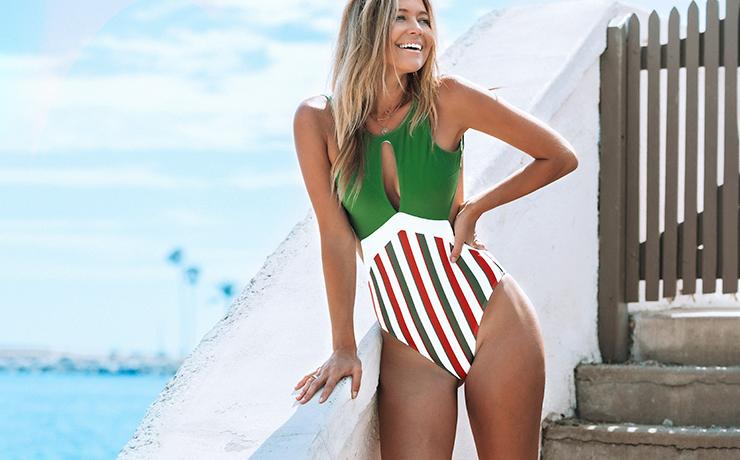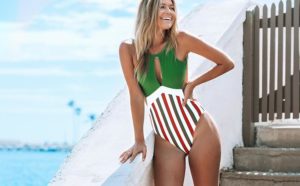 Plus Size
If you have plus size, then opt for a swimsuit that can complement your full figure.
Avoid solid colored bikinis and swimsuits

Always wear bright colors on the body parts and areas that you are willing to emphasize and opt for dark colors for the area that you do not want to emphasize

Opt for prints that extend across the body as they create an illusion of a leaner and longer torso

You can also choose swimsuits with tummy trimming features like ruching, and tummy control will help you in flattening the appearance of your stomach
Pear-Shaped Body
In the case of a pear-shaped body, opt for swimsuits that direct the attention towards your upper body.
Keep in mind to avoid bikini bottoms that exaggerate your hips

You can opt for one-piece suits and skirtinis

Buy tankini sets having bright colored tops and solid bottom as it will help in accentuating your bust
No Curves
If you do not have curves, opt for swimsuits that enhance your bottom as well as top
Say no to sliding triangle tops

In order to enhance your bust buy padded or push-up tops

You can also buy tops with horizontal lines as such designs help in creating larger bust

In order to create the appearance of larger bottoms opt for skirts and ruffles
Always appreciate your body types, whether you have big thighs, few curves, or large hips. A positive attitude towards your body will help you in carrying the swimsuit with confidence, which will help you in creating a more appealing and flattering look. Moreover, it will enhance your experience of wearing a swimsuit.