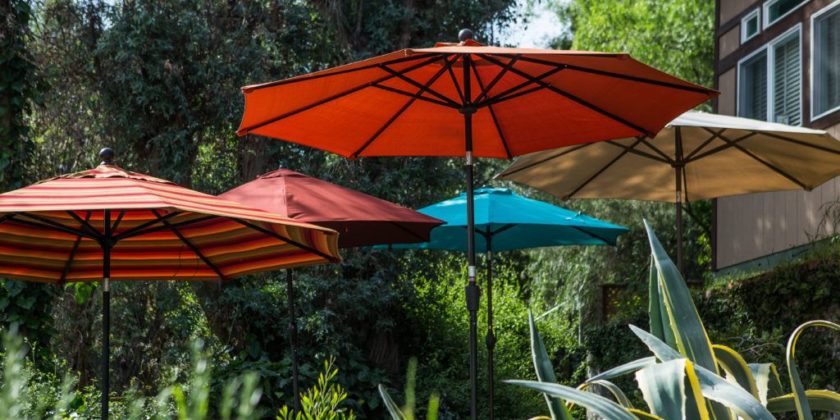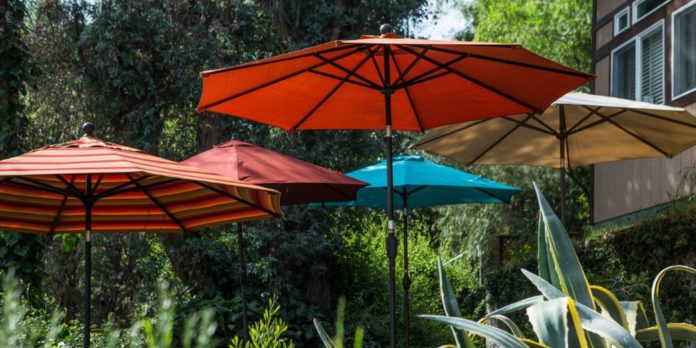 If you are planning to decorate your outdoor, then trust me, patio umbrellas are the best choice. Patio umbrellas are one of the most demanding outdoor furniture accessories as they play a crucial role in completing your patio look.
Patio umbrellas are available in different looks, sizes, styles, forms, and shapes. Patio umbrellas help in protecting you from harsh rays of the sun, protect your eyes from afternoon glare, and they provide an amazing look to your yard. Hence, it is better to invest in high-quality outdoor umbrellas. Buying good quality outdoor umbrellas helps to make sure that you spend quality time with your friends and family instead of chasing the outdoor umbrella.
Purchase an outdoor umbrella with style that is suitable for all kinds of weather. There are different types of outdoor umbrellas with varied styles, shapes, and features made to withstand winds, sun, and all type of climate.
Now the question is how to choose the best umbrella for your patio? Different types of umbrellas are available in the market, which makes it confusing to choose the right outdoor umbrella for your patio. However, you don't need to get confused anymore, here is a patio umbrella guide with all you need to know regarding types, size, fabric, and material of patio umbrellas.
Types of Patio Umbrellas
Different types of patio umbrellas are available in the market in accordance with your needs and demands. Here is a list of types of outdoor umbrellas.
Ventilation
It is essential to consider the ventilation of the umbrellas, depending on the climate in which you live. Single ventilation umbrellas are the best to consider. These umbrellas allow average heat dissipation and are able to withstand under average winds.
If you live in an area that is particularly hot or windy, then double ventilation is the best choice for you. Double ventilation outdoor umbrellas are good at high heat dissipation and are able to handle the wind more efficiently as compared to the single ventilation outdoor umbrella.
Tilting Umbrellas
Tilting umbrellas are the ones that possess the feature to change the angle of the projection of the shade in accordance with the movement of the sun. Yes, you can tilt the umbrella according to your needs.
Cantilever Umbrellas
Cantilever umbrellas are like tilting umbrellas; the only difference is they offer more range of motion. They are premium outdoor umbrellas when it comes to patio umbrellas. These types of umbrellas are used in five-star hotels for furnishing purposes. They are highly sturdy and possess the ability to handle stronger winds and everything that mother nature throws at them.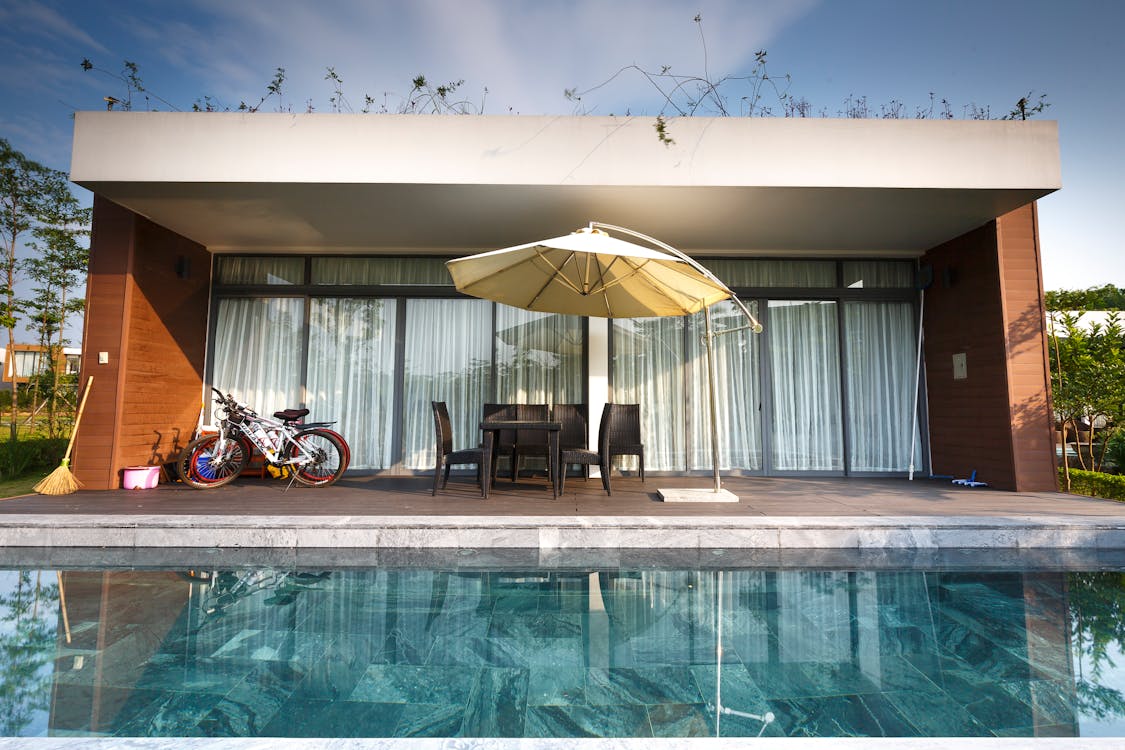 Cantilever umbrellas are the best choice for people who want the best outdoor umbrellas. Everything in these umbrellas, including frame, fabric, and base is heavy. These umbrellas provide proper functionality, which allows you to move the umbrella to move side to side, up, and down.
Table & Free-Standing Umbrellas
These outdoor umbrellas are freestanding and used for tables Patio umbrellas of a standard size of 1.75″ are used in most of the tables. Umbrellas with poles having size 2″ are best for dining tables.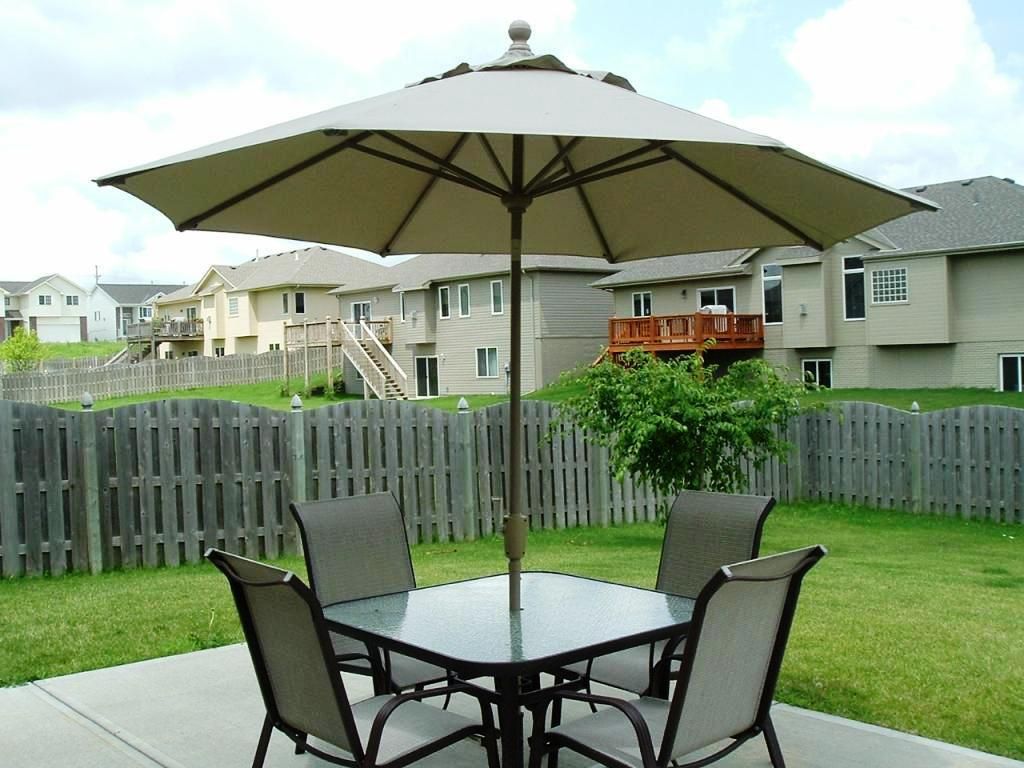 Other Types of Patio Umbrellas
When you go out to buy patio umbrellas, don't get confused about which type of umbrella you need to buy. Below mentioned are some of the types of umbrellas available in the market.
Sunshades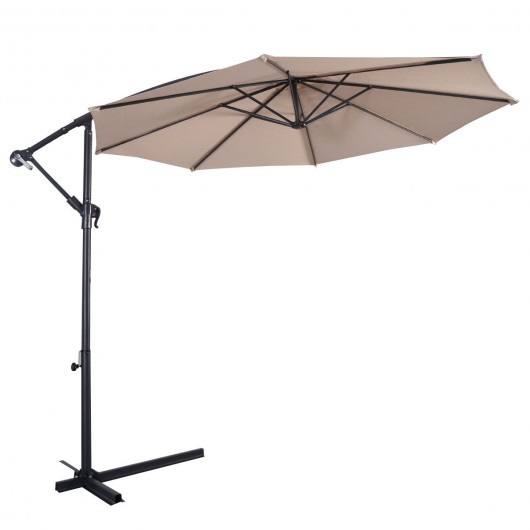 This type of outdoor umbrella features a round disc fixed on a pole. These umbrellas are best to provide shade to one person. So if you want shade for only one person, then the sunshades are the best to go.
Pagoda
These are Asian-inspired parson-style outdoor umbrellas. These umbrellas have an amazing architectural and Japanese pagoda-like design and shape.
Market
These types of umbrellas have been famous for several years, and these are mostly of high quality. These umbrellas are larger umbrellas, like the ones that are used for shading tables in the patio of restaurants and cafes. Market umbrellas have vented tops and are octagonal in shape.
Logo Umbrellas
These umbrellas advertise the sports team or beer brands. You can get the logo umbrella of your favorite beer brand or sports team as a wide range of logo umbrellas are available in the market. These types of umbrellas can be seen at cafes, and pubs, but are mostly utilized to personalize the backyards of houses.
Cantilever
These umbrellas are not inserted in the holes of the tables present in your patio; instead, the pole of the umbrellas is offset at a distance from the area that you need to be shaded. These umbrellas work for different situations and places that need to be shaded. These umbrellas can be used to shade small tables, tables without holes, lounge chairs, or a set of deep-seating.
Commercial-Grade Umbrellas
These umbrellas are used in different outdoor venues like restaurants, cafes, and shading tables, and are used to withstand various elements.
Dimensions of Patio Umbrellas
Umbrellas with different sizes, patio umbrella bases, and pole materials are available in the market so that you can pick the right one according to your needs and preferences.
Size of Patio Umbrella
The size of the umbrella depends on different factors like budget, space, and availability of the space in your patio. It is essential to consider all these factors before buying an outdoor umbrella. Buying a bigger size outdoor umbrella can disturb the balance of your outdoor decor and arrangement.
While purchasing the umbrella, keep in mind that your outdoor umbrella should extend your table by approximately 2 feet around each side of the table. If the size of your table is 4 feet, then buy an umbrella with 8 feet in diameter. Below mentioned are some tips according to the table size.
| | |
| --- | --- |
| Table Size (Diameter) | Umbrella Size (Diameter) |
| 30-36 inches | 6-8 feet |
| 38-48 inches | 9-11 feet |
| 54-60 inches | 11 feet or more |
Patio Umbrella Bases
The base of an outdoor umbrella is the essential factor that you need to consider while buying a patio umbrella. If the base of your patio umbrella is not strong enough, it will flop and fly with the wind. Below mentioned are some essential umbrella base weight recommendations.
20 lb base – Base with lb weight is mostly utilized for umbrellas attached to smaller tables. It is only suitable for 6′ table umbrellas
30 lb base – It is used for 6.5′ table umbrellas
40 lb base – It is the minimum weight for umbrellas up to the height of 4.5′ and can be used for umbrellas having height up to 7.5′
50 lb base – It can be used for umbrellas having a height between 4.5′ to 9′
70+ lb base – These heavier bases are used for freestanding umbrellas up to the height of 11′
Pole Height and Diameter
The pole diameter of the patio umbrella is a crucial factor to consider as it helps in determining the stability of the umbrellas. Make sure to keep the pole diameter and base diameter as close as possible while fitting the umbrella in order to ensure stability.
If the diameter of your umbrellas is 1.5″, keep the base of diameter between 1.5″ to 2.5″. In addition to this, always remember that the base diameter should not be .25″ larger than the pole of your umbrella.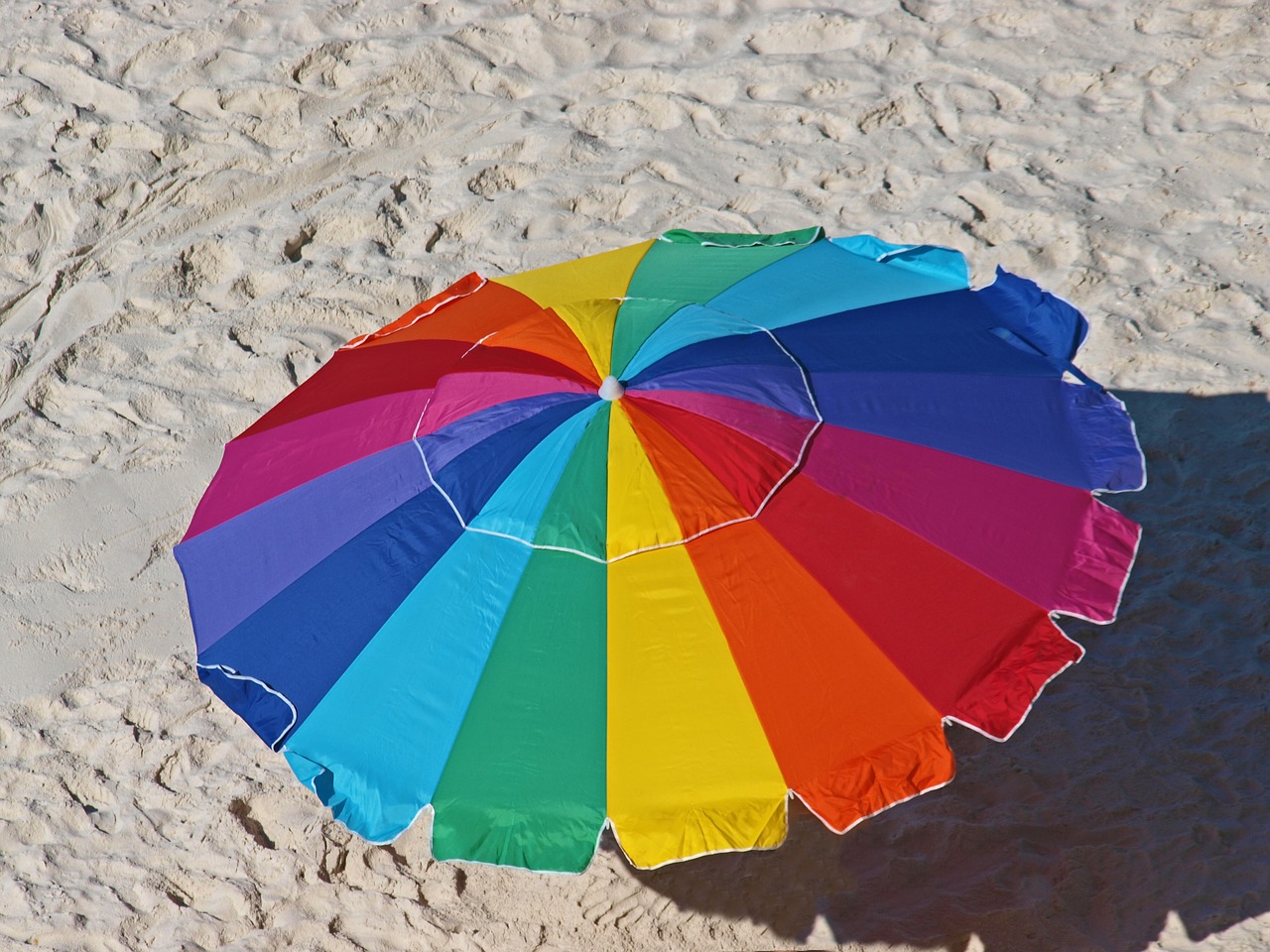 Fabric and Material of Patio Umbrella
While purchasing an outdoor umbrella, make sure that the material and fabric of your umbrella meet all the weather-requirements. If you live in areas where winds are strong, prefer buying flexible fiberglass umbrellas that are designed to bend slightly. You can also opt for purchasing aluminum pole material.
Below mentioned are some of the types of material of patio umbrellas.
Wood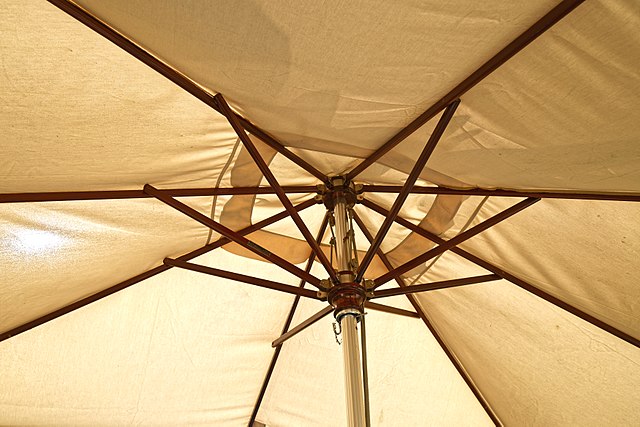 The best part about outdoor umbrellas with wooden frames and poles is that they have a timeless and classic appeal. They have a natural and sophisticated look that is best for the lush green environments. A wooden umbrella is best for wood grain furniture and a deck of hardwood.
The wooden umbrellas are made of teak, bamboo, and eucalyptus wood. Due to expensive raw material, the wood umbrellas are costly. Wood in these umbrellas is treated to resist weather damage, decay, and insects; however, these umbrellas fade due to excess exposure to rain and sun. Wood umbrellas are less durable as compared to aluminum and fiberglass umbrellas.
Fiberglass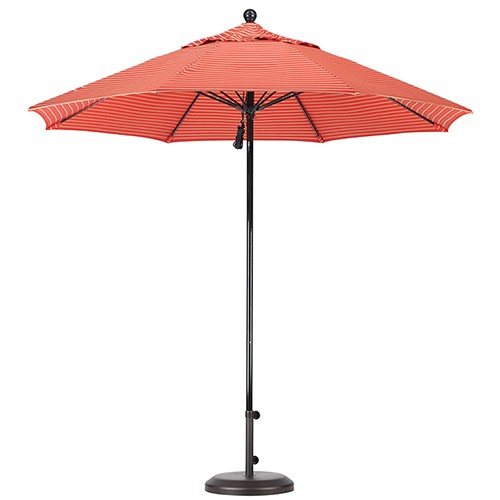 Outdoor umbrellas having fiberglass frames and poles are one of the best umbrellas available in the market. Fiberglass is strong, durable, and more lightweight as compared to the wood or aluminum umbrellas. The flexibility of fiberglass allows it to bend without damaging. It provides the umbrella with great flexibility.
Moreover, it has a great ability to withstand extreme weather conditions. In many fiberglass umbrellas, crank lift and tilt features are also available.
Aluminum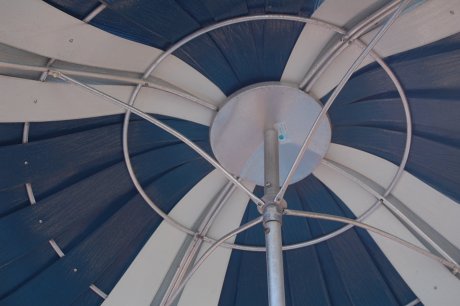 Aluminum patio umbrellas have a sleek look that complements wide open spaces. Aluminium umbrellas are best to withstand storms and other bad weather conditions. These umbrellas are lightweight, sleek, and inexpensive, which make them the perfect choice for outdoor shades.
Aluminum umbrellas are durable and malleable, which help in providing them different and amazing shapes. These umbrellas are durable and do not break in strong winds. Aluminum umbrellas also contain various features like lifts and tilting.