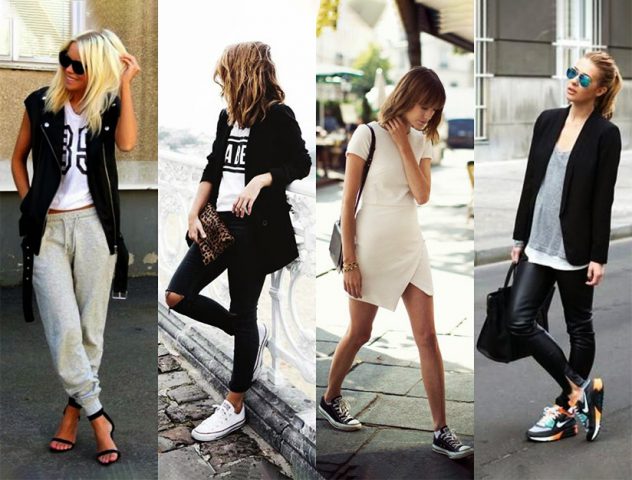 The athletic trend is rising at a faster pace, and people are opting to wear stylish athleisure wear everywhere. Moreover, the hectic present-day lifestyle demands trends and clothes that are practical as well as comfortable, and the athleisure trend is the best fit for this situation. We all want to look great while feeling comfortable and sophisticated at the same time. Why not try leggings and comfy athleisure wear at work? I know it sounds insane, but trust me, there are lot of athleisure workwear which you would love to wear at your workplace. Now wondering how to wear athleisure wear to work or how to choose activewear for the office? Here is an article with answers to all your questions. 
1. Athleisure Work Wear – Sweatshirts
For a long time, sweatshirts have been a massive stable attire to cross the boundaries of gym life or some casual attire. Now people wear sweatshirts anywhere and everywhere. It is perfect activewear for office, which reflects coolness as well as sophistication at the same time. 
How to Wear Sweatshirts at Work
Pick sweatshirts that look like a blouse rather than gym style hoodie, and opt for colors like nudes, black, grey, or white. You can wear such sweatshirts with pencil skirts. You can also pair them with high waisted pants, a coat, and heels to get stylish athleisure wear look. 
2. Sweatpants
If you do not work in a very chill and relaxed field to wear comfy and chic style clothes, you can opt for wearing sweatpants and pair them with leather jackets or heels.
How to Wear Athleisure to Work
If you are planning to wear sweatpants at work, then opt for a black one and pair them with a t-shirt, jacket, and classic pumps. If you do not work people with high fashion game, then there are lesser chances that anyone would notice you. 
3. Leggings
Athleisure workwear has not always worked bestest. You are not required to wear your hottest attire of the gym, or some nude high waisted legging to work. Nevertheless, you can opt for wearing a black, deep solid color or leather legging to work. It is one of the bets activewear for office. Always remember to pair your legging with something long. 
How to Wear
If you are planning to wear legging to work, then pair it with a t-shirt, long blazer, sweater, or long cardigan. You can wear flats like brogues or sneakers to complete the look. If you want to wear heels, you can opt for them, but remember flats are the best choice for leggings. 
4. Hoodies and T-Shirts
T-shirts and hoodies might be gym pieces, but they have crossed the line stylish athleisure wear a long time ago. Now they are one of the best activewear for work. They are comfortable as well as practical pieces. Moreover, t-shirts and hoodies provide you with an effortless vibe while balancing a smart outfit. 
How to Wear
In order to create stylish athleisure wear look for workplace, pair t-shirt, or hoodies with more formal pieces as it would help in creating a perfect balance. Always choose simple pieces design and color-wise with staple quality. You can wear a white or black t-shirt, red- or black hoodies with high waisted pants. It is one of the best solution to how to wear athleisure to work.
5. Separate Pieces of Tracksuit
A jacket of a tracksuit is perfect for replacing a leather jacket or regular blazer. It looks highly sophisticated with black outfits and heels. Track pants are quite tricky if you do not work at a creative workplace. 
How to Wear
Pair jackets with heels and black outfits in order to create a stylish athleisure wear look. You can treat track pants as wide-legged pants and pair them with blazer and heels to create athleisure workwear look. 
Now hurry up and combine comfort with fashion by following the athleisure trend and creating stylish athleisure wear look for the office. Moreover, if you are seeking tips to style up your dress game in winter then visit our post on tips to wear winter dresses.