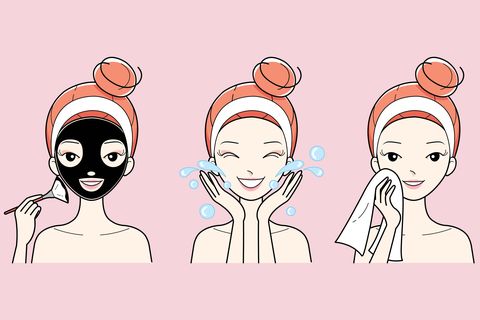 In Korean culture, skincare plays a major role. Korean Beauty culture is not all about using skincare products but about skin-preserving techniques and methods. Here we have shared some of the best Korean beauty hacks and quick fixes to transform your skin and make it a good skin day.
Exfoliate Using a washcloth and Hot water– This Korean skincare and beauty hack is for exfoliating. Soak a nubby washcloth in hot water and massage your face in an upward motion and circular strokes. This is a great way of exfoliating skin without using any harsh chemicals on the face. This process will minimize the early signs of aging.
Facial steam massages in the shower– South Korea has skin clinics on every block. People can get facial massages at affordable prices. Use an oil-based cleanser to massage your face with fingers in a circular motion and tapping in circular motions. Start on the forehead and then slowly come down to cheekbones and cheeks till the jawline. Massaging helps in increasing blood circulation and gives a dewy complexion.
Charcoal sheet masks- It is common to use sheet face masks in Korea. Charcoal is a rage ingredient when it comes to sheet masks. Charcoal exfoliates and detoxes the skin. Apply a charcoal sheet face mask and let it sit for 15-20 minutes until all the serum is soaked in your skin.
Use Facial Essence– Korean women believe that facial essence seals the skin with benefits of cleansing. Facial essences are filled with skin nutrient solutions and are very mild. These are applied after skin cleansing to hydrate the skin. After applying the serum, the next step is to apply serum and moisturizer to maximize hydration and skin elasticity.
Get HD perfect skin- looking for a way to blur the skin and get flawless HD base? Koreans use blurring tricks to blur the unwanted imperfections. Koreans use many smart coverage make-up products, like cushion foundations and concealers. Korean's signature cosmetic product is an air cushion foundation, which blurs the pores like a professional. The formula of these foundations can be build up from sheer to full coverage, and it doesn't ever look heavy.
Make your lips flushed naturally- this Korean beauty hack is for your lips. Enhancing the natural lip color makes your complexion look brighter and make you look vibrant and younger. Dior's addict lip color awakening lip balm adjusts to every individual's lip chemistry and enhancing the natural color and make them look vibrant.
Use Lip oil and Lip tint- lip oils and lip tints are rich in nutrients that are super smooth like butter and slide on the lips. These also give a pop of color without any stickiness. Search for lip oils with avocado, camellia, rosehip, or any essential oils.
Drink Barley Tea– Roasted barley tea is very common in Korean restaurants. Koreans start serving barley tea to their babies from birth to improve well being of the skin. Barley tea is loaded with antioxidants, and the study shows that it improves blood circulation. It is also used as a weight-loss drink.
Use overnight masks while sleeping- skin cells work on cell recovery and turnover while we are sleeping. Using overnight sleeping masks will hyper moisturize and improve skin complexion.

Intensive moisturizing sleeping masks to get rid of dullness and work on wear and tear of weeks.

Use Ampoule For skin SOS– ampoule is steroid face serum. The Ampoule contains a very high concentration of active ingredients that rebalance, repair and recharge the cells in a short time. Take a few drops of fluid and apply it before facial essence to treat acne, dullness, and hyperpigmentation.