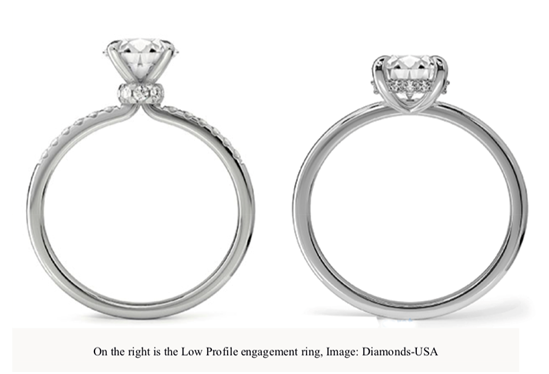 There are so many factors to consider when searching for an engagement ring beyond the stone's cut and your style, and you'd never know until it's time for you to look for one. Choosing between a high-set and a low-set engagement ring is one of those things you should consider, but you probably don't know.
Most people choose between these two styles based on their personal preferences. To ensure that you're well-informed as you choose, we have drawn up a concise guide on low profile engagement rings.
Low Profile Engagement Rings Explained
Low profile engagement rings refer to a unique style of rings which feature a setting that is housed in the band. Unlike high-set rings that elevate the diamond or gemstone, low profile engagement rings have their stones set close to the finger. These rings come in different styles, including settings such as prong, bezel, and halo, with various cuts, shapes, and gemstones. Many antique rings have this design because it has always been preferred to high-set rings.
You can find a wide range of stylish and high-quality low profile engagement rings at Diamonds-USA.
The name "low-profile," is from the height at which the ring is set from the ring's band. The diamond sits inside the band, creating a subtle, flush appearance rather than protruding prominently.
From the side view, you may notice that the band appears slightly thinner in the middle. This small visual difference has a significant impact on the overall structure and appearance of the ring.
It's worth noting that many low profile rings don't feature peg head style settings, which can make it challenging to change the size or shape of the center diamond using your existing ring.
Positives and Negatives of Low Profile Engagement Rings
Let's explore the upsides and downsides of low profile engagement rings before you decide on what ring to buy.
Pros:
1. Comfort: Low profile engagement rings are more comfortable to wear because they don't catch on objects, even when they spin.
2. Versatile Designs: There's a myriad of ring designs available that work well with low profile settings, offering a wide range of options. This gives you ample options as you shop.
3. Low Maintenance: The design of low profile settings makes them easier to clean and maintain, thus, they easily retain their sparkling allure.
4. Enhanced Durability: The recessed setting protects the center stone, reducing the risk of snagging, cracking, or chipping. They are hard to damage.
Cons:
1. Limited Versatility: Low profile rings may not be able to hold bigger stones because of their wider upper shank. This means they may not be a great fit for you if you're looking for a huge stone.
2. Unsuitable for Stacking: low profile engagement rings have a wider upper shank, making them less suitable for layering with wedding or anniversary bands. If you're bent on getting a low profile ring, anyway, curved wedding rings and bands can help to get around this limitation. Many designers, being aware of this limitation, thoughtfully design most low profile engagement rings to come in a set, saving you a lot of trouble.
Our Grand Mozart Bridal Set is a great example of one of those. It is an exquisite set that features a captivating low profile ring paired with a gracefully curved stackable band. The band is adorned with diamonds for the desired shimmer. Its design seamlessly complements the low profile engagement ring in a manner that straightest bands cannot.
Should You Choose Low Profile Engagement Rings?
Since personal preference plays a significant role in selecting an engagement ring, there is no right or wrong answer. You should consider your lifestyle and prioritize the factors that matter most to you, such as lighting performance, sturdiness, or convenience. These will serve as a guide to helping you make your choice. However, an engagement ring should ultimately reflect your aesthetic preferences, provide comfort, and withstand the test of time.
If you're interested in purchasing a low profile ring, consider exploring our collection of low profile engagement rings at Diamonds-USA.com.
Looking for a Showstopper?
If you want an engagement ring that stands out while remaining practical, low profile engagement rings are a great choice. Their sleek design doesn't hinder activities and ensures durability.
Contrary to common misconception, low profile rings can be just as glamorous or understated as high profile rings. The style, size, and number of stones do not define a low profile engagement ring. They can come in gold, silver, vintage-inspired designs, fully adorned with pavé set diamonds, or feature a single stunning stone-like solitaire engagement rings.
Differentiating Between Low and High Profile Engagement Rings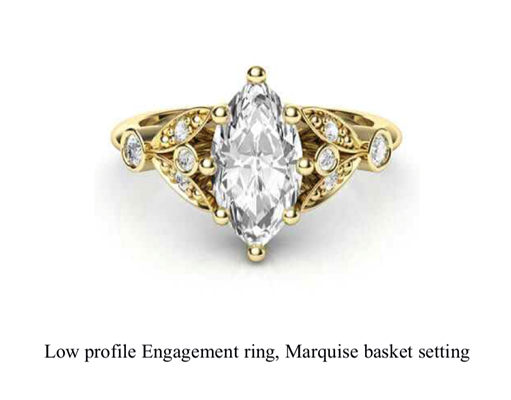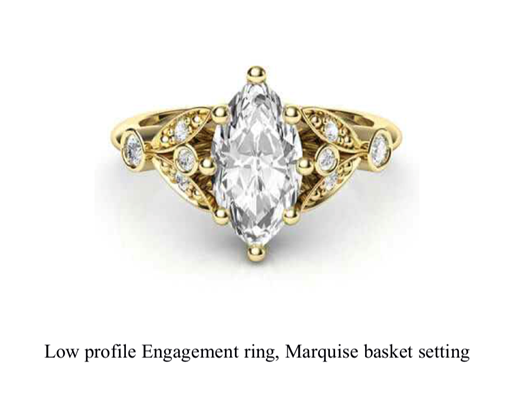 Distinguishing between high and low profile rings is relatively simple. The side view of the ring plays a pivotal role in knowing whether a ring is high profile or low profile. Get clear images of the rings' side view so you can be sure it's what you're looking for.
Your attention should be on the way the ring is set, and how the prongs secure the stone. The central setting, which encompasses the prongs holding the center stone, is what you should be most focused on. For high profile engagement rings, the prongs will typically elevate the diamond from the top of the band. On the other hand, if the prongs emerge from within the band, holding the diamond lower in the metal, you're looking at a low profile engagement ring.
Key Considerations
In low profile rings, the center stone typically receives less light. This will make you miss some of that side bling that a high-set ring would have given you. Also, it's worth noting that many low profile options lack peg heads, meaning the setting style is something you cannot change. Because of this, altering the size or shape of the stone will have you redoing the whole ring.
While low profile engagement rings can still exude splendor with substantial center diamonds, they require a practical tradeoff: you will have to sacrifice some light reflection and potential future customization while safeguarding the ring from an active and exciting lifestyle.
The Verdict
Choosing a low profile ring will grant you numerous advantages. The primary distinction between a high and a low profile ring setting lies in their functionality, with no notable difference in cost or available possibilities.
Ultimately, the decision rests on your personal preferences and the characteristics you seek in a ring. Some people may desire the shine of a high-profile ring, but others may find that the practicality of a low set one make it worth the price.