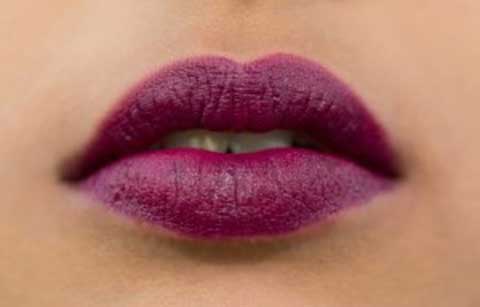 If you are looking for a new lip color to elevate your look, plum lipstick could be a great option. It is a perfect way to add that extra pop of color, especially on no-makeup days. The shade is perfect for fall and winter and is a great way to add depth and dimension to your lips. This is why many skincare and beauty care experts advise adding plum-colored lipstick to almost every makeup kit.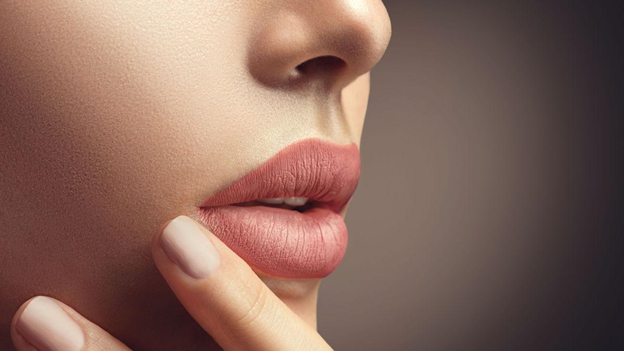 Plum is a rich shade of purple with undertones of other dark colors. This color has several different shades. This means that regardless of your skin tone, you may find a plum shade that complements it well.
There are a variety of plum-colored lipsticks in the market, making it easy to find one that suits your style. In this blog, we will discuss some of the best variations of plum-colored lipsticks and will help you with a few tips on how to wear this shade.
Why does plum shade lipstick work?
Plum-colored lipstick is universally flattering. It is rich and luxurious, making it the perfect color to help you make a statement. Plus, the color is perfect for any season or occasion. So whether you're looking for a muted lip color for a daytime event or a bolder shade for a night out, this lipstick color is always a good choice.
A plum lipstick is a perfect balance of edgy and approachable. It gives a bold, statement-making look, and you may wear it every day. If you work long hours or have little time to reapply your lipstick, a matte lip is the way to go.
We recommend Mamaearth's Moisture Matte Long Stay Lipstick. Though matte formulas are usually dry, you can rest assured that this plum lipstick is rich in moisturizing ingredients like jojoba oil and sweet almond oil to give you that long-wearing and non-drying application that is perfect for a night out or the entire day.
How to find your perfect plum shade?
There are many factors to consider when choosing the perfect plum color in lipstick. Here are a few tips to help you find your perfect match:
Consider your skin tone. If you have a lighter skin tone, you should avoid too dark or vampy shades. Instead, opt for a lighter plum color. You can go for a deeper plum shade if you have medium or dark skin.
Think about the undertone of your skin. If you have cool undertones, you'll want to choose a lipstick with a pink or purple base. If you have warm undertones, you should look for lipsticks with a reddish or orange base.
Determine the level of pigmentation you want. If you want a more natural look, you should go for sheer or lightly pigmented lipstick. If you want more color or have darker lips, go for high-pigmented shades.
Plum lipstick can be a great addition to your makeup routine. It can add a touch of sophistication to your look and compliment your features. However, wearing plum shade can be a bit tricky.
Here are a few tips to help you get the perfect look:
Make sure your lips are exfoliated and moisturized before you apply your lipstick.
Well-moisturized and clean lips will keep you away from having chapped lips.
Use a lip liner to define your lips. This will help you get a precise application.
Do not overdraw the lines of the lips.
Apply your lipstick with a brush. This will help you get an even layer of color.
Start at the center of your lips and work your way outwards.
After you've applied your lipstick, blot your lips with a tissue to remove any excess color.
For the perfect finishing touch, you should add a touch of lip gloss.
Here are some more tips to help you rock plum lipstick:
Select the perfect shade as per the undertone of your skin.
Wear a plum shade of lipstick with a slightly simple set of clothes.
Do not wear bold eye makeup with plum-colored lipstick. Instead, neutral and natural eye makeup enhances the look of plum shade on the lips.
Try to keep your cheeks also in a lighter shade.
Keep your face shine-free and try minimal use of highlighters, blush, contouring, etc.
Always opt for long-wearing lipstick that does not leave any messy look on your lips.
Introducing the plum-colored lipstick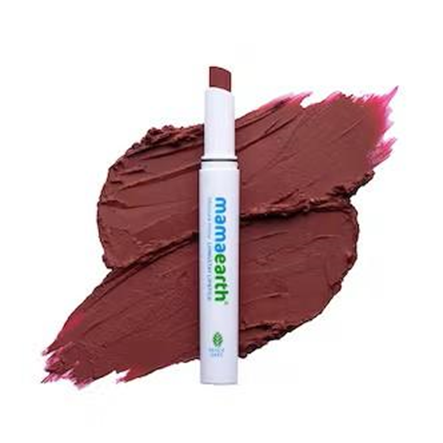 Introducing plum-colored lipstick, a shade that is perfect for all. Each application will give you high-definition matte color that is smudge-proof, non-drying, and lasts up to 12 hours.
It offers a creamy texture that leaves your lips feeling moisturized. Avocado Oil and Vitamin E are added to Mamaearth's Moisture Matte Longstay Lipsticks to enhance their natural loveliness. The lipstick also offers moisture-lock for up to 8 hours so that you won't need those touch-ups in between.
Choose your favorite color from nine bright matte tones. Given its vast range of hues, plum is one of those colors anyone can wear. Plum shades range between magenta and purple, from pure blue-violet to wine-colored red, so there is something for everyone to suit the Indian skin tone. In addition, these shades can be worn throughout the year.
Moreover, all products from Mamaearth are Made Safe certified. This means you won't put anything toxic or nasty on your lips.
Did you know? Mamaearth recycles more plastic than it uses for production, making it a 'plastic-positive' company. Additionally, it has grown over 300,000 seedlings and plants a tree for each order made through its website. For a wonderful and safe purchasing experience, we suggest downloading its app for your iPhone or Android smartphone.
Opt for the best face cream for your skin type
While not exactly related to lip care, a moisturizer or face cream makes up for an amazing element of your daily skincare routine. It works for people with different skin types and textures. We recommend you always go for the best face cream that matches your skin type.
You should use a light and oil-free moisturizer if you have oily skin. If you have dry skin, opting for the best face cream that has deep moisturization is a safer thing to do.
Wrapping Up!
Looking for a perfect plum-colored lipstick? You're in luck! We've rounded up the best option whether you're looking for a matte finish or a hint of shine, we've got you covered.
Plum-colored lipstick is the perfect way to add a pop of color to your Fall wardrobe. So don't be afraid to experiment with this shade and have fun with it!