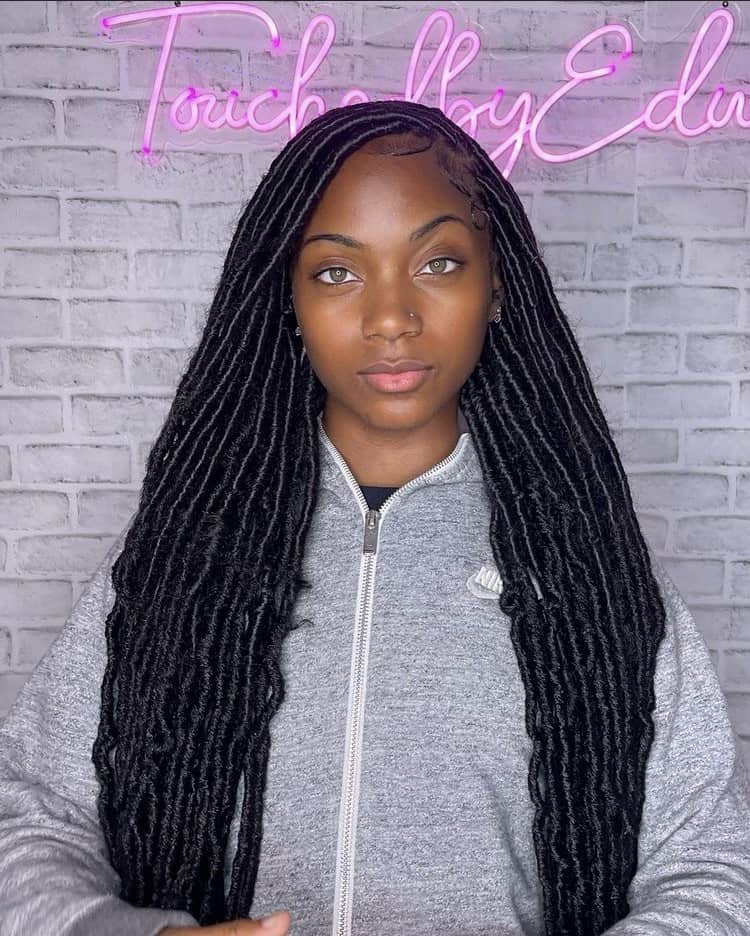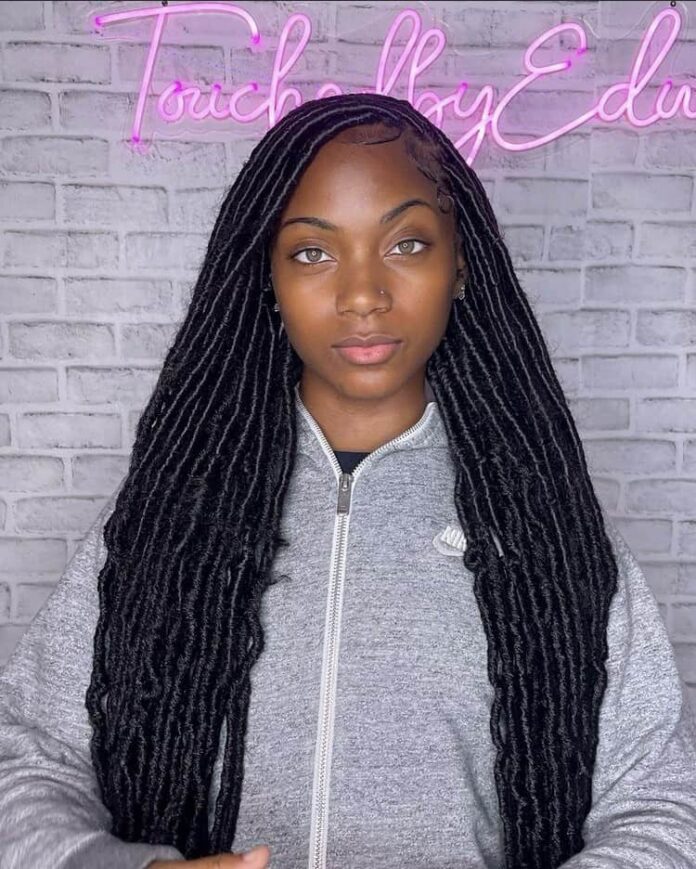 Nowadays, a hairstyle known as 'Soft Locs' is becoming very famous. Unlike many other hairstyles, they are not damaging to your Hair they look attractive. As you can make out by the name, soft locks are very soft and gentle for your Hair, making it easier for us to style. If someone is not willing to commit to a hairstyle for life long but wants it to be like a lock, Soft Locs can be your rescue. This locs hairstyle comes in various options like 'Natural Locs, Soft Faux Locs, Butterfly Locs, Short Bohemian Locs, and even Goddess Locs.' This article will tell you about soft locs hairstyle styles and techniques. 
What is Soft Locs?
Lately, these are the most popular hairstyles that are very much in-trend. In this, the ringlets are made with Hair making them look soft and gentle. Also, Soft Locs Crochet Hair is made by the wrap technique, which women mostly demand. If we talk about the length of the Soft Faux Locs hairstyle, it is around 30 inches or above. These Faux Locs are braided independently to cover the entire head.
Earlier, Faux Locs used to be stiff and rigid. Therefore, any soft and not hard braid is termed as Soft Locs because this hairstyle's origin is unknown. These locks do move, and in humidity and moisture, they don't pose any damage. Soft Faux Locs are available in various distinct shapes and sizes.
Some hairstylists claim that "Crochet Faux Locs are very easy to work on because they get wrapped around conveniently in many classy styles."
Read More- Stylish Black Hairstyles With Bangs
What Hair to use for Soft Locs?
Before making any hairstyle, you must first know the type of Hair to work with to achieve the best outcome. Starting with the Soft Faux Locs, hair can be differentiated into two parts: one is the type of Hair you are using as the base, then you wrap the Soft Locs hair all around it. Hence, the hairstyles for Soft Locs Short hair are as follows:
Faux Crochet Locs
Kinky Hair Wrap or Afro Kinks
Blend of Pure Human Hair
Water Wave Hair Twist
Moreover, the hair type differs with every Locs Hairstyle you pick. For Example- semi-stretched Hair is required for Knotless Braids. And for Butterfly Locs, Water Wave hair is needed. Therefore, your Hairstylist must know the style your hair needs.
Why Are Soft Locs a Good Protective Style?
Basically, if you want to keep your Hair tied up protectively and reduce their interference, then 'Soft Locs' is the exact protective hairstyle you need. Plus, the Hair is crocheted in Natural Locs, which protects them from harmful agents of the environment.
Read More- Bridesmaids' Hairstyles You Must Follow This Season
How Long Does It Take to Install Soft Locs?
If you know about the braids, you must be aware that they do take some time to install. That is the reason when people think of getting a hairdo, they vacant their whole day because it is time-consuming.
But fortunately, you will be surprised to know that Soft Locs do not take much time; instead, they are installed in your Hair quickly. Although the duration depends on the hair length and type of locks you are getting, it takes about two to six hours on average.
How Are Soft Locs Installed?
A hairstylist named Courtney gave this advice on making Soft locs – "these can be made with the help of wrapping the Hair along the natural Hair, and you can also crochet the already occurring natural logs into strands, so they look relaxed and not rigid.
The major way to master the Soft Locs is "what type of hair do you work with?" Most professionals use these hairstyles – kinky wrapping hair, Afro kinky hair, Crochet faux locs, and Water water hair twist.
Can You Wash Soft Locs?
We have one simple answer to your question, i.e., 'Yes.' Washing Soft Locs might seem problematic, but it's not impossible. The only way to wash this Hair is to be more focused on the scalp of your head. You just have to run your fingertips on the scalp gently and let the shampoo slide down the locs on its own. Too much pressure on Locs can cause them to lose and be opened.
What's The Best Way to Care For Soft Locs?
To make your locks last longer, you need to take care of certain things, such as you cannot go to bed bare head because your soft locks will loosen. Hence, you must have your Hair covered with a cloth or something to reduce frizziness. The covering you use at night should be of satin or silk, which will keep your Hair as it is.
Secondly, professionals advise you to wear a shower cap during the shower from getting your Hair wet as wetness can cause these locs to loosen down and become frizzy.
Lastly, there is one important factor for protecting your locks. Keep your Hair hydrated. Use products that are useful in hydrating your Hair that increase moisture to prevent dullness and split-ends in your Hair.
How Long Do Soft Locs Last?
The life span of these Soft Locs is affected by many factors like the type of hair loc you have, hair type and amount of care you give to your Hair, etc. The Soft Short Locs last for a longer duration than Soft Long Locs. And as far as the average number is concerned for the duration of Soft Locs, they last for about five weeks to 10 weeks. Sometimes, they may last even longer, but you should not keep them after a certain duration because then it may affect the roots of your Hair which can cause damage to your upcoming growth. Also, these hairs put extra weight on your head, which is not good for the scalp.
Feed-In Braids and Genie Ponytail can last for a longer period.
Read More- 13 Ways to Style Brown Hair Creatively
How Do You Know When It's Time to Remove Soft Locs?
You will know it is time to remove the Soft Locs hairstyle from your Hair when you see your new Hair growing out from the roots. So, the artificial Hair added to your Hair for creating the locs starts to become heavy and snatch your natural growth. Therefore, that is how you know that it is time to remove your Soft Locs from the Hair. You must listen to this guideline to prevent your Hair from getting damaged.
How Much Does It Cost to Install Soft Locs?
You know everything about the Soft Locs, but how much does all this cost?
You should know that Soft Locs cost you around $200-$500. But again, this is an average cost because it differs according to the city, hair type, size of your Hair, and what style you are getting done.
CONCLUSION
In this article, you are given information about 'soft Locs.' This famous hairstyle is very trendy and includes wide varieties. You must've understood the steps for installing and removing the locs, the steps required for protecting the locs, and their cost. In conclusion, these are very pretty-looking hairstyles; one must try these once in life if you want something unique.
Read More- 25 Unseen Medium Tribal Braids Hairstyle
FREQUENTLY ASKED QUESTIONS
Q1) What should be done to reduce weight in Soft Locs?
Ans – Basically, excess moisture adds weight to the Hair. Therefore, dry Hair is mandatory to keep Soft Locs light in weight. Moisture in Hair should be minimized before putting in Locs hairstyle.
Q2) Is it safe to use Soft Locs in our Hair?
Ans – Yes, definitely, one can opt for Soft Locs Hairstyle. Because it is harmless for the growth of our Hair, but this can't be possible without complete care. Also, it is said that many hairstyles jeopardize our hair density, but that is not the case with Soft Locs hairstyle as they dont snatch out the Hair from the roots. Therefore, along with hydration, you must take proper care of your scalp Hair because that is what affects the hair growth.