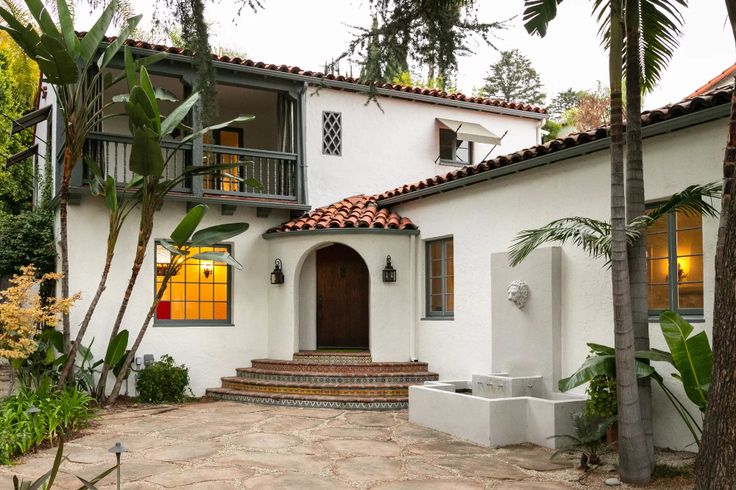 It's easy to overlook the impact of Spanish colonization on America if you grew up in particular sections of the country. But unfortunately, there are so many primary and high school textbooks covering the history of the United States, from the pioneers to the Revolutionary War, that nearly 400 years of Spanish dominance in what is now the United States of America are often overlooked. However, remnants of that centuries-long control may still be found in places formerly part of Spain, notably in place names and architecture. Today, one of the most prominent remnants are Spanish colonial house, which includes design features from Spanish colonial construction styles.
While Spanish-style residences may be found across the country, they are particularly popular in places once under Spanish authority. California, New Mexico, Arizona, and Florida have the most properties labeled as Spanish-style. While they are more popular in certain states, they are still uncommon: roughly 1% of listings within these areas are Spanish-style, compared to.11 percent overall.
Many of these Spanish-style houses are also relatively new: revival eras, particularly in the twentieth and twenty-first centuries, allowed architects and designers to draw inspiration from the history of a region without being completely bound by it. As a result, modern and revival Spanish-style homes rework the look, frequently combining features and allusions to more contemporary sensibilities.
Characteristics of House Spanish-Style?
Spanish-style homes vary greatly, but they have a few characteristics that distinguish them from other American home types, notably English-inspired revivals. The Spanish colonial house are heavily influenced by Meddieterian architectural styles. Many practical components intended to keep dwellings cool in hot climates, such as stucco walls and terracotta roofs, have become treasured characteristics of this architecture style.
Revival buildings, erected beginning in the late 1800s, also had open beams, ironwork fences, and colorful tiles. Many of these houses have tile and exposed stucco walls on the inside. However, more recent builds may appear otherwise conventional.
Exterior:
Stucco Walls
Wooden Support Beams
Ornamentation
Terracotta Roofs
Small Windows
Local Materials
Wooden Support Beams
Interior:
Domed Ceilings
Visible Wooden Beams
Decorative Tiles
Wrought Iron
What features make up the Spanish Colonial style?
Despite these geographical disparities, Spanish Colonial dwellings have some distinguishing features. For example, buildings have strong walls, often white plaster over bricks or stone (which keeps the houses cool), and only a few small glass windows; early homes did not have windows, simply holes covered with wood that opened and closed.
These residences are frequently L-shaped, with a center or side courtyard (a key feature of Spanish-style homes). Since colonial buildings were often a series of single rooms added onto the next without an interior corridor, Andrew recalls colonists constructed "long, narrow exterior porches, called Portales, that flanked side yard or courtyards." The low-pitched red barrel tile roof was one of the most distinguishing elements. Homes in the Southwest typically feature fully flat roofs with palace parapets along the perimeter.
Wooden doors complement the light stucco exterior walls that are occasionally arched, as are the arched entrances within the dwellings. The adobe walls are not plastered or decorated with trim. Hence, the interiors of Spanish Colonial homes have a casual, pleasant feel, and the ceilings are typically supported by wooden beams.
Read More- What Is a Bungalow? Pros and Cons of a Bungalow
The History of Spanish Colonial Homes
Spanish Colonial-style homes are a popular architectural style in Florida, California, and the Southwestern states of Arizona and New Mexico. Although Spanish Colonial house have a long history in Spain and Mexico, they first emerged in North America between the 1600s and the mid-1800s, when Spanish settlers came and began constructing their homesteads.
In North America, because Spanish settlers chose climates similar to those in Spain-Florida, California, and the Southwestern states-they were able to build their homes using traditional resources, such as Adobe (made of clay and straw) with stucco finishes for the walls and clay for roof tiles. In fact, one of the most important aspects of the Spanish Colonial design is that the house blends in with its surroundings.
Even though the Spanish Colonial era in America came to an end in the mid-1800s, the architecture remained popular. Later, in the 1900s, the Spanish Colonial design was swept up in the Colonial Revival—and homebuilders decided to use Adobe and clay for aesthetic reasons rather than out of necessity. 
Today, there are significant variances in Spanish Colonial house around the country, owing to regional styles and the skills and materials accessible to the early settlers. However, the majority share fundamental elements of the design.
Spanish Colonial Home Maintenance
Because adobe walls are most adapted to warm temperatures, they are most commonly seen in the Southeast, Southwest, and California. However, Adobe is extremely sensitive to cold, moist temperatures and will swell if exposed to too much water.
As a result, the stucco finish may fracture and break apart.
Although clay roof tiles are incredibly durable and require minimal upkeep, the low-pitched or flat ceilings seen on Spanish colonial house sometimes leak. This proves, yet again, that Spanish Colonial dwellings are suited for warm, dry areas.
Sum Up
Moreover, Spanish Colonial architecture was a component of the Colonial Revival trend, which spread throughout the United States by the early 1900s as Americans were deeply interested in their colonial ancestry.
At this time, Spanish architectural traits (white stucco façade, red tile roof, etc.) were more of a personal preference than a mandate, emphasizing the beauty and old-world feel of the materials that define California's casual architecture.
Architects also used more specific variants of the Spanish Colonial style: Monterey-style homes were notable for their unusual second-story porch that goes across the front of the house as an extension of the original outside breezeway, adds Andrew. In addition, the numerous churches built by Spanish immigrants in California influenced the use of arches and bell towers in Mission-style architecture.
As Andrew points out, it's no wonder that this distinct architectural style remains popular and has "captured the imagination of Americans as a perfect model for distinctive residences in temperate temperature zones."