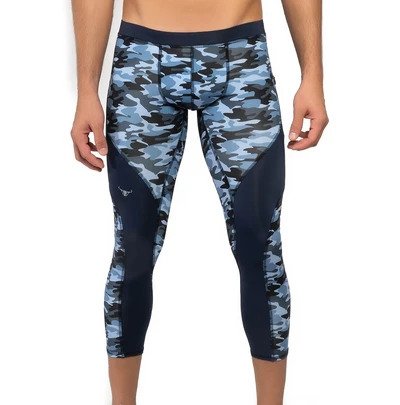 Your workout is one of the most important slices of your day, and as such, your comfort is important.
If your workout takes place in a gym, while comfort should always come first, style is a runner-up. After all, while your health may be your primary concern during the workout, looking good never hurt anyone either.
Pro Tip
Here are some tips for the latest in workout fashion and comfort to make the most of this integral part of your daily routine.
Wear Meggings
The best mens workout leggings are also known as meggings. While meggings show off your hamstrings and gluteus maximus, they are also made of sweat-wicking performance fabric to keep you dry and comfortable. The best meggings also provide built-in compartments for your accessories, including your phone and a place to hang your towel. The molded crotch is optional. Combine your meggings with a matching sweat-wicking tank and you're good to go in the style and comfort department.
Don't Forget the Face Mask
Working out is about staying healthy, and Covid-19 remains a threat to your health which is why you should wear a mask when you hit the gym. There is no denying you'd be far more comfortable without the mask, but for now, things are what they are. For the best comfort, you may prefer a mask that is made of 100% cotton so your skin can breathe as your body temperature rises. Ultimately, it will depend on the type of exercise you're performing and experts say to simply choose what works for you. 
Your Gym Towel
Your gym towel is your travel companion throughout your workout. It keeps you and the surfaces you work out on dry. It can also get smelly rather quickly, which is why material is important. A cotton towel is going to smell much faster than a microfiber towel which can dry more quickly. When choosing a towel, you want something that is absorbent but dries quickly. 
The Water Bottle
In the past it may have been common practice to use the water fountain provided by the gym, but these days it's best you touch as few surfaces as possible, so bring your own water. Help cut plastic production and forgo the bottled water. Instead, purchase a reusable bottle with measurements on the side so you know how much you're drinking. A successful workout includes plenty of fluid intakes to keep you on top of your game.