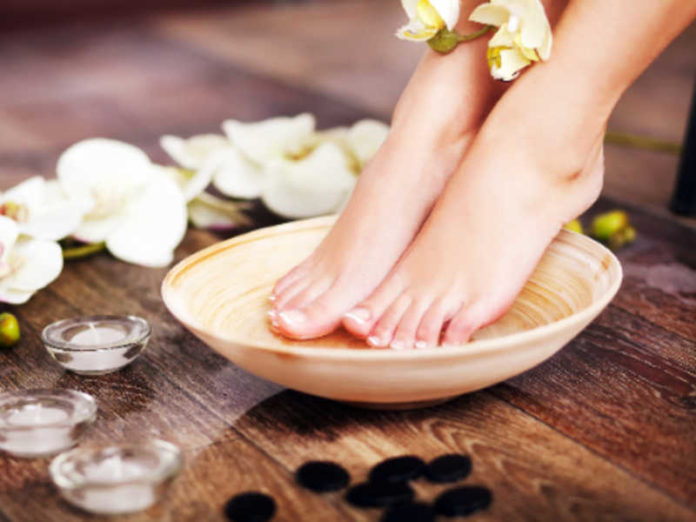 Your feet have always been your side. Those hard working feet help you stand for a longer time. They make you walk for miles without complaining. Also you cramp them into shoes and heels and they adjust without a word. If your feet can do so much for you , your extra attention is needed by your feet. So don't worry, you are on the correct page to get some tips for healthy foot and get basic care for feet. Also by these tips you can maintain good foot hygiene.
Basic Care For Feet
Here are some remedies for healthy feet to maintain good foot hygiene. Just as you can never miss brushing your teeth, you should not miss your basic care for feet.
Check your foot regularly for swelling, sores, cuts and infected toenails. This is one of the basic tips for healthy foot.
Clean your foot with warm water on regular basis and avoid soaking your feet because that can cause dryness to your feet. This is one of the best remedies for healthy feet.
Moisturize your feet daily with cream, lotion or petroleum jelly. Do not moisturize in between your toes. You should keep that skin dry to prevent infection. This is the basic care tip for good foot hygiene.
You should take care of your feet and should avoid wearing uncomfortable and tight fitting shoes. Your shoes shouldn't hurt you feet. This tip is for basic care for feet.
This is shocking but you should not wear flip-flops and flats. They do not provide enough arch support. This is a new tip for healthy foot.
You should not wear same pair of shoes every day. They can make tour foot infectious. You should at least take basic care for feet.
You should trim your nails timely with a nail clipper, then use a nail filer to file your nails in a good shape so that your nails do not grow in the skin.
Home remedies for healthy feet
Consume a lot of Calcium
Everyone knows that calcium helps to keep your bones strong but a handful of people know that bone loss or osteoporosis first show in feet. No matter what your age is, your body and your feet needs 1,000-1300mg of calcium every day to stay strong and healthy. Good sources of calcium are:-
Dark green vegetables such as spinach, broccoli, kale, collards, bok choy, etc.
White beans, edamame, and soya beans
Oranges and figs
Salmon and sardines
almonds
The Natural Honey Scrub
Take two tablespoon of baking soda and mix it well with honey until the scrub is prepared. Also mix lemon juice in it to get more benefits. Scrub it on your feet for 10-15 minutes and then wash it off with warm water. Repeat it for seven days to see the results. You need to take these little steps to maintain the good foot hygiene.
So are you ready to flaunt smooth, soft and clean feet to everyone?