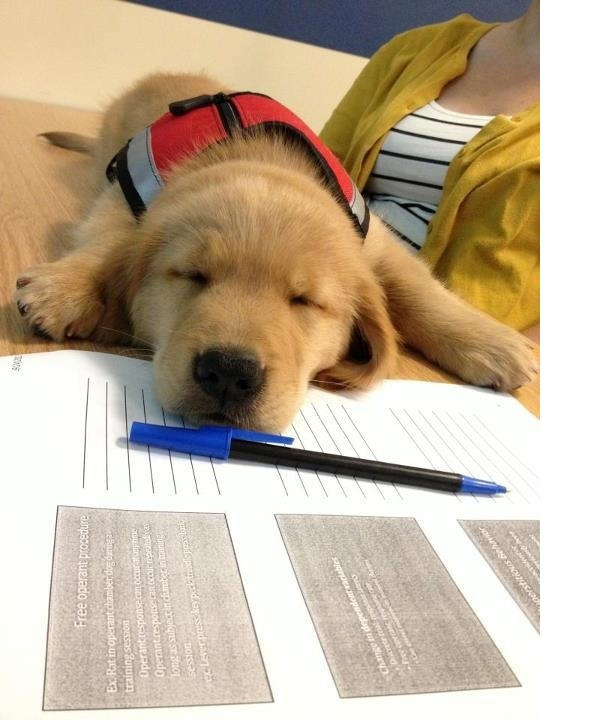 An ESA or Emotional support animal is someone that provides comfort to relieve the symptoms or effects of a person's disability. Under the Governing law, an ESA does not count as a pet and should not be restricted.
Any animal that helps in providing emotional support, comfort, and well-being to the individual with their companionship and positive affection is termed as an ESA; they do not have any special training.
In the United States, people with emotional disabilities must meet the federal definition and present a letter from a certified healthcare provider. The certificate should state that your animal provides emotional support to alleviate the symptoms of the disability.
Emotional support animal letters can be required to show at certain housing facilities when flying on a plane with the animal and in other situations.
How to get an emotional support animal letter?
In America, every 1 out of 5 Americans has a mental illness. ESA helps people to live happy lives by providing emotional comfort and companionship. These can be Emotional support dog letters or cat letters, or any other animal you have. If you want to get an ESA letter, you have to first qualify for emotional support animal requirements by obtaining a recommendation letter from a certified healthcare professional. 
Certified healthcare professionals include psychologists, physicians, psychiatrists, licensed clinical social workers, nurse practitioners, nurses, counselors, and physician assistants.
If you get your ESA letter from an uncertified individual, it will not be accepted anywhere as it is invalid. You will lose credibility with the housing provider and airline and make accommodation difficult later.
If you are wondering what to do if you do not have a personal therapist? Then keep reading this article.
Working With a Therapist Online
Seeking the help of a certified therapist is a great option, but some people have mental conditions that are overwhelmed with the search process and do not understand how to find a therapist. Some people might face difficulty seeing the therapist in person because of their mental health. Some people are too busy to make an appointment because they work a full-time jobs and have a busy schedule at school. Others cannot afford to pay the fees of meeting the therapist in person. 
For such people seeking help online to obtain an Emotional Support Animal, a Letter is the best option.
Can you get an Emotional Support Animal Letter Online?
For people who face trouble seeing professionals in person, you can check for certified professionals working remotely and who provide their services online. Getting an Emotional Support Animal Letter online from a licensed therapist who works remotely is considered valid, just like seeing them. Remote therapists offer invaluable service for people who struggle to see them in person. These can issue valid ESA letters. The only thing that matters is that your state should license them.
Many websites online sell ESA certificates, registrations, ids, and licenses. But sadly, there is no official registration site for ESA, and the chances are your certificate will be turned down by airlines and landlords if you show the purchased registration papers. ESA owners like to use ID cards, certifications, and certain accessories to identify their animal as an Emotional Support Animal.
How Can You Recognize Reliable and Legitimate ESA Websites?
ESA doctors work on a platform that connects you efficiently to a real certified mental health doctor working remotely to offer legitimate services.
Check if the website you are working with is not just selling an ESA letter and providing unreliable registration, licenses, certificates, or vests. Instead, the website should connect you with a certified professional that will give you professional judgment to determine if you need an ESA letter or not.
Do they connect you directly with a Licensed Healthcare Professional?
ESA professional matches you with the right certified professional to check whether you qualify for an ESA letter or not. This method is cost-effective, modern, and efficient to see whether you require an ESA or not with the help of licensed professionals.
What should I get from my Licensed Healthcare Professional if I qualify for an ESA?
If the licensed healthcare professional determines that you are the right person for an ESA, they will issue a recommendation letter on their letterhead for you. After you get this letter, you can present this letter to the airlines or housing provider and request accommodation for your ESA.
How can I avoid an ESA scam?
A website that offers instant approval and does not connect you to a professional healthcare provider is not a good source for your Emotional Support Animal Letter.
Signs for Fake ESA Letters
Below are some things that you should look out for if you plan to get your ESA letter online.
Certification Services/ ESA registration- ESA doe not need to be registered. There is no official government body to register ESA. If you do not present a valid ESA letter, landlords and airlines will deny the registered ESA.

Instant approval- to get the letter, the licensed healthcare professional will evaluate your requirement for an ESA. There is a way to get instantly approved for the Emotional Support Animal Letter. This evaluation process takes time to approve an individual. No legitimate service will guarantee a definite approval because the professional will determine whether or not you qualify for an ESA.

Avoid getting Cheat Letter- a legitimate ESA letter sample is written by a certified mental healthcare professional. Using online mode is surely cheaper than meeting the therapist in person, but they offer a valid certificate. You would not want to get an invalid letter because it is cheap.
Benefits of an Emotional Support Animal Letter
You must be thinking about whether getting an ESA letter is beneficial or not. Many people take the shortcut route to get their mental health recommendations and lose a lot of money to a simple scam.
More and more people are looking to get ESA letters every day to travel on planes with their animals or get to stay in a college apartment with their cats; otherwise, the apartments doesnt allow animals. And it is difficult for people with mental illness to live without their ESA.
Here are some of the benefits of getting an Emotional Support Animal Letter:-
Travel: if you have a valid ESA letter with you, you will feel calm and have no panic attacks when you are traveling because you will be holding your adorable Beagle on the plane, on boats, at the airport, on trains, and on bus transportation, where otherwise pets are not allowed.

Rentals: many rental places and apartments do not allow keeping animals on their premise or require extra rent to keep the pet. If you own an ESA letter, you will be waived off of some part of these fees, and many are allowed to keep your adorable cat with you where they are usually not permitted.

Stores: some stores do not fancy pets are walking into the stores, and if you feel uncomfortable or frustrated because of your mental illness, you show the certificate to the shop owner to enter the store.
Who Qualifies for an ESA Letter?
The requirements and qualifying process to get an ESA is becoming=g very strict day by day; some people abuse the mental health aspect to get an ESA letter and use them only to carry around their animal in panes for their travel convenience. You must be thinking, who qualifies for an ESA letter? Any person diagnosed with mental illness and disorders has completed their treatments with therapy and medications and has some symptoms that can be treated with the presence of an animal in their life qualify to get an ESA letter if the certified healthcare professional recommends it.
Those individuals should have been diagnosed with the following mental health disorders:
Depression

Anxiety

PTSD

OCD

Agoraphobia and other types of phobias

Socially-induced high stress or anxiety (above average)

Bipolar Disorder

Grieving over a large loss

Other Less Common Mental and Emotional Disorders
A person is qualified by a licensed professional who determines that the person's health condition will benefit from the companionship of an ESA. having an ESA can alleviate the symptoms:-
Less stress 

lower blood pressure

Fewer panic attacks 

anxiety-related symptoms

Increased function in regular daily tasks

Better sleep quality

Increased ability to spend time around other people

Feeling of security in places patients would otherwise find uncomfortable

Motivation and a sense of purpose, as well as general wellbeing.