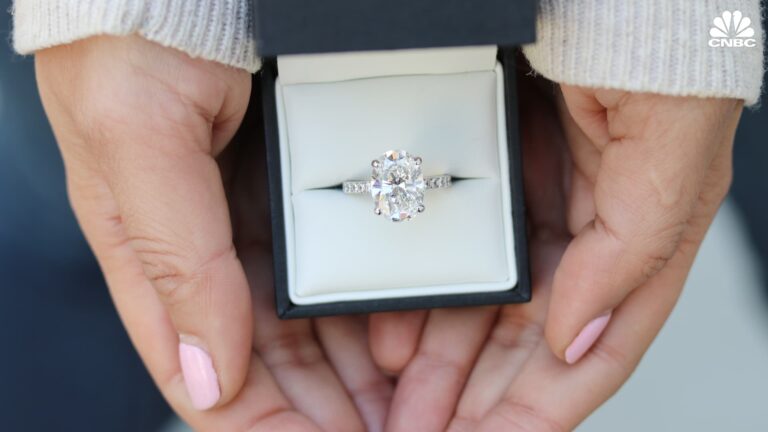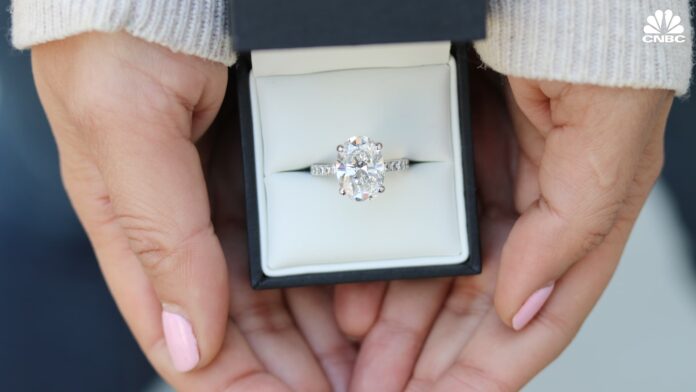 While buying a surprise engagement ring is the more traditional option when planning a proposal,you may be wondering if it's the right choice for you as a couple. Going it alone naturally raises concerns about picking out the perfect styleand getting the rightsize.
If you're unsure whether to choose a surprise ring for your partner or involve them in the process, we're here to help. We've collatedthe key benefits of picking out an engagement ring together so that you can decide whether this isthe best way to propose to your significant other.
Less pressure on the proposer
Of course, choosing an engagement ring is a fun and exciting experience – but it also puts a lot of pressure on you to get it right. With a huge number of designs available, from princess to round brilliant cuts and solitaire to halo styles,you may find it quite daunting to pick the idealoption for your partner.
Choosing a ring together takes the stress off you and ensures you get a ring that they are completely in love with. The proposal can still be a secret if you'd like to maintain an element of surprise!
Ensures the ring is just right
While choosing a ring for your partner can be a wonderful surprise, it also comes with a range of risks. For example, the ring may be the wrong sizeor not made from their metal of choice. Even if the ring fits and matches their other jewellery, it simply may not correlate with the design of their dreams.
By picking out a beautiful engagement ring together, you can mitigate all of these potential minefields. The band will be the exact right size and you can be assured that the ring suits their unique sense of style. It also means you don't have to spend lots of time asking friends and family for hints and tips on the right ring pre-proposal!
Allows you to consider the wedding bands
Another benefit of picking out an engagement ring together is that it allows you to consider wedding bands at the same time. Certain engagement rings need to be worn with specially shaped wedding bands and it's best for the metal to match,so it's useful to think about both rings before committing to a design.
For example,often solitaire rings are best paired with a curved wedding bandthat will frame the stone and ensure a snug fit. Cluster or halo engagement rings may also need a special wedding band design that fits around the centre stone.
All of these elements are of course personal preferencewhich is why it's useful to have your partner involved in the process. It also allows you to pick out rings in the same metal if you'd like your wedding bands to match!
With all this in mind, will you choose to go engagement ring shopping together or opt for a surprise?