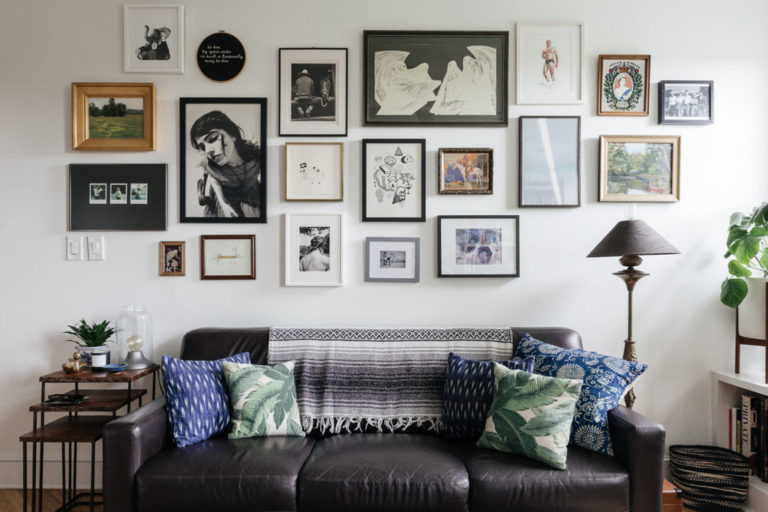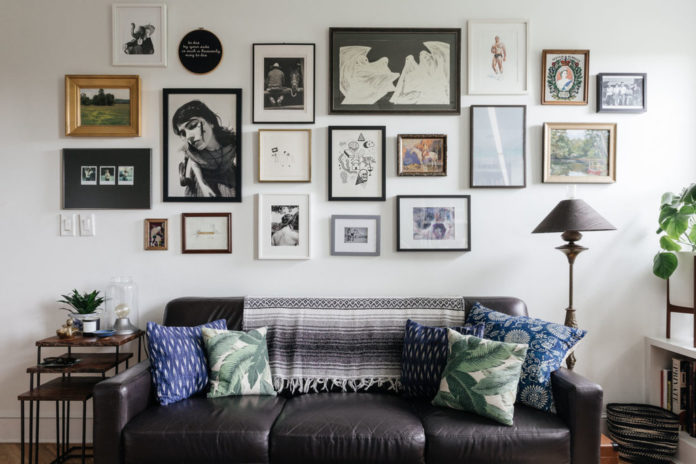 It's a labor of love to create a gallery wall for your home. It should reflect your personality and interests, and it should ultimately be about what makes you happy. After all, you want artwork that makes you satisfied every time you pass it. Fortunately, there is no one-size-fits-all approach to creating a gallery wall.
You can have five or eight pieces, use photography and sculpture, or stick to a single color scheme. So have fun with it, and use wall art expert tips to create a look you love. Your gallery wall should tell a story, with each level being unique.
Use different styles of frames
You can use all of the same color and style of frames. But using different types will make your gallery wall look much more enjoyable. For example, you could use all-white frames in a variety of styles to create a lovely effect.
You can also go with a mix of white, grey, and teal frames, some plain and some vintage feel. Again, it is not sure if it would work until you put them together, but you will please how they turned out.
You can mix expensive frames with cheaper, basic structures to make them more affordable. Your favorite large photo is in a high-end vintage frame and mounts from other framers.
If you decide to use different color frames, make sure they are all in the same tonal range. You can choose all light/pastel shades or dark shades as an example. If you had used just one black frame in the gallery, it would have clashed with the others.
Consider your available wall space
The first step in selecting a piece of wall art is to determine the size of your space. Now is the time to get the tape measure out if you want to get the sizing just right. Look for a large-scale frame if you have a giant wall to fill or want one statement piece to anchor your space.
These pieces have the potential to make a huge impression in a room! Consider a gallery wall if you have a large or small wall to fill and bring several art pieces into space. Pairing complementary styles and colors together is a good place to start.
Assessing your current space—style, color, and pattern themes—can also assist you in deciding what belongs on your gallery wall. Smaller frames are ideal for adding visual interest to a more intimate space or simply finishing off a corner or nook.
Mixing color and black & white photos
Don't be afraid to experiment with mixing color and black-and-white photos in the same wall gallery. You can create a dynamic, eclectic wall art collection by choosing the best print similar to this. It gives a unique look to your wall.
Choose the main character and supporting cast
One of the simplest ways to begin selecting gallery wall photos is to choose a main "statement image." The image will typically be the largest in the gallery, followed by supporting pictures.
For example, you could use the best full family portrait as your statement image or main character. And then use combinations of family members and individual pictures of family members as your gallery's supporting images.
Play with location
It's not necessary to have ample space to create a stylish gallery wall. Instead, look around your house for quirky nooks and crannies that would be perfect for a gallery wall.
When considering a location for a gallery wall, consider stairwells, entry areas, and hallways. Unique gallery wall settings work exceptionally well in old homes that have been updated over time. Make use of window and door frames as additional elements in your design.
Mix it up
Whether botanical prints, artwork by local makers, or seasonal shades inspire your gallery wall theme, variety is vital. Experiment with color, scale, and size. Suppose you like portraits combine headshots and full-body photography with images of small details. If you prefer abstract art, mix in a few simple pieces to keep the look from becoming too cluttered.
The walls of mixed media galleries are also very appealing. For a wall with many personalities, group oil paintings, watercolor artwork, vintage prints, and graphic text pieces together. To keep everything together, make sure each piece has a standard color.
Add a sculptural work or two to your gallery wall to add texture and interest. Another great way to achieve a collected look is to change up the frame styles. Mix and match frame widths and colors, or hang a canvas without one!
Create cohesion
Accept your favorite artwork's eclectic nature. Each one tells an authentic and one-of-a-kind story. Perhaps you have a collection of artwork that you've accumulated over time, but the pieces don't appear to be connected.
In a gallery wall, seemingly disparate pieces of art can still work together beautifully. Simply bring pieces together with the way you present them. For instance, a broad white mat and a thin frame will tie all of your prized artwork together.
Create a folder
Make a folder on your desktop to store your favorite photos. Choose carefully and save only the ones you genuinely adore. Create additional folders within this one to separate the various types of images—food, lifestyle, and portraits, to name a few.
Save your favorites to these folders as you edit your photos. This will keep them all in one place and make it easy to find them when it's time to print. It will also save you hours searching through your archives for the right image each time you want to print.
The bottom line
If your art or frames aren't working in a particular space or room, try moving them around to see. Then you can see they'd work better somewhere else. It takes time for items to feel at ease in a new location, so resist the urge to switch them back right away if you're unsure.
Instead, switching around your prints, adding more, or even taking some away from a gallery wall. It is an inexpensive way to refresh your wall completely. And it will bring you joy every time you see it in all its glory.