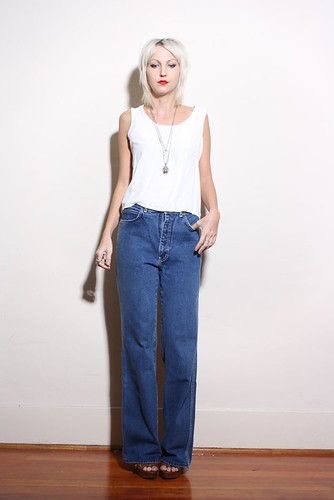 Say hello to this summer's biggest trend, wide leg pants. For the last few seasons, these 80s inspired pants have been making a big comeback and they're well on their way to becoming more popular than skinny jeans. Wide leg pants can be fun, flattering and appropriate for any event from work to a night out. Keep reading for ways you can incorporate wide leg pants into your you own personal style.
Choose a Neutral Color
If you're a little intimidated by wide leg pants, start with a neutral color like black, gray, navy, olive, brown, cream, or white. You can also start with a pair that has a slightly more narrow leg rather than extra wide. Try pairing some tan cotton wide leg pants with a white top for a light and airy summer outfit great for running errands around town. Or try combining some professional black wide leg pants with a buttoned blouse for an easy work outfit. Once you're comfortable wearing wide leg pants, try some bright and bold colors.
Get a Pair of Wide Leg Jeans
Everyone needs a good-quality pair of jeans in their closet, so why not make them wide leg jeans? Wide leg jeans are flattering on every body type, comfortable to wear, and make a fashion forward statement. Try a light wash pair with a graphic tee for a more casual summer look or try a dark wash pair with a cute top for a night out. It's easy to dress wide leg jeans up or down, just swap tennis shoes for heels and throw on a trendy blazer.
Tuck in Your Top
When wearing wide leg jeans, it's a good idea to accentuate your waistline. One way to style wide leg pants and create a flattering waistline is to tuck in your top. Tucking in your top, whether it's loose or tight, creates balance so you're not surrounded by too much fabric. Many wide leg jeans feature high waists, decorative buttons or tie front details, so tucking in your shirt shows off these features while also accentuating your waistline. This flawless summer style is so easy and so fashionable.
Experiment With Monochrome
Try creating a monochrome look by matching the color of your wide leg pants with the same color top. It's easy to look elegant and polished for work, dinner on the town, or an evening event when wearing all black wide leg slacks, a sleek black top, and strappy black heels. You can use accessories, like a handbag, jewelry, or a hat to add a pop of bright color. For a more casual monochromatic look, try your favorite bold color in both wide leg pants and a classic tee.
Don't let the extra fabric intimidate you, wide leg pants cinch the waistline and lengthen legs for an incredible silhouette. If you're looking for an easy way to spice up your wardrobe for the summer, give wide leg pants a try. Remember these tips and tricks to feel confident and look stylish all summer long: start with neutrals, add in jeans, tuck your shirt, and go monochrome.