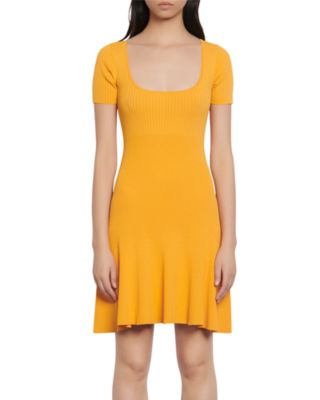 Summers are the best days to wear our favorite vibrant and colorful dresses. Summers is about doing experiments and trying different combinations of dresses.
Breezy, flowy clothes with floral prints are what most girls are looking for to make them feel cool all day.
Not only comfort, but girls are also looking for combinations of colors that make them chic and unique among the crowd.
In this post, we will talk about some amazing and adorable summer casual color dress ideas that you should try this summer. I assure you will feel super easy-breezy in these below given colorful summer outfit ideas.
Baby Pink
This summer feels cool and comfortable like a baby in baby pink hue dresses. You can opt for dresses in a nude pink shade. This soft color will keep you comfortable in the hot summer as well as trendy. This can be your perfect color choice in the summer and added to your wardrobe with small funky accessories.
You can try baby pink frocks and skirts with a soft blue hue lining top.
Bright Yellow
Bright yellow is great for summer as it makes you melted in the vibes of summer. There are so many shades of yellow from which you can pick one and try that suits you most.
But as per my recommendation, bright yellow is going to look great on you. If you like, add some layers to it like denim or light shrug.
Bright yellow can be a great choice in hot summers, and you can wear overall yellow or combine it with another bright color like bright pink, green, or even black to look complete chic.
You can try a yellow summer blazer with a white inner, flare dress, high waist pants, or peplum tops.
Rosy Red
If you want to look like a rose this summer, try rose red casual dress in season. Bright colors are on the trend side this summer.
You can try a plain red color dress, or even a bold printed rose-red color casual dress while going on breakfast and lunch with your friends.
You can try a rose-red color jacket with a straight-line black dress or a red tank tops with denim shorts.
Heaven Blue
Blue hues in dresses may sound different for everyone. But believe me, if you find a perfect soft shade of blue this summer, you will feel blue like sky and floating above.
Blue tops, shrugs, plazos, or even long dresses will look great on you. Along with blue, white accessories like shoes and handbags look great on brunch dates.
Lilac
I know you are already in love with the Lilac hue dresses, but you may be confused as these color dresses are common in wedding attires instead of casual dresses.
But there is a new collection of lilac hue casual dresses that you must try this summer.
You can find different casual items of clothing in lilac on websites or nearby boutique stores that will make your casual days, and you will look super chic.
These are some of the best summer casual color dresses that you must try this summer. You can try different patterns of dresses in these colors and keep yourself look comfortable as well as chic during this season.