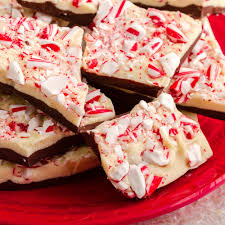 Christmas is just around the corner, the best time of the year, with so many mouth-watering dishes, surprises, gifts, family gatherings in every house. Check out these easy no-bake Christmas dessert treats recipe for your Christmas party. These quick and easy no-bake christmas dessert recipes are Perfect holiday desserts to bring to office parties, Secret Santas, and cookie swaps.
Red velvet cheesecake bites:
These sweet cheesecake balls Covered in red velvet cake crumbs are the perfect small bite for Christmas party.
INGREDIENTS
One box red velvet cake mix, plus ingredients called for on the box
2 (8-oz.) blocks cream cheese, softened
1/2 c. powdered sugar
3 tbsp. heavy cream
1 tsp. pure vanilla extract
DIRECTIONS
Preheat oven to 350º and line a muffin pan with cupcake liners. Prepare red velvet cake batter according to box directions. Divide mixture among liners and bake until a toothpick inserted in the center comes out clean, 18 to 20 minutes. Let cool completely. Break 4 cupcakes into small crumbs. Save remaining cakes for another use.
In a large bowl using a hand mixer, beat cream cheese and powdered sugar until light and fluffy. Add heavy cream and vanilla and beat until stiff peaks form.
Line a large baking sheet with parchment. Using a small cookie scoop, scoop cream cheese mixture into balls and place on the prepared baking sheet. Transfer to the freezer to chill, 1 hour.
Roll balls in red velvet cake crumbs until fully coated, then return to the prepared baking sheet. Refrigerate until ready to serve.
Read more:- Easy to make healthy snack recipes.
Pepper Mint Bark:
INGREDIENTS
12 oz. semisweet chocolate, chopped
12 oz. white chocolate, chopped
1/2 tsp. peppermint extract
Eight candy canes, crushed
DIRECTIONS
Line a baking sheet with parchment paper. Fill the bottom of a large pot with 3″ water and bring to simmer over medium heat. Reduce heat to low, then place a large heatproof bowl on top. Add semisweet chocolate and occasionally stir until the chocolate has melted. Stir in extract. Pour into the prepared baking sheet and spread into an even layer with an offset spatula. Refrigerate until set, about 20 minutes.
Over the same pot of barely simmering water, place another large heatproof bowl. Add white chocolate and stir until melted. Pour over set semisweet chocolate then top immediately with candy canes. Refrigerate until set, about 20 minutes.