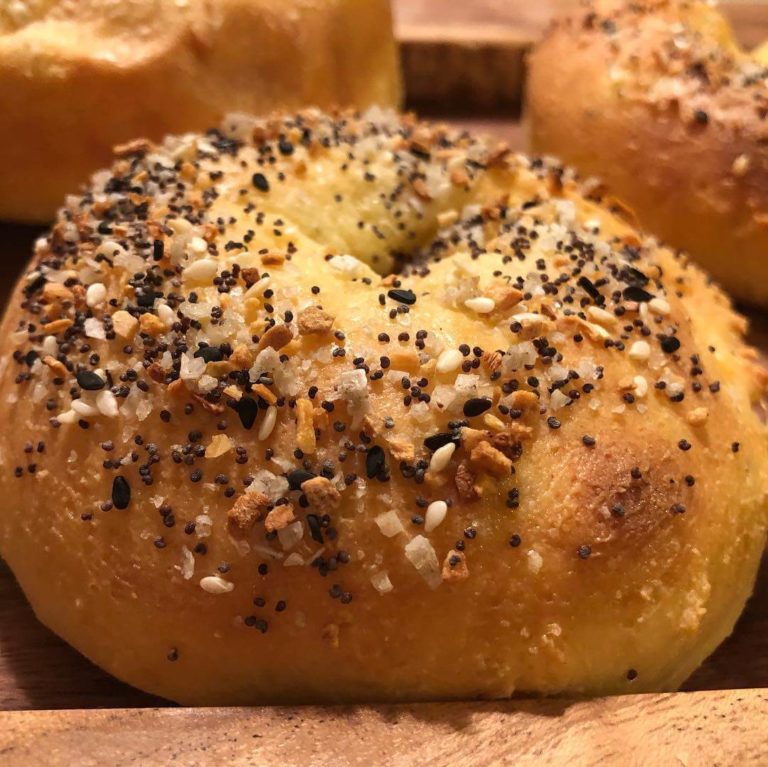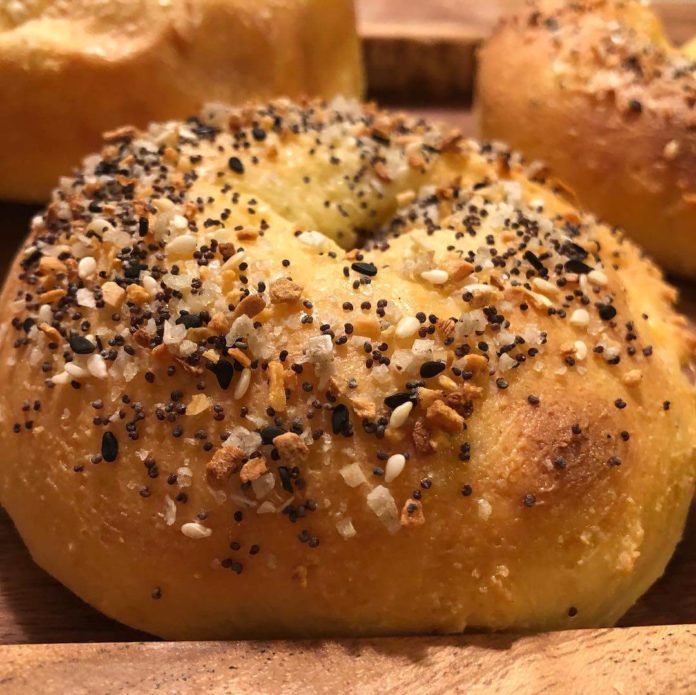 This recipe contains all the flavors of your favorite Starbucks Chonga Bagel Recipe that is suitable to Keto diet followers.This recipe contains all the favorite flavors of your Everything Bagel, but without any carbs and gluten. Try this Low Carb Keto Everything Bagel Recipe at home.
Those who are following a keto diet, consuming carbohydrates are considered as bad, whereas, fat containing products as good. Therefore, here is the Keto Bagel that is tasty as well as for Keto diet followers.
How We Are Going To Make Everything Keto Bagel Recipe:
Using Almond Flour As A Substitute For Bread Flour
Almond flour is simply obtained by finely ground the Almonds seeds. Almond flour is lower in the carbohydrates than that of all-purpose or bread flour. Almond Flour is naturally free from gluten found in wheat flour.
Add Lots Of Mozzarella  
Adding lots of Mozzarella cheese to your bagels boost up the flavor of your Everything Keto Bagel as only almond flour and eggs worsen the taste of your Keto Bagel. So as to enhance the taste of your Bagel, add lots of mazzorella cheese to it.
Is It Necessary To Rise The Dough?
No! it is not necessary to rise the dough of Bagel even you are not required knead the dough either. This means Bagels can come ready in  less than an hour.
Can One Make It Oven Keto Bagel Seasoning?
Yes! Of Course, one can make it own Bagel seasoning by using any of the sesame seeds, granulated onion, poppy seeds, and granulated garlic.
Let's Checkout The Everything Keto Bagel Recipe, what ingredients to use and how to make it by your own at home.
INGREDIENTS Required:
Two Cup Of Almond Flour
One Tablespoon Of Baking Powder
Three Cup Of Mozzarella, (Shredded)
Two Ounces Of Cream
Two Eggs
One More Egg Lightly Beaten
Three Tablespoons Of Customize Bagel Seasoning
Instructions To Make:
Preheat the oven for up to 400 degrees. Take two baking sheets with parchment paper and lined them. Take large bowl, whisk baking powder and almond flour together. Now, in a medium microwave bowl, combine mozzarella and cream cheese together. Microwave all the ingredients, stir them for every 30 seconds, until the cheese and cream get perfectly melted, for about 2 minutes totally.
Scrape prepared cheese mixture with the almond flour mixture in a bowl. Also add two large eggs into it. Mix all the ingredients until everything get combined. Divide this dough into 8 parts. Roll each part into ball. Press finger into the center of each part and stretch it to form like bagel shape. Arrange these bagels on baking sheets prepared earlier.
Brush top of bagel with extra beated egg and sprinkle it with customized bagel seasoning.
Bake bagel for 20 to 24 minutes in the middle rack for 20 to 24 or until they become golden brown. Let these cool down for 10 minutes before you serve them.
We hope this is the tasty and delicious Everything Keto Bagel Recipe help you satisfy your craving along with giving you a doze of nutrients.
Checkout our post on Best Meal Ideas For Post Workout
Sources:dish.com