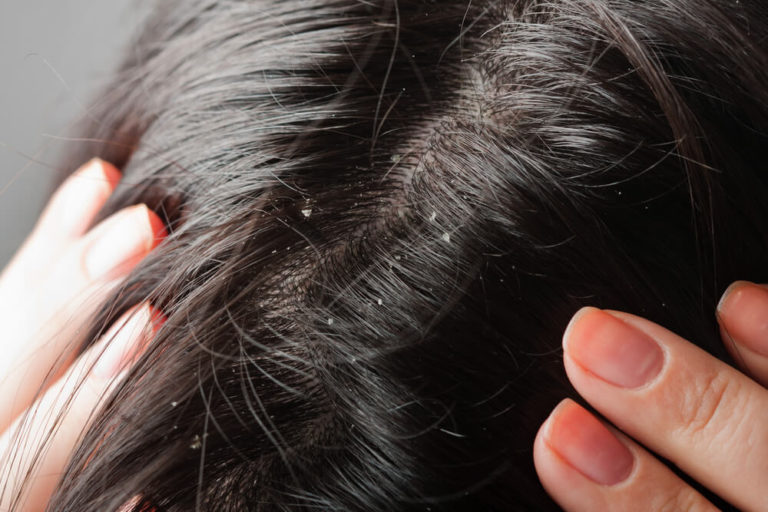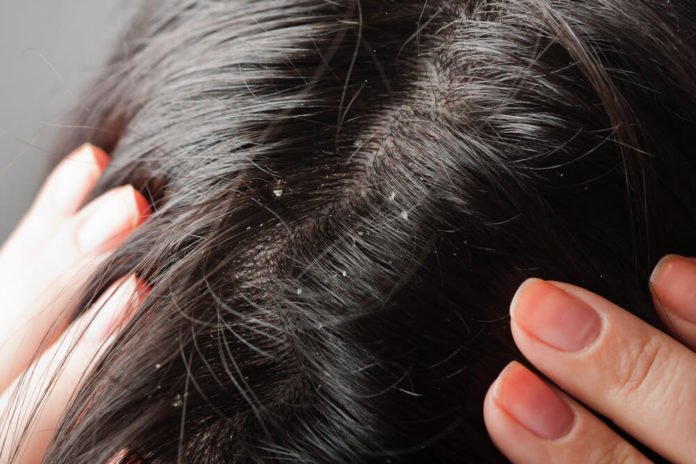 This post is based on the Home Remedies that help in get rid of Dandruff Naturally and Permanently within the week.
Dandruff is a chronic skin condition in which the skin of the scalp becomes itchy, flaky, and irritated. There might be several causes of dandruff on the scalp like not cleaning and removing the hair products properly, dry scalp skin, scalp sensitivity to hair products, growth of a certain type of fungus, or seborrheic dermatitis.
Dandruff may also lead to the cause of greasy patches and tingling of the scalp skin. This may sometimes even lead to acne on scalp, face, and also cause hair fall issues. Thus, it is necessary to take proper hair care steps that help in getting rid of dandruff as soon as possible. This will ultimately lead to protecting your facial skin from acne and also helps in ceasing the hair fall issues too.
There are various products available in the stores that claim to remove dandruff permanently. However, they are very costly and loaded with chemicals that have other harmful effects on your skin. Thus, we have created 13 effective home remedies that help you in getting rid of permanently without spending much money.
Natural and Home Remedies To Get Rid Of Dandruff Permanently
Natural remedies are the best solution to get rid of dandruff permanently without spending any money and preventing the harmful impacts of chemicals contained in store-bought products. These below home remedies for dandruff help in removing dandruff from roots and also makes your hair healthier and shinier than ever before.
Try any one of the remedies that you like and see the instant results with the regular use of it.
1.Coconut Oil Massage
Coconut oil helps in fighting fungal infections like Malassezia, which causes dandruff on the scalp. This removes the flaky and dandruff on the scalp skin.
Take two tablespoons of coconut oil and warm it with a double boiler method. Massage this warm oil on your scalp softly with fingertips.
Apply this coconut oil twice in a week.
2. Red Onion Juice Remedy
Red onion juice is an effective remedy that can fight severe skin conditions that remove chronic diseases from the skin. This Onions juice is rich in phytochemical compounds that help to remove dandruff. The application of onion oil eliminates the flaking and itching of scalp skin.
Take half an onion, blend it and strain the juice using a strainer. Apply the juice on the scalp with fingertips or using a cotton ball.
Rinse your hair after 20 minutes. You can apply this juice two times a week.
3.Fresh Aloe Vera Gel
Research studies show that Aloe Vera Gel is rich in Bioactive compounds that are used to treat severe skin conditions. Aloe Vera extract contains properties like antifungal and antimicrobial that help in fighting against fungal infections.
Take a leaf of Aloe Vera, take out its gel, and apply on the scalp for 40-60 minutes. Wash your hair with tap water.
You can apply this remedy twice a week.
4.Yogurt or Curd
Yogurt or curd are probiotics that contain compounds like Lactobacillus Paracasei that reduce dandruff-causing bacteria. This compound helps in balancing the normal scalp's microbiome, thus ultimately reduce the occurrence of dandruff.
Take one cup of curd and apply thoroughly all over the scalp. If you wish, you can also apply it from roots to tips of the hair strands.
Apply curd once or twice a week.
5.Eucalyptus Oil Massage
Applying Eucalyptus oil on the scalp, stimulate the ceramide content on the scalp that reduces the occurrence of dandruff.
Take 2 to 3 drops of Eucalyptus oil and combined it with 1-2 tbsp of coconut oil.
Apply this oil by massaging lightly on the scalp with fingertips for about 30-45 minutes and wash hairs with tap water.
Use this oil 2 to 3 times a week for instant results.
6.Garlic Cloves & Olive Oil
Garlic contains ajoene and allicin, high in the antifungal property that roots out dandruff causing bacteria.
Take 5-6 cloves of garlic. Peel and crush them and add them in heated olive oil in the saucepan. Heat the mixture for about 5 minutes and then strain, leave for the cool down.
You can make extra oil and store it in a glass jar. Whenever going to wash your hair, massage it with fingertips or cotton ball, and leave for 30-45 minutes. Rinse hairs with mild shampoos using normal tap water.
7.Tea Tree Essential Oil
Tea Tree oil contains antifungal properties when applied topically kill the germs and bacteria instantly. The dermatologist highly recommends this oil as this mitigates fungal infections leads to cause flaky, itchy, and dandruff to the scalp.
Apply this oil once or twice in a week. Use cotton balls or fingertips to do massage this oil.
We hope these home remedies help you in getting rid of dandruff naturally and permanently fast, within the week.
Checkout our post on Amazing Benefits of Using Neem Shampoo for Removing Dandruff
Sources:Stylecraze.com