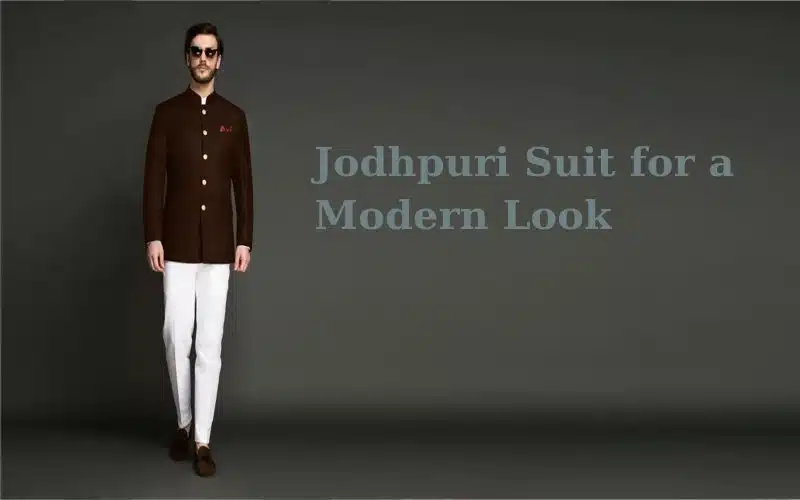 Nothing is better than a Jodhpuri suit to make the perfect fashion statement. Jodhpuri suits are one of the most sought-after attires by men for ceremonial occasions, weddings, cultural events, and parties.
The Jodhpuri suit, also popularly called the Bandhgala suit for men, originates from Jodhpur, Rajasthan. It was historically worn by the Rajas and Maharajas of the princely state, with exotic hand embroidery on rich fabrics. Today, men are replacing their western suits and tuxedos with Jodhpuris, looking charismatic and being comfortable at the same time.
Online and offline markets are flooded with the latest designs and styles of Jodhpuri suits in extravagant designs, patterns, and a variety of fabrics. Here are some tips, styles, and trends to wear this authentic ensemble with a twist!
Jodhpuri Suits For A Modern Look: Style Tips
Most men prefer to wear the Jodhpuri suit for their weddings and formal occasions as it gives a classic and modern look. It is also a perfect wedding dress for men in summer.
Follow these tips and tricks to wear regal attire with pomp and ease.
Choose the fabric and color according to the season and purpose. For a festive occasion, you can opt for silk, velvet, or brocade for winter and cotton, jute, and silk for summer.
To make a lasting impression, complement your Jodhpuri suit with the right accessories like satin or silk Saafa, an elegant brooch, a pearl necklace, or a pocket square. Even a traditional Pagdi can enhance the appearance of the Jodhpuri.
Match the suit with the perfect modern pair of shoes. Instead of settling for the traditional Juttis, opt for velvet loafers or formal leather shoes.
If you want to keep it comfortable, go for a Jodhpuri jacket instead of the whole suit. Try contrasting colors and coordinate them with the color of your trousers. You can choose Jodhpuri jackets with side slits instead of asymmetric or vertical openings or printed Jodhpuri jackets.
Go for a Jodhpuri suit with embellishments, embroidery in gold and silver, and patterns, which are quite a rage these days.
You can buy the latest styles and trends for your bandhgala suit for men online in jodhpuri style with luxurious variety, dominant styles, and the latest trends online on selective sites.
Latest Styles Of Jodhpuri Suits for a Modern Look
The Jodhpuri suit is all the rage and you can pick any of these unique and trendy designs below to add a modern flair to your traditional Jodhpuri. In countries like India, looking for a wedding dress for men in summer can be tricky, especially if you want to look your extravagant best in the relentless heat. A Jodhpuri can step in and step up your game in such scenarios. Just follow these latest trends, and get yourself a contemporary, royal, and stylish Jodhpuri suit for your special occasion!
The Maharaja-Style Jodhpuri Suit
Nothing is more appealing and royal than the grand king-style Jodhpuri suit, which can be rocked for any occasion. If you plan to wear one for your wedding, it's perfect and can never go wrong.
Jodhpuri Style Waistcoat
A versatile and flexible attire – a Jodhpuri waistcoat looks chic when worn with Kurta-Pajamas, Dhotis, and even trousers.
Waistcoats are common in many cultures and are preferred ethnic menswear at festivals, weddings, and formal events.
Try a floral waistcoat on a white background or a printed one on rich velvet or silk fabric. This style is the perfect blend of elegance and style and will charm your admirers.
The Double-Breasted Jodhpuri Suit
Royal Rajputana-inspired ensemble blended perfectly with the double-breasted style is trending in India. It is not only preferred by grooms and has been a preference among A-list Bollywood celebrities.
Men love trying out different versions of the Bandhgala suit for men, and almost all of them are ideal for the wedding season.
Black Suit With Jodhpuri Pants.
Quite a bold yet charismatic ensemble, perfect for parties and festive occasions. Nothing beats black when it comes to creating a lasting impression on someone.
Pair your black suit with magnificent Jodhpuri Pants and feel as confident as a model. You can give it an Indo-western look and wear it for a cocktail party or a grand evening event.
The Blue Velvet Jodhpuri Suit
Velvet is flattering, and no color looks as royal as blue. Imagine this stunning outfit with traditional Jodhpuri style embroidery or light embellishments. It is an attractive ensemble that you can sport at any formal event or wedding.
Pair Embellishments With Your Jodhpuri Suit
When it's about being your classiest best in a Jodhpuri suit, why not complete the look with elaborate decorations using Zari, Zardozi, Resham, crystals, and pearls.
Go for Different Cuts, Styles, and Prints
Try the ultra-cool and chic modern look with these Indo-western styles Jodhpuri suits with slits and diagonal cuts at the bottom.
Accentuate the attire with gold buttons and a textured finish for a dignified look.
Go for the Block-Prints
Block-printed Jodhpuri suits are not a thing of today! The prints have been in style for centuries, and the style is gaining traction in the modern world. Block printing, which highlights and reintroduces design trends of the past, has recently increased in popularity.
Jodhpuri suits for men come in different styles, varieties, and trends. Here are a few that can style this authentic wear into contemporary ensembles. You can buy dazzling designs of the latest men's clothing that are trending in India and internationally.
Get yourself a stunning Jodhpuri suit today and serve up those royal looks!