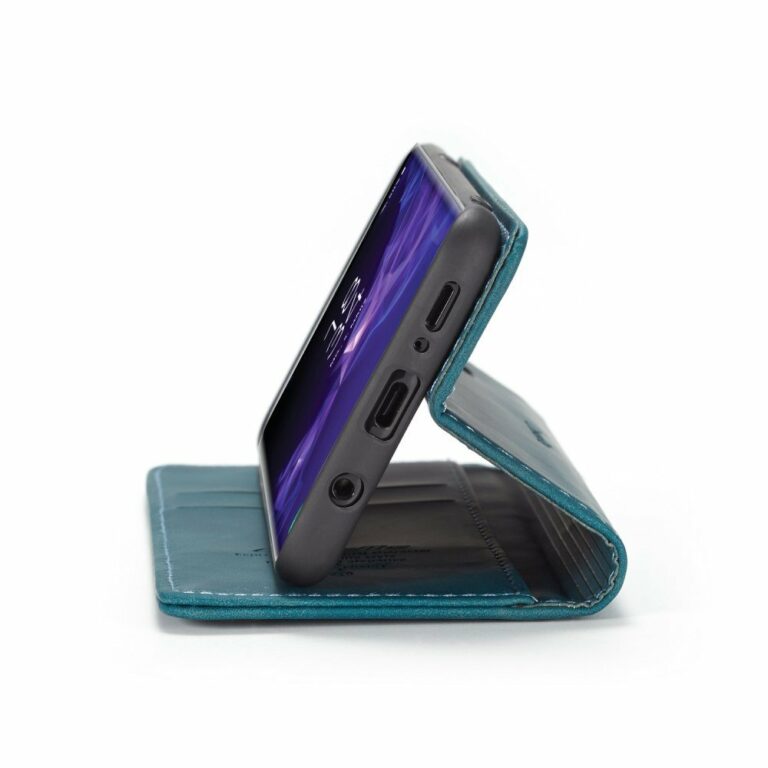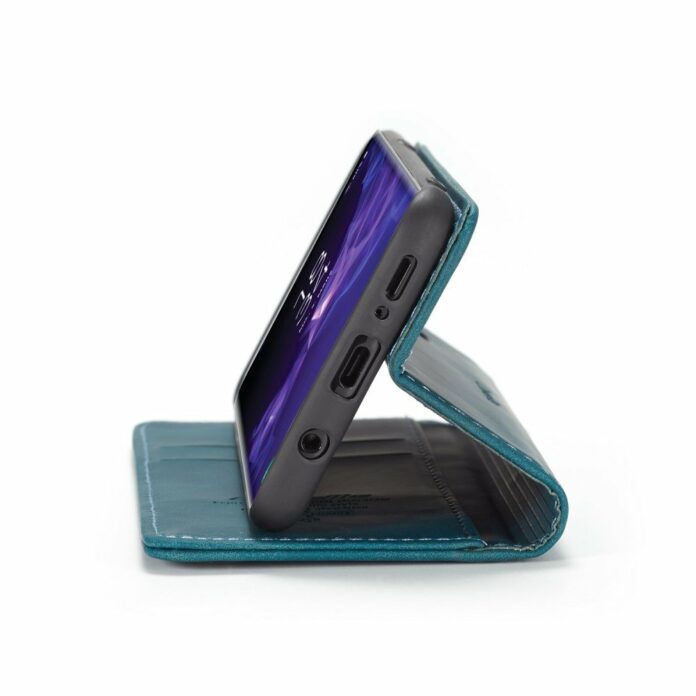 Samsung Galaxy S9 Cardholder cases – Wallets are very useful and mandatory when it comes to keeping your belongings. Samsung Galaxy S9 Cardholder cases are very popular for similar purposes. These cases are stylish and give you room for your cards, cash, and even earbuds. They are available in both leather material as well as synthetic material. Leather being an expensive matter leads to the wallet cases costing way more than synthetic ones. So, if you are looking for a reasonably priced case, you must look for the material before buying. 
Samsung Galaxy S9 wallet cases are generally made of polycarbonate material which is tough, stiff, and is a good heat-resistant. The external part of the wallet is hard, but the internal area, on the other hand, is soft silicon for protecting the phone screen. These wallet cases can hold up to two cards and some cash. But, you can also keep your phone rest assured in your wallet. Carrying this wallet will be enough for you without carrying an extra separate one for money. Also, you will be able to see tangible buttons on the cardholder case along with the parametric approach. It results in the security of your phone wherever you go. 
Carrying a phone with a wallet seems a little difficult, especially with phones that are both large in size and heavy weight. For example- Samsung Galaxy S9+ is big and heavy in weight. Therefore, people prefer the cardholder case, so they don't have to carry phones and wallets for money separately. It reduces the extra space and weight in your pockets.
You have several options if you are willing to choose any Samsung Galaxy S9 cardholder cases, varying from soft to tough, with many distinct designs. 'Bellamy Galaxy S9 Wallet Case is a great choice because of its in-built smart features. This wallet case is made of good-quality leather with fine stitching. Like other cases, two sections for holding cards contain polycarbonate material and excellent durability. Another feature that differentiates it from others is the 'Hand-free stand.'
This article will make you aware of the three main features you must have in the wallet/ cardholder case. 
Read More- OPPO Phone Card Case Compatibility
Built-In Wallet
The built-in wallet is a flip cover for the Samsung Galaxy S9. This case is thin by structure and protective by nature. It is made of leather with a textured design and a magnetic opening-closing entity for easy work and safeguarding your cards. This Samsung Galaxy S9 Cardholder case consists of a small pouch for cash, a portable hand-free stand, and a cardholder. It holds upto three cards and comes with a magnetic clip to lock the case for safely storing the cards and mobile phone. Like other covers, it facilitates cutouts of the camera, charging port, and microphone in itself.
People use these wallets to keep their belongings to minimize the extra space used and heavyweight.
One more popular cardholder case for Samsung Galaxy S9, i.e., 'The Shieldon Case', has three slots for holding cards and one money pouch. All the flip covers have one common feature, i.e., the magnetic lock. With a flip cover, you can use all the components of your phone without having to take it out. Hence, these cardholder cases help you to store and secure your money and cards safely.
Unique Design
Samsung is known for giving an amazing appearance to its devices. As you know, that Samsung galaxy s9 cardholder case is very useful for keeping your ID proof, cards, and cash all together in one place. But most of all, this wallet's appearance is equally important. You don't need to worry about the damage that is caused after your phone falls because there will be none. The tough leather-proof case protects your mobile phone from damage. Also, the sleek design of the case makes it portable for us to carry around.
Therefore, before buying a wallet, you must acknowledge all the colors, sizes, and designs that are available for you.
The cardholder case should neither be too heavy nor too light for proper space for your phone and other stuff. The small size can make it difficult to look for the appropriate card or cash whenever required. Hence, every small or big feature should be paid attention to. 
Read More- Steps To Clear The Cache On Android Phones
Durability
The utmost important thing to look upon everything we buy is its durability. Besides storing many things in one case, the Samsung Galaxy S9 Cardholder case also has aced in its build-up. The materials used in making these cases are very beneficial. Polycarbonate material which is tough, stiff, and is a good heat-resistant, is used for the exterior part, and soft silicon matter is used in the interior, keeping the phone screen stainless. These cases are gift-worthy for your friends and family. Leather cases have the most productivity. However, they are not cheap, but people prefer them more over other synthetic covers because of their quality. It helps in protecting our phones from hits and collisions.
Price
Before buying a Samsung galaxy s9 cardholder case, you must consider your budget. The prices vary according to the material and features offered by the case. Compare the covers you like the most; if it is worth the money, then go for it. Sometimes, money is more for the product with not many features, but to avoid this disappointment, you must see the reviews and ratings of the case. The original leather is way more expensive than synthetic leather. So, if you are buying an expensive case, ensure it has all the features.
Read More- Why My Samsung S5 Won't Connect To Computer?
CONCLUSION
This article mentions all the features one must look at before buying a  Samsung Galaxy S9 Cardholder case, from durability to price. Samsung is a trustworthy brand; you can blindly buy products from it. And this cardholder case is very useful.