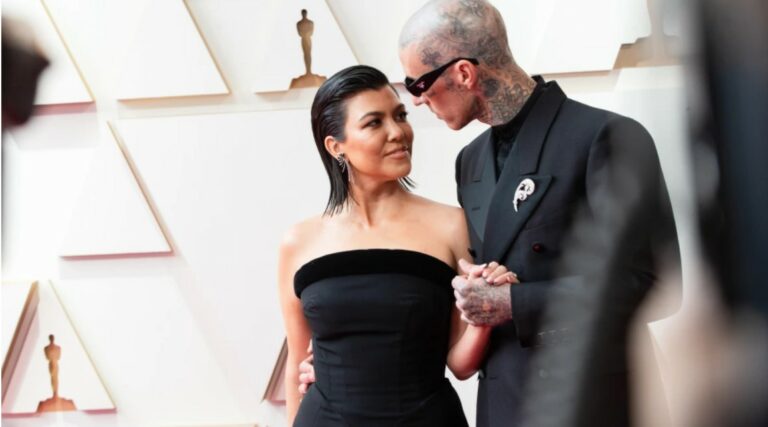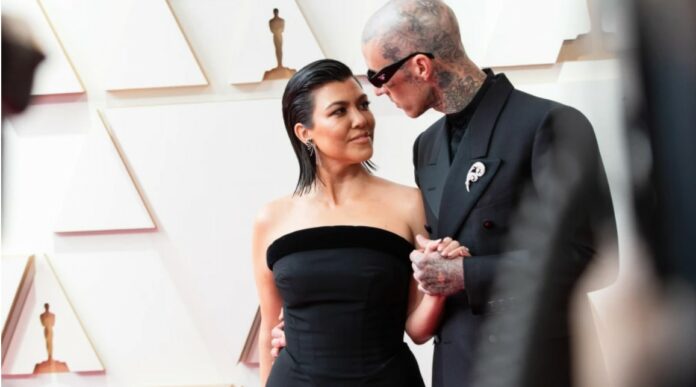 In one of the biggest events of the summer, Kourtney Kardashian and Travis Barker tied the knot in Portofino, Italy, on May 22, 2022. Hosted by Dolce & Gabbana, the wedding and events surrounding it were dripping in high fashion. Here are some of the best looks worn by the wedding party and guests.
Kourtney Kardashian Barker and Travis Barker
For lunch before the wedding, the couple turned heads in matching black attire. Kourtney wore a black mini dress adorned with the Virgin Mary and a black veil with blue trim, while Travis opted for a floor-length, long-sleeved black caftan.
Wearing matching white lace pump heels and gloves to her wedding ceremony, Mrs. Barker stunned in a mini corset dress of white satin and lace. Her attire was exquisitely finished off with a custom veil depicting the Virgin Mary and the words "family," "loyalty" and "respect," a nod to one of hubby Travis Barker's tattoos. Mr. Barker wore a black tailored, double-breasted suit with a white button-up shirt and black bowtie.
Kim Kardashian
To the welcome dinner, Kim wore a long-sleeve gray halter crop top coupled with one of her favorite statement pieces, matching pantaboots.
Kim opted for a floor-length black lace turtleneck Dolce & Gabbana gown, complete with black lace gloves and adorned with a large cross necklace to attend her older sister's wedding.
Khloé Kardashian
Seemingly coordinated with Kim's wedding attire, Khloé was ravishing in a black off-the-shoulder gown. Khloé elevated her outfit with a bold gold crown and a gold rosary-inspired belt.
Khloé went bold for the couple's wedding reception with a black organza dress embroidered with red hearts and a gold tiara.
Kendall Jenner
Kendall appeared radiant at the welcome dinner in a satin black corset dress with an attached black chiffon skirt by Dolce & Gabbana.
In contrast to the gothic-themed attire of her older sisters, Kendall wowed in a vintage floral Dolce & Gabbana fitted dress from the fashion house's 1998 Fall/Winter collection.
Kylie Jenner
Wearing a sleek little black Dolce & Gabbana dress, Kylie turned heads at the welcome dinner, pairing her dress with bold black and white boots and a matching handbag.
Kylie also went with a floral theme for Kourtney's big day, stunning in a silver hand-painted floral Dolce & Gabbana dress.
Kris Jenner
Donning a deep emerald green caftan, complete with stunning embroidery, Kris Jenner flaunted her Dolce & Gabbana style for a day of yacht celebration during the wedding weekend.
Kris Jenner showed up to the wedding in style, glowing in a feathery champagne caftan dress from the Dolce & Gabbana Alta Moda line.
Penelope Disick, Alabama Barker and Atiana De La Hoya
Kourtney's daughter, Penelope, along with Travis's daughters, Alabama and Atiana, served as Kourtney's bridesmaids, wearing coordinated Dolce & Gabbana gray tulle dresses embroidered with red flowers.
Landon Barker
Travis's son, Landon, joined in on the wedding festivities, wearing a black three-piece Dolce & Gabbana suit with red roses to dinner before the wedding ceremony.
Over several days, the Kardashian-Barker wedding spanned decades of the Dolce & Gabbana fashion house's best looks, while remaining timeless in their presentation. By choosing Dolce & Gabbana attire for your next event, you, too, can be part of an iconic fashion legacy.