80's fashion had a charm of its own. The popularly called retro style is followed in many theme parties or even adopted as a different style statement altogether in the twenties era. 80's costumes were highhanded in terms of looks and expenses. It was a common practice then, to show off wealth and class through garments. Talking of clothes, shiny, bright and expensive costumes became a part of big magazines like Vogue; during the late eighties.  Accessories were equally vivid to match up with the garments. Large gold earrings and pearl necklaces were class statements in the 80's. 80′ s clothing donned sequins and diamonds, to exhibit the richness.
Talking about hair: Hair styles in the 1980s were typically puffed up in bouffant style to adorn it with 80's dress style. But 80's fashion trends took turns to change at intervals in that decade. Early 80's attire was simple and tame in comparison to the late 80's. Even middle 80's had its own set of style statement. So, to take you to the world of old fashion, we would like you to take a look at the changing trends adopted by the 80's fashion women.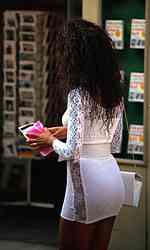 Source: http://bit.ly/1H6YncM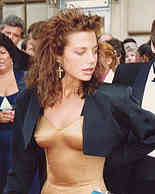 Source: http://bit.ly/1N9tLtw
The Early 80s
Fashion sense in early 80s reflected aestheticism and class. Clothing colors were far from bright. Subdued colors like brown, tan and light orange were fashion for the ladies. Accessories were not so much of a highlight till then.
Sweaters and pullovers were highly fashionable in the early 80s. The sweaters either donned the turtle neck, V shape collar or some had the crew neck collars. If you see now in the current fashion scenario, some pullovers are styled by the 80's fashion sense. They are still considered as the hit retro style fashion. Fur line puffer jackets and velvet blazers were classics of the early 80s.
Leather tunics had special place in the 80's outfit. Do you know that crop tops and tube tops had their origins during the early 80's?
Knee length skirts and flowing knee length dresses were a rage in the early 80's. Tube tops and crop tops are girls' favorite even today at clubs and discotheques. Low necklines were in vogue in the early 80's too. Necklines were self assessed in early 80s. There were no hard and fast style statements for necklines when it came to dresses. Both high necklines and low necklines were in fashion then.
High waist loose trousers were a typicality of early 80s. Along with that, embroidered jeans entered the style zone of early 80s gradually.
Accessories of early 80s were mostly carry overs from late 70s. Embroidered jeans were accessorized by knee high boots and thin belts. Thick kitten heals were also in.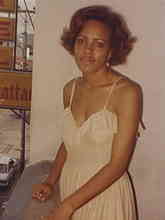 Source: http://bit.ly/1Pyvau7
Sportswear
Women were as much of a fitness freak in 80's as they are in the 21st century.  Sweatshirts and sweatpants were the common fitness wear. Tracksuits, by early 80's were already in the sports fashion list. Sports accessories in 80s were very athletic in nature.  Those included leg warmers, wide belts, head-bands and for the legs, it was either sneakers or trainers.
Corporate Wear
Women that step out for work were very serious about their equality in the corporate field. Their seriousness was reflected in their professional clothing.  Knee length skirts and wide legged slacks were topped with a matching blazer. To make it slightly striking, corporate women wore different colored blouse under the blazer.
The Mid 1980s
The early 80's subdued clothing style, took a bright turn in the mid-1980s. From knee length skirts, the style went to either tight miniskirts or long flared skirts.  Women preferred tapered trousers rather than loose trousers. Pastel bright jumpsuits and heavyweight sweaters started pouring in as the new trend. Mid 1980s saw the introduction of large scarves and beanies.  During winters, women started wearing leather gloves along with leather jackets. Rather than sneakers, the plums and keds became more popular as sports shoes during the mid-80s.
Madonna, the famous pop star was a huge influential fashionista in the 80s, especially from 1985. She brought in the style of skimpy skirt worn over tight leggings.  That was her famous "street urchin" look!
Read More : How to Cut T shirt ?
She popularized the fishnet stocking and laced or finger less gloves.
Black was considered as a fashionista's colour, unlike in early 1980s.
During 80s, visible undergarments straps were either a taboo or a fashion faux. But mid 80s witnessed a drastic change in this respect. Women wore fancy slips and the visibility of lacy straps took an entry into the fashion list.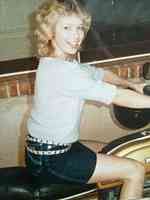 Source: http://bit.ly/1Mkso7R
Television shows like 'Dallas' and 'Dynasty' had powerful impact on shaping the shoulder pads as the new style statement.  Taking influence from the daily soap 'Dallas', women started dressing in sparkling clothes and expensive jewelries.
Pointed toed shoes and spiked heels were a rage in 1950s and 60s. The style revisited in mid 80s too as corporate friendly shoes.
Power dressing was a new concept in the mid-80s. It was largely an attempt to look masculine and powerful in and around workplace. Thus large sleeves, padded and wide shoulders were in high demand in the mid-80s.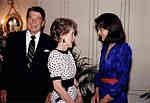 Source: http://bit.ly/1OdSfPq
Another women, whose style statement was attracted like a magnet in 80s, was the British Leader, Margaret Thatcher.  The single toned color suit, with matching hat, jacket and knee length skirt were a rage among st the women power fashionistas.
Read More : Best of Aztec Prints
Late 80s
This era was totally committed to consumer friendly fashion. Fashion designers were all in all into making short skirts. Though knee length and long skirts were not totally out of fashion, but miniskirts still ruled. This trend was popularized more by young and teenage girls. Large shoulder pads were shifted towards smaller shoulder pads. Baby doll dresses and pouf dresses were the new "cool" statement in the late 80s. Jumpsuits, jackets and reversible coats were equally in fashion.
Neon hues, plum, gold and bright wines were the popular late 80s colors.
For accessories, bright colored sandals with long heels were preferred. Beaded necklace and plastic bracelets were more popular. Lacy gloves were also a rage in the late 80s.
So, in the conclusion, you see in a decade, 80s saw quite many fashion varieties to talk of. The most striking part is, some of the fashion trends and styles are coming back in the present century as well. So, grab some fashion out of this article and apply it today. Nobody would say it is out of fashion! Even if they say, who cares! Right girls? Just dress up like you want with a charm of confidence! Good luck.
Feel free to write to us in the comments section below!