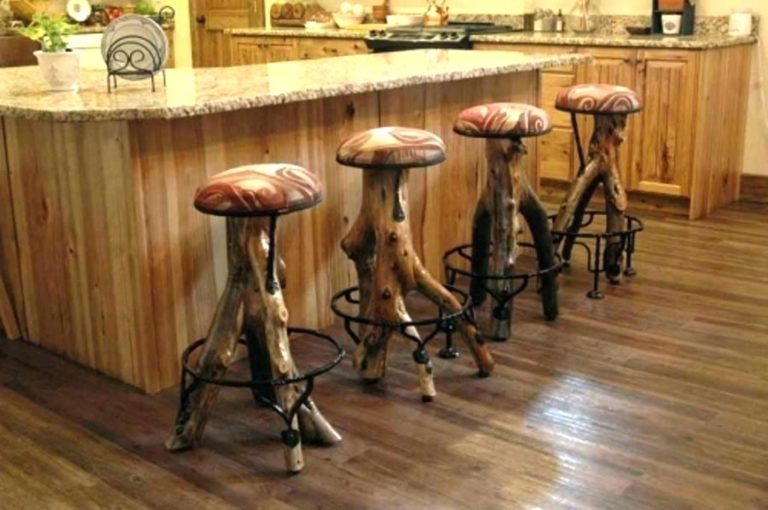 Barstools are versatile pieces of furniture with many purposes outside of their traditional function. Many people choose to upcycle their old barstools into new creations. Stools come in every size and price point, so it's easy to find something to match your décor and keep your wallet happy. If they have flat surfaces, they can easily be converted into tables and stands. Whether you happen to have some extra around the house or are looking for an alternative to regular furniture, there are several ways to use your barstools outside of seating at your kitchen counter or bar. Here are some unique ways to use your barstools outside of their everyday uses.
Plant Stand
When you'd like to keep a plant off the ground but don't have room on your tables or shelves, repurpose a barstool into a plant stand. Choose a stool with a flat seat so pots and vases stay sturdy. Select a metal or plastic stool to use as a modern backdrop for your favorite plant or go with something more traditional if your décor scheme is more neutral. If you have curious pets, make sure you go with a tall stool to keep plants out of their reach.
Vanity Seating
If you'd like to swap out your regular vanity chair for something different, use a barstool instead. Swivel designs allow you to turn with ease and face any part of the room. A low, backless stool could fit perfectly underneath the vanity, helping to conserve space. To bring in an element of luxury, choose a stool with armrests in a velvet or fur upholstery. If you enjoy spending a significant amount of time getting ready, choose a high back stool for extra support.
Bathroom Stand
Barstools, especially those with a swivel design, are great additions to bathrooms. Place a stool close to the shower to easily reach towels, toiletries, and more. You could also sit on the stool in front of the mirror while you're getting ready in the morning. Stack towels on top of the stool instead of using shelves or a towel rack. Low stools are great for parents when bathing children in the tub. A low stool could also be used as a step for children to reach a high sink. It could also be used to reach high places when cleaning.
Side or Entrance Table
Looking for the perfect place to drop your keys when you enter your home? Consider placing a tall stool with a flat seat in your entryway and add a decorative bowl or basket. Barstools also make the perfect end tables. They don't take up too much space and can easily be moved around, depending on where you need them the most. Add a tray on top of a stool to create a table eating or crafting, or place drinks on top of the surface with fancy coasters. A narrow barstool with a small lamp on top is a great alternative to floor lighting.