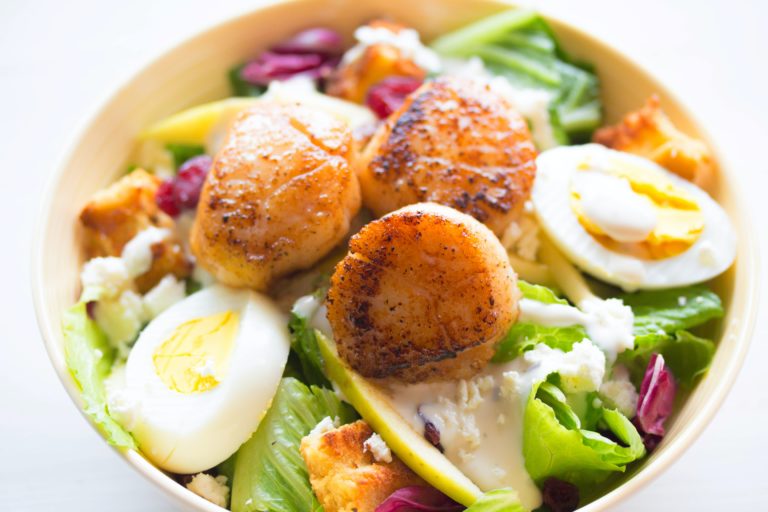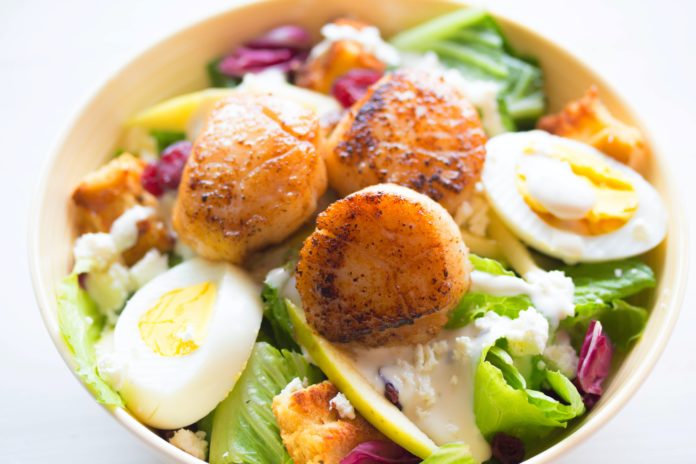 Before getting your grill ready, let's know what scallops to master both bay and sea varieties' cooking basics. There is so much more you do not know about this delicious seafood. You can also check out some recipes at the end of this article.
What Are Scallops?
Scallops are a kind of bivalve mollusc which means that the interior muscle is covered by two shells like mussels, oysters and clams. Inside the shell, there is white adductor muscle that helps to open and close the shell, along with a bright orange part known as the coral.
The muscle is tender and round when cooked and has a touch of sweetness with briny saltiness. Coral is also an edible part of scallops; however, it is not consumed in the U.S.
There are two popular types of scallops: sea scallops and bay scallops. Bay scallops are smaller in size and more tender, while sea scallops are large and can grow as big as two inches.
What Does a Scallop Look Like?
The scallop shell has a fanned out shape symbolizing the maritime decor. Unlike other bivalves, scallops can swim across the ocean floor by clapping the shells together quickly.
Not many people know, but scallops have bright blue eyes around 50-100 that look like beads along the edge of shell opening. They use their eyes to detect light, dark and motion and use their retinas to focus on light, similar to human eyes.
Where Do Scallops Come From?
Scallops are usually found in the shallow waters, estuaries and bays on the East Coast, hiding in reedy seagrass. Scallops consumed in the U.S. are imported mostly from Mexico and China as their population has been dwindling in recent years.
Virginia Institute of Marine Science and Rappahannock Oyster Company founders are making efforts to reinvigorate the Bay Scallops population and have shown great promise. In 2017 they bought 400,000 scallops seeds from Massachusetts and refined their own grow-out technique for commercial harvesting.
Sea scallops are found in cold, deep ocean waters upto 200 meters deep. These are typically found in the Northwest Atlantic Ocean from Newfoundland to Cape Hatteras in North Carolina in the U.S.
When Is Scallop Season?
Scallops reach their peak harvesting season during late fall to winter. Although these are available year-round, you will get the fresh catch if you buy in the last few months.
Read More- Three Tasty and Easy Avocado Recipes
How to Cook Scallops?
When you cook scallops, basic methods differ slightly for sea scallops and bay scallops. Sea scallops are chewy in texture which makes them better to searing to get the right crispy exterior.
Bay scallops are more delicate and sweeter and also cook quickly, which is why they are best used for quick saute, gentle poaching and broiling. Grilling yields amazing results for both bivalves; make sure to use skewers, so you do not lose any precious scallops and flip easily.
Pat dry scallops before you toss them into the grill. When cooked properly, both varieties of scallops offer sweet, tender and briny goodness with extra shine on your dish with simple preparation.
Sea Scallop Recipes
Lemon Garlic Butter Scallops
We all love a table filled with plates of crispy, hot sea scallops. These scallops are covered in the deliciousness of silky lemon garlic butter sauce. Tastes exactly like a restaurant but way cheaper, butter garlic scallops are an ultimate treat.
INGREDIENTS
2 Tablespoons olive oil
1 1/4 pounds scallops
Three tablespoons unsalted butter
4-5 large garlic cloves, minced
Two tablespoons lemon juice
Salt and fresh ground black pepper
1/4 cup dry white wine or broth
1/4 cup chopped parsley
INSTRUCTIONS
If you bought frozen sea scallops, thaw them in cold water. Remove side muscle and pay dry thoroughly with paper towels.
Heal olive oil in a pan over medium-high heat until sizzling. Add scallops in a single layer without crowding the pan. You can work in batches.
Season with pepper and salt to taste and fry the scallops for 2-3 minutes on one side and then flip to fry for 2 more minutes until crisp from both sides and cooked opaque. Remove the scallops from the skillet and transfer them onto a plate.
In the same pan, melt two tablespoon butter and scrape browned bits leftover. Add garlic and cook for 1 minute until fragrant. Pour wine and bring to simmer for 2 minutes until it reduces to half. Stir remaining butter and lemon juice.
Remove the skillet from heat and add scallops back into the pan to thoroughly warm and garnish with parsley.
Serve them hot with pasta, rice, garlic bread and steamed vegetables.
Read More- 3 Easy and Delicious No-Cook Healthy Meals Recipes
Bay Scallop Recipes
Toshi's Noodles with Seared Sea Scallops
This is one of my most favourite noodle scallop recipes. You can add more chilli crips to spice up the spaghetti. The hint of seafood flavour and asian flare with perfectly cooked broccoli makes this dish a full course treat.
Ingredients
1 (8 ounces) package thin spaghetti
1 (8 ounces) package broccoli florets
Three tablespoons Japanese mayonnaise
Two tablespoons chilli crisp oil sauce
Three tablespoons soy sauce
Two teaspoons white sugar
2 teaspoons gochujang one tablespoon butter
1 teaspoon garlic powder
One piece fresh ginger, minced
2 tablespoons olive oil
1 medium onion, diced
½ pound small bay scallops
1 green onion, chopped
Directions
Bring a large pot of salted water to boil. Cook noodles and occasionally stir until spaghetti is tender yet firm to bite for about 6 minutes. Drain excess water and keep it aside.
Combine broccoli in a bowl with 2-3 tablespoons water and cook in the microwave for 3-4 minutes or until tender. Drain liquid and keep them aside.
Mix mayonnaise, soy sauce, chilli crisp, sugar, gochujang, garlic powder and ginger in a medium bowl.
Heat butter and oil in a wok over medium heat until it starts sizzling. Add onion and cook for 1 minute. Add scallops and cook for 3 minutes. Mix steamed broccoli and saute for 1-2 minutes. Add soy sauce over the top and drain spaghetti quickly.
Toss everything until combined well. Cook for 2-3 minutes. When ready, sprinkle green onions and serve hot.
Read More- Scrumptious Rainbow Food Recipe 
Seared Scallop and Asparagus Salad
If you are in search of an elegant starter dish, then try seared bay scallops with asparagus salad.
Ingredients
Dressing:
¾ cup olive oil
¼ cup balsamic vinegar
1 teaspoon chopped garlic
½ teaspoon salt
½ teaspoon ground black pepper
Salad:
Two teaspoons olive oil, or to taste
½ pound bay scallops
One bunch of fresh asparagus, trimmed
1 (10 ounces) bag fresh spinach
Directions
Beat olive oil (3/4th cup) with garlic, vinegar, pepper and salt in a bowl to achieve a smooth consistency.
Heat 2 teaspoons olive oil in a pan over medium heat. Sear asparagus and scallops in hot oil until caramelizing. Cook for 2-3 minutes on both sides.
Put spinach in a large bowl. Drizzle dressing all over and toss to coat properly. Add in asparagus and scallops.
Read More- How To Plan An Indoor Date Night And A Recipe
Final Words:
Scallops are delicious and loved seafood in the U.S. There are plenty of different recipes that you can try with scallops. The best time to get your hands on scallops is during late fall and winter for the freshest batch. Try some scallop recipes, and let us know how you like them in the comments below.