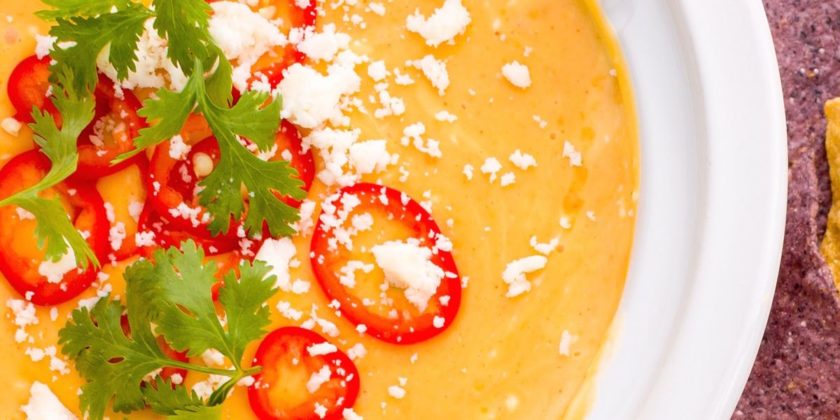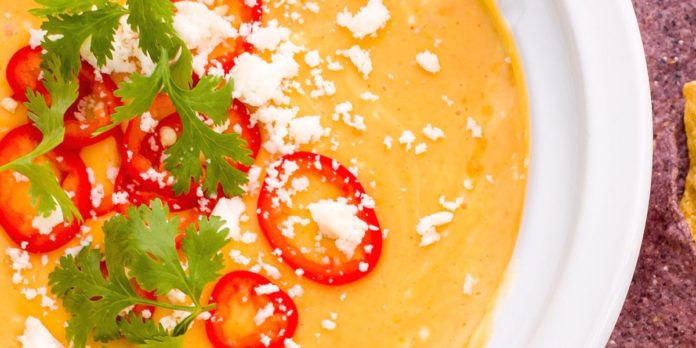 Who doesn't love a Super Bowl Sunday? Munching on favorite food while watching the super bowl makes it even more exciting. But you would want to miss the super bowl while you are busy cooking. I have the best slow cooker super bowl food recipe ideas. Below are the recipes for Crock-Pot Queso, Slow Cooker crock pot Mac & cheese, and chicken tacos. These easy Crockpot recipes are a must-try.
Crock Pot Queso
I assure you that this will be the best Crock Pot Queso you will ever try. Teemed with smooth, subtle Velveeta, jalapeno, and cotija to add the flavor and kick. You can have this dip along with tortillas, pita bread, or maybe oven crisped bread. Read below to learn the recipe for this easy crockpot recipe.
Ingredients 
Velveeta (16 oz.)

cotija,(12+1cups) plus more for garnish

whole milk (1 cup)

cloves garlic (2-minced)

jalapeños (2) 1 minced/1 sliced

paprika (2 tsp.)

cayenne pepper (1 tsp.)

Fresh cilantro

kosher salt (1 tsp.)
How To Make
Take a slow cooker and combine Cotija, Velveeta, minced jalapeno, milk, jalapeno, paprika, garlic, salt, and cayenne. Cook on high flame for at least 1 hour or 2 hours on slow flame until the mixture bubbles.

Garnish the dip with sliced jalapeno, Cotija, fresh cilantro. Serve with Pita or Tortilla chips.
Slow Cooker Crock Pot Mac &

Cheese
making macaroni and cheese can be little tiresome as you have to prepare both the gravy and pasta separately. The amount of work you will put in is insane. To save the extra work, I have come up with an insanely delicious and easy crockpot slow cooker mac & cheese recipe. This super bowl recipe idea is perfect to have along with your friends and family. Everything in this dish cooks really slow and only in one dish.
Ingredients
elbow macaroni (1 lb)

(1 stick) melted butter(1/2 c.) 

shredded cheddar cheese(4 c.) 

Parmesan (1/2 c.- freshly grated) 

cream cheese (4 oz.- cut into cubes)

evaporated milk(2 (12-oz.) cans)

whole milk(2 c.)

kosher salt

garlic powder(1/2 tsp.)

paprika(1/8 tsp)

Freshly ground black pepper

Finely chopped chives, for garnish
How To Make
In a slow cooker combine butter, macaroni, cream, Parmesan and cheddar cheese, whole milk and evaporated milk, paprika, and garlic powder. Sprinkle salt and pepper on top.

Cook the pasta on high flame until cooked thoroughly, and the sauce turns thick. Cook the mixture for about 3 hours check after 2 hours and again after 15 minutes.

Garnish the dish with chives and serve hot.
Crock Pot Chicken Tacos
Skinless and Boneless chicken breasts can be exciting too. This Crockpot Chicken Taco recipe has lots of flavors. The spice of chiles and lime juice tang with a little sweetness of brown sugar, this slow cooker crockpot super bowl recipe idea is amazing.
 Ingredients 
boneless, skinless chicken breasts(2 lb.) (about 4)

yellow onion (1/2-sliced)

lime juice(1/3 c.)

chiles in adobo( 4- chopped) 

chiles in adobo sauce(3 tbsp.)

kosher salt(2 tsp.)

packed brown sugar(1 tbsp)

garlic powder(1 tbsp)

chili powder(1 tbsp)

cumin(1/2 tbsp)

Mexican beer(1 can) 
FOR SERVING
Corn tortillas

Sliced jalapeño

Shredded purple cabbage

Sliced avocado
How To Make
Take a slow cooker, and place onions ate the bottom. Place the chicken on top of the onions. Whisk lime juice, salt, chiles, garlic powder, brown sugar, cumin, and chili powder in a measuring cup. Pour this mixture along with beer over chicken. Cover the lid and cook for 4 hours on low flame or 2 hours on high flame. 

When the chicken becomes tender, take it out of the cooker and shred into small pieces and put it back again in the slow cooker. Add three tablespoons, chiles en adobo sauce, and toss properly in the mixture.

Remove the chicken using tongs and serve in tortillas along with your favorite toppings.
 Read More:- Try these must-have best Potato Recipes.