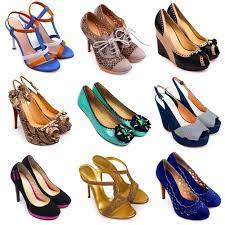 The New Year has already begun, and keeping up with the latest fashion trends only makes sense. But while you might have chic LBDs or stylish crop tops, what about your shoes?
Unless you have some trendy footwear, your look won't be complete. And fortunately, 2023 has brought some cool shoes for you to try out, from girly ones to grunge.
This year's global revenues in shoes are expected to reach about $140.3 billion, a 19.6% rise from 2022!
So come explore some of the evergreen footwear you must have!
1. Chunky shoes
You might think bulky or chunky shoes are old-fashioned, but that's far from true! Instead, 2023 has seen a rise in platform wedges and block heels.
While they might feel a little heavy initially, they're easy to get used to. Moreover, you can pair almost any pants or dress with the souped-up silhouette of the shoes to complete your look.
And if you're tired of walking around in them, you can simply take them off and carry them in your hands!
2. Bold Mary Janes
Mary Janes were once the rage many decades back, but these stylish girl shoes came back in 2023.
However, this time, Mary Janes are no longer boring or monochromatic. So the latest twist on the trend is to opt for Mary Janes, which come in bold colors and prints.
Depending on your personal taste, you can either go for one with a cute floral print or something a little more dangerous, such as a leopard-printed Mary Jane. Many of them now also come with multiple straps and beads!
3. Ugg boots
Uggs are probably one of the most versatile shoes out there. You can wear them both in extreme heat and cold, and your feet will feel superb.
Uggs were traditionally made of sheepskin, which is why they were so comfortable, but now, you can find Uggs in so many different shapes and prints.
To keep up with the trends and any outfit, get Ugg Boots in various colors and designs, ranging right from chocolate brown to olive green and pitch black.
4. Knee-high boots
Boots are always known to be a fan-favorite among women, but this year, we're looking forward to some knee-high ones to make their mark.
Knee-high boots look amazing with a cute little dress, but you can wear them with denim shorts or skinny pants too!
Knee-length boots are also considered perfect since they're not as low as a bootie but not as tall as over-the-knee boots. So you get not only comfort but also timeless fashion!
5. Satin shoes
The era of leather or synthetic shoes is now over because satin shoes are now here to rule the runways!
Satin shoes can cater to any woman and style, be it clogs, pumps, or slides. Some of the best picks this year are hot-pink satin boots and black satin pumps, but you can always customize them how you like.
Satin shoes provide a glamorous luster to your look and make you feel like you've just waltzed into a royal mansion!
6. Magenta shoes
Did you know that Pantone has declared Magenta as the official color of 2023? So naturally, therefore, it's needless to say that every woman needs to add magenta clothes and footwear to her closet this year.
If you're unsure about how to pick magenta shoes, you can go for a pair of white and magenta sneakers or magenta stilettos.
The best part about this mood-enhancing hue is that you can never go wrong with your look, no matter what kind of shoe style you choose!
7. Punk boots
For the women who are done with cute feminine prints, 2023 is going to be their best year so far!
You can now welcome bold punk-style boots with chains and spike details. In addition, strappy platform heels have made a name of their own on the runways and are now being embraced by women worldwide.
Simply pair a chain-laced pair of boots with a stylish skirt or denim pants. Wear a leather jacket on top, and you're good to go!
Over to you…
Here are some of the latest footwear trends you must look out for in 2023. So what are you waiting for? Go to your nearest mall or online and pick out some of those irresistible pairs today!