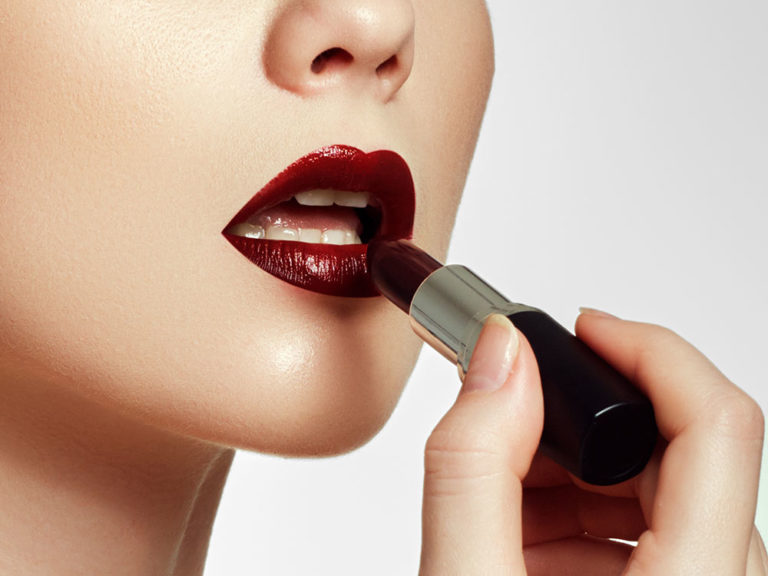 Lipstick is the first thing that goes into the makeup kit of every woman. Right Lipstick can change the complete look. You don't need to be a professional makeup artist to apply the Lipstick perfectly. You just need to learn some tips and tricks to master the art of applying Lipstick. Learn the best lipstick Hacks on how to apply lipsticks on dark lips and how to apply lipsticks without a lip liner.
Things you will need:
Lip balm

concealer

Lip liner

lipstick
Basic steps on How to Apply Lipstick on dark lips
Are you struggling with dark lips? Applying Lipstick can be a little difficult on dark and pigmented lips. Getting the exact shade of your favorite lip color on the lips becomes a task. Try these simple lipstick hacks to slay those nudes and sheer pinks.
Conceal the darkness-

 Applying concealer on lips will help in neutralizing the darkness. Concealer should match your skin tone. Dab a little amount of liquid concealer on the lips gently covering all the darkness.

Apply lip liner- 

Rule for Choosing a lip liner for dark lips is that it should match the color of your Lipstick, and line your lips following the natural lip line. Make an X under the cupids bow to perfectly enhance the lip shape. Don't use a lip liner darker than the lipstick color, and this will spoil the entire look, we are not living in the 90's world anymore.

Apply the Lipstick- 

Apply a generous coat of the Lipstick on your lips. Make sure you use matte or liquid Lipstick. Cream and glossy lipstick doesn't apply properly on concealer and tend to fade away quickly.

This way, you can wear any color that you want to without worrying about the lipstick shades for pigmented lips.
Lip brush lipstick hacks
Basic steps on How to Apply Lipstick without lip liner
Do you think applying lip liner is too much work for you? Don't worry if you don't have a lip liner in your makeup kit. We will tell you the perfect lipstick hacks for how to apply lipstick without using a lip liner.
Fingers as a Lip brush

– Applying Lipstick with precision is not that big a task. Rub some lipstick on your ring finger and dab it on your lips, moving the finger along the natural lip lines.

Finishing the look apply the Lipstick directly on the inside of the lips.
Tips and lipsticks hack  for applying lipsticks 
Always apply lip balm before applying Lipstick, to prevent lips from drying when you apply matte Lipstick.

If you want to turn your glossy Lipstick into matte, just dab some translucent powder on the lips and then dust it off using a fluffy brush. 

Always blot Lipstick using a tissue paper when you apply bullet lipstick.

Apply highlighter on cupids bow to give an illusion of plump lip.

Use a concealer to correct the lip shape.

Never apply tester lipstick directly on the lips. Your lips may get infected.

Never compromise on quality. Always buy good brands that suit your budget. And never use expired lipsticks.
Make your own lipstick at home. Try this easy DIY lipstick.