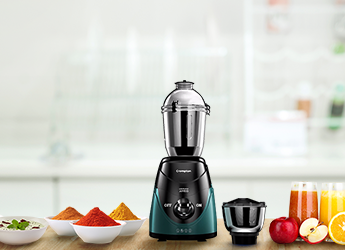 A mixer grinder is one of the most important things in the Indian kitchen to whip up delicious chutneys, flavourful pasta and aromatic masala. A mixer can handle several tasks like blending, grinding, mixing, making it essential to find the best mixer grinder in India. 
When buying a mixer grinder, you have to consider so many things, like jar types, size, quality, and motor speed. In this post, we have listed some of the best mixer grinder options you should buy.
Best Mixer Grinder In India
Bajaj Rex Mixer Grinder
Bajaj Rex Mixer Grinder is the best mixer grinder in India, equipped with a 500 Watts motor with 20,000 RPM. It is made of rust-free and premium ABS plastic designed to last for a long time. The mixer grinder also comes with three stainless steel jars, including a chutney jar, liquidizing and multi-purpose jar. It also features three-speed controls and vacuum feet that prevent it from moving.
Bosch TrueMixx Pro 1000-Watt Mixer Grinder
Another great pick for a mixer grinder is Bosch TrueMixx, with a 1000-watts 3-C series motor with 100% copper windings designed to deliver high torque. This mixer grinder has four stainless steel jars containing flow breakers, ensuring good grinding.
Bosch TrueMixx grinder features a chrome finish giving a premium look. This one also features vacuum feet that strongly grips countertops and prevents them from shaking and moving.
Wonderchef Nutri-Blend Complete Kitchen Machine 400W
Last but not least, this is one of the best mixer grinders in India. This small mixer can do everything from juice, chop, grind and mix without any complicated buttons. It features a 400 watts motor with an RPM of 22,000. The mixer also comes with additional accessories like a dry-wet jar, chutney jar, blending jar, chopper, juicer attachment, dry grinding, seasoning cap, and so many other things. Jars are made of polycarbonate material, and the steel blades are super sharp and have impeccable performance. 
Orient Electric Kitchen Kraft Mixer Grinder
The Orient Mixer grinder is 500 watts with a high-performance copper motor. It is strong enough to grind strong materials and achieve a smooth consistency. The grinder comes with a dry-wet jar, liquidizing jar and chutney jar. It comes with nickel coated blades ensuring fine blending and grinding, and can grind continuously for 35 minutes. The Orient grinder also has an advanced heat dissipation system that keeps jars and mixers cool.
Glen 4045 NG Electric Mini Grinder 350 Watt- ISI Certified
If you are looking for the best small-sized juicer mixer grinder in India for a family of two, then Glen 4045 will not disappoint you. This compact power mixer features 350 watts and has a 30g jar size. It is sturdy enough to grind tough ingredients, and the steel blades are rust-resistant and easy to clean. The mini mixer grinder has a singular push button to keep the controls easy.
Havells ASPRO 500 Watt Mixer Grinder
Another best mixer grinder option available in India with a 500 Watts motor is Havells ASPRO. This features an RPM of 21,000 and ensures superior grinding, and comes with the dry-wet jar, chutney jar and a blending jar. It features a stainless steel blade ensuring efficient grinding. The jars have built-in flow breakers ensuring proper liquidizing, and come with an overload protector that automatically turns off the motor to prevent damage.
Prestige Iris 750 Watt Mixer Grinder
Prestige Iris mixer grinder comes with 750-watts motos and 20,000 revolution speed per minute. It comes with a set of 4 jars made of stainless steel that are rust-resistant. Also, the grinder design is pretty attractive and equipped with sturdy handles that are easy to hold. The blades of this grinder are efficient and made of stainless steel allowing easy grind.
Butterfly Hero Mixer Grinder
Equipped with a 500-watts motor and 20,000 revolutions per minute, The Butterfly Hero mixer grinder is a great pick. The grinder comes with a set of three jars made of stainless steel that are corrosion resistant. It has an easy to use 3-speed knob with a whip feature. This grinder is energy efficient and consumes 230 volts of power, helping to keep electricity bills down.
Wonderchef Nutri-Blend 400 Watts Mixer Grinder
If you love smoothies and juice, then you need to have a Wonderchef Nutri-blend. This is one of the best juicer mixer grinders you can find in India, with beautiful design and power. It comes with a mixing and grinding jar; each jar has a pair of distinct blades. With an RPM of 20,000, you only need to run this machine for 15-30 seconds. The unique design has a twisting jar to open at the bottom easily, which allows easy cleaning. Also, this appliance has anti-skid footing, which keeps it grounded.
COOKWELL Mixer Grinder, 450W, 3 Jars
Cookwell juicer mixer grinder is great to make smoothies, juices, and protein shakes instantly. This small mixer grinder comes with 45o watts and looks amazing with its sleep design, making it the best kitchen companionship. It comes with three glasses, and the jars are made of food-grade plastics. This is an all-in-one appliance perfect for small spaces.
COOKWELL Mixer Grinder, 500W
Cookwell Mixer with 500 watts is the most powerful mini mixer grinder with an RPM of 22,000 is strong enough to powder, grind, chop and puree within seconds. This mixer comes with detachable parts and a wide range of jars, lids and attachment blades. The company also offers excellent after-sales services and accessories to send up the replacements and spares.
Final Words:
Mixer grinders are available in different sizes and designs and with many unique features. There is something for everyone. Here are some of our favourite picks for the best mixer grinder in India. Do you have any of this grinder in your kitchen? If yes, then share the name in the comments below.